You must have seen people putting their referral links everywhere on social media and forums, asking everyone to join, and are wondering what is Blue Skies Marketing (also known as Blue Skies Team).
You have landed at the right place. Welcome to my Blue Skies Team review.
It pays to do your own research, and not take things at face value, no matter how good the opportunity looks like. Especially with the amount of scams going around the internet these days, you really can't be too careful.
And remember the old but wise saying: when something seems too good to be true, it usually is.
You might have seen the income statements of people earning the easy bucks with this opportunity, and feeling very tempted to try it out, afterall they are not asking you for any money, what's there to lose anyway.
In my honest, unbiased and in-depth review of Blue Skies Marketing, I will examine what the money making method is all about, and everything that you stand to lose with this platform.
Without further ado, let's dive right in.
---
Blue Skies Marketing Review Summary
Product: Blue Skies Marketing (a.k.a. Blue Skies Team)
URL: https://blueskiesteam.com/
Creator: Tameka Swafford
Product type: Facebook ads and Google ads laundering
Price: free to join
Scam / Legit? : NOT Legit, this is a dishonest ads laundering scheme
Recommended or not? : NOT Recommended
Blue Skies Marketing is a website that engages in Facebook ads and Google ads laundering. By renting out your ad space in Facebook, you are compromising on not just the security of your account, but everything else in your computer.
Giving away all the details of your life history, your social contacts, your shopping history which will include payment information, your bank access, etc. is NOT the way to make money online.
Do not waste anymore time down the easy path of getting yourself into a huge mess. Check out my #1 recommendation to making money online:




Read on for the detailed review of Blue Skies Team, and why I think you should stay far away from it.
---
What is Blue Skies Marketing
To find out what is Blue Skies Marketing, let's first take a look at the information presented in its promotional video and homepage.



This exact same video is used in other very similar websites, offering the same kind of earnings to rent out your Facebook ads and Google ads accounts, like Painted Dreams Marketing LLC, and Cash 4 Ads Team.
So it seems this ads laundering activity is proliferating through the internet at quite an alarming rate. Technologically savvy people know to avoid it, but there are innocent ones who just want to make some money online, and are not able to see the trouble this can get them into until it is too late.
How does Blue Skies Team work
The concept is a simple one. Connect up an adbox that gives them access to your Facebook account, so that they can run ads on a business page that they will set up in your account. Earn $15/month doing this.
On top of that, allow them to use your Google ads account, and you make another $15/month.
This may not sound like much, but wait till you hear about what they pay for referrals that you bring in.
Up to $65 per referral. $40 for once your referral's Facebook account gets qualified, and another $25 for the Google ads account that your referral sets up.
That's quite substantial, if you can get many people to join the platform through your referral link. This is the marketing strategy used by these ad launderers to get a never-ending supply of Facebook accounts that they can use freely.


Why does Blue Skies Marketing want to rent your Facebook account?
The reason they give sounds rather convincing. Because there is an ads spending limit on every Facebook account, so the more accounts they are able to use, the more they can expand the marketing efforts for their clients' businesses.
Many people will just accept this justification. But they are actually banking on the fact that the vast majority of Facebook users would have no experience with Facebook ads, and hence will buy their big lie.
Look at this: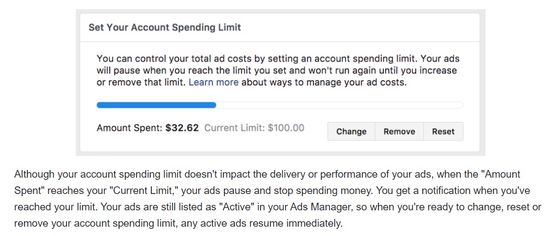 Yes, there is a function within Facebook ads to limit your own spending if you want to, it is to allow you to safeguard your resources.
But it is not something that Facebook imposes on anyone. In fact, you can remove this ads spending limit anytime you want.
The money is in the ads, for Facebook. Why would they want to limit their own earnings? It does not make sense. And it shouldn't make sense to you. But these con artists are targeting the vulnerability of many ignorant but trusting people.


The real motive behind Blue Skies Team
If you know how things work, their motive is in plain view. The people who want to put up ads either got their own Facebook accounts banned for previous prohibited activities, or they simply do not want to be obviously using their identifiable accounts and getting caught engaging in their illegal activities.
So they pay people money to use their Facebook accounts, while they themselves can go scott free when trouble comes their way.
Examples of ads that they will possibly put up through your account are online casinos, male enhancement products, and the likes of other shady stuff.


But Blue Skies Marketing gave the assurance
On their website, they assured it is all safe, legal, and with zero risk to your personal account.
Would you believe them?
They told a big lie about WHY they have to go around renting people's Facebook accounts, and do you think they will stop at that?
These are unscrupulous con artists, who will not stop at anything to get what they want, even if it means paying you real hard cash, because the profits they reap out of the whole ad laundering scheme is much more than what you can imagine.


The owner of Blue Skies Team
I seriously do not think Tameka Swafford with her team of admin ladies are the mastermind behind this scheme. The real masterminds will never dare to show their faces like that.
I believe these ladies are victims themselves, convinced that this opportunity pays well enough to set up their own website, form their own team to recruit more people into the scheme, to allow others to earn, and of course they themselves will get to profit lots from the referral fees that they make.
This Blue Skies Team website is so new, it was only registered in January 2019!


Stay away from Blue Skies Marketing
If it gives you money without having to do any work, it is a scam. There is no free lunch in this world. If it doesn't scam you of your money, it is going to take other things from you.
Not cheating you of your money, and in fact giving you money, does not mean it is an honest and legitimate opportunity.
Would you accept money to give away all the details of your social contacts, full control of your Facebook account, your entire life history, all the information in your computer and your online activities, including your shopping details, bank access, credit card information, etc.
That little adbox is capable of massive destruction to your life, if you let it. Why put yourself at the mercy of these unethical people, just for the sake of some short term earnings? You never know what they program into that box, to extract what kind of data from you.
If you are still not convinced, take a look at this article.


The proper way to make money online
I guess everyone starts off wanting to make it rich fast. It's a very natural thing, that's just human nature. I wasn't spared of the temptations on the internet.
But when I realised those empty promises are only going to make other people rich, and not me, I stopped looking for shiny objects.
I found a dull-looking object, but I knew in my heart that is the real deal. From then on, I have never looked back.
I am now working full time from home, growing my internet business, and making an online income. I started from scratch with zero knowledge in this area. If I can do it, you can, too.
Check out this training platform that provides all the resources, tools, along with an entire community of aspiring as well as already successful online income earners. The best part is, you get to start for free:


---
Pros of Blue Skies Marketing
There is no pro to this thing, but immense potential for harm, to your online security, the kind of activities that are conducted in your name, and the safety of all the information that can possibly be siphoned from your computer.


Cons of Blue Skies Marketing
1. Prohibited ads and activities can get your Facebook account banned
The motive for renting other people's Facebook account is definitely to engage in dubious or outright illegal activities. It is not allowed by Facebook, and ultimately you are responsible for whatever goes on inside your account, not those ad launderers.
2. You risk all the information in your computer
You never know what tricks these people have up their sleeves. It just does not make sense to give remote access to total strangers right into your computer and your internet router.
3. You will be putting your referrals at risk
People whom you referred to the platform, because you genuinely believed it was working, would be put at risk as well. Their Facebook accounts, and everything in their computers.
---
Is Blue Skies Marketing Scam or legit?
It pays out, so it is not a scam in the way of cheating your money. But it is a scam in getting you to give them control of your Facebook account, which should never be agreed on, no matter the circumstances.
---
Recommendation
Stay as far away from Blue Skies Marketing as you can.
There are too many honest ways to make money online. I want to show you the method that I am using, that has allowed me to work full time from home.
With an awesome training platform and supportive community, I have learnt all about affiliate marketing, and how to get free traffic without spending a single cent on running ads.
This real deal does not promise instant results (anything that does is not created with your best interest at heart), but instead gives me knowledge and the lifelong skills required to grow a successful online business. Check it out by clicking on the button below:




And for reading all the way to the end of the post, I believe you have it in you to make this work. Here is your FREE PDF Guide: 4 Simple Steps to Making Money Online. Fill in your details to claim it:



If you have any concerns or questions regarding this Blue Skies Marketing review, do comment below, and we will start a conversation from there.
---