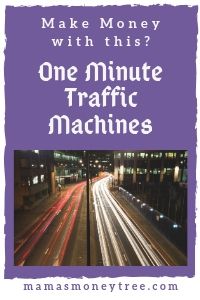 What is this One Minute Traffic Machines that is able to drive thousands of laser targeted free buyer traffic onto any page you choose, in one minute? And then over and over on autopilot!
This is crazy:
You even get easy page one Google rankings along with it!
Can there possibly be such awesome traffic machines? How exactly do they work? Is it a legitimate method, or something that treads onto grey areas? And does it really work for a complete newbie?
We will answer all these and more, in my honest, unbiased, and in-depth One Minute Traffic Machines review.
Without further ado, let's dive right in.
---
One Minute Traffic Machines Review Summary
Product: One Minute Traffic Machines
URL: http://learn1099.com/omtm/
Creators: Matt and John Rhodes
Product type: traffic strategy
Price: $9 + upsells
Scam / Legit? : Legit
Recommended or not? : Not recommended
One Minute Traffic Machines teaches you to use the website Medium to get traffic to your content and affiliate offers. It is overhyped, and gives the impression that results are instantaneous, which is far from the truth.
A valid and effective method to increase traffic, Medium can reward you in the long term if used properly in your marketing efforts. But nothing goes without hard work, and Medium focuses on the quality content of your posts.
If you do not want to waste anymore time and money on products that will not get you anywhere, check out my #1 recommendation to making money online:




Read on for the detailed review of One Minute Traffic Machines, and why I do not recommend it.
---
What is One Minute Traffic Machines
Let's first take a look at the information presented in its sales video and landing page.




What are these traffic machines that you can set up within one minute, and start earning within minutes?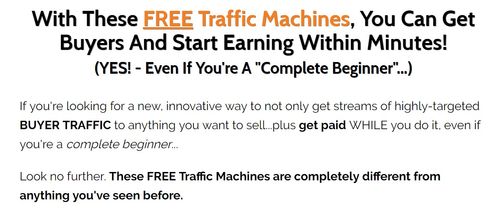 Trade a few minutes of work for free traffic in the years and years to come. Sounds like something I would like too.
What's more, they claim that this secret platform actually pays you to send traffic to them! So the more traffic machines that you build on the platform, the more you can get paid, directly by them.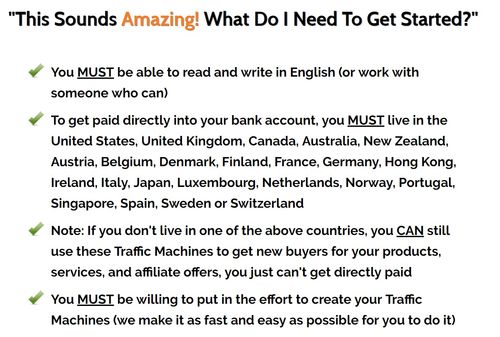 It sounds really fascinating.
The kicker is, they never revealed anything about the free traffic source on the sales page, so you do not know what you are buying into. Buying blind, if I may call it that. If I am not allowed to make an informed decision on the purchase of any product, then I would gladly skip it.
Who knows, you may be able to get the information for free on the internet, from reputable authority sites that share it freely.
And that is my purpose here: to find out what exactly is the method that One Minute Traffic Machines is teaching, and see if it is worthwhile to get yourself into their sales funnel.
You see, a $9 product sounds very cheap and many people will buy it, thinking they have nothing to lose. But I can assure you, the money is in the upsells, once you get funneled in. Usually those are one-click upsells, and non-refundable.
So let me save you the agony.


One Minute Traffic Machines teaches you to use Medium.com
Yes, that is what it is all about. Make use of the platform Medium.com, to not only drive free traffic to your website, videos, affiliate offers, or whatever else that you choose, but also get paid by Medium while you are at it.
It is a legitimate and effective method, if you choose to put your marketing efforts on there. It is not a secret platform. Many people are using it, you can if you want to.
It is not a one minute traffic machine. It has got nothing to do with 'one minute'. But the creators of One Minute Traffic Machines choose to promote this product this way, because in the training, they are going to teach you to type fast, so you can do 150 words per minute.
Yup, that's how they are 'forcing' it in. To me, it's just lame.
And if you really want to use Medium.com, there are many great articles and information out there, all for FREE. I will show you some later.
You do not have to buy this product, which is basically 23 videos of much less than 5 minutes each, for most of them. With the narrating being done at a very slow speed, which feels like they are trying to drag out the timing.
There are some legitimate tips, but again, you do not have to pay a cent to learn them.
I will explain how Medium can benefit your marketing efforts in the next section.


What is Medium.com, and how you can use it
Medium.com is a very unique platform, somewhat like a blogging platform, a content farm of sorts.
Its great advantage, from what I can see, is that it allows for small bloggers and beginners in the online business world a place to be seen and heard, while their authority in the search engines takes time to build up.
You do not have to be a mega influencer, or an established website owner. Medium rewards for great quality content that its readers like and engage with.
It has its own algorithm, not similar to the regular search engines which give a huge consideration to website age and authority. In Medium, as long as your article can engage, you will be pushed up the ranks, and you can get a flash flood of visitors to your site or offers.
Anyone can publish anything on Medium, but like any platform that genuinely serves its users, only the best content will be given exposure to readers on there.
This means people without their own website can actually simply create content on this platform, and still get traffic, and maybe conversions.
The bottomline is no different from what you would be doing on your website: create great content and a superior experience for your readers.
One of the most important ranking factors within Medium is the ratio of people who view your article to those who actually read it, as well as the ratio of those who read it to those who recommend it.
Hence you do not need a huge following, as long as that stroke of genius you put on there is able to capture the hearts of its readers.
Do you think one minute will do the job?
Check out these articles by Neil Patel (my idol), and WordStream, to learn more about how to maximise the use of Medium.com to your full advantage.
There is no secret. The best in the internet marketing industry is always there to share their fantastic tips and experiences. To anyone else, it is a matter of taking action and following through with what we learnt, to see results in the not-so-distant future, but definitely not within minutes.


How Medium pays its writers
To get paid by Medium as its writer, you have to get on board their Partner Program (which is free and open to all to join). They pay monthly, based on how your content engage readers.
Reading time and applause (readers can give a clap if they like your story) are some factors taken into consideration.
Readers who want to read more than 3 articles per month on Medium can pay $5 per month. Your earnings from the Partner Program will only come from readers who are paying members.
And the more claps they give to articles they read on the platform, the smaller the percentage of the $5 you will earn, as that $5 is distributed across many writers.
So the calculation of the earnings is rather complicated in this sense, and some people may not see it as very fair. Well, that's the way it is, if you want to earn on this platform.

Build your business from the ground up
Personally, I see Medium as something that is able to kickstart your marketing efforts. But I do not think it is a good idea to focus all your content creation effort on there, as that platform does not belong to you. You have no control over what may happen to the articles you write there.
If you want to build a sustainable online business that will generate revenue for many years to come, the best thing is still to have your own website. Since you own it, the content you create on it is there to stay forever.
As you build out your content, you will gain authority and trust in the eyes of the search engines, and get to rank on there, giving you free organic traffic, which is the most priceless form of traffic that can become a passive income stream.
Medium can be used to augment your voice when you are just starting out, by republishing articles from your website onto Medium, or by taking your original content from your site and re-working it into Medium.
In fact, this is what established websites and bloggers do too, if they decide to put some of their marketing efforts into Medium.
The foundation to any internet business is still your own website.
If you want to build a sustainable model that can make you money online, check out this training platform that helps beginners who are starting from scratch to build out their own website, and create content that will rank in search engines, and eventually converts into sales.
It provides all the resources, tools, along with an entire community of aspiring as well as already successful online income earners. The best part is, you get to start for free:


---
Pros of One Minute Traffic Machines
1. Real owners
The owners are well known characters in the internet marketing space, who have created numerous digital products before.
2. 30 day money back guarantee
This basic refund policy is in place, for people who are dissatisfied with the product.
3. You do get training on using Medium.com
You do get some information about leveraging on Medium, but it's really nothing that you can't find for free, if you just search on the internet.


Cons of One Minute Traffic Machines
1. Overhyped
The sales page has hinted at starting your earnings within minutes of using this method and the secret platform. To me, it is far from the truth for majority of people trying out this method for the first time.
Even the name of the product makes it seem like you will be able to get results fast. Sales pitches like this do not go down well with me, because I know many people will be disappointed by having their hopes raised so high.
2. It takes effort on your part
Just as with any method, or anything else in life, you get out of it what you put in. If you want it to work for you, you've first got to work for it.
3. Upsells
Just as with any other product that is created to dig deep into your pocket, One Minute Traffic Machines is no exception. The low price at the front end is a bait, to get people to buy in, and get funneled through all their pricey upsells:
Upsell 1: $42 – Advanced version of One Minute Traffic Machines
Upsell 2: $72 – One Minute Free Traffic + One Minute Buyer Clicks VIP (these are old products previously launched, nothing to do with Medium.
Upsell 3: $72 – B3 Traffic Bootcamp recordings
Upsell 4: $197 – Resale rights
---
Is One Minute Traffic Machines Scam or legit?
One Minute Traffic Machines is definitely a legitimate method, with relevant video training. But you do not have to buy this product, because you can learn how to use Medium properly from many other sources, some of which I have linked to in the article.
It will not add much value to you, just like some products I have reviewed: 60 Minute Empire, Boomerang Buddy, and Traffic Trapper 2.0, to name just a few.
---
Recommendation
The best way to build your online business on a rock solid footing is to put all your content creation efforts on your own website, as those hard work accumulate to build up your authority in the niche.
Medium can be used to give your traffic a boost, at the start of your online journey, when organic traffic takes its time to get established.
Once organic traffic takes off, you will find yourself focusing on nurturing relationships with your potential customers, so that they convert into buyers.
These are the growth phases that many successful internet marketers go through.
I can show you a platform, where you can start for free, to get the training and resources, including 2 free websites, that allow complete beginners to start from scratch.
This real deal does not promise instant results, but instead provides knowledge and the lifelong skills required to grow a successful online business. Check it out by clicking on the button below:




And for reading all the way to the end of the post, I believe you have it in you to make this work. Here is your FREE PDF Guide: 4 Simple Steps to Making Money Online. Fill in your details to claim it:



If you have any concerns or questions regarding this One Minute Traffic Machines review, do comment below, and we will start a conversation from there.
---