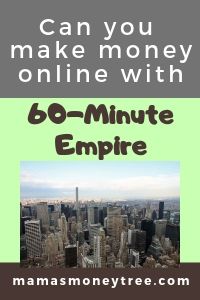 What is this unique system that can allow you to earn thousands of dollars a month, with just 1 hour of work per day, using free traffic? Is 60-Minute Empire scam real? Or is this finally what you have been searching high and low for?
First of all, I want to say I'm happy that you found your way here, it means you are doing your research on this product, before deciding whether to buy it or not. You really can't be too careful, especially with the amount of scams going around the internet these days.
You must be wondering:
A lot of what Lee Murray is saying seems to make sense, about not falling for one-click software riches, and how you need to put in effort in order to succeed.
But is this going to be just like the rest, or will you be finally be on your way to the dream lifestyle? What method exactly are they going to teach in this product, that can let you build a passive income?
We will answer these and more, in my honest, unbiased, and in-depth 60-Minute Empire review.
Let's dive right in.
---
60-Minute Empire Review Summary
Product: 60-Minute Empire
URL: https://imwithlee.com/60-minute-empire/
Creators: Lee Murray and Momen Khaiti
Product type: training on using blogging, social media and affiliate marketing as a system
Price: $7
Scam / Legit? : Legit
Recommended or not? : Not recommended
The ideas and philosophy behind the training in 60-Minute Empire is sound. But its implementation is not the best. Free social media traffic tends to convert at a low rate, and high-ticket items are something that I would not want to promote.
Moreover, the low price of the front end product is to lure people in, so that they get channeled through their funnels, to much pricier upsells.
If you do not want to waste anymore time and money on useless products, check out my #1 recommendation to making money online:




Read on for the detailed review of 60-Minute Empire, and why I do not recommend it.
---
What is 60-Minute Empire
To answer this question, let's first take a look at the information presented in its sales video and landing page: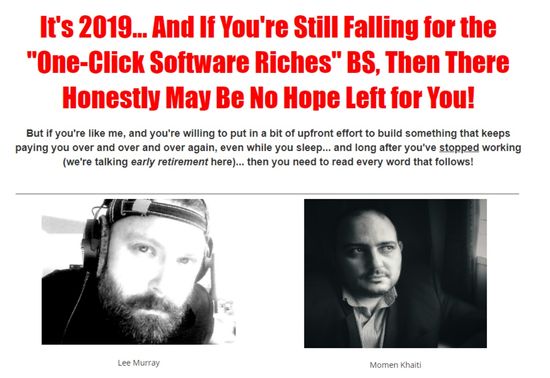 It looked quite promising at the start, I was rather impressed that Lee Murray actually said not to fall for one-click softwares, and that you need to put in the work if you want to succeed in making money online. This makes it stand out from the crowd.
His method will teach you to drive a 100% free traffic source onto your single landing page, from which they will be sent through other people's funnels (he terms this OPF) to purchase their products.
You will make money through affiliate marketing, which is a legitimate business model whereby you promote other people's products. And when customers purchase those products, you earn a commission.
Simple model, highly lucrative. In fact, I am doing affiliate marketing too, but in a different way, which I will explain later in this post.
So the thing about Lee Murray's method is that those products that you will be promoting are mainly educational resources and tools. Many of these can get you recurring commissions, since customers pay a monthly subscription and the likes of it.
There will also be high-ticket items, and he quoted an example of a $1000 commission from just 1 sale alone.
Lastly, you also have multi-tier commissions, which means when your customers actually make sales themselves, by also promoting the products to their own customers, you will earn a residual commission.
These OPFs, combined with power blogging and a passive traffic stream, totally free, is going to finally turn things around for you.
Really? Or not?
Now, let's examine the good and the bad of this product.


What I like about 60-Minute Empire
What you get inside 60-Minute Empire is strategy training, to use blogging, social media traffic, as well as affiliate marketing to make money online.
The content in the training is quite substantial, and I really like the philosophy that you need to put in work in order to succeed, instead of depending on softwares that promise instant earnings with zero effort.
This is a fact. It is what every single successful internet marketer goes through: hard work and perseverance.
Lee also says to put in an hour of work every single day, for 6 days a week, and you may start to see something approaching a full time income in 6 months to a year.
This kind of timeframe to reach success is much more realistic than all the nonsense out there that promise thousands in the first week, or hundreds within 24 hours!
But to be frank, 1 hour a day may not get you to a full time income even with that timeframe, because of the way they teach you to get traffic.


Why 60-Minute Empire may not work for you
Problem with free social media traffic
You see, the issue with free social media traffic is that it is not targeted at all. People go on social media to socialise, not looking to buy stuff. They go there to catch up with friends, scroll through their news feed, watch some funny videos, randomly click stuff. Basically they just want to relax after a hard day at work.
So when you set up posts and stuff to try and get people to click onto your landing page, you may find your efforts to be futile.
Even though the strategy to have a landing page is a great one, because many social media platforms do not allow affiliate links in your posts. So this is a great way to get around it: send them to your blog's landing page, and from there send them to OPFs, via your affiliate links.
The traffic source I personally use is also free. It is called organic traffic, and it comes from search engines. It is much more targeted, because these people are actively searching for what I am promoting. That is how they land on my website, through the search engines.
With strong buyers' intent, conversion rate will be much higher.


Problem with high-ticket products
High-ticket products are very expensive products that usually require you to purchase the products for yourself, before you can start earning a commission off your sales.
Typically, their cost is in the thousands.
Definitely educational resources like these will have some value, but whether it is really worth that much money or not, I guess it is up to you to look at the product, examine it closely, and then decide for yourself.
No matter how great a product is, to price it in the thousands means not many people whom you try to promote the product to will actually be able to afford it. What if you buy it and yet do not manage to make any sales?
Moreover, as affiliate marketers, we should always put customers and their needs first, by considering whether that high-ticket item is in their best interest, and not just promote it for our own selfish needs.


The proper way to do affiliate marketing
Affiliate marketing can be a very lucrative income source, if done properly, by attracting free targeted traffic, and by providing value first, so that customers will hang around and respond positively to other offers that you may recommend.
It does not work by simply channeling people to your landing page, and then send them to other people's funnels, thinking they will simply make the purchase so you can earn your commission.
These are real people, not robots. People can feel a person's sincerity and authenticity, and can tell whether a page is there just to keep hitting them with sales pitches, or is there to help them solve their problems.
In the 60-Minute Empire method, the niche is chosen for you, it is the make money online niche. The education resources and tools are all for teaching people to make money online.
You may already know, the vast majority of digital products in this niche are useless, because they make empty promises of instant earnings with little work, but they will never deliver their promises. It just does not work like that.
Sadly, it is what most people will go for: get rich quick schemes. When there is a demand, there will be supply. So if you are going to promote these crappy products, then again, it is about how much you value integrity and taking care of your customers over making money at their expense.
Affiliate marketing does not have to be this way.
You can choose your own niche
Since it is going to be your online business, choose something that you are passionate about, so that you have the interest to do the necessary research that will make you the expert in your chosen niche.
Then pour your wealth of knowledge and experience into it, so that you are helping to solve people's problems in this niche. It can be health related, or parenting, or any hobby, practically anything under the sun can be a profitable niche.
You can get free organic traffic
Then on your blog, instead of just having one landing page just to funnel people onto affiliate offers, you should build out content on your blog. Content that gives you authority in the niche.
By doing this, search engines will start to see you as a credible source of information, and will trust your site enough to send visitors to you, those who are actively searching for stuff related to your niche.
This is how you can get free traffic of the highest quality, all ready to buy, as well as engage with your relevant content, and hang around as your email subscriber, or come back for more information, and buy more products through your affiliate links.
You can do this too. I built up my websites from scratch, from zero knowledge about websites, traffic, creating content that ranks well in search engines, etc.
If I can do it, anyone can.
This has allowed me to work full time from home, growing my very own internet business.
Check out this training platform that provides all the resources, tools, along with an entire community of aspiring as well as already successful online income earners. The best part is, you get to start for free:


---
Pros of 60-Minute Empire
1. Real owners
The owners of this product are real people, ready to stand by it, providing some level of credibility to their customers.
2. 60 day money back guarantee
This basic refund policy is in place, for people who are dissatisfied with the product.
3. There is some value in the training
Parts of the training are useful and relevant, but the biggest issue remains, of the traffic source taught being not targeted enough.


Cons of 60-Minute Empire
1. Social media traffic that is free is not targeted
Free social media traffic has no intention to buy anything that you are offering in your posts on those platforms, so even if they click through out of curiosity, the chances that they would eventually convert into buyers is really low.
2. High-ticket products
These are usually overpriced, and some may not even be of a high quality. Since such products are not easily affordable by the masses, you would have to really consider carefully before deciding to promote them.
3. Website should be built out properly, not just for a landing page
A website forms the basis of any online business. It should be filled to the brim with content that will engage your website visitors, so that they find value on it, learn to trust you, and hence become your customers.
The focus should not be on just a landing page.
4. Upsells
Have you wondered why the affiliates of 60-Minute Empire would promote it so fervently, if it were only for a commission much less than $7?
The truth is, they can make up to $194 per sale.
How?
Through all the upsells that you will be hit with, right after buying the front end product, even before you have a chance to go through the training and see if it works for you or not.
I do not like anything with upsells, as it gives me unpleasant surprises that I have to fork out with more money, and more, and more…
Upsell 1: $27 – Done for you "Passive Income Masterclass" funnel
Upsell 2: $97 – Passive Income Masterclass funnel distribution rights
Upsell 3: $47 – Funnel World Mega Pack
Upsell 4: $197 – Reseller license for 60-Minute Empire
---
Is 60-Minute Empire Scam or legit?
60-Minute Empire is definitely a legitimate product that teaches strategies for affiliate marketing, though I do not agree with everything in there.
---
Recommendation
I do not recommend 60-Minute Empire, as there are much better ways to implement affiliate marketing. It will not be useful to your business' success, just like many other products I have reviewed, like Boomerang Buddy, Traffic Trapper, and AutoTraffiXPro, to name just a few.
See exactly how I do affiliate marketing, the proper way that will get me free organic traffic. It is precisely this kind of traffic from search engines that will ultimately become your passive income stream. Click on the button to learn more:




And for reading all the way to the end of the post, I believe you have it in you to make this work. Here is your FREE PDF Guide: 4 Simple Steps to Making Money Online. Fill in your details to claim it:



If you have any concerns or questions regarding this 60-Minute Empire review, do comment below, and we will start a conversation from there.
---