Welcome to my Grammarly review (2020), where we explore the question: is Grammarly worth it?
This article gives you a complete look at this grammar checker, so that you understand its functions and features, and what it can do for your writing.
Whether for work, business, school or personal use, this powerful and effective writing tool may be the answer to not just error-free writing, it can even guide the tone and style to suit your needs.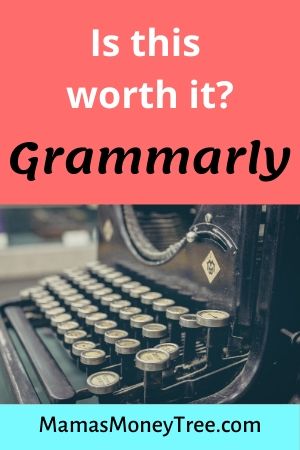 Having said that, it does have its limitations, which I will be pointing out, so that you get a full picture of what it can and cannot do.
I have started using it myself, in order to write a fair and honest review. And I'm happy to say that my positive experience with the tool and its customer service has prompted me to decide to promote Grammarly.

Without further ado, let's dive right into the review now!
---

Grammarly Review Summary

Product: Grammarly
Product type: Writing tool – grammar checker and proofreader
Price: free option available, $29.95/month (or $11.66/month if paid annually)
Rating: 4.7 out of 5
Scam / Legit? : Legitimate
Recommended or not? : Strongly recommended
Also called your free grammar assistant, Grammarly is an app or extension (for your browser) that checks your grammar, spelling, punctuation, plagiarism, tone, and more. It does so in real time, as you are writing on various platforms like Microsoft Word, WordPress, and many social media platforms.
Many professional writers use it, and I think everyone should, whether or not English is your native language.
---

What is Grammarly

Grammarly is one of the best grammar checkers around, used by writers as a first line of defence against mistakes that may otherwise undermine their professionalism.
It is also very popular among bloggers, content marketers, and in fact, people from all kinds of profession, and even students. Whether you are drafting an email, a report, a presentation, or a social media post, Grammarly can bring your writing to the next level.
Having been around since 2009, this top-notch software has served countless customers, from the novice to the most advanced writers.

Whether you are editing a research paper, drafting an email to your boss or client, blogging, commenting on an article, or posting on Facebook or Twitter, Grammarly allows you to focus on content, without having to worry about making mistakes.
This app can be used across the internet, correcting your writing in real-time everywhere you type. You can always choose to accept or reject its suggested corrections.
Now that we have seen the overall picture of what Grammarly is all about, let's zoom in to the nuts and bolts of how it works as our reliable grammar assistant.
---
---

How Grammarly Works Exactly

Installing Grammarly
Creating a free Grammarly account is a breeze.
Once your account is set up, install the software as an app onto your desktop and/or your mobile device (both iOS and Android).
It can also be added as a browser extension (Chrome, Safari, Firefox, and Edge), allowing checks on short pieces of writing on the internet, like emails, comments on Youtube, posting on social media, etc.
Or if a lot of your work is done in Microsoft Word, you will find it useful to install Grammarly as a Microsoft Office add-in.
It works on Mac as a desktop app as well.
So you see, the various places where you can set up Grammarly makes it a versatile program that should cater to everyone's needs, no matter what device or operating system you are using.

Set your writing goals
Once you get inside, the first thing you would want to do is to set your goals so that suggestions are tailored to meet your specific writing needs.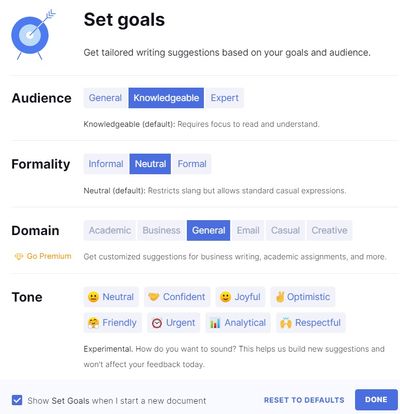 You may choose the level of focus required to read your piece of writing, how formal you sound, the domain of writing, your tone, and the intent of the piece. Feedback will be provided by the software based on these settings, to steer your writing to achieve these goals.
Now, you're all set up to engage your grammar checker and proofreader!

Applying Grammarly to your writing
Once the browser extension is installed, almost anywhere you type on the internet, Grammarly will get busy doing its work.
With a plugin added for Microsoft Word, Grammarly will also be right there picking up errors as you write.
If you do your writing work on any software or editor that is not directly supported by Grammarly, simply copy and paste the text into Grammarly for grammar, spelling, punctuation checks and suggestions targeted at your preset writing goals.
Alternatively, you can make Grammarly your default writing app, if it suits your needs.

Grammarly Features and Pricing

There are three pricing plans for Grammarly – Free, Premium, and Business.
The Free plan needs no introduction to its pricing, I suppose. 🙂
This free version is already a sophisticated machine, much more intelligent than the autocorrect function we get in Microsoft Word, as a basis for comparison.
The Premium plan is what most people would be looking at. It is for individuals, and costs
– $29.95 per month, or
– $19.98 per month if billed quarterly, or
– $11.66 per month if billed annually.
With Premium, you will get enhanced features including:
– customizable writing style settings for business, academic, casual and creative writing;
– word choice suggestions, which will enhance your vocabulary usage;
– sentence structure suggestions, to keep your sentences smooth and easy to read;
– confidence boosters, which eliminates hedging language to sound clear and confident; and
– plagiarism checker on desktop.
The Premium version will bring your writing skills a few notches up. I especially like its vocabulary enhancement function, as it is like having a Thesaurus at your fingertips.

The Business plan works well if you have an entire team working on some writing projects. It allows you to manage just one subscription for many members, at a cost of $12.50 per member per month (if billed as one annual payment). The maximum number of team members you can have is 149.
The fantastic thing about Grammarly is its entirely free plan, which grants us the privilege of testing it out with zero risk.
I love and appreciate programs like that.
You can then understand its features and functions more fully, before deciding if upgrading to a Premium plan is the right move.
I would also suggest that you try out its Premium plan (should you decide it is for you) by first paying for one month's subscription, before going all out with its quarterly or annual payment plans, as those are quite considerable sums of money.
---

To round up this article, let me recap and summarize the pros and cons, before I finally make my conclusion.

Pros of Grammarly

1. Established company
Grammarly has proven itself to be an effective writing tool, even amongst the most avid and professional writers. They use it as a preliminary check for their drafts, as they will have their own human editors and proofreaders looking at the final versions of their work.

2. Free plan to try out
Give it a go before you actually decide whether or not to take up its paid plans. Companies that market their programs with a free version tend to be very confident in the quality of their products.
I like the transparency of Grammarly and how they want customers to make well-informed decisions.

3. Provides real-time feedback
Suggestions are proposed as you type out your content. This makes the writing process a seamless one, as what you write subsequently will be coherent to the changes made, if you do decide to accept them. It could even spark off brilliant ideas.

4. You can specify the country
Whether you're using American English, British English, Canadian English, or Australian English, and so on, Grammarly allows you to specify.
This will help a lot with not wasting time over spelling 'mistakes' that are not genuine errors.

5. Easy to use and works on various platforms
There is no technical difficulty associated with using this software, as its interface is user-friendly and intuitive.

Cons of Grammarly
These are not real cons, but just some limitations of the program that I thought I should point out, so you know.

1. It is not a grammar teacher
It corrects your grammar, and will do wonders for your own learning provided you have some foundation of the English language. It will not equip you with grammar skills if there was none or very little to start with.

2. It is not exactly cheap
I have to admit $29.95 per month is no small sum for a grammar checker and proofreader. But because the free plan is there for you to make a fully-informed decision, hence it can definitely be worthwhile if it can help advance your career, or present your professionalism to clients, or get you that A grade in your dissertation, etc.

3. Will not pick up every single error
A machine is a machine, it will not be able to pick up nuances or contextual meaning like a human being can. Hence if the stakes are very high (like if your article is to be read by millions of people, or you are writing for a well-known magazine, etc.), you should still get a human proofreader to help with the final draft of your writing.
---
---

Is Grammarly Worth It?

The short answer – YES, Grammarly is worth it if it can meet your needs.
Whether you are a native English speaker or not, Grammarly can polish your grammar and enhance your vocabulary. If working it into your resume gets you the job, then it is more than worth it!
Over time, it can also correct any bad writing habits that had been inadvertently developed because we weren't paying enough attention, and there was no one to point them out to us.
So Grammarly, whether free or paid, can become our indispensable writing companion. Give it a go, I believe you will love it as much as I do.
I hope this review has been helpful for you.
If you have any concerns or questions regarding this Grammarly review, do comment below, and we will start a conversation from there.
Here are some related posts that may be of interest to you:
– what is content marketing and why it is so important
– is making money online for real
– how long does it take to monetize your content online
– freelancing versus affiliate marketing
– my personal story

If you would like to have a copy of my FREE PDF Guide: 4 Simple Steps to Making Money Online, fill in your details to claim it:
---