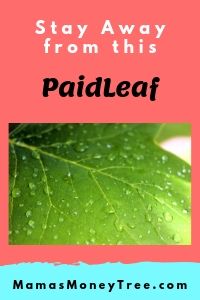 Yes, the PaidLeaf.co scam is real and alive. There are so many such scams swarming the internet these days, I'm glad you are doing your due diligence to research on this platform before it gets you.
Welcome to my PaidLeaf.co review.
When it sounds too good to be true, it probably is.
The first and biggest giveaway is its out-of-this-world huge earning potential. The unrealistic figures should be a warning sign to anyone tempted to try it out.
Join me in this honest and in-depth review of PaidLeaf.co, as I walk you through all the red flags, so that you can see through its lies and deception.
Without further ado, let's dive right in now!
---
PaidLeaf.co Review Summary
Product: PaidLeaf
URL: https://paidleaf.com/ or https://paidleaf.co
Creator: Unknown
Product type: referral program
Price: free to join
Scam / Legit? : SCAM
Recommended or not? : NOT recommended
PaidLeaf is a scam website, that exists to harvest your data. It lures people in with huge potential earnings, simply by referring others to join the platform.
The ulterior motive is to collect as many contacts as possible, so that they can be sold at a high price to third party advertisers. The site is malicious, and will not pay out a single cent, so please do not waste your time and effort on it.
---
---
What is PaidLeaf.co
To find out what is PaidLeaf.co, let us first take a look at its home page.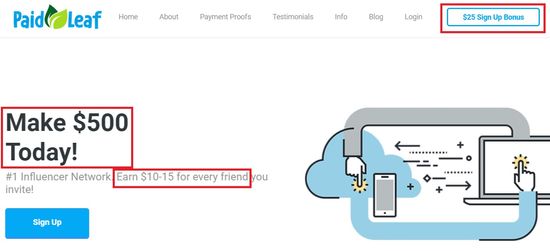 Biggest red flag: Huge earnings
As you can see in red boxes, those are all unrealistic potential earnings. $25 once you sign up, when you do not have to pay anything to sign up on their platform.
This really sounds dubious, where are they going to find the money to pay you?
They claim that advertisers and sponsors pay them for using the platform to increase their exposure and to build brand awareness. PaidLeaf.co then shares their ads revenue with you.
But advertisers do not pay this kind of rate to any platform, that will allow them to pay $25 for every new member who signs up. The marketing industry just does not work with this kind of numbers.
On top of that, they offer to pay you $10 to $15 for every friend you refer. This is to make you think that you are going to make a lot of money with this, so that you will go around inviting as many people as you possibly can.
For any program to claim that you can make $500 today, you should be prepared to run as far away as you can.

Routed from PaidLeaf.co to PaidLeaf.com
It seems strange, but when I was looking for PaidLeaf.co, I got redirected to PaidLeaf.com instead.
That prompted me to dig into the domain of the website, and look what I uncovered: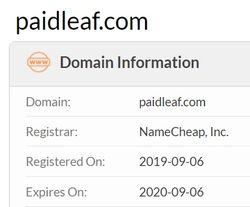 The PaidLeaf.com domain is 1 day old! It was registered on 6 September 2019, and as I am drafting this, today's date is 7 September 2019.
Wow. A one day old website claiming that it was founded in 2015? Didn't they have internet back then to set up a website? Why did they have to wait until yesterday to set up one?



They even claim they have already paid out $44 million to its over 300K members!
It gets worse:
Take a look at their terms of service.



They call themselves PaidLeaf and Clout Pay all in one sentence. They have seriously reached a stage of identity crisis, not knowing who they are.

Email address could be fake
Their email address provided for contacting their support seems very dubious, check this out:



This makes me suspect that the people behind PaidLeaf never had any intention of allowing you to get in touch with them at all, right from the onset.
Which brings me to another point:

Owner does not show up
The person behind PaidLeaf.com does not show up to identify himself or herself. This is very unsettling, as it simply means that there is no one who is willing to stand up for the product and be accountable, if any problem arises.

Fake Payment Proof
Here's the proof that their payment proof is fake: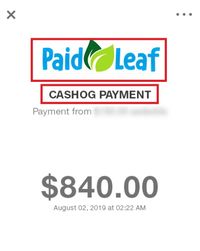 In a single payment proof, you see two different names: PaidLeaf, and CashOG.
CashOG is another product that I reviewed and concluded it was a Huge SCAM too.
So it doesn't look promising at all until this stage, where everything just seems so deceptive, I really do not think there is a single bit of truth on their website.
It feels like these unscrupulous people will do anything just to get at some money.

Fake Testimonials
Even their video testimonials are all fake. Look at this guy: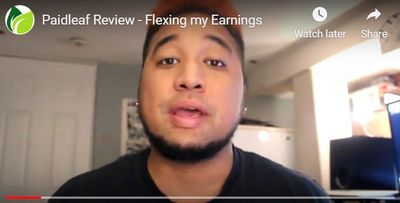 He is actually an actor whom they hired from Fiverr, just to make this video testimonial.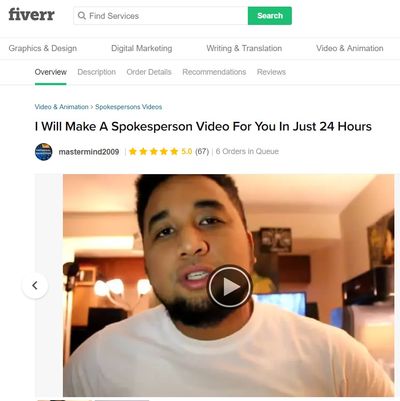 So, are we meant to conclude that not a single person has made any money with PaidLeaf.co? If so, they wouldn't have to find people to do up fake testimonials for them at all.

Their social buttons are all fake
When I tried clicking on those social buttons, nothing happened, I stayed on the same page.
Why would a legitimate company do such a shoddy job with their website? If the social media links are not ready, why would they place buttons there for people to click?
It's likely another lame attempt to appear legitimate, thinking that people may not click on them.
---
---

What PaidLeaf really wants out of you
You may think that since this platform does not cost you any money to join, there is nothing you can lose by just trying it out.
You can't be further from the truth. In fact, scams these days can come in many different forms. They do not have to take your money directly, but they can make you do the dirty job for them, which earns them the money.
Data harvesting
They will sell your contact email address to third party advertisers at a high price. That is the main motive of its website.
Since all its members can be considered highly targeted audience who is very interested in making money online, this list will earn these crooks the big bucks.
If you sign up with PaidLeaf.com (or PaidLeaf.co), you will inevitably receive lots of spam emails, bombarding you with promotions and offers that you never opted in for.
Tasks and offers are dangerous
There are also tasks that you can complete on PaidLeaf.co that apparently will earn you lots of money. Do not do those, as you could be putting your online security and privacy at risk.
You could be downloading dangerous apps, for instance, that infect your computer with virus or some malware. Or you could be led to some other shady websites. Or you could be asked to enter more personal information, like postal address, or payment details, to receive a free gift or something.
No matter what you try to do, you can be sure all that time will be wasted, because you will not get paid a single cent.
These people can lie blatantly on their website. They will stoop very low to trick people just to make money for themselves.
---
To round up this article, let me recap and summarise the pros and cons, before I finally make my conclusion.
Pros of PaidLeaf
Unfortunately, there is not a single plus point that I can think of for PaidLeaf.com.
It will do you more harm than good, just like these platforms: EmotePay, RainMoney, MoneyChaser, TheBucks.Club, and CashOG, to name just a few.

Cons of PaidLeaf
1. They will sell your contact information
Though it may be just a minor irritation to receive spam in your inbox, it is still not ethically correct to send promotional materials to you without your explicit permission.
2. They will not pay you a single cent
No matter what you do on the platform, like completing tasks, or referring people, these crooks never had any intention of paying you, right from the onset.
3. Dangerous to stay on the website
You do not know where you will land on, when you click on stuff, or when you try to complete their offers. They may be allowing advertisers that are usually banned on mainstream advertising channels to advertise on their website, so it is full of danger and traps.
---
Is PaidLeaf.co Scam or legit? 
PaidLeaf.co is quite definitely a scam. You need to stay as far away as you possibly can, and do not let them take advantage of you anymore.
---
The proper way to make money online
I guess everyone starts off wanting to make it rich fast. It's a very natural thing, that's just human nature. I wasn't spared of all the temptations on the internet, hopping from one shiny object to the next.
But when I realised those empty promises are only going to make other people rich, and not me, I stopped looking for shiny objects.
I found a dull-looking object, but I knew in my heart that is the real deal. From then on, I have never looked back.
I am now working full time from home, growing my internet business, and making an online income. I started from scratch with zero knowledge in this area. If I can do it, you can, too.
Here's a peek into my earnings on a recent day:



That's almost $200 in just one single day. It's nothing to boast about, though, as it's just a small fraction of its full potential. I just wanted to show you the possibilities.
Check out this training platform that provides all the resources, tools, along with an entire community of aspiring as well as already successful online income earners:


And for reading all the way to the end of the post, I believe you have it in you to make this work. Here is your FREE PDF Guide: 4 Simple Steps to Making Money Online. Fill in your details to claim it:


If you have any concerns or questions regarding this PaidLeaf review, do comment below, and we will start a conversation from there.
---