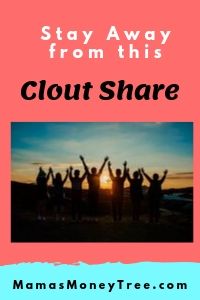 If you are wondering what is Clout Share, its website being CloutShare.co, I will be exposing the whole ugly truth about the platform here.
Welcome to my CloutShare.co review.
This is a platform that you should totally avoid, as it is malicious, and will do you more harm than good.
Join me in this honest and in-depth article, as I walk you through all the red flags that are screaming at us to stay as far away as possible from it.
Without further ado, let's dive right in now!
---
Clout Share Review Summary
Product: Clout Share
URL: https://cloutshare.co/
Creator: Unknown
Product type: Referral program
Price: free to join
Scam / Legit? : SCAM
Recommended or not? : NOT recommended
CloutShare.co is a fake website that lures people in with huge earning potential, but they will never pay out a single cent to anyone.
Their ulterior motive is to harvest your contact information, to be sold to third party advertisers. Trying to complete tasks on their platform may also put your online security and privacy at risk.
---
---
What is Clout Share
To find out what is Clout Share, let us first take a look at its home page.


The first and most obvious sign is staring at us, telling us this platform is not as simple as what it makes itself out to be.

Red flags on CloutShare.co
Potential earnings are unrealistic
It is free to sign up, and you supposedly get a $25 sign up bonus.
Money does not just fall from the sky.
This is a plot to get as many people to sign up as they possibly can. If nobody is paying them any membership fee, where do they find all the money to pay $25 to each new member?
They say advertisers and sponsors pay them to promote their brands on the platform, and they then share this ads revenue with members.
But the fact of the matter is no advertiser would pay them such a fee that will allow them to just gift you with $25, it is out of this world, unheard of in the internet marketing industry.
So far, every single platform I have come across that promises this $25 bonus has been a huge scam. There are so many of them. Examples are PaidLeaf, EmotePay, RainMoney, and MoneyChaser, to name just a few.
Just as with Clout Share, they also claim that you can make $10 to $15 for every friend whom you invite onto the platform, which is another ridiculous amount! I do wish making money online were that easy, though.
And according to what they say on their site, that is all you have to do to make money on their platform – sign up, refer friends, and cash out.
If referring people is not your cup of tea, you can supposedly complete tasks and offers on the site, to make equally huge bucks. This is even more dangerous, as I will explain in a later section.

They lie about their parent company and number of years
Clout Share was founded in 2013, and its parent company is called Socifare?



Well, just a little digging around reveals that their domain was very newly registered in August 2019, just one month old, at the time of this writing!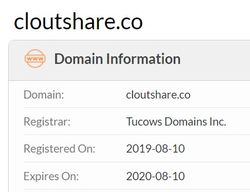 And as for Socifare, it does not take a detective to figure out that it's just a made-up name. This company does not exist.

Suspicious email addresses
They provide more than one email address on various pages of their site. The one I found on their Terms of service page was this: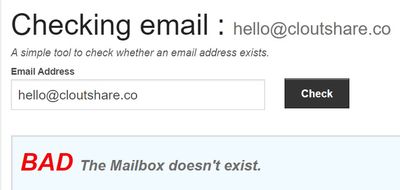 Well, it sure looks like they never had any intention to let anyone get in touch with them, right from the onset.

Who owns CloutShare.co?
There is zero information provided about the owners or founders of Clout Share. Which is to be expected, since they had intended to go into hiding from the day this was set up.
And they have better be hiding, there will be too many angry members hounding them down.

Fake payment proof
The payment proof on their site are all fake. Take a look at one of them: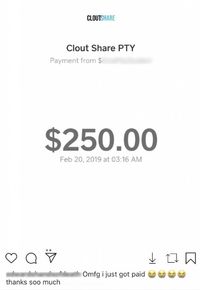 It is dated February 2019, six months before Clout Share came into existence.
It does look like they are not about to stop their blatant lies, doesn't it?

They will not pay out
They are not able to pay out, because the amount they promise is way beyond their revenue. It simply works as a bait, to lure people in, which is exactly what they want, as I will explain in more detail below.
---
---

What CloutShare.co really wants out of you
Sell your contact information
When you sign up with your name and email address, you would have already given them what they wanted.
Those crooks behind Clout Share will compile this contact list of their members, and sell it to third party advertisers.
This list will certainly fetch them a handsome price, because the audience is a highly targeted one, all eager to money online.
This is a niche that is highly lucrative, for it is so easy to sell crappy stuff that promise the moon, I mean, who doesn't want to get rich fast on the internet? Everybody wants that, and that is precisely what the lowest quality products will try to sell.
Few people will tell you the truth: that to succeed online, there is no short cut around hard work.
Anything that claims otherwise is just trying to get your money without delivering anything useful.

Tasks and offers are dangerous
As you try to complete the tasks and take up the offers on CloutShare.co, you may land on shady websites, or risk getting your device infected with viruses or malware.
If they can tell blatant lies on their website, these people should be capable of anything that will make them money, including working with dubious individuals and companies.
So my sincere advice to you is to stay off their website, they are up to no good.
---
To round up this article, let me recap and summarise the pros and cons, before I finally make my conclusion.
Pros of Clout Share
There is not a single plus point on this website. By hanging around on it, you will be doing yourself more harm than good.

Cons of Clout Share
1. Complete waste of your time
No matter how many people you refer onto the platform, or how many tasks you complete, they are not going to pay you a single cent.
The potential earnings are way to high, completely out of this world. They can never afford to pay you, it is just a big scam.
2. Risk to your online security and privacy
The longer you spend on the platform, the greater risk you run of getting hit by shady offers and promotions, or clicking on some ads that make them even more money, or unknowingly downloading some harmful software.
3. People whom you had referred will lose their trust for you
If you had referred friends and family before discovering the scam that this Clout Share platform is, then you would likely lose their trust.
---
Is CloutShare.co Scam or legit? 
CloutShare.co is definitely a scam, there is no doubt about it.
You do not need such a lowly platform in your life, it is totally and shamelessly void of any integrity.
---
The proper way to make money online
I guess everyone starts off wanting to make it rich fast. It's a very natural thing, that's just human nature. I wasn't spared of all the temptations on the internet, hopping from one shiny object to the next.
But when I realised those empty promises are only going to make other people rich, and not me, I stopped looking for shiny objects.
I found a dull-looking object, but I knew in my heart that is the real deal. From then on, I have never looked back.
I am now working full time from home, growing my internet business, and making an online income. I started from scratch with zero knowledge in this area. If I can do it, you can, too.
Here's a peek into my earnings on a recent day:



That's almost $200 in just one single day. It's nothing to boast about, though, as it's just a small fraction of its full potential. I just wanted to show you the possibilities.
Check out this training platform that provides all the resources, tools, along with an entire community of aspiring as well as already successful online income earners:


And for reading all the way to the end of the post, I believe you have it in you to make this work. Here is your FREE PDF Guide: 4 Simple Steps to Making Money Online. Fill in your details to claim it:


If you have any concerns or questions regarding this Clout Share review, do comment below, and we will start a conversation from there.
---