As you establish the branding for your business, you'd really want to take that small but important step to stand out among all the competition.
Captivate the attention of your audience with an animated logo. Make first impressions count as your potential customers make up their minds within the first few seconds of seeing your offers.
In this post, I will be reviewing IntroMaker.Tech, my #1 recommendation for custom logo animation service.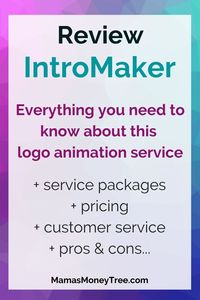 This will cover, in detail, everything you need to know about its service packages, pricing plan, quality of work, customer service, along with its pros and cons.
By the end of it, you will understand if IntroMaker.Tech is the perfect match for your business needs, and hence make the most well-informed decision.

Without further ado, let's dive right in now!
---

IntroMaker.Tech Review Summary
– Best custom logo animation service

Product: IntroMaker.Tech
Product type: Custom logo animation service
Price: $99 onwards (get 20% off by entering this discount code: "moneytree")
Rating: 4.8 out of 5
Recommended or not? : Strongly recommended
IntroMaker.Tech creates professional and striking logo animation that is customized to meet your specific business needs. It can be used as the introduction in any company video, transitions, outros, and social call outs. Its design team works closely with its customers to ensure satisfaction, and delivery of products is always on time.
---
---

What is IntroMaker.Tech

IntroMaker.Tech is a service that gives your company logo a new lease of life by animating it so you can use it throughout all your marketing videos, making lasting impressions that count.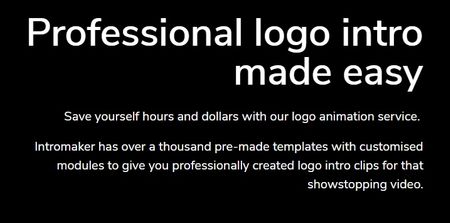 Though a relatively new company, its team is not new to graphic design. In fact, it is out to impress, as you can see from the samples of its work and some popular templates in its gallery.

How IntroMaker.Tech Works Exactly

As IntroMaker.Tech is a service provider, you do not have to lift a finger. Simply leave everything to the experts.
All you have to do is select the pricing plan that suits your needs, send in your logo and/or product photographs along with a short brief on your preferred style, then sit back and wait.
The professionally-designed animation will be delivered to you within 48 hours.

IntroMaker.Tech Pricing

There are three pricing plans in IntroMaker.Tech.
1. Single Animation – $99
This will be a 5 to 15 seconds customized animation of your logo, delivered in MP4 or GIF format, with no audio.
2. Single Social Package – $129
You will get 6 cuts (3 MP4 and 3 GIFs) of the logo animation for your company videos, social media (adapted for Instagram feed and stories) and email uses.
There is an option to include audio in your animation in this package.
3. Gold Member – $599 per month
This membership provides 8 animations every month, and is a great option that will complement your social media marketing efforts.
You can choose among social media posts, cinemagraphs, or add the animations to your social media call-to-actions.

IntroMaker.Tech Features
Extensive templates library
The design team behind IntroMaker.Tech has access to an extensive library of templates to suit any industry. Whether you own a restaurant, retail or online store, or offer services as a local business, or as a freelancer – you name it, IntroMaker.Tech has it.
Colors, background and other design aspects will be customized to sync with your company's branding and signature style.
Personalized and high service standards
The high degree of customization ensures that no two animations will look or feel the same.
Customer satisfaction is of the utmost priority. You will first receive a low-resolution GIF file of the animation to confirm that everything is to your liking, before the final product is sent to you.
---

To round up this article, let me recap and summarize the pros and cons, before I finally make my conclusion.

Pros of IntroMaker.Tech

1. Professional logo animation by the experts
Branding and first impressions count, they are not things you would want to take lightly.
Like outsourcing any other strand of your business, leaving it to the experts frees you of precious time to manage other essential things more efficiently and effectively.

2. Fast and prompt delivery
With IntroMaker.Tech, you can be assured they will deliver on time.

3. Service-oriented
The team works with its customers on a one-to-one level, catering to your unique style and specific business needs.

Cons of IntroMaker.Tech

1. May be out of your budget
No product is without its limitations. With IntroMaker.Tech, the only thing that might hold you back is if you do not (yet) have a budget for branding.
This is where your discount coupon comes in. During check out, enter "moneytree" as your discount code to get your 20% off. This deal is exclusive to readers of this website Mama's Money Tree, I hope you find it useful.
---

As you build your business, here are some other blog posts that you may find relevant:
– Start a website for your business in 10 minutes
– Shopify website builder review
– My favorite email autoresponder
– The best graphic design tool for infographics and charts
– Writing tool: grammar checker, proofreader
---

Is IntroMaker.Tech for you?

Is branding important to you? Do you believe that first impressions count? Will professionally-made logo animations add value to your corporate videos, product videos, and social media marketing efforts?
If your answer is yes to any of the above, then YES, IntroMaker.Tech is for you.
It helps you get an essential aspect of your business branding out of the way, and at an affordable cost. Check it out for yourself now:

If you have any concerns or questions regarding this IntroMaker.Tech review, or you have some personal experience to share with us, do comment below, and we will start a conversation from there.
---