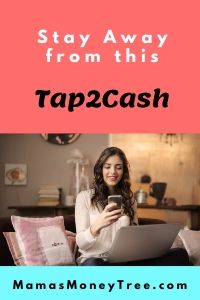 What is Tap2Cash.net? Can you really earn $500 per day with it? Or is it another scam that tries to take advantage of unsuspecting people?
Welcome to my Tap2Cash review.
You may have seen people on social media splashing their referral links, urging others to sign up on this platform for some easy money making opportunities.
It's great that you are digging around before committing your time and energy on something that sounds too good to be true. With the amount of scams on the internet these days, you can never be too careful.
Here, I will show you concrete evidence that points to Tap2Cash.net being a huge scam. Do not believe those payment proofs and testimonials, as you will see how easy it is for the scammers to create false credibility for themselves later in this article.

Without further ado, let's dive right in now!
---

Tap2Cash.net Review Summary

Product: Tap 2 Cash
URL: https://tap2cash.net/
Creator: Unknown
Product type: influencer network
Price: free to join
Scam / Legit? : SCAM
Recommended or not? : NOT recommended
Tap2Cash.net is a data harvesting site that will not stop at stealing your contact information and selling them to third party advertisers.
There are tasks and offers on the platform that promise to pay you a hefty sum, but are in fact fraught with danger everywhere you step. This is a scam website that you need to stay away from, as far as possible.
---
---

What is Tap2Cash.net

To find out what is Tap2Cash.net, let us first take a look at its website: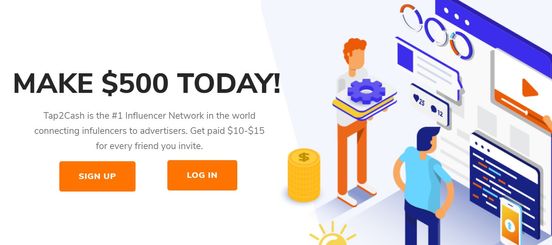 They claim to be an influencer network, connecting influencers (you and other members) to sponsors and advertisers.
Companies get to advertise their brands and products to the audience on Tap2Cash, hence are willing to pay for it.
Tap2Cash then shares its ad revenue with its members, claiming to make you $10 to $15 for every friend whom you invite onto the platform.
Though it sounds enticing, this is in fact the biggest red flag, screaming at us to pay attention.
The concept seems sound and workable, but advertisers do not pay this kind of money in the advertising industry. Not even the biggest giant companies.
If Tap2Cash were to keep to their word, they would go bankrupt in no time. Because nobody is paying them that kind of money, they are not going to pay you.
Now, let me show you the proof that these people behind Tap 2 Cash are cheats.

Red Flags in Tap2Cash.net

Lie about number of years
They claim to have 3+ years of experience in the industry, and have paid out $7 million to users.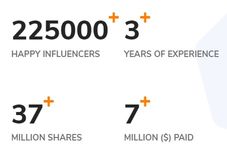 A quick check shows that their domain was only very recently registered, on November 6, 2019. That's two months ago from the time of this writing.

Fake testimonials
These user profiles are fake. They are found on other similar scam sites that these people have set up to try and bait as many innocent victims as possible.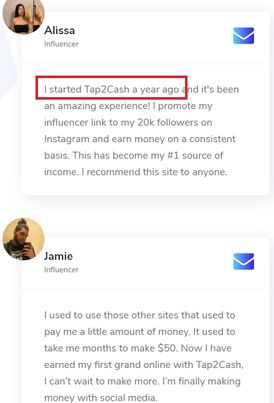 No one could have started with Tap2Cash a year ago, when its existence only started two months ago.

No social media accounts
If you try to click on those social media buttons at the bottom of Tap2Cash.net home page, you will land on the respective home pages of those social media platforms, like Twitter, Facebook, etc.
And not the social media accounts of Tap2Cash specifically.
How can such a giant influencer network not even have its own social media accounts, if it were legit?

Fake contact email address
The email address provided at the top of the home page of Tap 2 Cash is fake. It does not exist.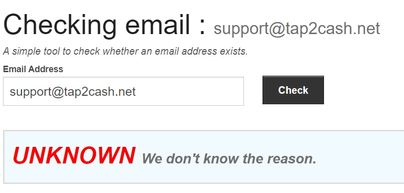 This is bad.
It shows that the Tap2Cash support team does not exist. There was never any intention of getting in touch with its members, right from the outset.
Many people may realize this only when they face problems in trying to cash out their earnings. By then, they would have spent time and effort in referring people and completing tasks on the platform in order to accumulate enough earnings to meet the minimum for cashing out.

Fake management team
I have seen the exact same management team before, on other scam sites.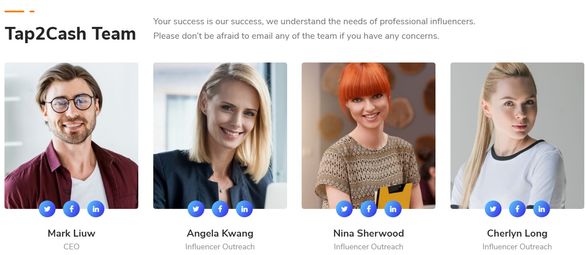 Their social media accounts are, again, non-existent. When you click on those buttons, you land back on the same page.
I hope you see by now what a dishonest scheme this is.
---
---

What Tap2Cash Does Exactly

Data harvesting
The moment you sign up to be a member of Tap2Cash.net, providing your name and contact email, you have given them what they want.
When you place your referral links on social media to try and get other people to sign up under you, you are giving them more of what they want.
With this list of contacts, they will sell it to third party advertisers, fetching a high price, since they can show that everyone on their list is very much interested in making easy money online.
Next, you can expect to receive lots of unsolicited emails in your inbox, offering lots of trash that promise to make you the first $2K within the next 7 days, and other similar nonsense.
The make money online niche is a lucrative one that hinges on people's natural desire to make fast and easy cash on the internet. Unfortunately, it is also the wild west, chaotic and unregulated.

Other activities
There will be other tasks and offers on Tap2Cash that you can complete to supposedly earn an easy $30 or $50.
But it is just a land mine, you will never get your money, and these scammers will get what they want.
For instance, downloading an app may invite malware and viruses onto your device. Clicking on a link may land you on an illegal online casino. Clicking on an ad will earn the schemers some money. Signing up for a free trial may compromise your payment information.
We never know what these people are capable of. At least we know they are ready to put blatant lies on their website in order to get what they want.
---

To round up this article, let me recap and summarize the pros and cons, before I finally make my conclusion.

Pros of Tap2Cash.net

There is not a single plus point to this platform. It will do you more harm than good. You've got to get out of there, if you are still engaging in the activities on the platform.

Cons of Tap2Cash.net

1. Your information will be sold without your knowledge
Using the information requested during the signing up process, Tap2Cash will then turn around to sell it to third party advertisers behind your back.
Having your email inbox spammed may sound like just a minor irritation, it is the deliberate attempt to deceive its users that is despicable.

2. Your online safety may be compromised
You never know what these dishonest people may be up to. With numerous tasks and offers that have got handsome earnings attached to them, people will be tempted to complete those easy jobs.
In the process, you may get your important information stolen, your device infiltrated with malware, landing on dubious websites, etc.
It is best to just stay away to keep yourself safe.

3. You will never get paid
No one has ever gotten paid by Tap2Cash.net, and no one will ever earn a single cent from them. I hope you have not wasted too much time and effort on the platform.
---

Is Tap2Cash.net Scam or Legit?

I can say for sure that this is a scam.
There are so many other similar websites around, all proven to be a complete time waster. Examples include ShareCash, Clout Bonus, Money Genie, LiteBucks, and Cash4Clickz, to name just a few.
---

An Alternative

Everyone wants to be rich, but guess who will make it?
It's a very natural thing, that's just human nature. I mean, find me someone who doesn't want to get rich fast, and with minimum effort.
I wasn't spared of all the temptations on the internet, hopping from one shiny object to the next.
But when I realized those empty promises are only going to make other people rich, and not me, I stopped looking for shiny objects.
I found a dull-looking object, but I knew in my heart that is the real deal. And from then on, I have never looked back.
An honest, down-to-earth method that will get you there. It's not going to be easy, but it will get you there.
Versus the fast and easy way that gets you nowhere except round and round in circles.
Which would you choose?
I am now working full time from home, growing my internet business, and making an online income. I started from scratch with zero knowledge in this area. If I can do it, you can, too.
Here's a peek into my daily earnings:



That's almost $200 in just one single day. It's nothing to boast about, though, as it's just a small fraction of its full potential. I just wanted to show you the possibilities.
Check out this training platform that provides all the resources, tools, along with an entire community of aspiring as well as already successful online income earners:


This real deal does not promise instant results.
Instead, it provides the knowledge and lifelong skills required to grow a successful online business.
And for reading all the way to the end of the post, I believe you have it in you to make this work. Here is your FREE PDF Guide: 4 Simple Steps to Making Money Online. Fill in your details to claim it:


If you have any concerns or questions regarding this Tap2Cash.net review, do comment below, and we will start a conversation from there.
---