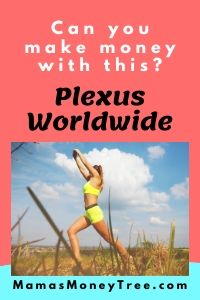 Is Plexus Worldwide the scam that some people are calling it? What made them say that? Pink drink that deteriorated their health? Exorbitantly-priced products? Endeavor that saw them losing money rather than earning?
Welcome to my Plexus Worldwide review.
We will answer the above questions and more in this in-depth and honest article that explores the potential of taking on Plexus Worldwide as a home business.
Is this weight loss and nutritional supplements MLM company worth considering as a business opportunity? Are its products worth the high price tag? Can you expect to make a good side income out of it?
I'm not associated with this company in any way. I aim to provide the facts along with my personal opinion, in the hope that it will help in your decision-making.

Without further ado, let's dive right in now!
---

Plexus Worldwide Review Summary

Product: Plexus Worldwide
URL: https://plexusworldwide.com/
Creator: Tarl Robinson
Product type: MLM (multilevel marketing) company selling weight loss, nutrition and personal care products
Price: $39.95 annual membership + at least 100 PV each month in personal or customers' purchases.
Scam / Legit? : Legit
Recommended or not? : Not recommended
Plexus Worldwide is a direct selling company for weight loss, nutrition, skincare and personal care products. Its flagship item is the Plexus Slim.
Most users offer positive feedback on its products, but they are definitely very much overpriced compared to similar products in the free market.
The main reason I do not recommend getting into the Plexus business is its monthly PV requirement to remain qualified for commissions. If you do not possess the high income skills required to attract a targeted audience, you may end up paying out of your pocket in order to stay commission-qualified.
---
---

What is Plexus Worldwide

A brief background of Plexus Worldwide

Founded in 2006, Plexus Worldwide started off selling just one product – an in-home breast health kit. It has since expanded and diversified into the weight loss, nutrition and skincare niches.
Tarl Robinson originally partnered with Alfred Peterson, who later stepped down from his management role in 2014 and has not returned to Plexus since.
Recognized by Direct Selling News as #39 on its List of Top Revenue Generating Direct Selling Companies, this MLM giant achieved a revenue of $562 million in 2017.

Plexus Worldwide Product Line

Plexus Worldwide's products are classed into four main categories: weight management, nutrition, skincare and personal care.

Weight mangement
Its flagship product is Plexus Slim, which comes in powder form, to be mixed with water and taken 30 to 60 minutes before a meal.
Slim acts to reduce your appetite, and you're encouraged to exercise and adopt a healthy diet while on this regime.


Its featured ingredients include a prebiotic which encourages the growth of good microbes, green coffee bean extract that helps to support a healthy glucose metabolism, and chromium polynicotinate which transports glucose into cells.
I'm not trained in nutrition or medicine, but I just thought the inclusion of chromium in a dietary supplement to be rather unique, as I have never seen it in the ingredients list of any other supplement before.
30 packets (one per serving) of Plexus Slim Microbiome Activating retails at $89.95.

Nutrition
Products in this category include probiotics and some for cleansing out the gastrointestinal tract.
I took a quick look at one of them – Plexus Bio Cleanse, and was surprised to see some of its main ingredients being
– ascorbic acid which is in fact Vitamin C,
– magnesium hydroxide which is frequently used as a laxative and antacid, as well as
– sodium bicarbonate which is none other than what we commonly know as baking soda.
Not that there is anything wrong with these ingredients, it just dawned on me again how MLM companies often package common ingredients and market their products as some high end solution to people's health issues.

Skincare
Plexus' skincare series is called Joyome. Products include collagen complex and serums for day and night.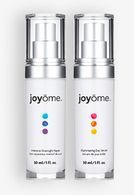 A set of the day and night serums sells for a whooping $153.

Personal care
This category is the smallest, including only some soothing cream, a body cream, and a breast check kit.
The breast check kit is a patented device that enhances sensitivity as one performs a self-examination for detection of any changes in the breasts.

Plexus Worldwide Product Quality and Feedback

It is not difficult to find lots of positive reviews about Plexus Worldwide products, especially with regard to how effective its weight loss Plexus Slim is for many customers.
At the same time, we all know that even the best products are bound to get some negative reviews. These are a few that caught my attention: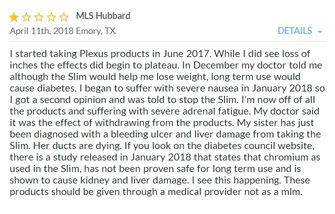 No matter what supplements you choose to take, always be mindful that everyone's body and pre-existing conditions are different. So do consult your doctor before starting on anything new.
If you intend to promote Plexus Worldwide, you really have to try out their products and convince yourself that they work. Without the conviction and passion for what you are selling, it would be a daunting task to get people to part with their hard-earned money, or join your team to become its distributors as well.
---
---

Plexus Worldwide Business Opportunity

How to become a Plexus Worldwide Ambassador

To become a Plexus Worldwide Ambassador, which is the name they give for their distributor, you have to first pay an annual membership fee of $39.95.
This entitles you to distributor discount, which is a 25% off all products. You will also be provided with online training, a back office, as well as a replicate website through which customers can make their purchases and you get to earn commissions.
To be qualified for earning commissions, you need to maintain a monthly PV (Personal Volume) of 100. This can come from your personal purchases or those of your retail customers.
For your first month as an Ambassador, to meet the PV requirement, you can buy any of their Welcome Packs, with a wide variety of product combinations. Prices are $99 or $199. These will already include your annual membership for the first year.

How to make money with Plexus Worldwide

Just as with any other MLM opportunity, there are two main ways to make money with Plexus Worldwide: through retail commission by selling their products, or through recruitment of other distributors into your team.

Retail commission

Whatever purchases made online through your replicate website creates Personal Volume (PV), which earns you commissions on the amount above the first 100 PV.
For instance, if you have 150 PV for the month, the commissionable volume is 50 PV, for which you will earn 15%. It works out to be $7.50
The translation from PV into dollars is 1 to 1 in this case.
Beyond a total monthly PV of 500, the commission increases quite significantly to 25%.
Say you have 550 PV in a certain month, the commissionable volume is 450 PV (after subtracting the first 100 PV). Your commissions will be 25% x 450 = $112.50
In addition, if you have inventory on hand and are able to sell to customers at retail price, then you will make the difference between that and the distributor price, which is 25%.

Preferred Customer Bonus
Some people may choose to become a preferred customer on your replicate website, signing up for a recurring monthly order to obtain a reduced price.
In that case, you will still get to earn a preferred customer bonus. Just for a sensing of the numbers, one order of Plexus Slim Microbiome Activating will earn you $15.

From what I can see, Plexus Worldwide has a good focus on retail, but the downside is their products are very expensive, and will not be easy to sell at all.
If you are promoting Plexus to just your warm market, meaning the friends and family around you, you risk souring some relationships, and your customer base will be too limited.
This should not be the way to market MLMs anymore.
With the internet and everybody being on it, if you do not leverage that, you are doing a disservice to your business.
What you need is to develop a set of high income skills that will send highly targeted traffic to your offers. It will allow you to tap on the vastness of the global market, reaching potential customers who are searching for what you are selling.
So you will get people with strong buyers' intent, instead of shoving expensive products into people's faces, who aren't even needing these items in their lives.
Click on the button below to learn how this method works exactly:

Recruitment commission

All MLM companies place recruitment at the core of their businesses, as that is another main source of revenue for them.
In a way, when you sign up to promote Plexus Worldwide, you effectively become its customer as well, by paying for the membership and having to meet the monthly PV requirements.
Hence Plexus Worldwide Ambassadors will be encouraged to recruit others, to build up their team. Bonuses and commissions will increase through various aspects of the compensation plan, like:
– One – Time Achievement Bonus
– Business Building Bonuses
– Plexus Points
– Bonus Pools
– Lifestyle Bonus Program, etc.
In particular, the Business Building Bonuses allow you to earn commissions up to 4 levels deep when a new Ambassador purchases a Welcome Pack.
If you are the direct referrer (or upline), you earn $25 for any Welcome Pack that each referral purchases. Your upline makes $12.50, his or her upline makes $7.50, and the next upline makes $5.00.
Further to this, there are also Plexus Points to be earned when someone buys a $199 Welcome Pack.
So you can see how the compensation plan places a strong emphasis on recruitment and building up the team, and on generating revenue through selling of Welcome Packs, which brings me to reiterate the point that distributors ultimately become the customers.

Why Plexus Worldwide may not work for you

The biggest reason why I do not think Plexus Worldwide is a good opportunity is because of its minimum monthly PV requirement in order to remain qualified to earn commissions.
If you are not able to get enough retail sales to meet that requirement, chances are you may then feel the pressure to top it up with your own purchases. This can add up quickly, leaving you in the red, rather than profiting from it.
Another question you have to ask yourself, or rather, pose to your sponsor, is this: is he or she earning most of their income through retail commissions, or off Welcome Packs?
Products that people love must be the core to any business. Only then will you get happy, returning customers. If the company's products and compensation plan allows you to earn a good income just through retail commissions, then I'd say it's worth a go.
If you are already in the Plexus Worldwide business, and are having problem ramping up your retail sales, then this is for you:

At the end of the day, an MLM is like a leopard that never changes its spots.
It is tough for any new distributor, simply because the compensation plan pushes the earnings upward, to those at the top of the echelons.
Whatever hard work you put into recruiting people gets you a disproportionately small amount of earnings. It takes years, and tons of network marketing skills to work your way to the position where you get to reap the fruits of others' labor.
Hence I find the MLM business model to be exploitative, and will never get involved myself.
To make matters worse, people tend to give up very quickly, faster than you can say Jack Robinson, precisely because they can't see the results of their effort.
This means all the time and energy you spend recruiting Ambassadors will not give you a sustainable income.
Those who are very successful have formulated their own strategy of mass recruitment, either through Facebook ads, or through running their own website, or some other means that helps them reach the masses.
---
---

To round up this article, let me recap and summarize the pros and cons, before I finally make my conclusion.

Pros of Plexus Worldwide

1. Evergreen niche
The health and nutrition, and weight loss niches are evergreen, and will never go out of trend. You can be sure there will always be a ready market looking to shed some pounds.

2. Good focus on retail
If you can make enough sales to get yourself into the band of 25% commission, it is a reasonably good way to make some money, and help people achieve their health goals at the same time.
Moreover, if the products work, you will find yourself with many repeat customers.

Cons of Plexus Worldwide

1. Exorbitant pricing
Prices of Plexus products are way too high compared to similar items in the free market. Hence it makes it rather difficult to sell, limiting the audience to people in the average to high income range.

2. Monthly PV requirement
Rather than an earning opportunity, this can easily become a hole in your pocket if you are topping up the difference in order to meet the requirement to qualify for commissions.

3. Focus on recruitment
The potential for any MLM business opportunity lies in recruitment. Your income can be massive once you reach the top, but only a minuscule fraction of distributors will get there.
For most distributors, all the time and energy spent recruiting people go to waste when they find that everyone they recruited has disappeared within the next couple of months.
Those staying end up feeding the company through their monthly purchases.

4. Most distributors do not make money
It is a sad fact that only 1% of all MLM participants will profit, as stated in a report found on the FTC (Federal Trade Commission) website.
Take a look at the Plexus Worldwide 2018 income disclosure for its Ambassadors.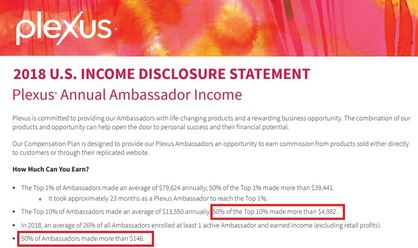 50% of Ambassadors made more than $146 per year.
Even for the top 10% of Ambassadors, 50% of them made more than $4,982 in 2018. That works out to be $415 per month. Though it may sound alright, bear in mind this is for the top 10% of Ambassadors.
How many others have toiled away their blood and sweat, to see no returns, or even made losses?

Is Plexus Worldwide Scam or legit? 

Plexus Worldwide is definitely a legitimate MLM company, selling great weight loss and nutrition products that have worked for many people.
Unfortunately, I do not see a lot of potential in its compensation plan, due to its pricey products and minimum monthly PV requirements.
Similar MLM opportunities include SuperLife World, NeoLife, Valentus, 4Life, and Optavia, to name just a few.
---

An Alternative

I won't be recommending Plexus Worldwide to anyone. Instead, allow me to humbly present to you the business model that is working for me.
I promote companies' products too, but there is zero entry fee. I get compensated based on the amount of sales I bring to the company, which is a fair and square and completely transparent system.
Because I do not have to pay a single cent to promote them, I can work with as many number of companies as I like, all at the same time.
There is no face to face selling at all, and no recruitment.
The best part is, all my work is done on the computer, so I do not have to step out of the house. Or I can even bring my work anywhere I want to.
If this sounds good to you, then let me invite you to hop over to my other post, where I will explain this method in much greater detail:

And for reading all the way to the end of the post, I believe you have it in you to make this work. Here is your FREE PDF Guide: 4 Simple Steps to Making Money Online. Fill in your details to claim it:


If you have any concerns or questions regarding this Plexus Worldwide review, do comment below, and we will start a conversation from there.
---