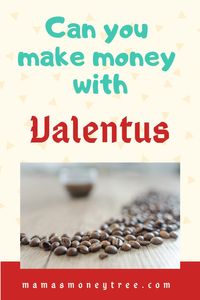 Someone offered you a solution to lose weight simply by drinking their premium coffee? Could it really work, or is Valentus a scam?
That is what we will uncover here.
Welcome to my Valentus review.
If someone has promoted Valentus coffee to you, then it is very likely you have heard of how life-changing their business opportunity is too. Drink to your health and wealth. Why not?
But can it really replace your 9 to 5 job while giving you the freedom to work from home or anywhere, or is it going to land you deeper in debt?

In this article, we will first take an objective look at Valentus products, and whether there is any scientific basis for the health claims they are making.
Then we will also dig right into the inner workings of their network marketing business model, to see if you even stand a chance to profit out of it.
Do stick around, because I will also reveal something shocking that happened with their UK office. You will be able to see for yourself how much (or how little) integrity the company has, from the way they handled it.
Without further ado, let's dive right in now.
---

Valentus Review Summary

Product: Valentus
Creator: Dave Jordan
Product type: Weight loss coffee and other nutritional supplements being sold through MLM program
Price: $20 activation fee to become a distributor, starter pack from $59.95 to $499.95, along with minimum monthly purchases of at least 50BV or 100BV each month (depending on how much commission had been earned)
Scam / Legit? : Legit
Recommended or not? : Not recommended
Valentus is a relatively new MLM (multilevel marketing) company, selling weight loss and nutrition products with the new age health junkie in mind.
Priced exorbitantly, the main way for a distributor to make money is to keep recruiting people as his or her downline, since the products are too expensive. There is no real demand for its products. Distributors struggle to make sufficient retail commissions (here's how you can boost your retail sales, something they don't even teach you).
Its UK distributors have become victims of the compensation plan since the authorities announced in April 2017 that the weight loss coffee is illegal there.
---
---

What is Valentus

A brief background of Valentus

Dave Jordan was previously involved in some MLM companies, prior to setting up his own.
In 2014, together with his wife, Joyce, they founded Valentus, which means "prevail", signifying superior strength, power and influence.
With his huge number of leads from his prior MLM experiences, he started his mass recruitment to help him sell his functional beverages, as well as the business opportunity it supposedly offers.
In April 2017, his UK branch got into trouble with the authorities, which announced their weight loss coffee to be illegal there, throwing its UK distributors into confusion and helplessness. I will elaborate more on this later.
In May 2017, Valentus' coffee supplier claimed that Valentus owed them $3.18 million dollars. A confidential settlement was later reached for this case.
But this document related to the case is very interesting in that it was revealed each box of coffee costs $6. Whilst Valentus is selling it to its distributors at $59.95 per box. So you go figure.
There have also been allegations of this company running a pyramid scheme.
In its very short history so far, I must say it has seen quite a bit of action.

Valentus Product Line

Here are the main health products, mostly in the form of beverages:
SlimROAST coffee, which is its signature weight loss coffee, available in 4 flavours: Italian, Optimum, Brazilian, Cocoa. It is touted to control appetite, regulate sugar and fat absorption, promote brain health and focus, elevate mood, and act as an antioxidant.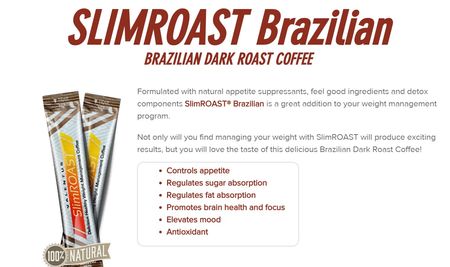 Prevail Energy drink – gives you a healthy boost of energy without the harmful artificial stimulants
Prevail Trim – a proprietary formula with natural appetite suppressants and ingredients to help detoxify your body
Prevail Immune – packed with antioxidants from the most nutrient-rich fruits and vegetables extracts
PrevailMAX – a nutritional breakthrough for your cells, it delivers a rapid increase of internal blood cell pressure to speed absorption of the nutrients in food and supplements. At the microscopic level of your human cells, you will feel more energy and ability to focus like never before. Wow.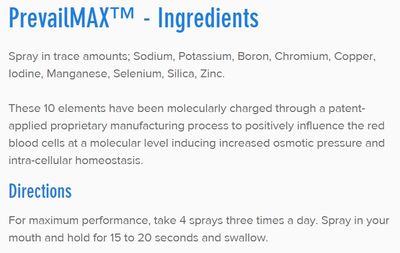 Prevail K-9: yes, this is for your pets' cells, another breakthrough so your dog will feel more energy (I'm not sure I would like that) and an abundance of health like never before. But, spray in whose mouth, did they say? See what I underlined in red in the picture below.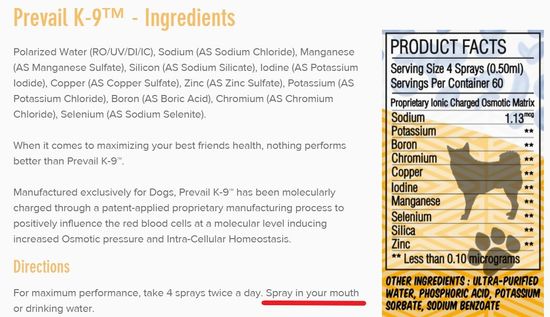 Breakthrough AM/PM – a 12 day cleanse, using two simple formulas designed for morning and night, this will provide an optimal environment of digestion, detoxification, and elimination.
Prevail Keto Creamer – offers a sugar free addition to your daily cup of coffee, it delivers healthy fats to enhance your ketosis and helps you feel better than ever.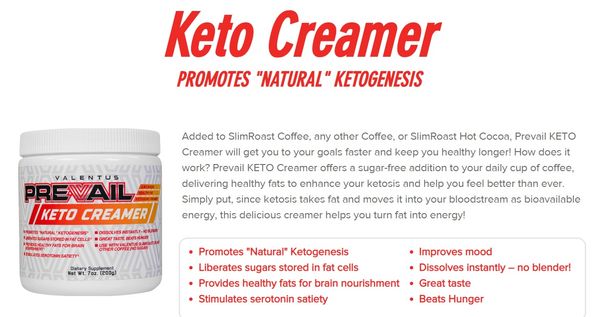 That's quite a good variety of nutritional beverages, serving different functions.
But of course we can't just take whatever they claim. Let's explore whether there is even any scientific basis for these health claims.

Do Valentus Products have scientific backing?

I'm not the expert here, so I will point you to this experienced dietician's review of the Valentus SlimROAST coffee. It certainly does not look very promising.
The conclusion? Valentus SlimROAST has ZERO research proving it works.
Don't be fooled by talk about proprietary blends and/or ingredients. No one is hiding the world's best-ever weight-loss secret.

The Bottom Line:

Want the same effect of SlimRoast? Get a Starbucks and eat a balanced diet. Then, smile because you saved money and didn't buy SlimRoast.
Wow. So much for the bed of roses that Valentus is trying to sell to the world.
---
---

Valentus Business Opportunity

How to become a Valentus Independent Representative

Valentus calls their distributors IRs (Independent Representatives). To become a qualified distributor, you first pay a $20 activation fee, which you do not have to renew annually.
Then you buy a starter pack, which ranges from $59.95 to $499.95.
Basic $59.95 – 1 box (50BV)
Starter $129.95 – 3 boxes (100BV)
Advanced $199.95 – 6 boxes (150BV)
Business Builder $499.95 – 16 boxes (400BV)
Following these upfront costs, every month you have to fulfill a minimum of 50BV in purchases.

How to make money with Valentus 

Let me spare you (and actually myself, too) the convoluted compensation plan that Valentus has. If you are really interested to learn the details, they have it on their website, you can check it out.
My take on compensation plans of all MLM companies, in general, is that it's a conspiracy to hide from you how most of the profits of the company are going right up to the founders and the top level executives, leaving very little for the distributors at the bottom ranks, who actually make up the foundation of the entire business.
In very simple terms, there are 2 main ways to make money with Valentus:
Recruitment commission: this is the part that always kills much of my brain cells. My simple mind understands it this way – the more people you recruit into the company as your downline, forming your team, the more you earn, and the more you get to advance through the ranks.

Why Valentus may not work for you

The root of the MLM evil starts with exorbitant pricing (notice how Valentus does not openly show its product pricing on its website?).
Which, in the case of Valentus, is way too much over the top. I will never in my life pay $60 for a box of coffee.
So with this kind of pricing, there is no real market demand for it. Hence artificial demand is created through the incentive structure: reward people to buy the products.
In the name of qualifying for earnings, distributors are made to pay to enter the game. And keep on paying, month after month, with the promises of higher potential as you bring in more people to be exploited by them.
Distributors have to fork out their money, to buy the far future hope of starting to recoup their losses and profiting from this. It may take years of working full time, promoting and selling for the company before this happens.
What does not make sense to me is how distributors are made to pay the company to promote them.
A multi-million dollar company… where does it get all its sales from? Not from the open market. It comes from the pockets of its distributors, believing they are in this for a life-changing opportunity.
I'm so glad I only set one foot through the doors of an MLM company (not this one), and saw enough to get the hell out of there.
Many others are not so fortunate because the hype from the rah-rah parties and conferences the leaders organize paint such a rosy picture that it is so easy to get sucked in.
Although I would usually say there is a higher rate of success when you join an MLM company in its infancy stage, since you may get to climb the ranks faster, as recruitment may be easier before the market gets saturated, I'm not going to say this with Valentus.
In fact, I can sense that this company puts making money as its main objective, and it can veer dangerously towards being a pyramid scheme, if it is not careful.
So I will not recommend anyone to join them.
And here are some details of what happened with their UK office, as promised early on in this article.

What's with the UK Saga?

Apparently, the UK law does not allow weight loss products with ingredients that are not proven to promote weight loss.
Check this out, from UK's Advertising Standards Authority: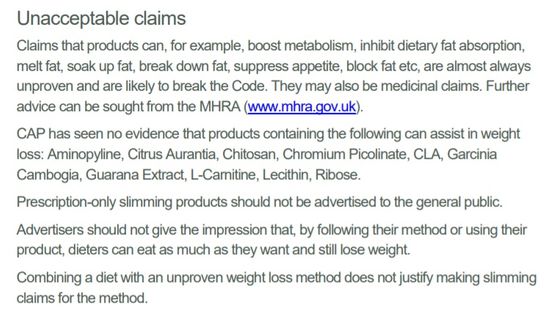 Yet again, another instance where Valentus' weight loss claims on its SlimROAST coffee are unfounded.
It will remain illegal in the UK, for as long as it is making those claims.
And yet, even in the aftermath of the UK authorities dissolving the Valentus office there, uplines were still urging their teams to continue recruiting people into the business, giving the impression that they were only waiting for the company to get registered in the UK, and it would be business as usual after that.
On top of that, distributors were stuck with all their stock that they were not able to sell off.
Under such circumstances, you would expect a company which has a mission "to help people prevail in all aspects of their life" to stand up and do the right thing: take care of its distributors who have forked out their own money for the company.
Nope, nothing of that sort.
People had to fight for their refunds, a FaceBook group was formed by the UK distributors so they could find strength and advice to work out their issues, etc. It was a mess. One that the leaders in Valentus did not handle very well.

For those who thrive on the MLM program
Having said that, I recognize and respect that there are definitely people who thrive on the MLM structure, and are able to make a profit out of it.
You might be one of them, if you are an extrovert, feel energized from interacting with people, are resilient in the face of rejections, and know something about leveraging on the internet rather than relying solely on traditional selling methods.
If you are passionate about Valentus and believe it will work for you, check out one way to scale up your business with free online traffic, without bugging your family and friends:

An alternative way to a home-based business

I hope what you have read so far gives you a clearer direction as to whether or not Valentus is worth your time and money.
If you are considering MLMs because it gives you greater time and space flexibility to work from home, there are actually other better ways to do it.
In fact, to work your way up the ranks of any MLM company and even start recouping your losses from all the upfront investment that you had sunk in, it actually takes full time hours.
And in the beginning years, not only do you not get paid a single cent, you are in fact just throwing money down the drain, buying expensive coffee and other beverages that you normally would not buy.
Such a business model does not work for 99% of distributors (not a figure I plucked from thin air, this is actually from the website of Federal Trade Commission, FTC).
You might as well be gambling away at a casino, that's still a better chance at making an earning (please do not really do that, I'm just joking).
Now, I want to show you this much better way to make money from home. No recruiting, no direct selling of products. You get to work your own hours, no boss to report to, you decide how much you want to work.
In this business model, you also promote products, but you do it totally online, and you are not restricted to promoting one company's products. You can choose which companies and whatever number of companies you want to work with.
The best part is: there is zero upfront payment to the companies, since they treasure the fact that you are doing free advertising for them, by promoting their products.
You earn a commission when you bring sales to their virtual stores. This is a fair and transparent way of doing business, since the more sales you bring to the companies, the more they pay you.
You are not working your butt off for somebody's luxury yacht and big limo. This is your very own online business.
If this sounds good to you, click on the button below to hop over to my other post, where I explain the method in much more detail, and you will get a clearer idea of how it all works:

---

Pros of Valentus

1. New company, potential for growth
Since Valentus was just founded in 2014, it is relatively new in the MLM industry.
This means many people may not have heard of it yet, so there is potential for growth when you try to recruit people into your team.

Cons of Valentus

1. Price is sky high
As you can see for yourself, Valentus is not transparent in revealing the prices of its products upfront, on its website.
It probably knows its price is way too high, and will scare people off?
But it isn't exactly a smart move either, to try and hide the price from people browsing their site.

2. High upfront cost
As a distributor, the price you have to pay to play the game is very high.
The activation fee and a starter pack already sets you back by $80, and that's the bare minimum, you only get 1 box of beverage for that.
The minimum monthly purchases of 50BV (that's about $60 worth of products) may not seem like a lot, but it can add up fast.

3. Focus on recruitment
From the point of view of the distributor, this is a very bad business model because you do not get to make much earnings at all, until you climb a few ranks up, then you may have a chance of starting to recoup your losses made over the months or even years.
If it were a company that focuses on retail commission, with products that are not so out of reach for the masses, then you can actually start earning much sooner.

4. Not-so-good reputation
After what happened with the Valentus office in the UK, we now know the weight loss claims of its coffee have not been proven at all.

5. No income disclosure
Valentus has not made public any income disclosure. This spells "red flag" for me.
But it is trying very hard to protect itself. Look at this: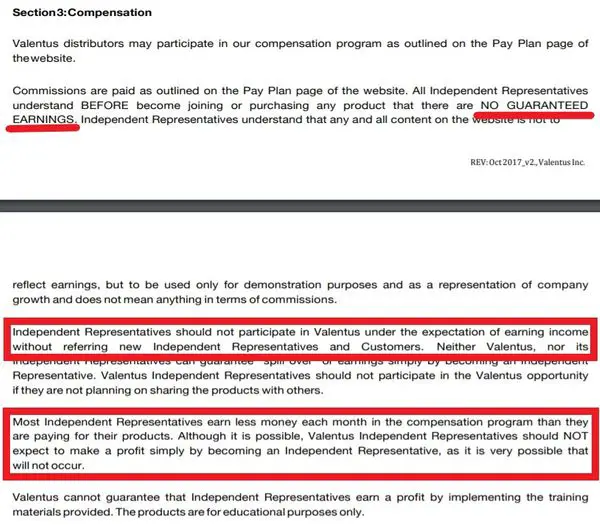 Most distributors earn less money each month than they are paying for their products. To me, "most" is an understatement.
It is in black and white, made very clear to everyone.
"You should not expect to make a profit, as it is very possible that will not occur."
There is no reason to partake in a business opportunity that does not benefit you.

6. Family and friends will shun you
In an attempt to sell the products and minimize your losses, you will have to push the expensive coffee right into the faces of those closest to you.
Pricey, and yet those are stuff that they do not need.
---

Is Valentus a scam?

No, Valentus is NOT a scam. It is still a lawful MLM business as of now.
In fact, I personally know of people who have lost weight effectively by drinking Valentus coffee.
At the end of the day, you make the decision based on how passionate you are about the company's products, how well it has worked for you, and how it has added value to your life.
To convince potential customers to buy such expensive coffee, you need to reach out to those who are looking for it, instead of pushing it to people who do not need it.
Learn how this can be done:

---

Another home-based business model

I cannot recommend Valentus as a business opportunity.
It is an MLM at its core, made to work for its owners and the top ranks, not for me and you, just like most other MLMs I have reviewed, like doTERRA, Young Living, and Nu Skin.
If you are feeling exploited, feeling like you are getting nowhere despite working long hours, it is not your fault.
The compensation plan had you set up for failure right from the outset.
Instead of selling things to people who do not need them, you add real value when you show up to those who are actively searching for the products that you are promoting.
This way, you do not have to keep chasing after leads. With the infrastructure set up, your target audience will come knocking on your door (not the physical one, that'd be quite scary).
This is how I am earning my commissions. And this business model is called affiliate marketing.
It is neat and hassle-free, because I'm leveraging on the millions of existing products in the market, without having to create or stock my own products. There is no upfront cost to pay the company I'm promoting, or buy any goods.
I simply bring customers to the virtual doorstep of the companies that I like, and when a sale is made, I earn.
It's as simple as that.
If this sounds good to you, let me show you the exact way that it can be done.
Click on the button below to learn more:


And for reading all the way to the end of the post, I believe you have it in you to make this work. Here is your FREE PDF Guide: 4 Simple Steps to Making Money Online. Fill in your details to claim it:


If you have any concerns or questions regarding this Valentus review, do comment below, and we will start a conversation from there.
---