Welcome to my Crazy Crypto Club review.
What is this program that claims you can earn by buying ad positions? What are ad credits? What about its 2×2 and 2×3 matrices? How do they work?
In this post, let me clear up all the confusion so that you see right through the program into its skeletal structure, to understand the truth behind it.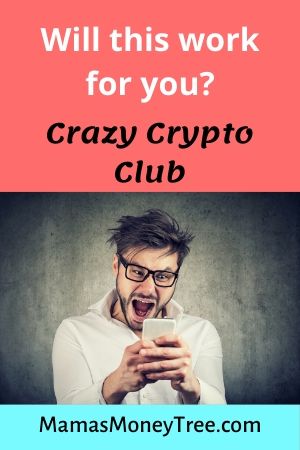 Can you really make money with this? Or is the compensation plan designed to set you up for failure?
By the end of this post, you should have a much clearer idea what to do with the money that you were about to dump into Crazy Crypto Club.

Without further ado, let's dive right in now!
---

Crazy Crypto Club Review Summary

Product: Crazy Crypto Club
URL: https://crazycryptoclub.com/
Creator: Paul D. Corrao
Product type: Ponzi scheme that sells ads positions as 'products'
Price: free to join, $1 ad positions minimum
Rating: 1 out of 5
Scam / Legit? : NOT legit
Recommended or not? : NOT recommended
Crazy Crypto Club is a Ponzi scheme that puts you in matrix cyclers with ad positions and credits attached, so as to appear legit. Basically newer members' money is used to pay older ones. Over the long term, you may be able to profit, provided the entire scheme hasn't collapsed on itself yet.
---
---

What is Crazy Crypto Club

To find out what is Crazy Crypto Club, let us first take a look at its website: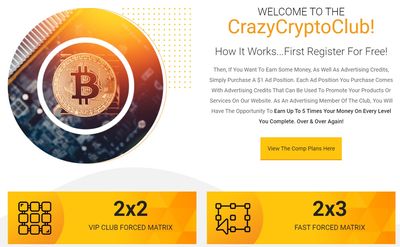 It looks like you can buy ad positions to display advertisements for your own business on the Crazy Crypto Club platform. At the same time, you get an opportunity to earn up to 5 times your money.
Sounds good, but that's only half the truth.
Buying ad positions and earning ad credits by viewing other members' ads are but a front to the real Ponzi scheme behind Crazy Crypto Club.
It gives them a product to base their program upon, making it easier to convince people that this is legit and legal.

But how many people here own businesses that they want to advertise for? Or are they in this for the potential to make money?
As a business owner, I would not want to pay for advertising on the Crazy Crypto Club platform. Because the audience is not interested in my business, they are on the platform only because they see it as an earning opportunity.
See what SEC has to say about buying ad packs.
Real advertising takes place where your real customers are: on search engines, on content blogs, on social media, on forums, and so on.
So this entire advertising stuff on Crazy Crypto Club is NOTHING.
Now, let's look into its real 'business'.

How Crazy Crypto Club Really Works

You can choose to buy into various matrices on Crazy Crypto Club, of 2×2 or 2×3.
In a 2×2 matrix, you are at the top of the matrix, with two positions under you at level 1. These further branch into 2 positions each, giving a total of 4 positions at level 2.
In a 2×3 matrix, there is one more level (level 3), of 8 positions.
As positions in each matrix are filled (by direct or indirect referrals), you get paid a commission.
Basically it is all about recruiting new members into the club.

Crazy Crypto Club Compensation Plan

For the 2×2 matrices, they are offered at various prices: $1, $2, $5, $20, and $100.
When all the 6 positions in the matrix are filled, you get paid 2.5 times of your investment. So if you bought a $1 position, you will get paid $2.50 when the cycle is complete.
On top of that, you get to make 25% commission for every direct referral you bring into the matrix.
Direct referral commission applies even if you do not buy into any matrix positions yourself. So you could be a free member, not entering any matrix cycler, but simply earning by referring people to Crazy Crypto Club.
But they have to be buying into positions for you to earn commissions.
Also, bear in mind that you do not get to keep all the commissions, as 40% of it gets channeled automatically into your Matrix Repurchase balance.
---
---

For 2×3 matrix
A position in the 2×3 matrix costs $5. When all 14 positions get filled, you get 5 times of your investment (that is, $25).
60% of your commission goes into the Mtrix Repurchase balance, so you get to take out only 40%.
When the first 2×3 matrix (Board 1) is complete, you enter Board 2 with the same 2×3 matrix structure, but costing $10.
This goes on all the way to Board 10.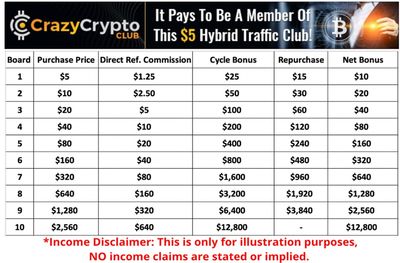 It sure sounds enticing, because they make sure it does!
How does one lose money on this, then?

Red Flags in Crazy Crypto Club

1. Most people lose money
Looking at the structure, it may seem impossible to lose money.
Well, to be honest, it is possible to profit with Crazy Crypto Club, but it takes time to fill up a matrix. Even for a 2×2 matrix, there are 6 positions to fill.
In the meantime, the money invested is in limbo. If it takes a month or two to fill up the matrix, you will only get to see returns then. The system needs more paying members to buy positions before it can pay you.
Even though the positions seem very affordable to buy into, nobody is going to invest just that few dollars. You will be urged to invest a significant sum, so that your returns are huge. This is where the risk comes in.
And when you profit, it is because many other people are making losses.
The scheme is a pyramid structure, so that is what it is. Money does not fall from the sky. You are not investing in some companies' shares. There are no real profits from the ad positions.
This is not even a real business, there is nothing to it.
You will depend on recruitment (yours, your upline's and your downline's) to earn when other people take money out of their pockets.
Such schemes NEVER last. When recruitment comes to a stand still, the entire program collapses.

2. No real product
This makes it an illegitimate business. Without any products or services, there is no value, so what are members paying for?
It is for a hope that more people sign up after them, and for the hope that it doesn't collapse while they are at it.

3. It's a sure-win for the founders
People run such Ponzi schemes because it is sure-win for them. The moment they launched the scheme, they start earning.
So they will have a group of loyal followers, including advanced internet marketers who know how to find a massive volume of targeted audience online.
Without the means to reach out in this way, regular members who simply try to recruit people within their own social circle will have the toughest time, and will be at the losing end.
---
---

To round up this article, let me recap and summarize the pros and cons, before I finally make my conclusion.

Pros of Crazy Crypto Club

1. Possible to make money
If you enter the game early, and have the internet marketing skills to show up to a targeted audience that is looking for this kind of earning opportunity, it is possible to profit from this.
Take my website as an example.
The fact that you landed here while looking for information about Crazy Crypto Club shows that I'm showing up to the right audience.
If I were not guided by my moral compass, I would have written a raving review of this scheme, and made a ton of money recruiting people using my referral link.
You see, in this information age, it is a high income skill to know how to find the exact people who are searching for what you are selling. It allows you to promote anything you want, because you have ready buyers.
To make real money online, this is what you have to equip yourself with.
See the exact path I took to get to where I am today.
And I believe that after you acquire these skills, you will be discerning, and choose to promote legitimate, great-quality products instead of Crazy Crypto Club.

Cons of Crazy Crypto Club

1. Most people lose money
The structure is designed to be so. It is simple mathematics. For one person to profit, many others have to lose.

2. Illegitimate
Crazy Crypto Club is not even a proper business.
---

Is Crazy Crypto Club Scam or Legit?

It is not legit, that's for sure. Whether or not to go as far as calling it a scam, I will leave it to you to decide, seeing there are people who can actually make money from this.
Similar programs include Workmines, My Adds Up, GoFounders, Infinity Residuals, OneAdPack, Ad Flippers Bot, ClicksGenie, Click2Sell, Build My Downlines, Ripple, My Traffic Business, and Cents for Freedom.
---

An Alternative

Everyone wants to be rich, but guess who will make it?
It's a very natural thing, that's just human nature. I mean, find me someone who doesn't want to get rich fast, and with minimum effort.
I wasn't spared of all the temptations on the internet, hopping from one shiny object to the next.
But when I realized those empty promises are only going to make other people rich, and not me, I stopped looking for shiny objects.
I found a dull-looking object, but I knew in my heart that is the real deal. And from then on, I have never looked back.
An honest, down-to-earth method that will get you there. It's not going to be easy, but it will get you there.
Versus the fast and easy way to empty your pockets and get you nowhere.
Which would you choose?
I am now working full time from home, growing my internet business, and making an online income. I started from scratch with zero knowledge in this area. If I can do it, you can, too.
Here's a peek into my daily earnings:



That's almost $200 in just one single day. It's nothing to boast about, though, as it's just a small fraction of its full potential. I just wanted to show you the possibilities.
Check out this training platform that provides all the resources, tools, along with an entire community of aspiring as well as already successful online income earners:


This real deal does not promise instant results.
Instead, it provides the knowledge and lifelong skills required to grow a successful online business.
And for reading all the way to the end of the post, I believe you have it in you to make this work. Here is your FREE PDF Guide: 4 Simple Steps to Making Money Online. Fill in your details to claim it:


If you have any concerns or questions regarding this Crazy Crypto Club review, do comment below, and we will start a conversation from there.
---