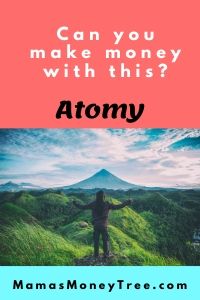 Welcome to my Atomy MLM review.
A dear friend recently gifted a box of its seaweed to my family. As we couldn't stop munching on the delicious treat, I searched online to try and see where I could purchase it.
Lo and behold, I stumbled on some people calling Atomy a scam, there was the urge to dig my nose right in to uncover the whole truth.
Why do you have to become a member in order to make any purchase? Are there any fees involved, and any minimum purchase requirements in order to start earning commissions?
Whether you are looking at simply buying its products, or considering its earning opportunity, this thorough review of Atomy aims to answer any questions you may have in these respects.

Without further ado, let's dive right in now!
---

Atomy Review Summary

Product: Atomy
URL: http://www.atomy.com/sg/home/product/mallmain
Creator: Han-Gill Park
Product type: MLM (multilevel marketing) company selling beauty, personal care, home care, health and nutrition, and food products.
Price: free to join as member, minimum accumulated PV to start earning
Scam / Legit? : Legit
Recommended or not? : Recommended for its great products, alright as a business opportunity
Atomy has truly great products that will get customers hooked. It is a shame that they choose to not sell through retail, but get every customer to become a member instead.
Though it's absolutely free to join and there is no pressure to buy beyond your real needs, not having a retail component to its business casts a dubious shadow on it.
As a business opportunity, you will need to know how to reach a massive volume of targeted traffic on the internet, before you can earn anything substantial out of it.

---

What is Atomy

A brief background of Atomy

Atomy was founded in 2009 in South Korea, with the aim of bringing great quality daily consumables to the masses at affordable prices.

Atomy Product Line

The main categories of Atomy products include its patented HemoHIM, health, beauty, hair & body, living, and food.

HemoHIM
Made of herbal extracts, HemoHIM is patented in the US, 4 countries in Europe, and Korea. It supports a healthy immune system, and is particularly recommended for people who need energy restoration in their daily lives.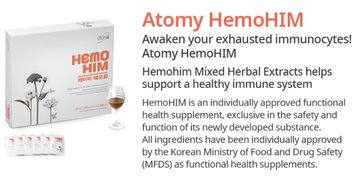 Health
This range of Atomy's product line includes supplements like Omega 3, eye lutein, spirulina, vitamin C, probiotics, sawpalmetto, milk thistle, etc.
I took a quick look at the product description of its spirulina capsules, and was rather impressed by its patented seawater freeze-drying technology, which minimizes the loss of antioxidants and nutrients due to heating and oxidation.

Beauty
Included here are skin care and makeup products: creams, lotions, beauty water, brightener, toner, moisturizers, masks, cleansers, sunscreens, serums, etc.
I took an interest in its 3 Seconds Beauty Water, curious to know what it is made of. Its main ingredient is the Laurel tree leaf water, extracted through a 2-step process: hand-dripping, and then distillation.
The other ingredients are not those harmful chemicals one would usually find on regular personal care products. I was really starting to like this company.

Hair & Body
This line includes shampoo, conditioner, hair treatment, toothpaste, toothbrush, etc.
Each product has its own unique selling point and formulation.
For instance, the Cerabebe Lotion uses water-soluble natural ceramide produced from the fermentation process of yeast. It is identical to the structure found on human skin, and is formulated specially for sensitive, fragile baby skin.
The Atomy Absolute Shampoo is made of natural herbal ingredients that nourish your hair into a luxurious texture.

Living
Products in this range include a cook wok, dish detergent, fabric detergent, fabric softener, stainless steel scrubber, etc.
For their laundry detergent, I noticed they did not actually list down the ingredients, but merely stated the functions of those ingredients.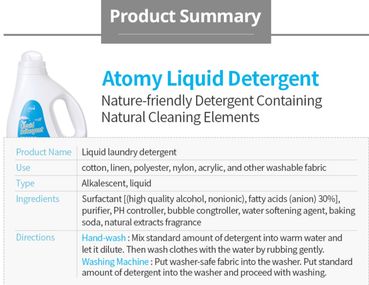 To me, it didn't feel very right. What exact chemical is used as a surfactant? What is the pH controller? And what about the water softening agent?
I have never seen such a vague ingredients list, and it makes me question why Atomy is not willing to be transparent about the ingredients used. I wouldn't be inclined to use this product, as my kids have very bad skin, so I really need to know what goes into these household cleaning agents.

Food
Atomy's food products include sandwich laver (this is the seaweed snack I tried, wiped out two packets in one sitting), oil grilled laver, dried fruit, black pepper, coffee, tea, noodle, ramen, etc.

Atomy Product Quality and Feedback

Generally, customers are very happy with the quality of Atomy products, from face care, toothpaste and detergents to cosmetics and food (that's me, an ardent fan of its sandwich laver!)
Even for its flagship HemoHIM, it seems like the majority of users have raving reviews for it.
But of course since we can safely say almost all its customers are its distributors, we should take these with a pinch of salt.
---
---

Atomy Business Opportunity

How to become an Atomy Distributor

You simply sign up to become an Atomy member. It is free to join, which is great and something very rare in the MLM industry. You will then get to purchase products at members' price.
You can say this strategy by Atomy has found success in getting people to just try out its products, risk-free.
But to start earning, there are certain requirements that have to be met.

How to make money with Atomy

As with any other MLM company, the two main ways to make money are through: retail commission by selling products to retail customers, and residual commission through recruiting.

Retail commission
The peculiar thing about Atomy's business structure is precisely its free membership, with no strings attached.
Nobody would buy their products at retail price, which is more expensive than members' price. Since it does not cost a single cent to simply apply to become a member and be entitled to a discounted price, then every customer would do it.
Distributors will thus earn nothing from retail commissions.
When someone signs up as their downline and makes purchases, the distributor makes commissions, but those are not considered retail commissions, which are practically non-existent in Atomy then.
Not that it makes any difference to a consumer, who just wants to buy their products.
But it makes a huge difference to the company.
Its business strategy and the direction that it takes by implementing a free and easy route to join as its member has important implications, especially because it runs on an MLM model.
Atomy has paved the way for customers to automatically become a distributor, and made it that much more convenient and enticing for someone to promote the company, who may not be doing so otherwise.
No doubt there are people who genuinely love its products, and will recommend Atomy to friends and family anyway. That's perfectly fine, nothing wrong with it.
If a company believes in the quality and marketability of its products, it would have been confident enough to sell them through retail.
For a retail customer who will stand to gain nothing when he or she recommends the products to others, to actually recommend it, that will prove the true value of the products.
That is how products stand the real test for their demand.
On the other hand, with what Atomy is doing here, one can contend that they are running a product-based pyramid scheme, since there are no retail sales being made. All purchases are by members (also distributors) themselves.
This is something you have to be aware of before getting involved in its business opportunity, because if things do not change, then down the road there could be a possibility that Atomy may have more than a brush with the regulators.
If you still see this as a business opportunity with a good chance for success, especially if you are passionate about its products, then it is essential that you learn how to market Atomy to the masses on the internet, and not just try to sell to your warm market.
In this information age of the internet, if you do not leverage on it, you are doing a disservice to your business.
Knowing how to attract the right customers to your business, those who are actively searching for the exact stuff that you are promoting, and are ready buyers, is a high income skill that you need for success.
See how you can increase your Atomy sales with free search engines traffic:


Residual commission
In Atomy, PV stands for Point Value.
To qualify for commissions, you need to first accumulate 10,000 PV. Though it may seem like a lot, you just need to purchase about $17 worth of products to generate this PV.
And I think this is affordable for almost everyone, especially since you will be buying daily necessities anyway.
The reason for the large number on its PV is due to the Korean currency, since that is where Atomy was birthed.
In fact, if you think of it as 10K PV, the number becomes more intuitive, and can be more related to its value in USD.
Your personal PV is cumulative, it never flushes off.
And there is no monthly purchase requirement. To stay as an active distributor, you simply make at least a purchase of an Atomy product in one year.
I must say this structure has won over many people, and reasonably so. There is no pressure to keep buying. But people do buy, out of their own free will, because they love the products, and this makes a big difference in how they perceive the company.
And as these people buy, their uplines continue to make residual commission.
Which brings me back to my point earlier, that people then get incentivized and enticed to recommend Atomy to that they can sign up more members under themselves.
I have digressed here.

Binary commission system
Atomy's compensation plan is based on a binary system, where there are two legs under you, which further splits into another two, and so on.
Commissions are paid based on the group sales volume generated by the weaker leg.
Based on your personal PV and group PV, which must both be fulfilled, you obtain a score, which corresponds to a monetary value for your commission.
Group PV gets flushed once a commission is paid out. But personal PV continues to accumulate.
– 10K to 100K personal PV and 300K group PV gives you 5 points ($24)
– 300K personal PV and 300K group PV gives you 15 points ($70)
– 700K personal PV and 700K group PV gives you 30 points ($140)
– 1.5m personal PV and 1.5m group PV gives you 60 points ($280)
– 2.4m personal PV and 2.4m group PV gives you 90 points ($420)
– 2.4m personal PV and 6m group PV gives you 150 points ($700)
– 2.4m personal PV and 20m group PV gives you 250 points ($1150)
– 2.4m personal PV and 50m group PV gives you 300 points ($1380)
Though it looks very attractive, remember that you will need really huge sales volume in order to maximize the earning potential of this compensation plan.
There are numerous other aspects of the plan, but I will not be going through them here, as I have covered the most essential and relevant stuff that pertains to a new distributor just starting out with Atomy.
The details of its compensation plan can be found here.

Will Atomy work for you

Yes, for sure it will, if you know how to generate traffic from your own blog or website onto your mailing list (this is just one possibility you can explore), so that your leads can obtain your ID, which they will use to sign themselves up as Atomy members.
Do note that Atomy does not allow distributors to re-sell their products. So you cannot create an online store or any form of ecommerce store for customers to buy Atomy products from.
But you can have your own blog or website, from which people who are interested can sign up as members under you. This can be done through a form on your own website which they fill in, so you can email them your sponsor ID.
Then whatever products they buy on the Atomy official store will count towards your group PV.
The thing is to get your website ranking high on the search engines, so that it shows up when people are searching for stuff related to Atomy, like HeroHIM, or the best lotion for sensitive skin, etc.
It is not an easy feat, though. I know because this is exactly what I am doing (not with Atomy, but with a non-MLM business model, called affiliate marketing).
But once you succeed in ranking your website on search engines, the unstoppable, highly targeted free traffic will be so precious. It will become a sustainable home-based business, as you will get a consistent flow of new members signing up as part of your team.
Learn how this can be done:

---

To round up this article, let me recap and summarize the pros and cons, before I finally make my conclusion.

Pros of Atomy

1. Established company
Atomy has been around for 10 years now. They must be doing something right.

2. Great products
I personally do believe in the quality of most of its products. The huge range of products over several niches means you have a really large market.
Plus the fact that these are consumables means members will keep buying at least every few weeks, if they are happy with the value that they get.

3. Free to join, no monthly purchase requirements
This must be the biggest selling point.
It's very rare to find an MLM that does not require any registration fee. Though there is the minimum 10K PV to start earning commissions, the monetary value is very small, affordable by almost anybody.

Cons of Atomy

1. No retail customers
No one will buy from Atomy as retail customers, since it is free to join as members to get discounted prices.
Not that it makes any difference for customers, in fact everyone will see this as a good thing, as they benefit from the free membership.
But the fact remains that the company has chosen this path that does not subject its products to the test of retail, which would be telling of their real value and demand amongst people without a vested interest in it.
This can prove to be an issue with regulators, because any legitimate MLM company will need to show that there is revenue generated through retail sales, and not just purchases made by its own distributors.

2. It may not be that easy to earn commissions
Though personal PV is cumulative and never gets flushed, which is fantastic, the binary compensation plan tends to be quite limiting in what you can earn.
Especially when you are just starting out and every little bit counts, to negate all the effort that went into building the stronger leg and not get rewarded for it can be rather discouraging.
---

Is Atomy Scam or legit? 

Atomy is a legitimate MLM business, in my opinion. Though its non-existent retail sales can become an issue when regulators cast the spotlight on this company.
Lilla Rose MLM Review – Haircessories Home-based Business?Other MLM opportunities in similar niches include Modere, Avon, Arbonne, and Amway, to name just a few. Some with equally good opportunities include Jewel Sanitary Napkins, Lilla Rose, JewelScent and Color Street.
---

An Alternative

Even though Atomy is a great opportunity compared to other companies in the MLM industry, I still would not do it.
You can say it is very easy to recruit members into the company, simply by virtue of how things have been set up, to exclude any membership fee and monthly purchase requirements.
But the fact remains that you have to build up and lead a team if you want to earn anything substantial from this.
You need to find the right people with similar drive, motivation, and aligned direction as you, then train them so that they are equipped with the same marketing skills as you, to sign up more members under them too.
Otherwise, if every member you sign up only wants to be a customer, it will take you many times the effort and time to build up a team that moves forward and upward as a whole.
On the other hand, with what I'm currently doing – affiliate marketing, I do not have to recruit, nor depend on others' hard work to advance in ranks and earnings.
I reap the fruits of my own labor.
Even if I make one sale, I get my fair renumeration – I earn the commission due to me, for driving the sale to the company.
I do not have to hit a predetermined volume of sales before I can get my commissions.
What I love most is that I'm not asking people to try products that they may never have heard of, or that they weren't even looking for.
I show up when people are trying to solve certain problems, and my offers are actually the solution to those problems.
I do not have to do any selling, because these are targeted audience with strong buying intent.
If this sounds good to you and you would like to learn more, check this out:


And for reading all the way to the end of the post, I believe you have it in you to make this work. Here is your FREE PDF Guide: 4 Simple Steps to Making Money Online. Fill in your details to claim it:


If you have any concerns or questions regarding this Atomy review, do comment below, and we will start a conversation from there.
---