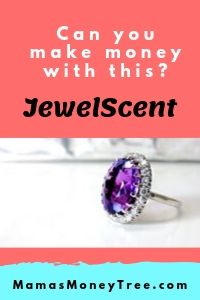 Welcome to my JewelScent review.
You may have found a mixture of good and bad feedback about this MLM company, as you tried to figure out if it is a promising business opportunity to get yourself involved in.
Can you ditch your 9 to 5 for this?
Or if you landed on this page because you are wondering about Jewelry in Candles, you may want to know that this MLM company selling scented candles with jewelry hidden inside the wax is no longer in existence.
It has been taken over by JewelScent.

Hence this is what we will be examining in this honest and in-depth review of JewelScent: how great are the soy-based candles that it 'inherited' from Jewelry in Candles, along with its own other products, and what your chances of earning an income out of it are.
Without further ado, let's dive right in now!
---

JewelScent Review Summary

Product: JewelScent
URL: https://www.jewelscent.com
Creators: Sara Nguyen and a friend (who has since left the company to tend to health issues)
Product type: MLM (multilevel marketing) company selling scented candles, body and bath products, home fragrances, jewelry and accessories.
Price: $10/month to be a VIP customer and start earning through the opportunity
Scam / Legit? : Legit
Recommended or not? : It is an alright opportunity, so it is completely up to you. I suggest that you read until the end of the post before making your decision, so you can weigh all its pros and cons.
In summary, the niche market for scented products may be rather small compared to industries like health and wellness, since they are considered luxury items.
What I like about JewelScent is its affordable pricing (compared to similar products in the market), and that its compensation plan has a strong focus on retail commissions.
Hence, I think It can work for you, if you know how to increase your sales of JewelScent products with free online traffic:

---

What is JewelScent

To find out all about JewelScent, let's start off with a bit of the company's history.

A brief background of JewelScent

Sara Nguyen learnt all about entrepreneurship, building quality products at affordable prices, and delivering superior customer service when she joined her husband's family business selling costume jewelry, in 2008.
Then the kids came along, and she took a break.
In 2013, Sara and a friend co-founded JewelScent. It started off as an ecommerce business, and their products were doing so well they kept having customers ask if they could sell wholesale.
And fast forward to today, JewelScent has morphed into a direct sales company that is doing extremely well in this women-centred niche.
To me, how JewelScent started off as an ecommerce enterprise says a lot about how they would have perfected their products, and priced them competitively, in order to establish their footing in the free market.
This is very unlike the founders of so many other MLM companies, who started off with the sole objective of making a big killing in the MLM industry, and will use the compensation plan to push most of the profits upward, to the highest ranks.
Hence I admire Sara for rewarding her distributors fairly, instead of exploiting all their hard work.
By the way, I am not a JewelScent distributor. I'm making this observation with my experience of reviewing a good number of MLM companies, and how so many of them actually make their revenue through their distributors' own monthly purchase requirements.

JewelScent Product Line

Candles
The most interesting item among JewelScent's product line has to be its hidden jewelry in scented candles series. This used to be marketed by another MLM company, called Jewelry in Candles.
What is so special about the Classic Jewelry Candles is that they feature hidden jewels (on rings) worth $20 to $7,500, in each 16 oz of natural soy blend wax, in 21 oz lidded glasses.
Imagine the thrill and excitement as you burn the candle to reveal the piece of ring inside. Since each candle costs $28, you would stand a chance of getting your money back!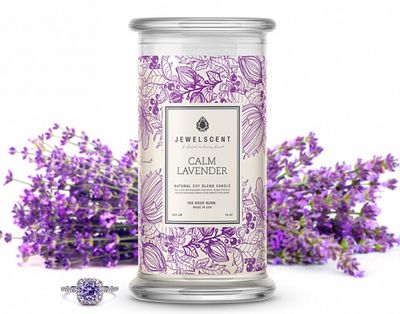 Rings are used in this series because a flame and a ring both evoke passion and eternity.
There are more than 20 fragrances to choose from, so you will be spoiled for choice.
There are other series of candles, including:

– Signature Jewelry Candles: with hidden earrings or necklaces
– Luxe Jewelry Candles: limited edition and with jewels (on rings)
– Essentials Candles: no jewelry, uses coconut and soy blend wax
– Woodwick Essentials Candles: no jewelry, features a slow-burning wooden wick.

Bath bombs
For the bath bombs, there are two product lines – with or without jewelry.
So you can take your pick, whether you prefer to be surprised with some jewelry item, or you'd rather get more substance going in the bath. .

Body and Bath
There are body scrubs and body creams, again with the choice of whether you want them with jewels inside.

Home fragrance
These include aroma beads and wax tarts.

Jewelry
These are beautiful rings, earrings, necklaces, bracelets, watches and other accessories, sold separately from the ones hidden inside the scented or fragrance products.

Remember to indicate your ring size
As you order any product with hidden jewelry, remember that you have to indicate the ring size, otherwise you may get something that does not fit well.

JewelScent Product Quality and Feedback

Majority of the feedback for JewelScent products and its customer service is very positive.
Generally, customers are very happy with the quality of the beautiful jewels and jewelry, request for changes in ring sizes are handled efficiently, and the scents from the candles and other fragrance products are loved by many.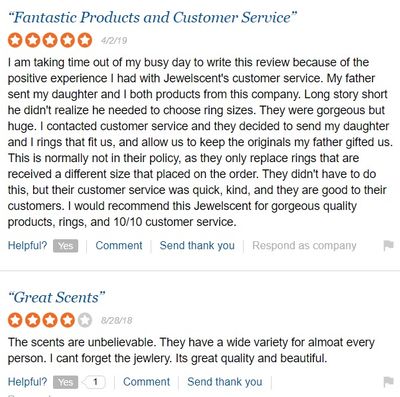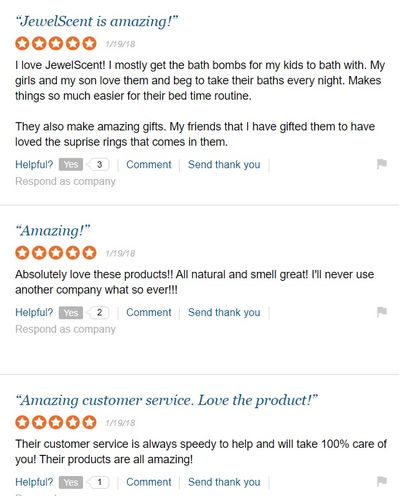 There is a small number of negative feedback, pertaining to customer service, delivery issues, and quality of the rings. One such example is below:


---
---

JewelScent Business Opportunity

To start earning with JewelScent, you first become their distributor, or what they call consultant.

How to become a JewelScent Consultant

To become a JewelScent consultant at the entry level, you simply pay a fee of $10 per month.
This makes you a VIP customer, offering good discounts on whatever products you buy for yourself, and also sets you up as a consultant, to start earning with the company.

How to make money with JewelScent

Just as with any MLM company, there are two main ways to earn:
– retail commission, as you sell products to customers, and
– recruitment commission, which comes about as you recruit people and build up your team.

Retail commission
Whenever someone purchases a JewelScent product through you, whether it's from virtual parties that you host, or through your JewelScent replicated website, or face to face orders, you get to earn a minimum of 20% commission.
This means when you sell a candle for, say, $25, you make $5 commission.
There is no minimum sales quota that you must meet in order to start earning, and this is what I love about JewelScent's compensation plan. You're good to go with just $10/month, you do not even have to make any personal purchases if you do not wish to.
So if let's say your target is to make $1000 each month, then you would have to sell about 200 candles.
This may seem like an impossible feat if you are only marketing to the warm market around you – family and friends.
That should not be the way to market MLMs anymore. With the internet, if you do not leverage on it, you are doing a disservice to your business.
With JewelScent, as its product quality is good, I believe there will be people who really want it in their lives, or are willing to try it out for the first time. And before purchasing, people tend to do their research online.
If you can show up to answer the questions they are asking on the search engines, then you have landed yourself some potential customers, who are also ready buyers.
With sufficient sales volume, just the 20% retail commission alone is going to make you a handsome income.
See how you can increase your JewelScent sales with free search engines traffic:


That's not all. As your monthly sales increases, the retail commission will increase accordingly, to a maximum of 35%, which can be quite substantial.
With monthly sales of $500, your commission goes up to 25%.
With monthly sales of $1000, your commission becomes 30%.
And when you achieve monthly sales of $2000, your commission reaches 35%.
If you know your way around internet marketing, and can send a targeted audience to your replicate JewelScent website, this kind of figures are actually within reach.

Recruitment commission
JewelScent is ultimately an MLM company, the big earnings are still in recruiting.
I want to spare you the complicated compensation plan here. You can get all the details of the JewelScent compensation plan through this link, if you would like to.
In general, the more people you bring into the business who remain as active consultants promoting the company too, the more commissions you are going to make.
The common problem with recruitment is that the drop off rate is very high in the MLM industry.
So it's not as sustainable as you may think.
You would have to keep up with prospecting new leads, convincing them to join your team to promote JewelScent, train them so that they find the business opportunity worthwhile, keep up the morale, etc.
It takes A LOT of work than what you will be rewarded financially, at the start of your journey. But if you know how to get the right people into your team, who are all motivated, driven and passionate about JewelScent, then it is possible to rise up the ranks, and earn a full time income.
Not many people will get there, though.
To even start convincing people that this is a great business opportunity to invest their time and effort in, you would have to first be making money yourself.
And the best way to start is by earning through retail commissions.

How JewelScent can possibly work for you

Your target audience should be those in the middle to high income range, who embrace scents and fragrances as part of their lifestyle, as these will make repeat customers.
Since JewelScent's product quality is good, there will be a demand for it, by people who can afford it.
You shouldn't try too hard to push the products to friends and family, because it puts them in an awkward position. On one hand they want to show you their support. On the other hand, they may find these products expensive or just not what they need in their lives.
Hosting virtual parties through Facebook live is one way that could work to increase your sales. You would need to pick up some Facebook marketing skills, and deal with the logistics involved, of taking orders.
My most preferred method is still by using free organic traffic from search engines. Because the kind of outreach you can potentially attain is unbeatable.
When you master the skills of driving highly targeted traffic to your JewelScent replicate website, your customers make their orders from there, things are going to run in auto mode, as long as the traffic keeps streaming in.
This is a high income skill that is going to put you in an advantageous position:

---

Pros of JewelScent

1. Costs very little to get started
At just $10 per month to possibly build out a part time or even full time income, I think good MLM opportunities like this are very rare.

2. Great products
The fragrances and scented products are of great quality, so are the jewels, jewelry, as well as customer service.

3. Good focus on retail commission
With retail commission that increases (from 20%, upward to a maximum of 35%) as you bring more sales to the company, there is a healthy focus on delivering great products that keep retail customers happy.
More importantly, JewelScent does not exploit its beginner consultants by imposing minimum monthly sales or personal purchases on them.

Cons of JewelScent

1. Market may be limited
Your target audience is limited to middle to high income families. Even then, not everyone who can afford it will choose to include fragrances in their lifestyle.

2. Still an MLM at heart
JewelScent is still an MLM at its core business. If you want to earn to your fullest potential inside this organization, you would have to recruit people into your team, and build it up.
This aspect of the business may or may not be for you, depending on your personality type, resources, and skills acquired.
To earn through such residual commissions and bonuses, there will be a number of requirements that have to be met, in terms of personal sales, team sales, number of personally sponsored active consultants in the team, etc.

3. Most MLMers do not make money
This is not about JewelScent specifically, but about the MLM industry in general. According to a report on the FTC website, 99% of MLM participants do not make money.
With JewelScent, I believe it would be different, since there is nothing to lose except $10 a month, and your time and effort, of course.

Is JewelScent Scam or legit? 

JewelScent is definitely a legitimate MLM company that sells high quality candles and other scented products, and jewelry.
If you intend to give it a go, I'd say learn how to drive free traffic to your business, so that you put yourself at an advantageous position by leveraging on search traffic on the internet.
Some other jewelry and candles MLMs that I have reviewed: Origami Owl, Paparazzi, Vantel Pearls, and Scentsy, to name just a few.
Yet others that have equally great opportunities as JewelScent include Jewel Sanitary Napkins, Atomy, Lilla Rose, and Color Street.
---

An Alternative

Before I end off the post, I would like to show you an alternative to the MLM business model. It is how I am earning my online income, working full time from home, and it's called affiliate marketing.
I absolutely love it because I do not have to host any parties, or do any kind of direct, face to face selling.
I earn based on the sales I bring to the companies I work with, and I can choose to work with as many companies as I like, since there is absolutely no cost involved to promote their products or services.
Everything is done online, and it means I do not have to step out of the house at all. I have total flexibility to work my affiliate marketing business around my personal life.
You should take a look, it may open up a door for you, like what it did for me.


And for reading all the way to the end of the post, I believe you have it in you to make this work. Here is your FREE PDF Guide: 4 Simple Steps to Making Money Online. Fill in your details to claim it:


If you have any concerns or questions regarding this JewelScent review, do comment below, and we will start a conversation from there.
---