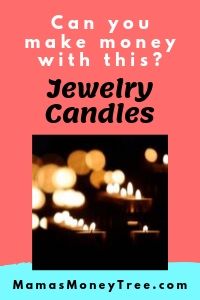 You may have heard people talking about the Jewelry Candles scam.
Welcome to my Jewelry Candles review.
Here, I examine the products and business opportunity, in an attempt to present to you the most accurate truth.
Why are so many people not seeing results with their Jewelry Candles business? How can you leverage on a simple concept to drive free traffic to your Jewelry Candles replicate website?
I must first clarify that I am not promoting Jewelry Candles as its affiliate or representative.

I am merely providing an independent review, and my personal opinion of whether this company will give you an advantageous earning potential, and what you can do to maximize your chances at success.
Or at the end of this post, you may decide that this is not for you afterall, at least my hope is that this article would have helped you reach a better-informed and clearer decision.
Without further ado, let's dive right in now!
---

Jewelry Candles Review Summary

Product: Jewelry Candles
URL: https://www.jewelrycandles.com/
Creator: Osagie Enaiho
Product type: Direct sales company for candles and bath and body products
Price: $19.95 for website only, or $99.95 to $499.95 for starter kits with physical products
Scam / Legit? : Legit
Recommended or not? : Yes, this is a good opportunity, but it ultimately boils down to what you are looking for, and how much you think you can achieve with this company
Jewelry Candles sells candles (with hidden jewelry or cash), bath bombs, bath and body products, and other gift items through their network of distributors. Their prices are quite competitive, and quality is good.
The only thing that seems to be lacking is their customer service quality.
They are not an MLM company (even though I have tagged it as so on my website), which means you earn only through retail sales, and not by any form of recruitment. That makes it an affiliate marketing business model.
I like this model, and I think it can work for you, especially if you know how to drive free online traffic to your replicate website provided by Jewelry Candles.

---

What is Jewelry Candles

To find out what Jewelry Candles is all about, let's first try to dig up some background about the company.
But before that, let me just clarify that Jewelry Candles has nothing to do with another company with a very similar name, called Jewelry In Candles, which is now non-existent and has been taken over by JewelScent.
Jewelry In Candles has had a number of negative reviews when it was still in operation, so I want to make it very clear that Jewelry Candles (which has a much better reputation) has got nothing to do with it.
Now we have gotten that out of the way, let's move on…

A brief background of Jewelry Candles

Taking inspiration from Charlie and the Chocolate Factory, where people who find the 'Golden Tickets' under the wrappers of their candy bars get a lifetime supply of chocolate, with Jewelry Candles, the main difference is: everyone's a winner!
I like this element of surprise in a product, but that's about all that I can find, with regards to the company's philosophy, and how it started.
A stark observation about its website is that there is no information about the founder of Jewelry Candles, which is rather strange. It gives the feeling of a lack of personal touch, which may not sit so well with some people.

Jewelry Candles Product Line

Jewelry Candles sells not just scented candles, but also wax melts, bath bombs, bath and body products, roses, greeting cards, and slime for kids.

Candles
Their candles are soy-based, 100% vegan, cruelty-free, and hand-poured in the USA.
You can choose whether you want your candles to hide jewelry, cash, pearl, or a charm inside. The jewelry will be valued between $15 to $7500, and you can choose between ring, necklace, pendant, bracelet, or earrings.
For Cash Money Candles, each one will have hard cash of between $2 to $2500 inside. Jewelry Candles, on their website, did make it very clear that this is not a lottery, but is simply meant as a fun, novelty item.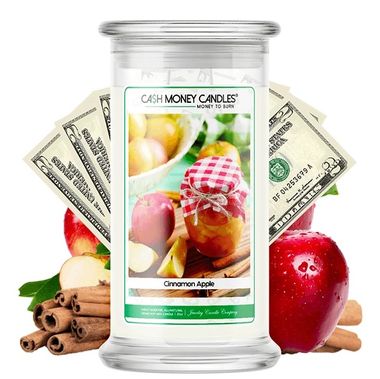 So do not expect to get the $2500 'prize', then you will not be disappointed.
Pearl candles will each contain a real Akoya loose pearl inside, ranging in value from $15 all the way to $5000. Only AAAA grade pearls are used.
Candles are priced at $24.99 at the time of this writing.

Bath Bombs
The bath bombs sell on the same concept as candles, whereby you can choose to hide jewelry, cash, pearl, or a charm inside. The price for a regular sized bath bomb is about $17.
You can also choose bath bombs without hidden surprises, they will cost about $9.
The most interesting item in this line of bath bombs must be the $1 bath bombs!
They are smaller, at 4.5 ounces, instead of the usual 7.5 ounces. Still, I think they're a great bargain! It's stated that they are limited edition, though, for a limited time only. So I'm not sure if they will still be available when you're reading this.

Bath and Body
The bath and body products by Jewelry Candles include sugar scrubs and slime (though I'm not quite sure why slime is categorized as bath and body). You get to choose between hiding jewelry or cash inside them.

Wax Melts
Also called tarts, wax melts can be heated to fill your home with the desired scent. These also hide jewelry or cash within.

Jewelry Candles Product Quality and Feedback

When it comes to the quality of the jewelry hidden inside the candles and other products of Jewelry Candles, the vast majority of customers have provided very positive feedback.
To me, product quality is what makes or breaks a business. Hence, I'd say Jewelry Candles is a great company to promote.
Nothing is without its flaws, though. As pointed out earlier, what Jewelry Candles tends to do less well in is its online presence and attention to personal touch. This is again obviously detected on its Facebook page.
Take a look at these comments written by customers left in the lurch, unable to get any response from the company, even leading to some of them thinking the company could be a scam.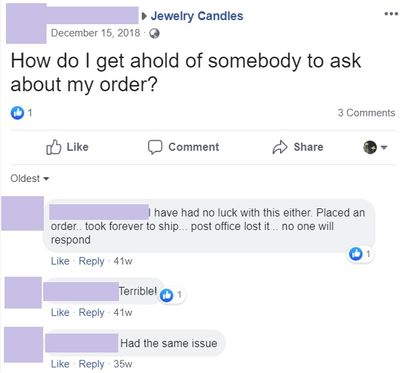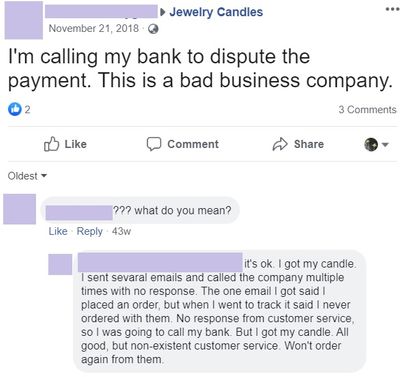 I believe all the orders were eventually processed, this is definitely not a company without integrity, wanting to cheat people of their money. Nothing like that. I'm sure they are running an honest business.
The issue is the lack of transparency, or rather, the lack of communication when customers are trying to get in touch, leaving people feeling lost and frustrated, as their payment had already gone through, and yet their candles and stuff did not seem to be getting delivered.
---
---

Jewelry Candles Business Opportunity

To promote Jewelry Candles, you first need to get signed up as a representative.

How to become a Jewelry Candles Representative

Choose from any 1 of the following:

Website Only Rep Kit – $19.95
This option is what I would personally go for. It allows you to get your replicated Jewelry Candle's website which you will channel your traffic to, to make purchases from there.
I will explain in greater detail, in a later section, how you can make this work the best way for you.

Bronze Starter Package Rep Kit – $99.95
With this kit, you will get Jewelry Candles products worth $278.85 in value. They include
– 1 Jewelry Candle
– 1 Jewelry Bath Bomb
– 1 Cash Bath Bomb
– 30 catalogs
– 30 scent samplers
– Consultant T-shirt and bag
– 1 Rep Website
– other perks and information sheets

Silver Starter Package Rep Kit – $149.95
The products you will get are worth $365.30, and they include:
– 1 Jewelry Candle
– 1 Cash Money Candle
– 1 Jewelry Bath Bomb
– 1 Jewelry Sugar Scrub
– 30 catalogs (this information is missing from their website, I assume it has to be at least the same as the Bronze starter kit)
– 30 scent samplers (this information is missing from their website, I assume it has to be at least the same as the Bronze starter kit)
– Consultant T-shirt and bag
– 1 Rep Website
– other perks and information sheets

Gold Starter Package Rep Kit – $249.95
The products here are worth $467.20, including:
– 2 Jewelry Candles
– 1 Cash Money Candle
– 1 Jewelry Bath Bomb
– 1 Cash Money Bath Bomb
– 1 Jewelry Sugar Scrub
– 50 catalogs
– 40 scent samplers
– Consultant T-shirt and bag
– 1 Rep Website
– other perks and information sheets

Platinum Starter Package Rep Kit – $499.95
With this kit, the value of the products is worth $750, which include:
– 3 Jewelry Candles
– 2 Cash Money Candles
– 1 Jewelry Bath Bomb
– 1 Jewelry Tart
– 1 Jewelry Soap
– 1 Luxury Jewelry Soap
– 1 Dozen Waxed Dipped Roses
– 1 Jewelry Lotion
– 1 Jewelry Sugar Scrub
– 100 catalogs
– 40 scent samplers
– Consultant T-shirt and bag
– 1 Rep Website
– other perks and information sheets

How to make money with Jewelry Candles

Once you get signed up as a Jewelry Candles representative, with a one-time purchase of any starter kit, you get your replicate website for life at no extra maintenance fees.
You are now qualified to promote their products, and make 20% commission off every sale!
This means that for every candle that sells at $25, you earn $5 in commission. The percentage looks great, but in terms of absolute dollars, it is not fantastic. It can still work, though, if you know how to drive massive amounts of traffic to the business.
On top of this commission, you will also get 20% discount off your personal purchases.
This does not mean every Jewelry Candles customer will go around signing up as their rep just to get this discount off their own purchase, since there is some cost involved (purchase of starter kit).
Therefore, I think promoting Jewelry Candles is a great opportunity, but not by selling to your warm market of friends and family around you, which is what many reps will try to do, and the exact reason why they are not seeing much success.

18 ways to promote your home Jewelry Candles business

Jewelry Candles provides, on their website, a list of 18 ways to promote your business.
It became obvious to me why many people are not seeing the results that they are potentially capable of.
Jewelry Candles' suggestions include:

– Set up a sales booth at a school fair, craft show, etc.
– Wear a catchy button promoting your business
– Wear a t-shirt that promotes your business
– Wear your Jewelry Candles jewelry everywhere
– Place signs on telephone posts (seriously?!)
– Turn your car into an advertising vehicle (another seriously?!)
– Use Facebook (this finally makes some sense, but still not the best)
All these may get you a tiny trickle of customers to your business, if you are very lucky.
As for Facebook, you are simply bringing awareness to your warm market that you are selling Jewelry Candles as a home business. This can help in the sense that when someone is ready to buy a candle as a gift or something like that, they may get in touch with you.
The closest Jewelry Candles got (on their list) to what I think is the best marketing method is 'advertise your business prominently on your home page'.
It sounds very vague, though, so I want to expand on this idea here:

Drive traffic to your replicate website

Instead of trying to sell Jewelry Candles to people who do not even include scented products in their lifestyle, and making them feel obligated to buy simply because of their relationship with you, why not target people who are specifically looking for these products?
With the internet and the entire world being on it, if you do not leverage on online traffic for your business, you are losing out on a lot.
You see, when people are looking for stuff like candles as gifts, or unique candles, they will be searching up reviews on the internet. If you can show up, with sincere recommendations that will add value to their decision-making process, then you would have gotten yourself a potential customer.
The replicate website provided by Jewelry Candles will never show up in people's searches, because search engines hate duplicate websites, as they are not seen as authentic and valuable to their readers.
So the trick here is to establish your own personal website, on which you would blog about topics related to these products, like how wax tarts work, where to find vegan candles, etc.
As the site gains authority and credibility in the eyes of the search engines, you would end up on page 1 of the search results, and this kind of free organic traffic that you get on your site will be highly targeted, ready buyers.
With links on your personal site that point to your Jewelry Candles replicate website, you will be off to making handsome commissions.
It is the exact same method I am using with affiliate marketing. Learn more about it by clicking the button below:

---

Pros of Jewelry Candles

1. Great quality products
The scents and the quality of the jewelry are getting lots of raving reviews from their customers.
This should be one of the deciding factors when you are contemplating whether or not to promote a company. So Jewelry Candles is good to go!

2. Low cost of entry
I'd recommend that you take up the lowest priced starter kit of $19.95, since its replicate website is all you need to take off your home business.
But of course, you should be really passionate about the products you are promoting, otherwise it'd be difficult to convince people that this is your best recommendation.
So it's up to you to decide whether the other starter kits are more worthwhile instead, depending on your financial situation.

3. Run it like an affiliate marketing business
There are no maintenance costs for the replicate website, no recurring membership fees, no minimum sales quota to meet in order to continue promoting Jewelry Candles for the rest of your life.
And the fact that your earnings are based on how much sales you drive to the company makes it a very fair and transparent business model. The trick is to leverage on the internet to drive up your sales volume.

Cons of Jewelry Candles

1. Not responsive to customers' queries
It's an unfortunate thing that Jewelry Candles seem to give such little attention to customer service and responding promptly to customers' queries.
If they can channel more resources to this aspect of their business, and up their service standard, I'm sure it will help with their sales tremendously.

2. Commission per sale is small
Each sale may only earn you a few dollars in commission. That is why you need to tap on the global market of search traffic on the internet, instead of relying on face to face selling, which is so time-consuming it makes this business not sustainable.

Is Jewelry Candles Scam or legit? 

Jewelry Candles is certainly not a scam. It is a legitimate company that retails candles, bath bombs, other scented products and gifts.
In fact, it doesn't even run on the MLM business model, unlike many other companies selling similar products, like JewelScent, Scentsy, Vantel Pearls, Origami Owl, and Paparazzi, to name just a few.
---

I hope you have found this article helpful.
If you would like to see how I am working full time from home, making an online income through affiliate marketing, click on the button below to learn more:


And for reading all the way to the end of the post, I believe you have it in you to make this work. Here is your FREE PDF Guide: 4 Simple Steps to Making Money Online. Fill in your details to claim it:


If you have any concerns or questions regarding this Jewelry Candles review, do comment below, and we will start a conversation from there.
---