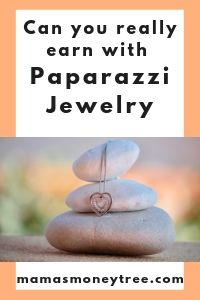 There has been a lot of buzz about this company, and you may be wondering if the Paparazzi Jewelry scam is real.
Welcome to my Paparazzi Jewelry review.
Here, we will look at its products, as well as the business opportunity that comes along with it.
Just as is the case for any MLM (multilevel marketing) opportunity, different people will see different levels of success with Paparazzi Jewelry.
If you are making a substantial income out of it, you must be doing some things right.
If you are not (yet), I offer you a business plan to improve on your retail sales of Paparazzi Jewelry, as well as other business models that may be less draining on your pocket.
Then you can decide for yourself which route you want to take.
Without further ado, let's dive right in now!
---
Paparazzi Jewelry MLM Review Summary
Product: Paparazzi Jewelry MLM
URL: https://paparazziaccessories.com/
Creators: Misty and Trent Kirby, and Chani and Ryan Reeve (two sisters and their spouses)
Product type: MLM (multilevel marketing) company, in the jewelry and accessories niche
Price: Purchase starter kit ($99, $299, or $499) to start as a consultant
Scam / Legit? : Legit
Recommended or not? : Not really, unless you have good online marketing skills
Paparazzi is an MLM company that sells cheap jewelry and women's accessories at $5 a piece.
Affordable products makes it easily marketable to the masses, though repeat customers may not be that easy to find, due to the low quality of the products.
You are taught to host jewelry parties, which is a traditional MLM method that is not going to earn you the big bucks.
Check out this method that leverages on the internet to bring you free traffic to your Paparazzi business:


Read on for the detailed review of Paparazzi Accessories, and it may not work for many people.
---
What is Paparazzi Jewelry MLM
A brief background of Paparazzi
When sisters Misty and Chani started their little jewelry business back in 2008-2009, sourcing for affordable bits and pieces that are cheap but yet trendy, they had no idea it was to become such a huge MLM company.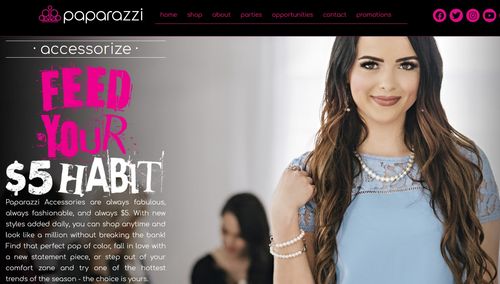 Paparazzi Accessories was founded in 2010, in Hurricane, Utah.
Their mission statement: "We believe that trendy accessories can be available, and affordable, to women everywhere."

Paparazzi Jewelry Product Line
Lead-free and nickel-free, their jewelry line is priced very attractively at $5 a piece. They look really trendy too.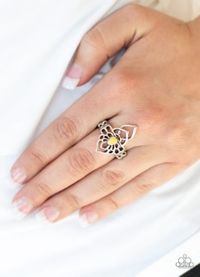 As new styles are added constantly, like every week, or maybe even daily, there is no catalogue, since there is no way they can keep updating it.
That sort of saves you some hassle, as a consultant. But it also means that from a customer's point of view, they can only choose from whatever stock that the consultant has physically.
Or they may go online to order from the consultant's 'website' provided by the company. I will be discussing more about this later.
For now, let's take a brief look at the quality of the accessories sold by Paparazzi.

Paparazzi Accessories – Product Quality and Feedback
You really can't expect much quality out of a piece of $5 jewelry, can you?
So that is a fact that customers have to accept, if they decide to buy from Paparazzi. That the necklace will start staining after two uses. Or the catch will break after a while.
There are people who like to keep changing the accessories they wear, and do not mind throwing $5 down the drain every other day. These will be great customers for you, but do you know where to find them?
Maybe you do know some people around you who love to keep changing their accessories like that, but how many are there? Will the number be large enough to sustain your Paparazzi business?
Then there are also those who prefer to stick to their few pieces of not-so-cheap but much more lasting jewelry, especially those with sensitive skin.
The bottomline is: the market may not be as huge as what you think.
See what a consultant said of its quality of products.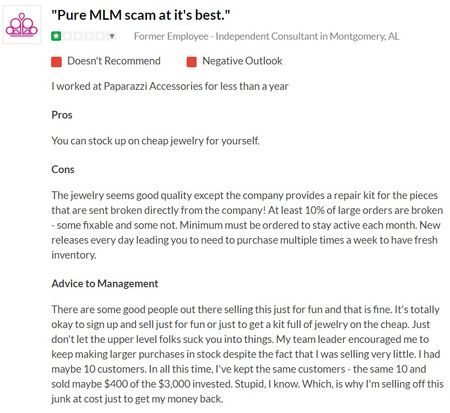 Now, let's get into the business part of things, with a more in-depth discussion.
---
Paparazzi Jewelry MLM: Business Opportunity
How to become a Paparazzi Distributor
To start distributing Paparazzi accessories, you simply choose one out of the three starter kits:
$99 Preview Pack – 35 pieces of jewelry, retail value $175
$299 Small Home Party Kit – 120 pieces of jewelry, retail value $600
$499 Large Home Party Kit – 200 pieces of jewelry, retail value $1000
Do you realise that when you buy any of these starter kits, you would have made yourself a big customer of Paparazzi?
The company would have profited off your bulk purchase, regardless of whether or not you end up making money with it.

How well will Paparazzi accessories sell?
Of course, $5 a piece of jewelry should not be that difficult to sell to family and friends. There are even people selling and recruiting in their office pantry! I seriously wonder what they are thinking…
But after the first round, those who are not happy with its quality would drop off your customer list. As for repeat customers, how many more times do you think they will buy, before they get tired of it?
How about the rest of your stock that you are not able to sell off? As they sit in your wardrobe and get oxidised, or get out of fashion, you will not be able to sell them anymore.
So whether you make a profit or a loss out of this business, really depends on your warm market, as well as your own marketing skills, and whether you are willing to keep approaching people to buy from you, or keep hosting parties.
And remember, you are only earning $2+ per piece of jewelry. The profit margin is really low.
So far we have discussed the retail part of the business. It can work for those who are well-skilled and knowledgeable in marketing, and are able to leverage on the internet, to do online marketing. I will cover this in a later section.
For now, let's move on to the recruitment aspect of the Paparazzi business.

Opportunity in the recruitment aspect of Paparazzi Jewelry MLM
I will not be going into the details of the Paparazzi compensation plan here. You can find out more on their home page.
Basically what the compensation plan means for you is that the more people you recruit under you, and the more each member of your team actively recruits, the higher up the ranks you will climb, and the more bonuses you will earn.
As with all other MLM companies, the recruitment bonus becomes more significant only after you have made your way up several ranks.
As you recruit more people, they each buy a starter kit, the company earns. This goes on down the line.
Recruitment is never easy, especially in this time and age when so many people are extremely skeptical of anything MLM.
Yet, with all the hard work that you put in, bringing in new distributors (who are in fact bulk-purchase customers) for the company, you earn just a tiny amount.
You have to keep encouraging your team members to grow their own downlines, supporting them along the way, growing the team consistently before your bonuses can become substantial.
This takes full-time hours, sometimes more than that, and results that may take many months or even 1 to 2 years to show.
Personally, I have never been a fan of MLMs, because of this exploitative nature of recruiting people, giving them the hope of being able to make money out of it, just to get myself up the ranks.
See what some of the Paparazzi distributors have to say: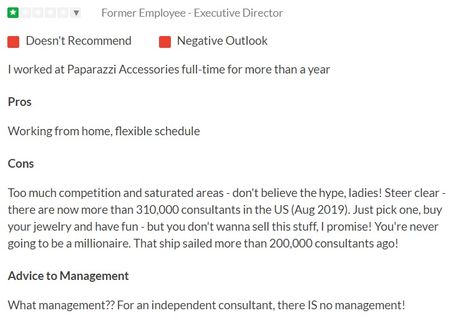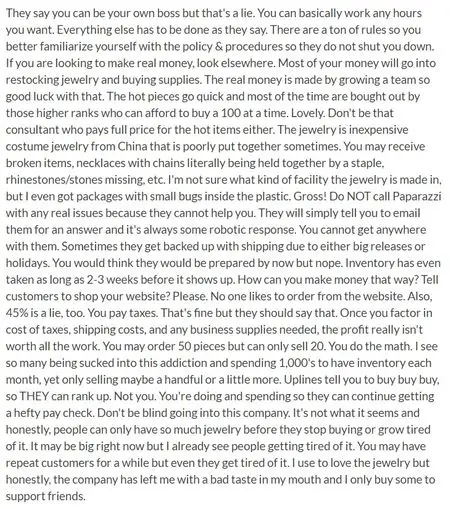 The truth is more than 99% of MLM participants do not make a profit (not something I pluck out of thin air, see the FTC report here).

Can you still profit from Paparazzi without recruiting
Yes. I do see potential here, because of its very affordable products.
If you can reach out to the masses by leveraging on the internet, to bring a targeted audience onto your own 'website' that Paparazzi provides for its consultants, then you will be able to make online sales.
This way, you will not be restricted to your own warm market, nor limited by your geographical location.
The thing is, the website provided by Paparazzi to its consultants are all duplicates. A random person searching for cheap jewelry will never find your 'website', because none of these duplicate sites will appear in the search engines' search results.
And yet this person is the most targeted audience you can ever ask for. Because she is searching actively, with a strong buyer intent, with money out of her purse, all ready to buy some jewelry!
So how do you show up to her search queries on the internet?

Getting around the issue with duplicate websites
Search engines love original websites, with great content that serves the needs of their readers.
So if you have your own unique website, targeting the jewelry niche, then you will be able to send free organic traffic that lands there from the search engines, onto your Paparazzi duplicate 'website', through a link on your own unique website.
I have tried this before with another MLM opportunity, it worked so well, and it opened my mind to the vast opportunities with that technique, that I have now gone down a completely different path from MLM businesses.
If you are interested to learn how it can be done for your Paparazzi business, click on the button:


An alternative to Paparazzi
With the same technique described above, by having your own website, there are so many things you can do to make money.
I will describe my favourite business model, which is called affiliate marketing.

Affiliate Marketing
You can become an affiliate marketer in the jewelry niche, where you earn a commission when people landing on your own website click through your affiliate link to buy stuff from some merchant.
This is my favourite way to make money online, in fact I use it as my main source of income. Not in jewelry and accessories, but in other niches.
I find it to be a much more transparent system compared to MLM, because you get rewarded based on the sales that you bring to the companies.
You do not have to pay an upfront investment to promote their products. In fact, companies love their affiliates, because as you promote them, you are in fact advertising their brand for free!
They pay you only when you actually drive sales to their business. This is definitely more advantageous for them compared to conventional advertising, where there is a much higher risk on their investment.

Your own website is a highly valued asset
You see, once you pick up the skills of ranking your website in the search engines, and getting free organic traffic, there is no limit to what you can do.
You can work with as many companies as you like, as long as they offer an affiliate program that you can earn with. There is no reason to just limit yourself to one company.
This is my earning on a recent day, just with one program:



That's almost $200 in just one single day. It's nothing to boast about, though, as it's just a small fraction of its full potential. I just wanted to show you the possibilities.
If this sounds good to you, I have detailed how you can get started with affiliate marketing, for free, in another post. Check it out:

---
Now, let's review briefly the pros and cons of Paparazzi Jewelry MLM before I end off this article.
Pros of Paparazzi Jewelry MLM
1. Affordable products
This is its main selling point, so if you can break out of your geographical location, there is actually good potential for this business.

2. No monthly minimum requirement
You do not have to meet any monthly minimum requirement if you simply want to earn off retail profits.
Minimum requirement is applicable if you intend to benefit from the recruitment bonuses.

Cons of Paparazzi Jewelry MLM
1. Low quality products
Let's face it, if it's that cheap, it can't be good.

2. You may end up with stock that you are not able to sell off
With each batch of purchase, I doubt you will be able to sell off every single item. Those that remain will be more difficult to sell as time goes by, due to deterioration in their quality, as well as going out of fashion.

3. May end up with a loss
If your warm market is not big enough, you may end up making a loss instead of profiting from this opportunity.

4. Family and friends may start to shun you
As you keep bugging them to buy accessories from you, sooner or later you will sense that they seem to be keeping their distance, and the relationship may not feel as genuine as before monetary exchanges were brought into the picture.

Is Paparazzi Jewelry Scam or legit? 
There is no doubt that Paparazzi Jewelry is a legitimate MLM business, just like Nu Skin, Jeunesse, Valentus, Felice Cafe, and so on.
But whether it is the best thing for you, I will leave you to make your own decision.
---
Recommendation
I have steered clear of any MLM business after I stepped foot into one such company, which helped me see how exactly things work in that business model.
Personally, I find MLMs to do more harm than good to society and the vast majority of distributors.
If you will let me, I would like to show you how I am making my online income, all by working from home on my laptop.

And for reading all the way to the end of the post, I believe you have it in you to make this work. Here is your FREE PDF Guide: 4 Simple Steps to Making Money Online. Fill in your details to claim it:


If you have any concerns or questions regarding this Paparazzi Accessories review, do comment below, and we will start a conversation from there.
---