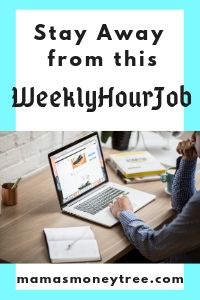 If you are wondering what is WeeklyHourJob.com, here is where I reveal all the red flags that point to this platform being a 100% scam.
Welcome to my WeeklyHourJob review.
If you are trying to find some data entry jobs, this dubious website is NOT the place. You should stay as far away from it as possible, because its creators have malicious intent.
Join me in this honest and in-depth review of WeeklyHourJob.com, so that you can see the wolf under the sheep skin.
Without further ado, let's dive right in now!
---
WeeklyHourJob.com Review Summary
Product: Weekly Hour Job
URL: http://www.weeklyhourjob.com/
Creator: Unknown
Product type: Data entry jobs platform
Price: Free to join
Scam / Legit? : SCAM
Recommended or not? : NOT Recommended
There are no data entry jobs on WeeklyHourJob.com, whatsoever. It is just a scam to get people to sign up, with huge lures to get members to use their referral links to get more people to sign up.
It is a malicious data harvesting site. Stay far away.
If you do not want to waste anymore precious time on scams, check out my #1 recommendation to making money online:


Read on for the detailed review of WeeklyHourJob, and why I call it scam.
---
What is WeeklyHourJob.com
To find out what is WeeklyHourJob.com, let's first take a look at its home page.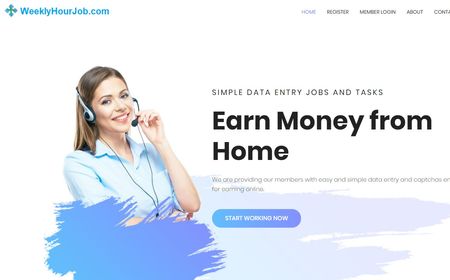 It is disguised as a data entry and simple tasks platform.
You may be wondering right now: why is this person so quick to judge? What makes her so sure?
Well, I don't want to beat about the bush or waste your time. There is no point going over stuff like how you can make money on WeeklyHourJob, when it is a total scam.
Here is why I say so: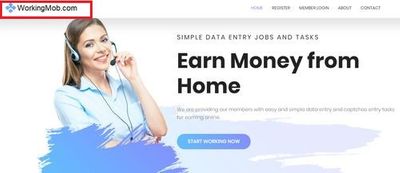 It is the exact same home page design as another scam: WorkingMob.com, and a few others.
I have seen this kind of sites too many times, they are run by unscrupulous people whose intent I will explain.
First, let me show you all the other red flags on this platform.

Huge red flags on WeeklyHourJob.com
New domain
Its domain was newly registered less than a year ago, in November 2018.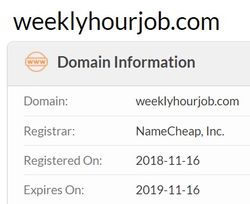 How is it possible that such a young company has already paid out more than $6 million to its users?
That's according to the counters shown on its website:



Wouldn't that make it the fastest growing company in the world? To make a revenue of close to $7 million in a few short months?

'Contact Us' does not work
When you click on 'contact' on the menu, you are brought to a simple FAQ page.
At the bottom of the page, there is a field for you to enter your question or comment.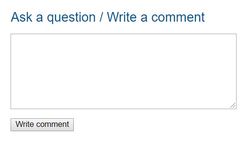 Notice that this does not require me to enter my email address. So how are they even supposed to get back to me?
It is not possible for them to post every single question on the FAQ page, since it is such a brief one.
How do they expect us to trust them when a $6 million revenue company cannot provide an official email address for people to get in touch with them?
Where do you go to find support when you do not get your earnings coming through?
Next comes the best part

There is NO data entry job on WeeklyHourJob.com
No kidding! This must be the most absurd thing possible!
Once inside the members' area, all I see is that I have earned $5 in my account, I see my referral link, but NOT A SINGLE data entry job or simple task.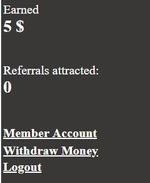 I'm not sure what to make of this ridiculous platform. They try to distract people with the $5 earnings and referral link, just wanting their members to go out and do their dirty job of luring more people to sign up.
They provide numerous payment methods, but I hope you have not filled that portion in. Because they have never intended to pay out to anyone right from the start.
That brings us to their ulterior motive behind setting up this website.

What does WeeklyHourJob.com really want out of you?
This is a very malicious site. These are the few things that they want:
Data harvesting for selling to third party advertisers
With your name and email address, the people behind this platform can sell this information to third party advertisers, for a handsome price.
This is because they can prove that their list comprises people who are all interested in making money online.
This niche is a very profitable one, because the scammers can very easily sell products that promise to make you rich instantly. I mean, who wouldn't like that?
So once the dubious characters buy your information over, they will spam your inbox with offers of products that will help to make your first $1K in the first week!
Stuff like that which we know do not exist, but you can bet they will sell like hot cakes.
That's not all. Read on for the scary part.

They will try to hack into whatever accounts they can lay their hands on
Since out of convenience, people tend to use the same password for many different things in their lives.
This could include their social media accounts, email accounts, bank accounts, and even WeeklyHourJob.com accounts!
You see where this is going?
Because you were required to enter a password when signing up to the platform, these crooks are going to use this password, and try their luck on whatever accounts of yours that they can get their hands on.
So if you had really used the same password for WeeklyHourJob as your important accounts like email and bank accounts, please get those changed as soon as possible, before you get havoc in your life.
Also, if you had entered your choice of payment mode on WeeklyHourJob, you really need to protect your monetary accounts that were involved as well.

In this time and age, scams are getting more and more sophisticated. Not having to pay does not mean it will not scam you.

The proper way to make money online
I know you set out looking for an honest data entry job that would allow you to make some income working from home.
It is unfortunate that you have landed on the malicious site, preying on hardworking people.
There are many legitimate work from home jobs, including freelancing.
Stick to the established platforms, and you will not likely bump into such scammers.
Examples of great freelancing sites include Freelancer, Upwork, Guru, and Fiverr (there are so many others).
These jobs will allow you to trade your time for money.
If you will let me, I also want to show you how I am making money differently.
This site that you are on right now is one of my income streams.
I am now working full time from home, growing my internet business, and making an online income. I started from scratch with zero knowledge in this area. If I can do it, you can, too.
Here's a peek into my earnings on a recent day:



That's almost $200 in just one single day. It's nothing to boast about, though, as it's just a small fraction of its full potential. I just wanted to show you the possibilities.
Check out this training platform that provides all the resources, tools, along with an entire community of aspiring as well as already successful online income earners. The best part is, you get to start for free:
---
To round up this article, let me recap and summarise the pros and cons, before I finally make my conclusion.
Pros of WeeklyHourJob.com
There is not a single pro to this platform. It is too dangerous, just get yourself out of there.

Cons of WeeklyHourJob.com
1. They will sell your data
This is quite definitely the primary motive of this platform. So you will be receiving lots of spam.
Though it may seem like just a minor irritation, it is still something unethical, as they are profiting from it, at your expense, and without your permission.

2. Your personal accounts may be in danger
With the password you entered for access onto WeeklyHourJob, those people may try to use it to enter numerous accounts of yours, including bank account (if you have linked it to your payment mode information), email account, social media account, and so on.

3. People whom you have referred will lose their trust for you
If you had referred friends and family to the platform, thinking that this is a good way to make some easy money, then they will very likely lose their trust for you when they discover what a huge scam this is.
---
Is WeeklyHourJob.com Scam or legit? 
This is a giant scam, just like these platforms: SwagPay, InfluEarn, and My Work For Life, to name just a few.
---
Recommendation
There are too many legit ways to make money online. The opportunities on the internet know no limit.
But you need to know where to look. Even when you are not looking for any easy way out, but just an honest job, these scammers will still know how to position themselves to lure people in.
Here, I want to show you what I think is the most hassle-free and neat way to make money online.
This real deal does not promise instant results, but instead provides the knowledge and lifelong skills required to grow a successful online business, which is exactly what I have done. Check it out by clicking on the button below:


And for reading all the way to the end of the post, I believe you have it in you to make this work. Here is your FREE PDF Guide: 4 Simple Steps to Making Money Online. Fill in your details to claim it:


If you have any concerns or questions regarding this WeeklyHourJob.com review, do comment below, and we will start a conversation from there.
---