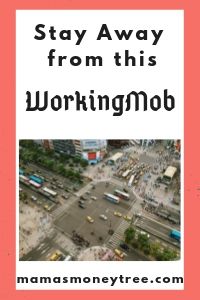 What is WorkingMob.com? Is it really a legit platform for finding simple data entry jobs, or is it another scam that sucks you of all your time and energy?
Welcome to my WorkingMob.com review.
The moment I landed on their website, I knew it is no good.
That's because in reviewing hundreds of products and platforms, I have seen this too many times before. In fact, this exact home page design has been used many times, under different domain names.
Follow me in this honest and in-depth review of Working Mob, as I walk you through all the red flags that point to a group of people that is up to no good.
Without further ado, let's dive right in now!
---
WorkingMob.com Review Summary
Product: Working Mob
URL: http://workingmob.com/
Creator: Unknown
Product type: data entry and captcha entry tasks platform
Price: free to join
Scam / Legit? : SCAM
Recommended or not? : NOT recommended
WorkingMob.com is not an honest website. I have seen the exact same home page design before, many times, on various different domains. They simply recycle the same scam, just by changing the domain names.
In the members' area, there is not a single job to be found, nowhere you can click to work on any data entry job. They just want to collect your contact details, to be sold to third party advertisers.
If you do not want to waste anymore time on scams, check out my #1 recommendation to making money online:



Read on for the detailed review of WorkingMob.com, and why I call it scam.
---
What is WorkingMob.com
To find out what is WorkingMob.com, let's first take a look at its home page.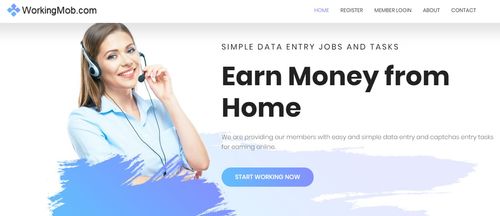 Apparently it is a data entry site, where you can make money by doing simple data entry and captcha entry jobs. Sounds good, an opportunity for working from home is always welcome.
Wait until I bring you right into the members' area, because that is when things start to look a little fishy.
After registering with your email address, password, and full name (required for payment, as they claim), you will enter the members' area to find $5 already deposited inside your account.
So thoughtful, a nice gesture!
But as you start to explore around, it will dawn on you that there are no jobs inside there at all! Nothing. Not a single button to click on, no lists of data entry or captcha entry jobs to choose from.
Though they still shamelessly claim, within the members' area, that their data entry jobs are $1 per line.
Hmm, that will probably make you a higher income than most full time 9 to 5 jobs!



Just by working 2 to 3 hours a day, you can potentially make $3000 per month! I would love it too, but WHERE ARE THE JOBS??
I have my referral link, and on the dashboard it shows that I can potentially earn by referring people to the platform.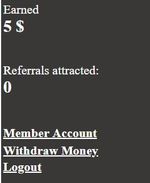 That's it. It's nothing but a referral platform. I've been tricked, albeit willingly, just to show you how ridiculous this platform is.
If there are people who still put up their referral links for this platform all over social media, I can only say their integrity is just as questionable as those people hiding behind this fake platform.

More red flags on WorkingMob.com
There are more things I can show you, come, let me walk you around the place.
There is no email contact. So when you need to contact their support, it's simply through their ask a question / write a comment field.
It shows how sincere they are in providing support on the platform.
Next, their domain is registered for only a year, from September 2018 to September 2019.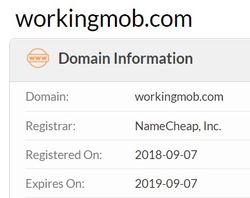 Not that there's anything wrong with registering the domain for just one year, but if they had really paid out more than $6 million to members as they claim on their website, then wouldn't they have the financial resources to keep the domain for a longer duration, like any huge and established company?

What does WorkingMob.com really want out of you?
You may question, they do not cheat you of your money, but just waste your time, then what is the point?
Well, these days, contact details are as precious as money.
What they really want is to collect a long list of contacts, which they will then sell at a high price to some third party advertisers. This list is precious to the advertisers, as it is seen as a targeted audience group that is very much interested in making money online with little to no effort.
So your email inbox will be spammed with lots of promotions for stuff that promise to get you rich fast, but you know, and I know, that they will never work, because there is no such thing in this world that can deliver that promise.
If you are serious about making money on the internet, you have to put in some hard work. Let me show you what has worked for me.

The proper way to make money online
There are many legitimate ways to make a full time income online, but you need time, patience, and lots of effort.
My favourite method is something called affiliate marketing. Basically you get traffic to your affiliate links promoting some product. And when people click through them to make their purchase, you earn a commission.
This, I find, to be the neatest and hassle-free way to make money online, because I do not have to own any products, no inventory or delivery to handle, no customers complaints to deal with.
I simply bring customers to the virtual doorstep of the companies selling the products.
What's more, you do not have to limit yourself to just one company. You can choose your own niche that you are passionate about, work with any company that has an affiliate program, and work with any number of companies at the same time!
The real beauty of it all is that the method I use allows me to get free traffic. Which means I don't have to spend a single cent on advertising, to drive traffic to my offers.
This takes hard work, though. But it is so worth it, once the business gets established.
I am now working full time from home, growing my internet business, and making an online income. I started from scratch with zero knowledge in this area. If I can do it, you can, too.
Here's a peek into my earnings on a recent day:



As you can see, more than $100 a day is very do-able. And this is not even at its maximum potential yet, I'm still growing this business every single day.
Check out this training platform that provides all the resources, tools, along with an entire community of aspiring as well as already successful online income earners. The best part is, you get to start for free:
---
To round up this article, let me recap and summarise the pros and cons, before I finally make my conclusion.
Pros of WorkingMob.com
Frankly, there is not one single good thing I can say about this platform. Just steer clear of it.

Cons of WorkingMob.com
1. Complete waste of your time
No matter what you try to do to make money on the platform, it will be a complete waste of your time, because these people never intended to pay out a single cent to anyone at all.
It is obvious, from the way they blatantly try to deceive people to sign on to the platform.
2. You contact information will be sold to others
Once you get onto there, you can be sure your email address and name will be sold to third party advertisers, who will spam you with their offers.
Though it's not exactly harmful, it is still a nuisance that you do not need in your life. And imagining these crooks making money out of it makes my blood boil.
3. Your friends and family may distrust you
If you had referred your family or friends onto the platform before figuring out that it is a huge scam, then they will probably lose their trust in you.
---
Is WorkingMob.com Scam or legit? 
WorkingMob.com is definitely a scam. The core of its existence: to serve you data entry jobs, is a big lie.
It will do you lots of harm and zero good, just like these other scam websites: EazyDollars.co, Cloutbucks, and Cashload.net, to name just a few.
---
Recommendation
If you are serious about making some money online, what you need to do is to drown out all the noise and chaos on the internet.
Find a proven path that has worked for others, learn the ropes, implement your learning, and stick with it until you see results.
This method that I want to show you is just one out of the many possible ways to make an online income. You can take a closer look before deciding if this is the right path for you.
This real deal does not promise instant results, but instead provides the knowledge and lifelong skills required to grow a successful online business, which is exactly what I have done. Check it out by clicking on the button below:



And for reading all the way to the end of the post, I believe you have it in you to make this work. Here is your FREE PDF Guide: 4 Simple Steps to Making Money Online. Fill in your details to claim it:


If you have any concerns or questions regarding this WorkingMob.com review, do comment below, and we will start a conversation from there.
---