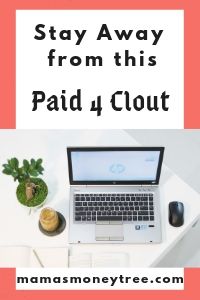 You must have seen people putting up their referral links for this, and are wondering what is Paid 4 Clout. Is it a real opportunity to earn, or is it another scam that sucks the time and energy out of you?
Welcome to my Paid 4 Clout review.
I'll be completely upfront about this. This is pure scam, one that I have seen too many times. It is the exact nonsense that are sprouting up all over the internet, given a new name, new domain, new lease of life when the old ones have been tainted with bad reputation.
Join me in this honest and in-depth review of Paid4Clout.com, as I walk you through all the red flags, so you can see for yourself why this platform is doing so much more harm than good. In fact, there is zero good out of this.
Without further ado, let's dive right in now!
---
Paid 4 Clout Review Summary
Product: Paid 4 Clout
URL: https://paid4clout.com/
Creator: Unknown
Product type: referral platform (or influencer network, as they call themselves)
Price: free to join
Scam / Legit? : SCAM
Recommended or not? : NOT recommended
Paid 4 Clout is a rehash of an old scam that has been going around the internet, hiding under different names. Baiting people with huge earnings just to refer others to join the platform, they will never pay out a single cent.
All they want is to harvest your contact information, so they can sell it at a high price to third party advertisers. Do not sign up to this, and do not get others to sign up, otherwise these crooks will be getting what they want.
If you are tired of scams, check out my #1 recommendation to making money online:



Read on for the detailed review of Paid4Clout, and why I call it scam.
---
What is Paid 4 Clout
To find out what is Paid 4 Clout, let's first take a look at its home page.



It sounds really enticing, to be able to make $500 today! Who wouldn't want that? And make $10 to $15 for every friend you invite, that sounds really good too!
See how they are luring people in by waving stashes of notes in front of them.
To top it off, everyone gets a $25 signup bonus. Wow.
But where are they going to find the money to pay you, when you actually refer friends to them? Advertisers are definitely not paying them that kind of money, and money doesn't just fall from the sky.
The reality is that they never intended to pay out at all, not even a single cent. They do this just to get what they want: people to sign up with them.

How does Paid 4 Clout work?
They claim to have been in the internet marketing industry for a while now, having more than 300K members, with over $44 million paid out to members.



To make money on the platform, all you have to do, supposedly, is to use your referral link to invite friends to join.
That is precisely why people are splashing their links all over the place on social media platforms, forums, in emails, messages to friends, etc.
If referring people is not your cup of tea, you can also earn by testing out products by their sponsors, in the members' area.
Then you cash out your earnings through PayPal, CashApp, Bitcoin, mailed checks, and more.
Paid 4 Clout claims that companies pay them advertising fees as these brands gain exposure to their members on the platform. They then share their ads revenue with you.
It all sounds good, then why do I hold such a negative view of them? Well, here we go…

Huge red flags in Paid 4 Clout
Email contact is fake
Look what I got when I entered their contact email address into an email checker: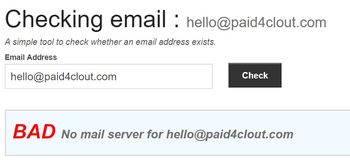 The email address they provided does not exist.
This is a sure sign of a scam, because they never intended for you to get in touch with them. They never want to hear from you when you discover that you are not able to cash out your earnings.
They just want to run away with what they had been able to get out of you.
Social buttons are fake
Right at the bottom of their home page, there are some social buttons for Facebook, Twitter, Pinterest, etc.
These icons are fake, as in they do not lead you to those social media accounts when you click on them. They do nothing, as you simply land back on the same page.
Paid4Clout is a brand new domain
Their domain was very newly registered, just one week ago from the time of this writing.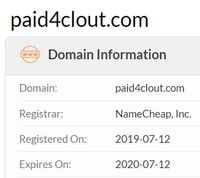 So how did they manage to gather 300K members, and pay out $44 million within one week?! They are blatantly lying!
Video testimonials are all Fiverr actors
Their video testimonials? Don't believe a single bit of what they say. These people are actors that they hired from Fiverr, to give fake testimonials by simply reading off a script.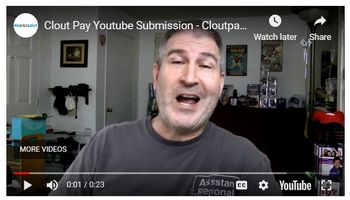 Just take a look at this: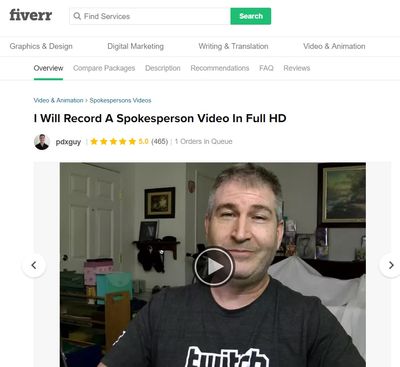 This just tells me one thing: there is not a single person who is legitimately making money out of this platform, otherwise why would they have to hire actors to pretend they are earning?
Moreover, their video title reads 'Clout Pay', instead of Paid 4 Clout that is the name of this platform. This further proves that they are recycling their marketing materials, but hiding behind a different name each time the old one has been exposed.
There are just too many references to Clout Pay, on a website that is actually called Paid 4 Clout. This includes their blog, where they reuse the blog posts from Clout Pay.
You can see it for yourself, how serious of an identity crisis they are having: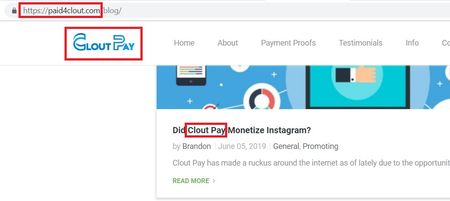 Sneaky acts like this will never be done by a legit company.

What does Paid4Clout.com really want out of you?
You may question how they even scam you if you have not taken a single dollar out of your pocket.
Well, scams these days come in many different forms. They do not have to take your money.
They can take your information, and that's how they will earn money.
Since it is free to sign up, people have no qualms about just providing their email contacts, to give it a shot at earning some quick cash.
By collecting all their members' names, email addresses, and other contact details, they sell this list to third party advertisers, who will pay a handsome price for it, because this is seen as a group of very targeted audience that is interested in making easy money on the internet.
So your email inbox will be spammed with lots of promotions, offering easy ways to make money, but they never work. Because there is no such thing on earth.

These are legitimate sites to make some extra pocket money
If you really need that little bit of extra cash, there are many legitimate surveys sites and get-paid-to sites that you can try out:
Swagbucks, InstaGC, PrizeRebel, RewardingWays, and Inbox Dollars, to name just a few.
But none of them are going to get you rich, or even earn you a part time income. That's the nature of such sites, they really can't afford to pay you that much.
Considering how many hours you have to put in for that little extra cash, I think it's not worthwhile.

The proper way to make money online
The internet is a vast space, where opportunities abound. If you drown out all that noise and chaos, and look in the right place, you can achieve big things.
The deal is this: legitimate ways to make money online are never easy. If you keep looking for the easy way out, then you won't make it big.
I guess everyone starts off wanting to make it rich fast. It's a very natural thing, that's just human nature. I wasn't spared of all the temptations on the internet myself.
But when I realised those empty promises are only going to make other people rich, and not me, I stopped looking for shiny objects.
I found a dull-looking object, but I knew in my heart that is the real deal. From then on, I have never looked back.
I am now working full time from home, growing my internet business, and making an online income. I started from scratch with zero knowledge in this area. If I can do it, you can, too.
Here's a peek into my earnings on a recent day:



As you can see, more than $100 a day is very do-able. And this is not even at its maximum potential yet, I'm still growing this business every single day.
Check out this training platform that provides all the resources, tools, along with an entire community of aspiring as well as already successful online income earners. The best part is, you get to start for free:
---
To round up this article, let me recap and summarise the pros and cons, before I finally make my conclusion.
Pros of Paid 4 Clout
No, there is not a single pro to this platform. It will do you more harm than good.

Cons of Paid 4 Clout
1. Complete waste of your time
Even if you try to get referrals onto the platform, they are not going to pay you, and yet they are benefiting more out of your actions.
2. Your information will be sold
You will receive lots of spam that you never opted in for. Not that it's a big thing, but it's a nuisance nonetheless.
3. Friends and family whom you have referred may lose their trust in you
Before discovering it was a scam, if you had referred friends and family onto the platform, then they would possibly lose their trust in you.
---
Is Paid4Clout Scam or legit? 
Paid4Clout is definitely a scam. There's no question about it.
---
Recommendation
If you believe your success lies in your own hands, then I want to show you something.
This real deal does not promise instant results, but instead provides the knowledge and lifelong skills required to grow a successful online business, which is exactly what I have done. Check it out by clicking on the button below:



And for reading all the way to the end of the post, I believe you have it in you to make this work. Here is your FREE PDF Guide: 4 Simple Steps to Making Money Online. Fill in your details to claim it:


If you have any concerns or questions regarding this Paid 4 Clout review, do comment below, and we will start a conversation from there.
---