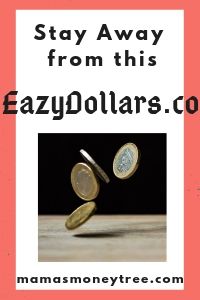 Chanced upon this easy way to earn some dollars, and wondering is EazyDollars.co SCAM real? You have landed at the right place. I will show you all the red flags on this scam website.
Welcome to my EazyDollars.co review.
When something sounds too good to be true, that's when you really need to be suspicious, and question every single thing that you see, be alert to scammers that are lurking everywhere.
In my honest and in-depth EazyDollars.co review, I will present to you the proof that this platform cannot be trusted.
Without further ado, let's dive right in now!
---
EazyDollars.co Review Summary
Product: Eazy Dollars
URL: https://eazydollars.co/
Creator: Unknown
Product type: Influencer platform, also just a referral platform
Price: free to join
Scam / Legit? : SCAM
Recommended or not? : NOT recommended
They are at it again, these crooks. EazyDollars.co is another scam website that tries to collect your personal information, by luring you in with easy cash, but they will never pay out a single cent.
After you do all the work for them, by referring others onto it, they get what they want, by selling their list at high price to third party advertisers.
Keep clear of this platform.
If you do not want to waste anymore time on scams, check out my #1 recommendation to making money online:



Read on for the detailed review of EazyDollars.co, and why I call it scam.
---
What is EazyDollars.co
To find out what is EazyDollars.co, let's first take a look at its home page.


Apparently the only thing you need to do on this platform is to sign up for free, earn your $25 signup bonus (WOW!), invite friends to earn $10 per person, and cash out all those easy money!
They have 250K members, paid out $55 million, and own 300 million shares. Pretty impressive.



They also work with brands like Wendy's, Target, McDonald's, etc.
As the #1 influencer platform, they get their revenue from these brands that leverage their platform to increase exposure and brand awareness, hence they are able to share with you their ads revenue.
It sounds nice and good, and very enticing, to be able to earn so easily, just by referring people to sign up on their platform.
Wait till you learn the truth behind this veil of deception.

Huge red flags on EazyDollars.co
Social media icons do not lead to their social media accounts
When you click on their social media icons on the home page, each button opens up a new window of the same page that you were on.
Those icons are all fake, EazyDollars.co does not link to any social media accounts at all.
Testimonials are not real
How do they expect anyone to believe the testimonials on the home page, which are just texts that anybody can type out, with graphics that are not even pictures of real people?
I think they should try to do a much better job than this.
Contact email does not exist
Their contact email is fake, it means they never intended for you to contact them right from the start.



Their parent company is fake
They claim that their parent company Zindexius has been creating online monetising solutions since 2008, to give their audience a fake sense of credibility.
You just have to do a simple search on the net to know this company does not exist.
$55 million paid out in 3 months? Really?
Their domain was registered in April 2019. Which means the site is 3 months old (at the time of this writing, in July 2019).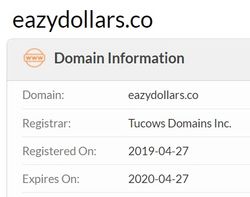 And they have already paid out $55 million? And yet are not able to link out to their social media accounts properly? That's quite amazing!
There are too many telltale signs that point towards this platform being a dishonest one. They have never paid out a single cent to any member, and they never will.
Those reviews that you see on Youtube are people just taking a shot at it, or gullible enough to believe Eazy Dollars is legit. They are just trying to get their referrals, they have not earned a single cent from this platform.

What does Eazy Dollars really want out of you?
You may question how do they scam you if they are not taking your money?
Well, scams these days do not have to take the form of stealing your money. They can steal your personal data, which is what the people behind Eazy Dollars want out of you, and also the reason why they bait people to refer more members to them, by offering such out-of-this-world referral commissions.
They will gather all the names, email addresses, and sell at a high price to third party advertisers, who are willing to pay for this precious list, since it is believed to be a highly targeted group of audience who is very interested in making money online.
So your email inbox will be spammed. You will receive offers of products that promise to get you rich quick, which will sell like hot cakes because they are targeting the human weakness of going for instant gratification, and not wanting to engage in hard work.

The proper way to make money online
There are too many legit ways to make money online, but none of them come easy. It has never been easy, and it never will be. If you believe what these dishonest people tell you, then they will be the ones laughing their way to the bank.
But I guess everyone starts off wanting to make it rich fast, with little to no effort. It's a very natural thing, that's just human nature. I wasn't spared of all the temptations on the internet myself.
But when I realised those empty promises are only going to make other people rich, and not me, I stopped looking for shiny objects.
I found a dull-looking object, but I knew in my heart that is the real deal. From then on, I have never looked back.
I am now working full time from home, growing my internet business, and making an online income. I started from scratch with zero knowledge in this area. If I can do it, you can, too.
Here's a peek into my earnings on a recent day:



As you can see, more than $100 a day is very do-able. And this is not even at its maximum potential yet, I'm still growing this business every single day.
Check out this training platform that provides all the resources, tools, along with an entire community of aspiring as well as already successful online income earners. The best part is, you get to start for free:
---
To round up this article, let me recap and summarise the pros and cons, before I finally make my conclusion.
Pros of EazyDollars.co
None. There is not a single positive point about this platform. You've got to run away as fast as you can.
Cons of EazyDollars.co
1. Complete waste of your time
It will be a complete waste of your time, when you try to get people to sign up using your referral link.
2. Your information will be sold to other advertisers
You will be spammed with lots of promotions and offers that you never opted in for. It's probably a minor thing, but it's still a nuisance that you do not need.
3. Friends and family may lose their trust for you
If you had referred your friends and family to the platform before realising that it's a scam, then the trust they have for you would decrease quite substantially.
---
Is EazyDollars.co Scam or legit? 
It is definitely a huge scam, this EazyDollars.co website.
It will do you all the harm, and not a single good, just like these other scams: Cloutbucks, Cashload.net, and Kids Earn Cash, to name just a few.
---
Recommendation
If you want to make some serious money online, first you've got to accept that it will never be easy.
If you are ready to put in the hard work to reap the rewards, I want to show you a proven path that countless successful internet marketers have taken.
This real deal does not promise instant results, but instead provides the knowledge and lifelong skills required to grow a successful online business, which is exactly what I have done.
Depending on how far you want to bring it, this can eventually replace your full time income, and more.
Check it out by clicking on the button below:



And for reading all the way to the end of the post, I believe you have it in you to make this work. Here is your FREE PDF Guide: 4 Simple Steps to Making Money Online. Fill in your details to claim it:


If you have any concerns or questions regarding this Eazy Dollars review, do comment below, and we will start a conversation from there.
---