Heard about this never seen before method in Eclipse by Brendan, that allows you to hijack the gurus' traffic in 30 seconds, and turn it into passive income?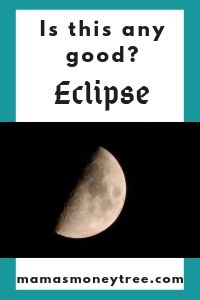 Welcome to by Eclipse review.
How is such a fantastic method hidden from view for so long? Or is it yet another fluffed up product that may not be the most suitable for beginners in the internet marketing space?
In my honest and in-depth review of Eclipse, I will explain the exact method taught in this product, along with its pros and cons, so that you can decide for yourself if it is right for you.
Without further ado, let's dive right in now!
---
Eclipse Review Summary
Product: Eclipse
URL: https://www.geteclipse.net/eclipse
Creators: Brendan Mace and Jono Armstrong
Product type: Paid traffic through Youtube video ads
Price: $12.95
Scam / Legit? : Legit
Recommended or not? : Not recommended for beginners
The method taught in Eclipse is about placing your video ads in Youtube videos that are in the same niche as the products that you are promoting, and it is also affiliate marketing.
The sales pitch is all hyped up, as paid traffic has its risks, and is not as easy as they make it sound.
If you do not want to waste anymore time and money that will not work in your favour, check out my #1 recommendation to making money online:



Read on for the detailed review of Eclipse, and why I do not recommend it.
---
What is Eclipse by Brendan
To find out what Brendan Mace and Jono Armstrong are up to this time with yet another new product launch, let's first take a look at the sales page of Eclipse.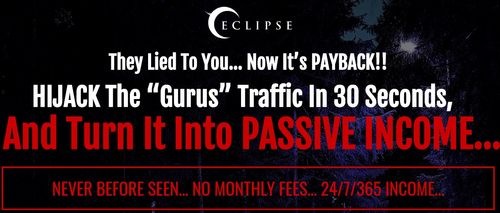 It's a lot of hype which is so typical of Brendan and Jono's products, but I must say they are getting better at making their videos! This one on their sales page is quite funny, good for some entertainment if you are feeling bored.
To get people to buy into Eclipse, they claim how it is an easier, faster and more unique method than any others.
If what they say is true, why do they have to keep launching one new product after another, every few weeks? It's exactly because they hype up everything, making it seem so easy to get rich, so hoards of people will buy their products with each launch.
Some of their recent products include Aurora, Octane, Goodwill, and StealthD, to name just a few.
But as each new wave dies down, they have to keep creating something else, in order to sustain their income. If it's really anything good, they just have to stick with one product, and spend their time and effort developing and improving it, since a solid product will continually bring in new customers.
But they don't. I guess that says a lot.
In Eclipse, they claim that you do not need your own product or email lists, this method is completely hassle-free, and they have been keeping this a secret for over a year now.
It is the way to get "eyeballs" to whatever promotions you have, in as little as 5 minutes. You do not need a website or your own Youtube channel. You're legally stealing business from the gurus who do all the hard work.
They then flaunt their extravagant lifestyle, their huge homes, cars, and travels across the world, accrediting it to this automation method they have used for their businesses.
After everything, they failed to reveal the exact method on their sales page. Which means they expect you to buy without any idea what you are buying, except that it's fast and easy to make money this way.

It's all about Youtube ads
Here I will do Brendan and Jono's job: inform you about what exactly you will be getting if you buy Eclipse.
Basically it is a set of training, teaching you to use Youtube ads for promoting your affiliate links.
Affiliate marketing is a legit and very lucrative way to make money online. It is neat and hassle-free, because you do not have to own any products. You simply bring send traffic to your affiliate links, and when they click through to buy the products, you earn a commission.
In fact, I do affiliate marketing too, but I do not pay a single cent for advertising. I use all free traffic, as I will explain in more detail later. For now, back to Eclipse…
So the idea taught in Eclipse is a simple one, nothing new as what they claimed. People have been doing this since Youtube started.
The gist of it is that you place your ads on the videos that the gurus have created and uploaded onto their channels, such that their audience see your ads even before they watch those gurus' videos.
That is what Brendan and Jono mean by hijacking their traffic legally.
There are 3 levels of training in Eclipse:
Beginner training
On established Youtube channels whose owners choose to monetise through ads revenue, you pay to place your ads on their videos.
In your ads, you review and promote some Clickbank products, placing your affiliate links in there. When people click through those links to purchase the products, you make money.
Intermediate training
The method taught at the intermediate level is the same as beginner, except that now you will try to promote JVZoo and WarriorPlus products, not just Clickbank.
Because affiliates from JVZoo and WarriorPlus need to apply to product vendors to get approved to promote their products, so beginners are unlikely to succeed at that.
You will also be taught to set up your own website with a page builder, so that you can place your bonuses in there, to entice your audience to buy the products through your links, by offering them your free bonuses.
It would incur additional costs of domain name, website hosting, and page builder.
Expert training
Here, there will be some advanced techniques taught to you.

Why Eclipse may not work for you
The biggest thing that may hold you back is advertising costs. It is an upfront fee that you have to invest in, with no guarantee of making any returns, especially if you have no experience running ads at all.
Paid traffic comes with a steep learning curve, for which you pay as you learn, because the learning comes from the doing – actually running ad campaigns, looking at the results, tweaking your parameters, running and testing again, and the cycle continues until you have dumped enough money to become the expert.
So it is definitely not for beginners who have not started making money online yet, as you may find yourself in the red, getting further in debt than before you started online.
Running advertisements can easily cost you hundreds or thousands of dollars, before you understand what you are doing.
To advertise on Youtube, if you want more eyeballs, and targeted ones who may respond to your ads, then you have to pay a very high price, since everybody wants to place ads on those popular channels too, it's a supply and demand thing.
If you go for cheaper ad placements, then you may not get sufficient eyeballs, and interested ones, to see any returns on your investment.
To be completely honest with you, I do not know how to do paid traffic at all in my affiliate marketing business, why do I have to pay when I can get free traffic to my offers?

How to get free organic traffic
Free traffic is obviously free, but it takes some hard work and dedication, otherwise why would anyone want to pay for traffic, if it were so easy to get it for free?
So it boils down to your circumstances and preferences: would you do free traffic with hard work, or paid traffic that's easy but involves a huge risk to your investment?
I chose free traffic, because not only is it free, it is also the most highly targeted form of traffic, called organic traffic, from search engines.
This means I am showing up when people search for keywords related to what I am promoting, on the search engines. These are ready buyers, it takes less to convince them to convert, compared to an audience who gets shown ads that they did not ask for.

The ultimate training to affiliate marketing with free traffic
I guess everyone starts off wanting to make it rich fast, and with little to no effort. It's a very natural thing, that's just human nature. I wasn't spared of all the temptations on the internet myself.
But when I realised those empty promises are only going to make other people rich, and not me, I stopped looking for shiny objects.
I found a dull-looking object, but I knew in my heart that is the real deal. From then on, I have never looked back.
I am now working full time from home, growing my internet business, and making an online income. I started from scratch with zero knowledge in this area. If I can do it, you can, too.
Here's a peek into my earnings on a recent day:



As you can see, more than $100 a day is very do-able. And this is not even at its maximum potential yet, I'm still growing this business every single day.
Check out this training platform that provides all the resources, tools, along with an entire community of aspiring as well as already successful online income earners. The best part is, you get to start for free:
---
To round up this article, let me recap and summarise the pros and cons, before I finally make my conclusion.
Pros of Eclipse
1. Real owners
Brendan and Jono are real people, in fact they are highly successful in the internet marketing niche. But that doesn't mean they are teaching you the real stuff.
They have worked hard for many years before seeing these results today, and now here they are telling people how easy it can be.
If you know them, they actually work hard creating product reviews of other vendors, creating their own products, consistently putting content on their websites and Youtube channels. It just looks easy for them because they are so seasoned and experienced.
2. 30 day money back guarantee
This basic refund policy is in place, for people who are dissatisfied with the product.
3. There is some value in the training
There is definitely something to be learnt in the training. If you have excess cash, and are at the stage when you are ready to do some paid traffic, then Eclipse could very possibly be for you.

Cons of Eclipse
1. Paid advertising is not for everyone
If you are doing paid advertising as a newbie, make sure the money you invest is something you can afford to lose completely.
Otherwise, I do not think you are ready for paid traffic, and free traffic may be the better path to go down.
2. Not as easy as what it is made to sound
There is a steep learning curve to using paid traffic, it isn't effortless until you can grasp your target audience's behavioural pattern, preferences, etc. on the platform.
3. You would have to make your video ads
This is work too, as you would have to make ads that appeal to your audience, that involves authentic and sincere communication of your selling points, in order to gain their trust, in that short few seconds before they get the choice of clicking away from your ads.
If you are not comfortable appearing or speaking in front of the camera, then you would have to try other means to create the ads, possibly spending money on animation clips, or hiring someone to do it for you.
4. Upsells
Just as with any product that is created to dig deep into your pocket, Eclipse is no exception. Just after you purchase the front end product, even before you get to try it out, you will be bombarded with pricey upsells.
Upsell 1: $197 – Done for you
Upsell 2: $197 – Steal our 3.8 million list
Upsell 3: $197 – 1K Daily Hack
Upsell 4: $77 – Eclipse Outsourcer
Upsell 5: $167 – License rights
---
Is Eclipse Scam or legit? 
Eclipse is definitely legitimate training for doing affiliate marketing with Youtube ads. But whether or not it is the best thing for you, I'll leave it entirely up to you to decide.
---
Recommendation
In life, there is no such thing as a free lunch. It's either one thing or another. In the case of getting traffic to your business, it's either you take the risk with paid traffic, or do the hard work to get free traffic.
I'm risk-averse, so I choose free traffic. As long as you put in the time and effort, it will get you there, it just takes longer, but it allows you to build up a solid foundation that will continue to earn you passive income for the many months and years after you create the content.
This is a proven method. What you need to do is learn the ropes, implement it, and stick with it until you see the results you want.
This real deal does not promise instant results, but instead provides the knowledge and lifelong skills required to grow a successful online business, which is exactly what I have done. Check it out by clicking on the button below:



And for reading all the way to the end of the post, I believe you have it in you to make this work. Here is your FREE PDF Guide: 4 Simple Steps to Making Money Online. Fill in your details to claim it:


If you have any concerns or questions regarding this Eclipse review, do comment below, and we will start a conversation from there.
---