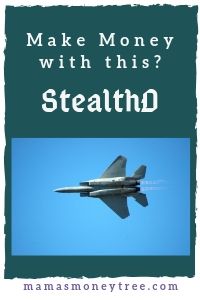 Welcome to my StealthD review.
There is no doubt about it, traffic is everything in any business. What are Jono Armstrong and Brendan Mace up to this time, with StealthD that promises to turn emails into passive income without a list, an autoresponder, or monthly fees?
Is this newbie-friendly, make money TODAY method legit? How exactly does it work to drive traffic to your offers? How is it possible for you to have a list bigger than any Gurus overnight?
We will answer these and more in my honest, unbiased and in-depth review of StealthD, as we examine the method it uses to drive traffic, and whether it is really newbie-friendly, as well as the hidden costs involved, and whether you truly need to buy StealthD to make it work.
Without further ado, let's dive right in now!
---
StealthD Review Summary
Product: StealthD
URL: http://www.stealthd.net/stealthd
Creators: Brendan Mace and Jono Armstrong
Product type: email advertising through Gmail
Price: $12.95
Scam / Legit? : Legit
Recommended or not? : Not recommended
StealthD is a set of video training that teaches you how to drive traffic to your offers using paid advertising through Gmail. This is a shortcut around having to build up your own email list, or having to buy other people's list through Solo Ads.
Any form of paid traffic method is risky for beginners in the internet marketing space, who may not know their target audience well enough yet. So this is not something I would recommend until you know how to get free traffic. Then paid traffic can be used to scale up your business.
If you want to learn how to get the most highly targeted form of free traffic to your offers, check out my #1 recommendation:




Read on for the detailed review of StealthD, and why I do not recommend it if you are just starting out making money on the internet.
---
What is StealthD
To find out what is StealthD, let's first take a look at its sales page: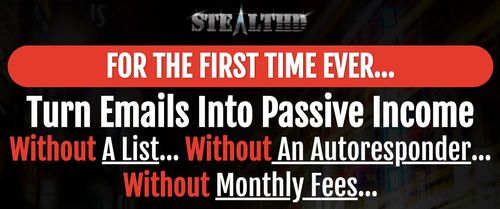 What is this never seen before strategy that gets you results faster and easier than you have ever seen before? How can an email marketing course teach something that does not require you to have your own email list?
Enters StealthD.
No email lists. No autoresponder. No softwares.
It is a sneaky way to reach inboxes, without all the complicated techy crap and traditional junk. This method has almost no competition, and is 1000 times easier than building an email list the traditional way.
With StealthD, you can reach millions of people on demand, and make thousands of dollars in sales! In fact, you can reach anyone who has a Gmail account.
And there you have it. StealthD can accomplish what nobody has ever done before.


How exactly does StealthD work?
StealthD is simply a set of video training on Gmail Ads. It is nothing new. Internet marketers have been using this method for years. And who says there is no competition? Anybody who has the money can run ads, why would viewers choose to respond to one ad over another?
Before I get ahead of myself, let's first look at what exactly is inside the training of StealthD.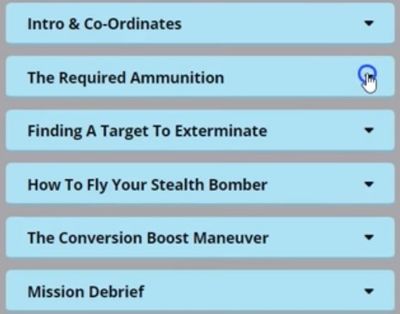 Not very helpful here, so let me walk you through the gist of the content in each video.
The Required Ammunition guides you to set up stuff that you need, including Google Adwords account, Canva, WarriorPlus, etc.
Finding a Target to Exterminate – this is about how to spot the best products to promote, as an affiliate. Jono deals mainly with digital products in the internet marketing niche, for which vendors may not approve newbies that easily, so he provides some tips on how to get approved.
How to fly your Stealth Bomber – this is about how to set up your Adwords campaign. Unfortunately, there is an upsell right inside here, if you want to go into the details of setting things up. This would make me feel like being 'tricked' into buying the front end product without realising that there is more cost involved if I want to follow through the training.
The Conversion Boost Maneuver – this teaches a strategy of getting people onto a bonus page, offering your freebies to potential customers when they click on your ads, before sending them to the sales page of the product itself.
Mission Debrief – this rounds up the training and promotes all the pricey upsells.
This is a brief walkthrough of what you get in StealthD. To be frank, it is legitimate and relevant training, but only suitable for the experienced marketer who knows what he is doing. For people like Jono and Brendan, this method can work really well because they have been in the internet marketing business for many years.
In fact, there are lots of free and very useful resources on the internet, if you really want to learn about how to do Gmail ads effectively. Some examples are Beginner's Guide to Gmail Ads by Neil Patel, and Cracking the Code on Gmail Ads by Wordstream.


Why StealthD may not work for you
If you are relatively new to the internet marketing scene, and especially if you have not learnt to get free traffic yet, then I strongly advise against trying out any form of paid traffic at this stage, as you would be doing it blind.
Paid traffic is a risky venture that comes with a high initial investment, without any guarantee of having returns on your investment. It is also something that you learn as you do.
Which means you need to sink in the funds to launch your first campaign, based on what you think is the best demographic profile that will get you highly targeted traffic, then analyse the results, tweak the parameters for the next campaign, and so on.
Because you need a large enough data set for any numbers to give meaningful interpretation, your advertising spending can become quite substantial, in the hundreds at least, and often hitting the thousands.
Paid traffic is not for the faint-hearted, neither is it for people without excess cash. When you are making money from free traffic, and have the excess cash to spend on paid traffic in an attempt to scale up your business, that would be the right time to go into it.


How to get free traffic to your offers
The traditional way of email marketing, or what Jono puts it as 'traditional junk', is in fact the right way to get started. It is exactly how Jono and Brendan got started too. They have their own email list that is super engaged, because those are their own followers.
There is a reason for the saying 'the money is in the list'. Because these are the people who opted in to your email list, they put their trust in you, and would respond to your offers and recommendations, as long as you prove that you have their welfare at heart.
With your own email list, you get to nurture the relationship with your audience, get to know their needs, whether what you provide is able to help them achieve their goals, and so on.
As compared to spending money on paid ads, those people do not know you at all. They never asked for your offers or recommendations. So those are cold traffic, and may even see your offers as spam.
Even if they are interested in your offers, they will do their research first, instead of buying directly through your links, as they do not know you at all. And guess who they find? Yes, websites of the established marketers, like Jono himself! So you are effectively paying him to drive more business to him.
But if you know the type and nature of audience who will respond to you, which is through experience you gain by interacting with the people in your authentic email list, then when you decide to do paid ads, you will know where to look for the most targeted audience group.
Then how do you start building up your email list in the first place? Where do you find the free traffic to sign up to your list?
It all starts from your own website, which forms the very foundation of your online business. Without a website, you are simply floating around on the internet, with nowhere to settle down and build your brand and identity so that people can come looking for you.
This is how all successful internet marketers start. You need a website, which is your very own online asset. Whatever content you create on it will build up your authority in the niche, so when people search for your niche-related stuff in search engines, they see your site ranked on page 1 of their search results.
When that happens, you get hoards of unstoppable, free targeted traffic, all ready to buy, because what they are looking for and what you are offering are the perfect match.
Now, let me show you something that has helped me pave the proper path towards making money online.
I am now working full time from home, growing my internet business, and making an online income. I started from scratch with zero knowledge in this area. If I can do it, you can, too.
Check out this training platform that provides all the resources, tools, along with an entire community of aspiring as well as already successful online income earners. The best part is, you get to start for free:


---
Pros of StealthD
1. Real owners
Yup, Jono and Brendan are definitely real, no question about that. In fact, they are serial product launchers. They launch a new product every few weeks or months, each time claiming that they have cracked the code, found a method nobody has tried before, or something like that.
No doubt there is some value in what they create, but more often than not, the methods just do not work for new marketers.
Examples of products they have launched are Octane, Boomerang Buddy, Cash Magnets, and Profit Maximizers, to name just a few.
2. 30 day money back guarantee
This basic refund policy is in place, for people who are dissatisfied with the product.
3. There is some value in the training
Paid traffic through Gmail ads can work for intermediate or expert internet marketers. So if you are at that stage, and have cash to spare, then you can try it at your own risk.


Cons of StealthD
1. Paid traffic is risky as it involves huge upfront investment
If you do not know what you are doing, the cost of advertising can spiral out of control very easily, as you try to recoup the losses, without understanding that the initial losses are a necessary evil, for the steep learning curve of getting paid traffic.
2. The method taught limits you to the internet marketing niche
When you do affiliate marketing, you do not have to limit yourself to the make money online niche. Digital products in this niche are frequently very low quality and do not work.
Jono's method of finding the best products to promote on WarriorPlus and such networks likely mean you will be promoting products for the sake of your own profits, and not so much to actually help your customers succeed in making money online.
3. Upsells
Just like any product that is designed to dig right into your pocket, StealthD is no exception. The pricey upsells are there to promise more earnings, faster cash.
Upsell 1: $197 – Limitless traffic for 365 days
Upsell 2: $37 – Advanced StealthD strategies
Upsell 3: $197 – $1000 commissions solution
Upsell 4: $67 – The done for you option
Upsell 5: $97 – License rights
---
Is StealthD Scam or legit?
StealthD is definitely a legitimate training for getting traffic by paying for advertisements through Gmail. This technique is suitable for scaling up your business, after you get the foundation built up in a solid way, and have begun to earn with free traffic.
---
Recommendation
I cannot recommend StealthD for beginners in internet marketing, because even experienced marketers will likely have to incur losses in the thousands before they can start recouping the investment.
By building your business from the ground up, you are giving yourself the best chance at success, since you will be learning how to get traffic, not just for free, but highly targeted traffic that is actively searching for your offers.
When this free organic traffic opt in to your email list, you then get another chance to build trust with this audience, and get repeat customers.
This is how I had built up my online business, from scratch, and I am now reaping its immense rewards.
If this strategy makes sense to you, I would like to show you the route that led me to success.
This real deal does not promise instant results, but instead provides the knowledge and the lifelong skills required to grow a successful online business, which is exactly what I have done. Check it out by clicking on the button below:




And for reading all the way to the end of the post, I believe you have it in you to make this work. Here is your FREE PDF Guide: 4 Simple Steps to Making Money Online. Fill in your details to claim it:



If you have any concerns or questions regarding this StealthD review, do comment below, and we will start a conversation from there.
---