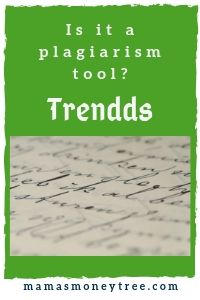 What is Trendds, this secret viral content system that requires no writing, research or technical skills on your part, and takes less than 2 minutes? Does that make it a plagiarism tool?
Welcome to my Trendds review.
What is Mark Bishop up to this time, creating yet another shortcut, another breakthrough software, that takes other people's content to call your own? How does it work exactly? Will it get you into any trouble?
We will answer these and more, in my honest and in-depth review of Trendds, where we will examine its members area, find out what this software does, so that you can make a better informed decision about whether or not to go ahead with this purchase.
Without further ado, let's dive right in now!
---
Trendds Review Summary
Product: Trendds
URL: http://trendds.co/live/
Creator: Mark Bishop
Product type: software that finds trending keywords and other people's website content that you can supposedly edit and use as your own (according to Mark)
Price: $37
Scam / Legit? : It is a software that does what it does, but I totally disapprove of this method
Recommended or not? : NOT recommended
I will be very frank here. Trendds is nothing more than a lazy person's tool in trying to make money online. It is dishonest and void of integrity to use other people's content. Nobody would let anyone use their own content for monetisation. It can get you into trouble.
Even if you really decide to use Trendds, it will not make you any money if you do not have any traffic to your website in the first place.
Ditch Trendds. You do not need this for your online business. The only one laughing his way to the bank will be Mark Bishop.
If you do not want to waste anymore time and money on useless products, check out my #1 recommendation to making money online:



Read on for the detailed review of Trendds, and why I absolutely do not recommend it.
---
What is Trendds
Let's find out what is Trendds by first looking at its sales page: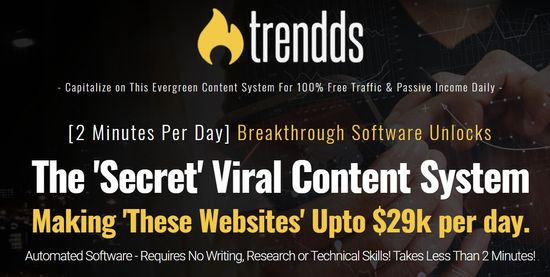 Websites are making up to $29K per day. And this secret viral content system is going to allow you to cash in on that, without any writing or research on your part!
Trendds instantly finds huge traffic, low competition, viral and trending phrases and content that you can use and monetise in seconds. How does that sound?
Too good to be true?
Then it is.
In Trendds, once you enter your niche keyword, it will find trending keywords that are longtail, and supposedly easier to rank.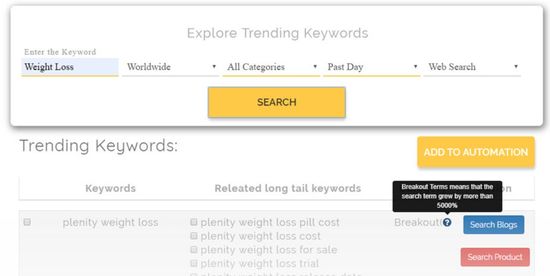 Then you press the 'search blogs' button, to edit somebody else's blog post that has been found by the software. You can add in your own affiliate links or whatever links that you want to send traffic to.
Then you publish the edited post onto your own website.
This means you need a website to start with.
By doing this, it is supposed to get you thousands of free targeted visitors per day, because it will be super easy to rank this in the search engines.
Ok, if you believe all that they say so far, then you must be really quite inexperienced in the internet marketing niche. Allow me to explain why it will not work as they claim, in a later section, after I'm done walking you through the software and their sales pitch.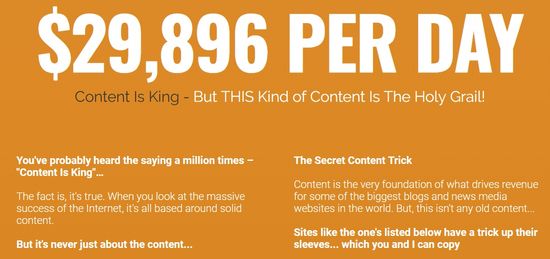 Content is King. Yes, it has been the case for years, and will be the case for many years to come.
Companies, business owners, small website owners, bloggers, are creating unique, authentic and engaging content every single day, that can help their readers and add value to them. Search engines reward well for such high quality content.
Otherwise why would people work so hard to create content? Some even pay lots of money to find the best writers to write content for their sites.
Yet, Mark Bishop tries hard to convince you that there is a shortcut around this arduous task of creating original content.


Unfortunately, there is no short cut around hard work, some grit and perseverance, if you ever want to succeed trying to make money online. Everything else in life follows this principle, why would the internet be any different?

Why Trendds will not work for you
If Trendds can work, why isn't everyone copying content all over the internet?
Firstly, it infringes copyrights. Secondly, search engines hate duplicate content, and your website is going to plummet down the ranks and disappear right off the face of the planet, if you try to copy other people's content.
The creator of this product can say just edit it, or use a content spinner, but you know it is still unethical. If success can come so easily, no one would be working so hard on their websites.
Have you seen anyone who is highly successful on the internet by copying and using other people's hard work?
Don't take what people say at face value. Ultimately, the website belongs to you, the reputation and integrity is yours to uphold. In school, if a friend shows you his paper during an exam and says it's fine, you can copy, would you do it? Wouldn't you ultimately get into trouble if discovered? You can't push the responsibility and say your friend said it was fine.
Every single piece of content on the internet is somebody's sweat and blood, and hours of toiling behind the screen, doing research on the topic, crafting the most interesting phrases and sentences, etc.
Would anyone in their right mind allow others to use their content for monetisation purposes?

Traffic is KEY
Putting the plagiarism issue aside, let's say now you just started your website, and you have decided to create unique, original content on it. Just like what all those successful websites are going. Does it mean you will get traffic coming to your site instantly, 1000s per day?
Nope.
Then how did those other sites get there?
They toiled at it for days, weeks, and months, before the search engines start to give their sites the trust and credibility, and see them as the authority in their niche. Then when people search for stuff related to their niche, their sites get ranked on page 1 of the search results.
This is a tough way, but it works. It has worked for me, so I know.
This kind of traffic I get from search engines is totally free, and it is also the best of its kind, because it is highly targeted. People are actively searching for what I am offering, hence conversion rates will be the highest.
There are people who do not want to take this long way, so they go for paid traffic. Which to me is a huge risk to take, because of the very high upfront investment, with no guarantee that you will ever recoup those initial losses, which can easily go up to the thousands of dollars.
So do not believe Mark Bishop who is trying to have you believe that taking and using people's content for a trending keyword will get you tons of viral traffic in an instant. Because even authentic content takes time to rank in search engines, it is not as easy as what he says. He is banking on the fact that his audience are all complete newbies in internet marketing, and would be taken in by his sleek marketing tactics.

The proper way to make money online
I guess everyone starts off wanting to make it rich fast. It's a very natural thing, that's just human nature. I wasn't spared of all the temptations on the internet.
But when I realised those empty promises are only going to make other people rich, and not me, I stopped looking for shiny objects.
I found a dull-looking object, but I knew in my heart that is the real deal. From then on, I have never looked back.
I am now working full time from home, growing my internet business, and making an online income. I started from scratch with zero knowledge in this area. If I can do it, you can, too.
Check out this training platform that provides all the resources, tools, along with an entire community of aspiring as well as already successful online income earners. The best part is, you get to start for free:

---
Pros of Trendds
1. Real owner
Yup at least Mark Bishop is a real person behind the product, though I'm not sure how much that helps.
2. 30 day money back guarantee
This basic refund policy is in place, for people who are dissatisfied with the product.

Cons of Trendds
1. You will be copying other people's content
You may say you can edit it into something unique. If that is the case, then you might as well write up a completely original piece.
Duplication on the internet is never a good thing. Your competition or whoever sees it can report you to the originator of the content, and they can also alert the search engines about it, if the search engines' algorithm had not discovered the duplicate yet.
Your online business and your website should be something you are proud of. It is an online asset, do not do anything that will jeopardise all your previous effort.
2. You need traffic in order to make any money
If your website is still relatively new, you may find yourself going nowhere even if you are creating authentic content, and that is perfectly normal. You need to stick with it until you see some results, but of course you also have to know something about search engine optimisation (SEO) if you are trying to rank your site in the search engines.
3. Upsells
Just like any other product that is created to dig deep into your pocket, Trendds is no exception. You will be bombarded with all the pricey upsells the moment you make the purchase of the front end product, even before you get a chance to try it out.
Upsell 1: $37 – Trendds Pro
Upsell 2: $47 – Trendds Master
Upsell 3: $37 – Trendds Max
Upsell 4: $77 – Trendds Agency
---
Is Trendds Scam or legit? 
I wish I could call it scam, even though the software works as it should. But I will leave it up to you to decide for yourself.
What I want to stress again is, I absolutely do not recommend using this product for your website, as it could very possibly do a lot more harm than good.
One other previous product released by Mark Bishop isn't much better: Contenu (which also takes other people's content). Other useless products (by other vendors) that I have recently reviewed include Auto Traffic Machine, The Freedom Formula, and One Minute Traffic Machines, to name just a few.
---
Recommendation
If you are hoping to make some serious money online, you really have to put in some serious work.
If you are prepared for that, I can show you the path that I took, which is also the proven path to success.
This real deal does not promise instant results, but instead provide the knowledge and lifelong skills required to grow a successful online business, which is exactly what I have done. Check it out by clicking on the button below:



And for reading all the way to the end of the post, I believe you have it in you to make this work. Here is your FREE PDF Guide: 4 Simple Steps to Making Money Online. Fill in your details to claim it:


If you have any concerns or questions regarding this Trendds review, do comment below, and we will start a conversation from there.
---