Is this a legit work at home opportunity, or is the American Diversified Publications scam real?
Welcome to my American Diversified Publications review.
Lots of people are looking for work at home jobs these days, with the advanced internet technology, as well as companies outsourcing various bite-sized chunks of work.
Some are youngsters unwilling to be tied to a 9 to 5 job, others are mothers who want to stay at home for their kids, or people who are caring for someone aged or ill at home, and yet others who can't work a regular job due to health issues.
Whatever the reason, the popularity of work from home jobs has caused a plethora of scammers to emerge out of nowhere, exploiting the innocent and vulnerable who just want to make an honest living online or from home.
So you really can't be too careful. And in this honest and in-depth review of American Diversified Publications (website is easywork-greatpay.com), I will be showing you all the red flags, and why you should avoid this company.
Without further ado, let's dive right in now!
---
American Diversified Publications Review Summary
Product: American Diversified Publications, Inc.
URL: http://www.easywork-greatpay.com/
Creator: Kyle Shaw
Product type: Work from home directory
Price: $35 for digital version, $34 for hardcopy + shipping (of between $7 to $15)
Scam / Legit? : Experiences may vary, but in my personal opinion, this is a scam.
Recommended or not? : NOT recommended
American Diversified Publications provide a paid directory of work from home job listings, that you can actually get for free if you do a proper search on the internet. Apparently they do not honour their money back guarantee, and customer service quality is poor.
You do not need to subject yourself to the disappointment and frustration you may experience with American Diversified Publications. Simply get on to those free work from home directory, they will be your best bet.
---
---

What is American Diversified Publications
Let's find out what is American Diversified Publications, by first taking a look at its home page: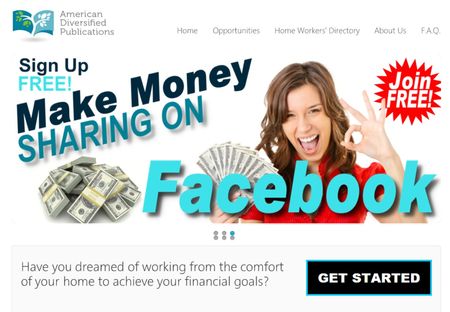 The first impression I got when I landed on their website was not a positive one. Somehow I get the feeling that they are trying too hard. And it made me uneasy.
This is unlike your down-to-earth FREE work-from-home directory that serves only to provide value to its viewers. This is a company whose main priority is to make money off its viewers, at least that was the sensing I got, right from the onset.
They also keep putting down other companies explicitly, though no names mentioned.
An established and professional company will sell their plus points, definitely, but usually do not put down others in the same industry like that, they are not there to review other companies.



The only thing they want from you – purchase their directory
They claim to have the largest selection of top legitimate companies with full and part time work available on a regular basis.


The information-packed directory includes hundreds of top small businesses and franchise opportunities along with dozens of turnkey distributors and hundreds of freebie websites.
Whether they live up to what they claim, it is easy to tell, by looking at customer reviews, in a later section in this post.
Why does American Diversified Publications need my mailing address?
This is another thing I am not comfortable with. If I just want to get the softcopy of their directory, why should I provide them with my mailing address?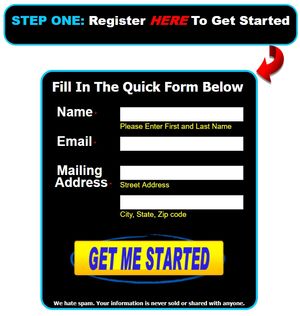 I do not see any need for this, unless I want the hard copy, or am applying for home assembly jobs and the likes, that require them to send me physical items.

Types of job opportunities on American Diversified Publications
Make money on Facebook
Make money from home doing almost nothing? Well, I certainly do not like the sound of it. That sounds so scammy.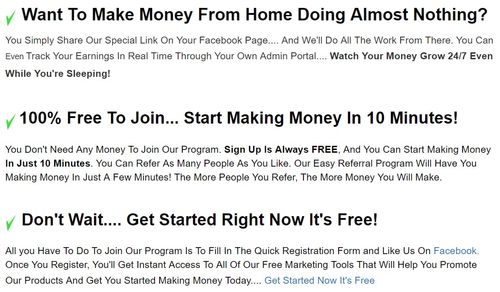 They make it sound like it's so easy for you to earn through their referral program, simply by pasting your referral link everywhere on Facebook.
Unfortunately, it does not work like that. You see, Facebook does not like users to paste affiliate links or referral links everywhere, it can get you banned easily. Moreover, your direct circle of family and friends is not going to get you earning money in a few minutes, and growing your money even while you sleep.
A requirement to join their program is to Like their Facebook page. So that is how they managed to get so many Likes.

Free mailing program
This is not some mailing job by any company on their listing. It is actually helping American Diversified Publications to mail out THEIR brochures. You may or may not like this kind of mundane job, it is totally up to you, but the earnings will be very little.
And maybe you would want to consider very carefully about promoting them after reading this review to the end.

Home assembly jobs
The home assembly jobs as explained on American Diversified Publications' website seem like a very lucrative way to make some money, but the truth behind such jobs can be far from what is portrayed.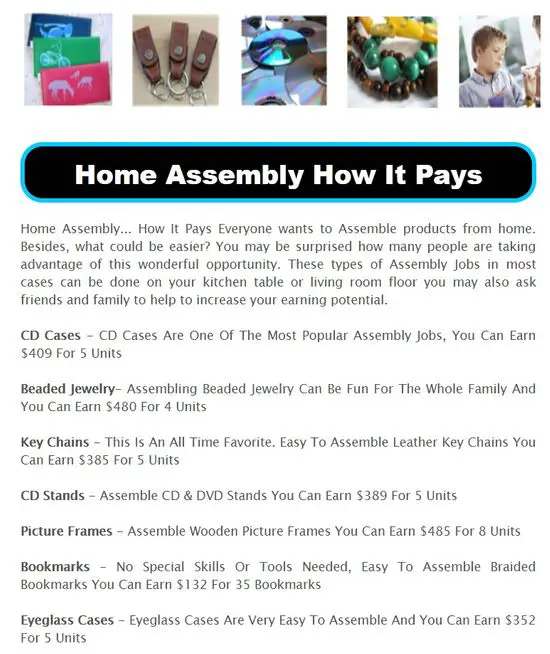 Don't you think the earnings are too good to be true? $480 for 4 units of beaded jewelry, what does it even mean by 1 unit? Is it an entire box of jewelry?
The thing about jobs of such nature is that frequently, people get exploited. I'm not saying specifically in American Diversified Publications, but in general, home assembly jobs employees often have to keep re-doing the jobs because employers can always say the quality is not up to expectations.
This can lead to a lot of frustration and time wasted, making the opportunity not worthwhile afterall.

Free paid surveys
Kristy P (whoever she is) is an expert on paid surveys, and is also a personal coach for free paid surveys. She will teach you the secrets that she has developed and mastered over the last 10 years so that you can start making cash within 15 minutes after you register.
Well, I never! I think I am quite capable of earning on paid survey sites within 15 minutes of registering, on my own and without Kristy's help. I don't know about you, but this really sounds so absurd to me.

Computer and internet jobs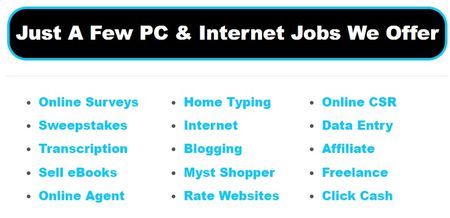 These are just some of the computer and internet jobs offered, which anyone can do as long as they have a computer and an internet connection. But of course some jobs do require specialised skills, like freelance, transcription, etc.
Again, these jobs can be found for free on many huge platforms, like Freelancer, Fiverr, Guru, Upwork, etc. You do not need to buy this directory in order to find them. And those giant platforms will be where most employers go to as well, since those are very much established and everyone knows them.
I don't understand about blogging, though. Bloggers have their own websites, their own online business. Why would anyone have to go through their director to look for a blogging job?

Mystery shopper jobs and home telephone operator
Be the person at the end of the customer service line for some companies, working at home, picking your own convenient hours, and choosing a niche that you are well-versed in.
As a mystery shopper, rate a store or restaurant that you would frequent anyway, and get paid for it. This helps businesses learn which are the areas that they need to improve on.

So these are the various jobs that you will be able to find in the American Diversified Publications, which are the standard types of work from home jobs, and can be found for free on the internet, you really do not need to pay a single cent to find this information.
I dug around some more, and discovered something strange on their Facebook page…

American Diversified Publications Facebook page comments not displayed
On their Facebook page, many comments on their posts are not being displayed. This has me very suspicious. For instance, on a particular post which is shown as having 30 comments, I could only see 2, no matter how I changed the show comments settings.
I had a feeling that it had been tampered with, to display only the comments favourable to them. It is a hunch, I obviously won't be able to prove it.

Real users' feedback about American Diversified Publications
It is not difficult to see what the users of American Diversified Publications have to say about their product and customer service: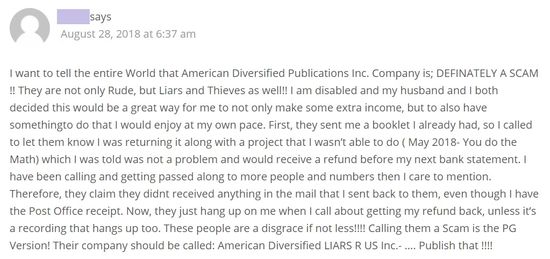 Moreover, American Diversified Publications is not BBB (Better Business Bureau) accredited, and had apparently received numerous complaints on the BBB website.



They get angry customers on RipoffReport.com complaining about them too.
So it seems that their reputation has definitely gone down the drain, though they try to hide it.
My suggestion to you is: forget about American Diversified Publications. For legit work from home jobs and opportunities, try out the huge freelancing platforms, or search the internet for free directories that really care about helping people find jobs.
But at the end of the day, no matter what job you choose, you will still be trading time for money. I would like to show you the way that I am working from home.

How I am making an online income
I am working at home full time right now, building up my very own online business, in a niche of my choice, that I am really passionate about.
I do not have to trade time for money, because with this internet business that I am building up, on the day that I stop working, passive income still comes in. I can choose to take a break for a week or two, the income will not drop to zero because of that, in fact it will continue to sustain itself, as long as the business is in maintenance mode.
Here's a peek into my earnings on a recent day:



As you can see, more than $100 a day is very do-able. And this is not even at its maximum potential yet, I'm still growing this business every single day.
If this sounds like something you may be interested in, click on the link below, to hop over to my other post, where I explain the method in detail:

---
Pros of American Diversified Publications
1. Company has been in business for a number of years
I'm not sure if that means much here, but we know it has been around for years.
2. 30 day money back guarantee
I do not even know where to list this, as a pro or con. The guarantee is there, but they do not honour it, apparently, from feedback of their users.

Cons of American Diversified Publications
1. The information can be found for free on the internet
Really, you should not have to pay for this kind of information.
2. Poor quality of customer service
It looks like their customer service cannot make the cut at all.
---
Is American Diversified Publications Scam or legit? 
In my personal opinion, the American Diversified Publications scam is real. They are running this company with selfish priorities, and do not seem to care about their customers' rights and welfare.
Just like with these programs I have recently reviewed: Notion Cash, Cents for Freedom, and Workmines.com, to name just a few, you are better off without American Diversified Publications.
---
Recommendation
Before I stumbled upon the path to building up my online income from home, one of the things I was doing was freelancing work as a writer. I enjoyed it, and it gave me the time and space flexibility, allowing me much-treasured time with my kids.
But it is a competitive industry. There were sometimes lapses in between the projects, and my income would drop. I knew I had to do something more, something bigger.
I was very blessed that I didn't have to walk past too many shiny objects to find it.
This real deal does not promise instant results, but instead provides the knowledge and lifelong skills required to grow a successful online business, which is exactly what I have done. Check it out by clicking on the button below:



And for reading all the way to the end of the post, I believe you have it in you to make this work. Here is your FREE PDF Guide: 4 Simple Steps to Making Money Online. Fill in your details to claim it:


If you have any concerns or questions regarding this American Diversified Publications review, do comment below, and we will start a conversation from there.
---