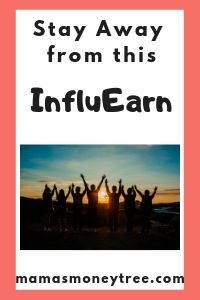 If you've had people trying to get you to join this new platform, you must really question: what is InfluEarn? How is it possible for them to pay you so much?
Welcome to my InfluEarn review.
$25 signup bonus? $20 for every friend you refer? And so many other ways to earn on there?
If you think it sounds too good to be true, I'm so glad for you!
Join me as I walk you through this honest and in-depth review of InfluEarn, to show you all the red flags, and explain to you why I think it is a malicious site.
Without further ado, let's dive right in now!
---
InfluEarn Review Summary
Product: InfluEarn
URL: https://www.influearn.com/
Creator: Unknown
Product type: GPT (get-paid-to) site
Price: free to join
Scam / Legit? : SCAM
Recommended or not? : Absolutely NOT
InfluEarn is just another of many scam sites that lure people in with the big bucks, but they will never pay anyone a single cent. The purpose is to harvest your information and sell it to third party advertisers. They also pocket their earnings when you complete the tasks made available to you on the platform.
If you do not want to waste anymore precious time on scams, check out my #1 recommendation to making money online:



Read on for the detailed review of InfluEarn, and why I call it scam.
---
What is InfluEarn
To find out what is InfluEarn, let us first take a look at its website.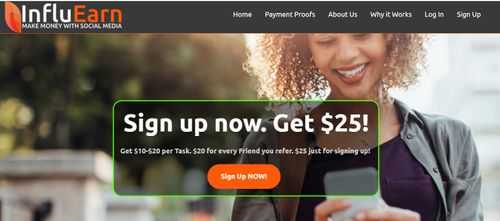 Professional designed, and even with site security feature, it does seem like a legit platform to make some easy money.
You supposedly get a $25 sign up bonus, $10 to $20 for every task you do, and $20 for every referral you bring onto the platform!
Then they start to get a bit mixed up with the figures, since it does not matter to them, they are not going to pay out anyway, they can promise the moon and whatever else they like.



Here it says $50 per task. And $15 per referral. Hmmm.. it looks like they really can't make up their minds.
They make it seem like such an easy way to make lots of fast cash. But do not be fooled. Now I will show you all the huge red flags, so you can see how unworthy of our trust this platform is.
Huge red flags on InfluEarn
Numbers that lie
Look at their counters.



I will show you the proof that they are blatantly lying.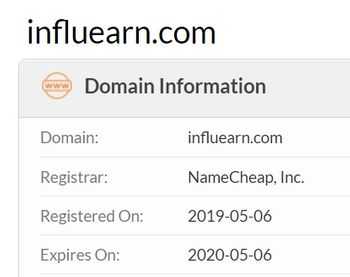 Their domain was newly registered in May of 2019, just 2+ months back. And they claim to have been in business for 2+ years?! Having paid out $102 million?
Fake email address
Their email address provided for support does not even exist.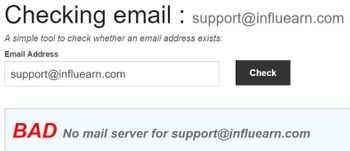 See, they never had any intention of getting in contact with you, right from the start. Why should we trust them, if they are hiding?
Parent Company of InfluEarn does not exist
They claim to be a subsidiary of InfluEarn, LLC.
There is no trace of this company, except on the website of InfluEarn itself. Again, another huge lie.
Fake payment proofs
It is so easy to fake stuff these days. The payment proofs are not real, because their dates are before InfluEarn.com was even registered.
Unrealistic earning potential
This in itself is already a huge red flag. If it is free to join their platform, where do they find $25 to give each new member?
The GPT (get paid to) industry just does not work like that. I have never seen any legit GPT site that pays more than a few dollars per referral. $2 per referral is already on the high end. So $25 is definitely out of this world.

What does InfluEarn really want out of you?
They have not scammed you of any money. So what exactly do they get out of this?
Well, the real motive behind the website is none other than data harvesting.
It lures you to sign up with the bonus and other huge earnings, gets your name and email address, and sells this information to third party buyers.
I can bet it fetches them a really good price, because they can show that people on their list are all interested in making the quick bucks online. And this happens to be a really lucrative niche.
Who doesn't want to get rich quick? Who will not be tempted? That is why products that promise people to earn them their first thousand dollars within the first week will always sell like hot cakes, because everyone wants that!
And in your email inbox, you will be receiving tons of these spams. Promotions that you never asked for, trying to sell you some nonsense that will never deliver what they claim it will.
This is also the exact reason why InfluEarn wants you to refer as many people as you can to their platform, so that they have a longer contact list to sell to their ready buyers.

Do not do the tasks on InfluEarn
These dishonest people behind InfluEarn are not going to pay you a single cent, so do not complete those tasks available to you on that platform.
In fact, if you do it, you are simply going to make them even richer.
Some of the tasks are stuff like PPC (pay per click) ads or websites, so if you click to land on those offers or sites, InfluEarn gets to make money.
What's more, you never know if any of the shady sites will get some malware installed onto your device. So get out of there, there is no way they are going to pay you $10 to $30 per task.

Stick to the legit GPT sites
If you really want to make some extra pocket money, these are legitimate sites that are trustworthy, fun to do, and very reasonable in their rates.
Swagbucks
Inbox Dollars
InstaGC
OfferNation
OneOpinion
PointsPrizes
PrizeRebel
RewardingWays
Survey Junkie
Toluna
Vindale Research
Even with these great GPT sites, you can't expect to earn a part time income, much less replace your full time job.
I personally prefer to spend my time building up online businesses that can earn me a full time income. It's not complicated at all, let me show you.

The best way to make money online
I guess everyone starts off wanting to make it rich fast. It's a very natural thing, that's just human nature. I wasn't spared of all the temptations on the internet myself.
But when I realised those empty promises are only going to make other people rich, and not me, I stopped looking for shiny objects.
I found a dull-looking object, but I knew in my heart that is the real deal. From then on, I have never looked back.
I am now working full time from home, growing my internet business, and making an online income. I started from scratch with zero knowledge in this area. If I can do it, you can, too.
Here's a peek into my earnings on a recent day:



As you can see, more than $100 a day is very do-able. And this is not even at its maximum potential yet, I'm still growing this business every single day.
Check out this training platform that provides all the resources, tools, along with an entire community of aspiring as well as already successful online income earners. The best part is, you get to start for free:
---
To round up this article, let me recap and summarise the pros and cons, before I finally make my conclusion.
Pros of InfluEarn
There is not a single pro to this platform at all. It does more harm than good. Do not put your referral links for people to sign up too.

Cons of InfluEarn
1. Your information will be sold to third party advertisers
Though it may be just a minor irritation, the fact is they would have dishonestly sold your information to others without your permission.
2. The tasks may harm your online security
Depending on which specific tasks you do, some may simply earn InfluEarn more money while doing nothing for you, others may compromise your safety online.
3. People whom you referred would lose their trust in you
If you had referred family and friends to the platform before knowing about how malicious it is, then they may lose their trust in you.
---
Is InfluEarn Scam or legit? 
InfluEarn is definitely a scam. Do not waste anymore of your time on there.
---
Recommendation
There are many legit ways to make money online. To succeed, though, is not easy. Because it takes hard work and time to make it work.
Anything that promises huge earnings instantly is not going to work for you, or for anyone for that matter (maybe except the scammers).
I want to show you the method that I am using to make my online income, so that you can decide for yourself if this may work for you.
This real deal does not promise instant results, but instead provides the knowledge and lifelong skills required to grow a successful online business, which is exactly what I have done. Check it out by clicking on the button below:



And for reading all the way to the end of the post, I believe you have it in you to make this work. Here is your FREE PDF Guide: 4 Simple Steps to Making Money Online. Fill in your details to claim it:


If you have any concerns or questions regarding this InfluEarn review, do comment below, and we will start a conversation from there.
---