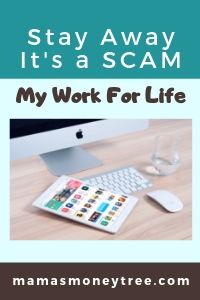 What is this new craze that has been going around, called My Work For Life? Is it really going to make you a full time income, or is it another waste of time and effort?
Welcome to my MyWorkForLife.com review.
You must have seen many people putting up their referral links, on social media platforms, forums, basically everywhere, claiming that this is a great money making opportunity.
Congratulations for doing your own research and not taking things at face value. This is your strongest first line of defense against scams, that are proliferating all over the internet these days.
What exactly is MyWorkForLife.com, and how does it work to make you money, will you really get paid, what are the reviews by real users of the platform?
We will answer all these and more, in my honest, unbiased, and in-depth My Work For Life review.
Without further ado, let's dive right in.
---
My Work For Life Review Summary
Product: My Work For Life
URL: http://myworkforlife.com/
Creator: Unknown
Product type: get-paid-to site, simply by referring others to sign up on their platform
Price: free to join
Scam / Legit? : SCAM
Recommended or not? : NOT recommended
MyWorkForLife.com is supposedly a get-paid-to site, where you earn simply by referring people to their platform. Hiding behind this veil are dishonest people who do not pay you a single cent. There are too many red flags on this site.
If you do not want to waste anymore time and effort on scams, check out my #1 recommendation to making money online:




Read on for the detailed review of My Work For Life, and why I call it scam.
---
What is MyWorkForLife.com
Let's first take a look at its home page.




It simply tells you that this is the fastest way and the best place to make money online, by spending 1 hour each day, as long as you have an internet connection.
It beats walking dogs, picking up shifts at Starbucks, and renting a clown suit to work at kids' birthday parties.
Here, you work very little, doing very easy tasks, and you will see money start flowing into your account. Sign up for free, and start making money online in a matter of minutes.


How does My Work For Life work exactly
It is a referral program, whereby you supposedly earn by referring people to join their platform. By doing this, they are able to send more traffic to their advertisers, and hence they get paid advertising fees, from which they can use to pay you.
Each person you refer can earn you $5 to $10.
They tell you to promote your referral link everywhere, on blogs, comments, forums, social media platforms, etc.
When you reach the minimum cash out amount of $300, you can get paid through PayPal, Western Union, Money Gram, by cheque, or by bank transfer.
They claim their top members are making $200 a day, or more than $5000 a month.
This is a big red flag, because to find any program that pays you so much for each referral that you bring in is impossible. There is no other work or fee involved. So I knew that something was not right.
A simple referral program like this can never make you a full time income.
I snooped around more, and discovered many red flags:


Big red flags of My Work For Life
Lying about age of website
First of all, they claim that they are a few years old. But look what I found about their domain: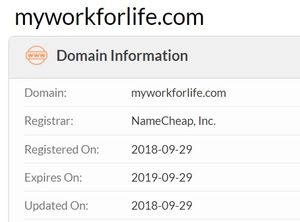 Their domain was only registered in September 2018. Why do they want to lie that they are a few years old?
The answer is very simple. It is to give a false sense of credibility where there is none.
Owner does not show up
There is no information about the owner of the platform, or the company behind it. Since no one is able to be accountable, I can't trust it at all.
Support email is fake
I tried sending an email to their support, and it got bounced, with the message that the email address could not be found, as there is no such user: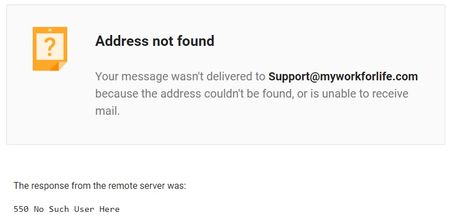 This means you will be spending your time and effort trying to get all your referrals, and when you have accumulated earnings of $300, and try to cash out, you will face issues.
When you try to contact their support to resolve the issues, you will not get any help because the email is fake. They are not willing to allow you to contact them.
Feedback by real users
Let's now take a look at some of the feedback by real users of this referral platform.





As you can see, you will not get your money. They had no intention of paying you right from the start. Look at what they wrote in their anti-cheat statement in the FAQ section:




They will not pay you if you use fake referrals. So they can very easily claim that your referrals are fake, even if you know you brought in real people.
And what's with that last statement about losing all your earnings if you do not log in for 30 days? Thieves? Don't people get busy with life? Does that give them a right to steal whatever earnings you had accumulated?
Duplicate websites with different names
There are numerous websites that are identical to this one. All with exactly the same referral program, same home page. They are all out to cheat people.
A legitimate platform will never have anything other than its one unique name and domain.
Examples of the other websites I have found are:
– DoEasyWork.com
– DoPartTimeJob.com
– DoWeeklyWork.com
– KingJobz.com
– MyHourlyPay.com
– PayDepth.com
– PayHourlyJobs.com
– StartPartTimeJob.com
– TheJobPayment.com
– WeeklyDouble.com
– WorkForCompany.com
– WorkPocketMoney.com






If you know of any duplicate websites like these, do drop me a comment below, so I can add them on to the list. I had also done a review on DoWeeklyWork.com, you can click on the link to see it.


Stay away from My Work For Life
All these tell-tale signs speak very clearly for themselves. They are sneaky, and should not be trusted with anything, including your personal information.
Even though it is free to join, so they are not actually cheating your money, but they actually sell your email and other information to third-party advertisers, so you will get spammed by offers that you never opted in for.
They will also have the basis to say that people who sign on to this platform are looking to making money online. So they will be able to sell these emails at a high price, as this is considered a targeted group of audience, in the make money online niche.


The proper way to make money online
I guess everyone starts off wanting to make it rich fast. It's a very natural thing, that's just human nature.
But when I realised those empty promises are only going to make other people rich, and not me, I stopped looking for shiny objects.
I found a dull-looking object, but I knew in my heart that is the real deal. From then on, I have never looked back.
I am now working full time from home, growing my internet business, and making an online income. I started from scratch with zero knowledge in this area. If I can do it, you can, too.
Check out this training platform that provides all the resources, tools, along with an entire community of aspiring as well as already successful online income earners. The best part is, you get to start for free:
---
Pros of My Work For Life
There are no pros to this platform. It is out to scam people.


Cons of My Work For Life
1. No one is accountable
You will not get any help or support when you encounter any trouble or issues with it. They do not intend to let you find them.
2. You will not get paid
After working hard finding all those referrals that earn you $300, you do not get to cash out anything. And your trustworthiness would have been dropped to zero, when the people you referred find out the truth about this program.
3. They will sell your information
You will get spammed with advertisements. Even though it is not a serious thing, it is still a hassle and irritation that you can do without.
---
Is My Work For Life Scam or legit?
This referral platform is a scam. Do not waste anymore time on it if you had already signed up to it. It adds no value to your life, like some of the other products I had reviewed: Paidera.com, Secret Online Goldmine, and Smart Dollars Club, to name just a few.
---
Recommendation
I absolutely do not recommend MyWorkForLife.com.
If you really want to make some serious money online, you have to first accept that hard work comes before earnings.
If you are looking for an easy way to make money on the internet, then you will just keep getting scammed. Because everywhere you will find opportunists targeting this human weakness of going for instant gratification.
The ones making money are the scammers, if you let them.
Here, I want to show you a proper way to earn an online income, that involves promoting the existing products in the market, by choosing great products relevant to your own chosen niche.
There is no face to face selling, no inventory or delivery to take care of, no customer complaints or refunds to handle. It is a neat and cool way to work from home or anywhere.
I learnt to build it up from scratch, with zero knowledge, through a training platform that is one of the best in the world.
This real deal does not promise instant results, but instead gives me knowledge and the lifelong skills required to grow a successful online business, which is exactly what I have done. Check it out by clicking on the button below:




And for reading all the way to the end of the post, I believe you have it in you to make this work. Here is your FREE PDF Guide: 4 Simple Steps to Making Money Online. Fill in your details to claim it:



If you have any concerns or questions regarding this MyWorkForLife.com review, do comment below, and we will start a conversation from there.
---