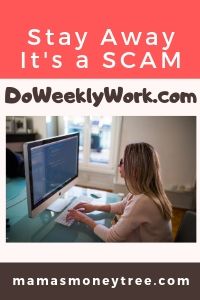 Is this a legitimate platform that can make you money the fastest way, by referring people to join? Or is DoWeeklyWork a scam?
Kudos to you for doing your research before signing up to any platform. You really can't be too careful, especially with the amount of scams floating around on the internet these days.
You might be wondering:
Is DoWeeklyWork.com even worth your time? How is it possible to do little work and yet get paid? Why are they offering to pay you such great referral fees, without taking a cent from you? How exactly does it work?
We will answer these and more, in my honest, unbiased and in-depth DoWeeklyWork.com review, to lend you x-ray glasses that can help you see through its operations and everything that goes on behind its veil of hype.
Without further ado, let's dive right in!
---
DoWeeklyWork Review Summary
Product: DoWeeklyWork
URL: https://doweeklywork.com/
Creator: Unknown
Product type: get paid to refer people to their website
Price: free to join
Scam / Legit? : SCAM
Recommended or not? : NOT recommended
DoWeeklyWork.com is not even about any real work. You supposedly make money by referring people to their website. When they join, you make between $5 to $10 for each referral.
It seems too good to be true, so it is. The minimum cash out amount is $300. After you reach that amount, they will not pay you. This scam exists in different forms, on duplicate websites of different names.
If you do not want to waste anymore time and effort on scams, check out my #1 recommendation to making money online:




Read on for the detailed review of DoWeeklyWork.com, and why I call it scam.
---
What is DoWeeklyWork
Let's first take a look at their home page:




I did not have a good impression, because everything is made to seem to simple and easy to make money. With an internet connection at home and simply spending 1 hour per day, you can make an online income.
In the FAQ section, they even claim their top members making more than $200 a day, and $5000+ per month.
This sends my scam detection antenna right up. That's more than what some people will ask for in a full time income.
It is just not possible.
Let's take a closer look at how it works.


How to make money on DoWeeklyWork.com (supposedly)
You simply register for free. Then get your referral link.
Next, you promote your referral link everywhere: on forums, blogs, comments sections, chatrooms, FaceBook wall, FaceBook groups, any other kinds of groups, Twitter, advertising sites, etc. Basically wherever you can, you should promote your link.
For every referral that joins, you earn between $5 to $10.


How do you get paid on DoWeeklyWork
The minimum balance required for cashing out is $300. Once you reach that amount, you can request to get paid through PayPal, Western Union, by cheque, or bank transfer, at the end of every month.


Where do they get the money to fund this
They say it is through advertising fees that they get when they bring traffic to their advertisers' websites.
It seems sound so far, but wait till you see all the red flags that I am about to reveal in the next section.


DoWeeklyWork: Ugly secrets exposed
On their home page, they mention that they have been around for years, and have thousands of members worldwide. But look at what I found about the age of their domain: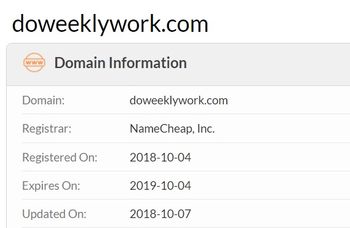 It is barely a year old, registered only in 2018. Not the 'years' that they claim. Why do they want to lie about their age? To give more credibility to the site when it does not really have it?
Next, we look at just some of the complaints from its users: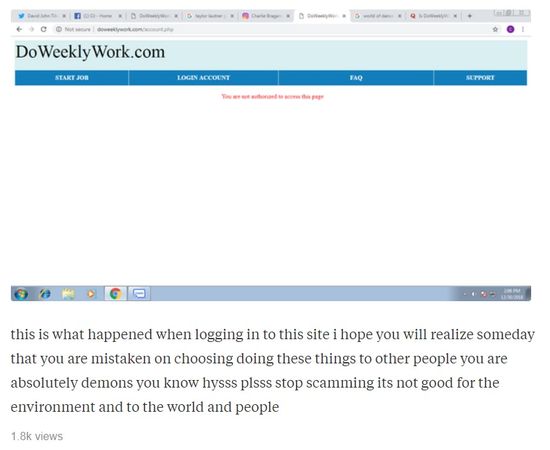 This is a typical complaint about DoWeeklyWork.com. Apparently no one has ever been paid by them at all. If you do know of anyone who has received payment from them, do drop a comment below, I would be interested to know.
Next, take a look at its anti-cheat statement:




I think this gives them a basis to simply ban people's accounts by claiming that they are sending fake traffic, which is so easy to say. But they are simply hiding the fact that they had no intention of paying up, right from the start.
Also, why would they make you lose all your earnings if you had not logged in for more than 30 days? What gives them the right to take away all your hard work in sending them referrals? Is it wrong to get caught up with other areas of your life and not get to log in for a whole month? Do they even have your welfare at heart at all?
Finally, their support email address does not seem to be a valid one:




You can see from the many red flags here, this is not an honest platform.
Though you are not cheated of your money, you spent your time finding referrals to sign up on this website, and yet get nothing in return. By doing so, DoWeeklyWork reaps all the profits.
How DoWeeklyWork earns its main income is in fact to sell your information to third party companies, as a target group that is looking for make money online opportunities. The revenue from this will be a lot more than through advertising space on their website.
Then you can expect to get spammed by emails that promote stuff.


Other websites that are duplicates of DoWeeklyWork.com
They include:
– DoEasyWork.com
– DoPartTimeJob.com
– KingJobz.com
– MyHourlyPay.com
– MyWorkForLife.com
– PayDepth.com
– PayHourlyJobs.com
– StartPartTimeJob.com
– TheJobPayment.com
– WeeklyDouble.com
– WorkForCompany.com
– WorkPocketMoney.com

Look at these:








It is sinister, isn't it? I'm not sure if there are more. If you see more of these, please let me know, I will add them to the list here..


The proper way to make money online
I guess everyone starts off wanting to make it rich fast. It's a very natural thing, that's just human nature. I am not spared of that too.
But when I realised those empty promises are only going to make other people rich, and not me, I stopped looking for shiny objects.
I found a dull-looking object, but I knew in my heart that is the real deal. From then on, I have never looked back.
I am now working full time from home, growing my internet business, and making an online income. I started from scratch with zero knowledge in this area. If I can do it, you can, too.
Check out this training platform that provides all the resources, tools, along with an entire community of aspiring as well as already successful online income earners. The best part is, you get to start for free:


---
Pros of DoWeeklyWork
Unfortunately, there is no pro to this. It is a scam, stay far away.


Cons of DoWeeklyWork
1. It sells your information
Your email address and possibly other information will be sold to third-party companies.
2. You will not get paid
When you reach the amount eligible for a payout, they will either close your account, or send you in circles doing stuff that do not get you anywhere. So this is a total waste of your time.
3. There is no one to be accountable for the platform
We do not know who the owner is, and the email address for support does not exist. There is no one to turn to when you need to sort out any issues with them.
---
Is DoWeeklyWork a Scam?
Yes, DoWeeklyWork is a scam, through and through.
---
Recommendation
I absolutely do not recommend DoWeeklyWork.com.
If you are looking to earn a little extra pocket money on surveys and get-paid-to sites, these are some of the legit ones:
Swagbucks
Societi
PrizeRebel
OneOpinion
Inbox Dollars 
Vindale Research
But if you are looking to make some serious money online, I can show you a training platform that got me started as a complete beginner, to build up my own internet business from scratch, allowing me to work at home full time.
This real deal does not promise instant results, but instead gives me knowledge and the lifelong skills required to succeed online. Check it out by clicking on the button below:




And for reading all the way to the end of the post, I believe you have it in you to make this work. Here is your FREE PDF Guide: 4 Simple Steps to Making Money Online. Fill in your details to claim it:



If you have any concerns or questions regarding this DoWeeklyWork review, do comment below, and we will start a conversation from there.
---