You must have heard of this latest get-paid-to site, and wondering what is Paidera.com. Why does it call itself the best? Does it offer huge earning potential?
First of all, I'm happy for you that you are doing your research before deciding to commit your time and effort to this platform. You really can't be too careful, especially with the amount of scams floating around on the internet these days.
You might be wondering:
What are the ways that you can earn through this platform? Will they pay out? Are there any red flags on this site that warrants your attention?
We will answer these and more, in my honest, unbiased and in-depth Paidera.com review, through my own account that I signed up with them, for the purpose of writing this post.
Without further ado, let's dive right in!
---
Paidera.com Review Summary
Product: Paidera.com
Creator: Unknown
Product type: get-paid-to site
Price: free to join
Scam / Legit? : Scam
Recommended or not? : Not recommended
The earning potential in Paidera.com is much too low, it must be the lowest among all the survey sites and get-paid-to sites that I have reviewed. I suspect they make much more money through advertisements than actually conducting legitimate surveys for market research companies.
It is known by many different names, all redirects from other domains leading to Paidera.com. This, among other red flags, makes me not trust the platform.
Do not waste your time and energy, it is totally not worth it.
If you want to make some serious money online, check out my #1 recommendation:




Read on for the detailed review of Paidera.com, and why I call it scam.
---
What is Paidera.com
To find out what is Paidera.com, let us first take a look at the information presented on its home page.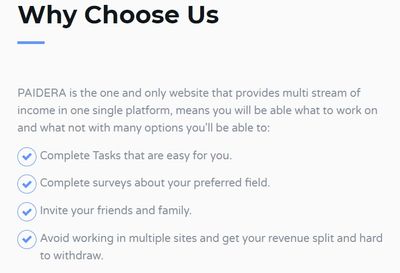 Apparently they seem not to know that so many other legitimate get-paid-to sites also provide their users with multiple income streams. Earning through completing surveys and tasks, and referrals, are nothing new. So I simply do not understand why they think they are the only ones doing this.
Another noteworthy point is the standard of English. I'm not nitpicking or saying the English must be perfect. But for a site that claims it has more than 57K members, wouldn't they be concerned and responsible enough to at least hire someone to make sure the language they use has at least a certain standard? Shouldn't they portray a professional image?


Signing up with Paidera.com
Signing up was a breeze, took me just a few seconds. What I found rather weird was that there was no email verification sent to the email address with which I registered.


How to make money with Paidera.com
There are 5 main ways to make money with Paidera.com: take surveys, do tasks, create and upload videos on YouTube, write articles or posts, and refer others to join the platform.
Surveys
When I took a look at the available surveys, I was surprised to see so many, all available to me at once, for me to just pick and choose. This is very different from how other survey sites do it.
What struck me was also the fact that there were no pre-qualifying section that all other survey sites required of me. It seems that they were not too interested in obtaining my demographic profile.
There was also no estimate for the duration that you may take for each survey, so it was difficult to decide.
And I have never seen surveys that offered such low payouts, at 5 cents, 2 cents, and lots of 10 cents surveys. Before I even started doing any, it already felt like an insult.
Anyway, I went ahead, picked up a survey, and started doing.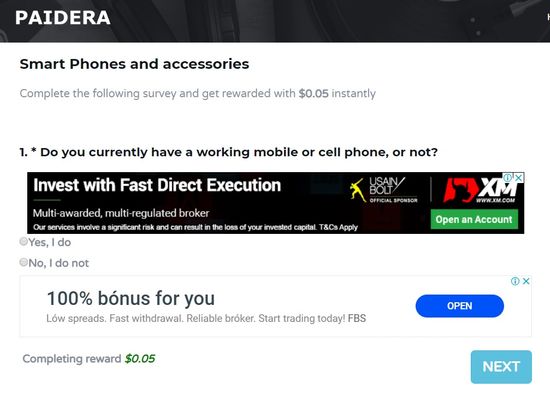 The advertisements stand out much more than the survey question itself, can you see that?

After each question, I had to wait 5 seconds, while I simply 'enjoyed' the advertisements.




After the 5 seconds was up, I then had to search for the 'continue' button, hidden among the huge banner ads. Come on, can you find Wally?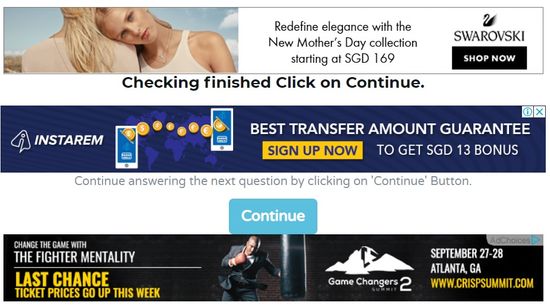 Hmmm, these service providers shown in the next question below are not even relevant to my area, I do not know them at all.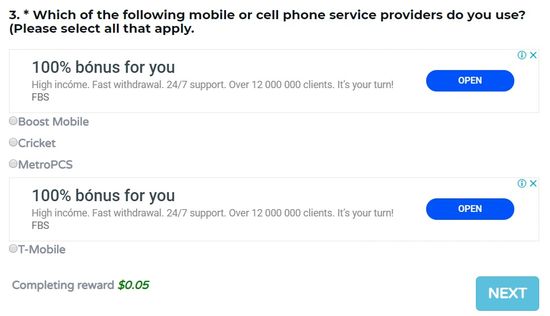 It proved my suspicion that they didn't care about the surveys. They only cared that you 'watch' the advertisements for at least 5 seconds each time.
Here's more, the answer options are not even set properly to answer the question. I use my mobile phone much more for personal reasons, but there is no such option available.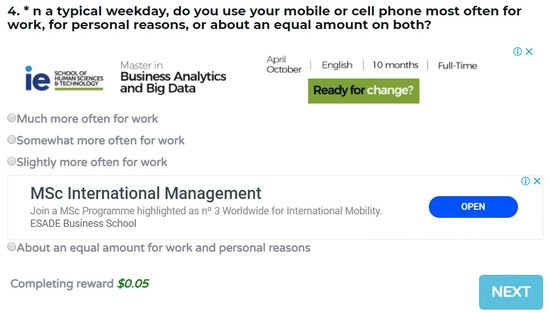 This experience gave me a very strong feeling that it is all about getting people to stay on the page so that the owners of the platform can make more money from the advertisers.
I am speculating here, but I seriously think it's got nothing to do with surveys at all.
I have never seen such a ridiculous page layout for surveys.
Tasks
There are varied tasks, some of which take you to questionable sites, and require your information.
Each task earns you a miserly $0.10, which is so not worth your time.
Create and upload videos
You have to create a video about Paidera, upload on YouTube, and submit it to Paidera. Only when it is approved, will you earn another miserly $0.15.




Even if I have an entire free day with totally nothing to do, I will never do this for them. It's exploitation of labour.
Write articles
When you write and post an article about Paidera in a forum or blog, you earn a whooping (let's be more positive here) $0.10. Post on social media earns you an ecstatic $0.05.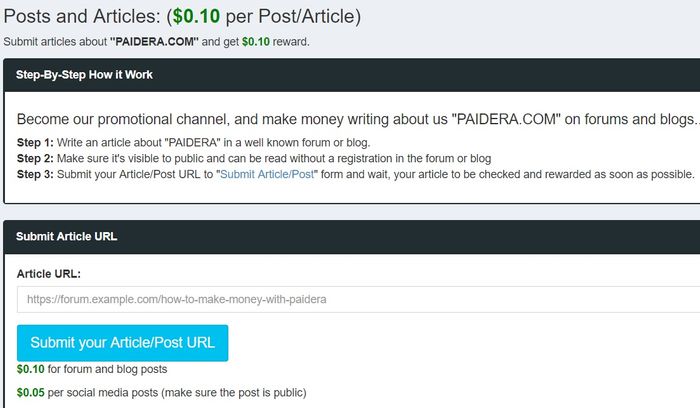 Referrals
Referrals earn you $0.10 each. I'd really want to spare my family and friends from this rare opportunity. Seriously, I have never seen such a low rate for referrals on any other platform.




How much to cash out from Paidera.com
You need to accumulate to $50 before you can cash out. Maybe a few months later? This is much too high a minimum cash out, for such low earnings in every single way that you can earn through this platform.
And the worst thing is: after all the time and effort, they do not let you cash out.

Complaints from users
They simply close your account when you try to cash out, or give some dumb reason like accuse you of submitting fake referrals.



Another red flag – domain age

Look at this, where they claim to be formed since years ago.



A quick check on their domain shows the site was only registered in Dec 2018.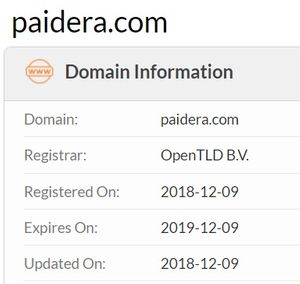 They keep appearing as different names
All these domains listed below are redirected to Paidera.com, at least during the time of writing.
Sociaprofit.com
Socialincomes.com
Moveinside.net
Innerprofits.com
Socialinvests.com
Ultrainvests.com
This is a sign of a scam. If it were really a legitimate and honest platform, why would they have so many different names all over the place? This just tells me they are trying to hide something.
If you really want to earn a little extra pocket money, here is a list of good survey sites and get-paid-to sites that I have reviewed:
Swagbucks
Societi
PrizeRebel
OneOpinion
Inbox Dollars 
Vindale Research
The thing with these sites, no matter how awesome they are, is that they will never be able to make you even a part time income.
If you are looking to making some serious money online, I can show you the business model that is working for me right now.


The proper way to make money online
I am using a method called affiliate marketing, whereby I simply promote other people's products, and earn a commission from it.
This is a neat and hassle-free way to make money online, because all the work can be done with just a computer and an internet connection.
There is no face to face selling, no need to handle any inventory, delivery, customer complaints, or refunds.
It is a lucrative method, as more and more people take their shopping online. There are many successful affiliate marketers making much more than a full time income out of it.
I am now working full time from home, growing my internet business, and making an online income. I started from scratch with zero knowledge in this area. If I can do it, you can, too.
Check out this training platform that provides all the resources, tools, along with an entire community of aspiring as well as already successful online income earners. The best part is, you get to start for free:


---
Pros of Paidera.com
Unfortunately, there is no pro I can think of for this platform.
Cons of Paidera.com
1. Time-waster
You put in all the hours to make so little money, even if they really do pay out. It's not worth it. Go read a book, take a walk, chat with a friend, anything is better than spending time on Paidera.com
2. It does not pay out
When it is time to cash out, Paidera is pretty good at simply shutting people's accounts.
3. Owner does not show up
Nobody knows who owns Paidera.com, so I do not trust it at all.
4. Too many red flags
Appearing with different names, all redirected to the Paidera.com home page, huge banner ads obstructing the proper view of surveys, deliberately slowing you down during surveys, survey question not crafted properly, etc. These are just some examples of the red flags found on this platform.
---
Is Paidera.com Scam or legit?
It is a scam. Do not waste your time and effort on it. Stay far away.
---
Recommendation
I absolutely do not recommend Paidera.com.
Let me show you a real deal when it comes to making money online.
This real deal does not promise instant results, but instead gives me knowledge and the lifelong skills required to grow a successful online business, which is exactly what I have done. Check it out by clicking on the button below:




And for reading all the way to the end of the post, I believe you have it in you to make this work. Here is your FREE PDF Guide: 4 Simple Steps to Making Money Online. Fill in your details to claim it:



If you have any concerns or questions regarding this Paidera.com review, do comment below, and we will start a conversation from there.
---
Please follow and like us: