If you have chanced upon this survey site, and are questioning the Smart Dollars Club scam, you have landed at the right place. Can this really make you $300 a day?
First of all, I'm so happy that you are checking this out. You really can't be too careful, with the amount of scams floating around on the internet these days.
Your hunch is right.
This survey site is not your typical honest get-paid-to site.
In my honest, unbiased, and in-depth Smart Dollars Club review, let me show you all the red flags, as well as what actually happens after you sign up to the platform.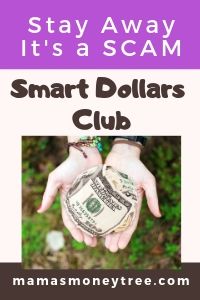 Let's dive right in now.
---
Smart Dollars Club Review Summary
Product: Smart Dollars Club
URL: https://earn.smartdollarsclub.org or http://smartdollarsclub.net
Creator: Unknown
Product type: appears as a survey site, but it simply funnels you to other sites.
Price: free to join
Scam / Legit? : Scam
Recommended or not? : Not recommended
Smart Dollars Club is not a regular survey site. It simply takes you to other sites, some legitimate where you can earn by taking surveys, others are not good. The objective of this platform is to get people to click through to those other sites, I believe they get paid this way. So they use unethical means to entice you to click.
If you do not want to waste anymore time on scams, check out my #1 recommendation to making money online:




Read on for the detailed review of Smart Dollars Club, and why I call it scam.
---
What is Smart Dollars Club
This is what you get when you first land on their site: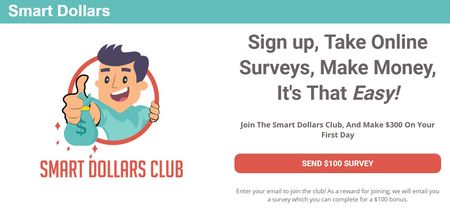 Join them to make $300 on your first day? Wouldn't that make it $9K per month, if you work on it every single day? If it were possible, everyone would be rich by now.
And to reward you for joining, they will send you, in an email, a survey which you can complete for $100!
This is unheard of. It is very highly unlikely that any company is willing to pay just one participant $100, no matter how long the survey is going to take you to complete.
On the same page, another red flag pops up: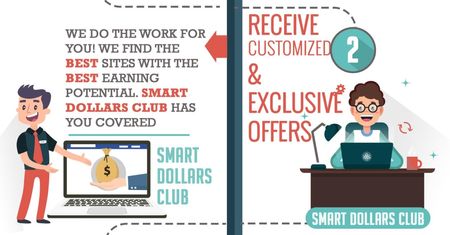 They will find you the best sites with the best earning potential. What does this mean? That Smart Dollars Club itself is not a survey site? Since you are not actually going to complete surveys on there?
So what is it really?
Another big red flag near the bottom of the page: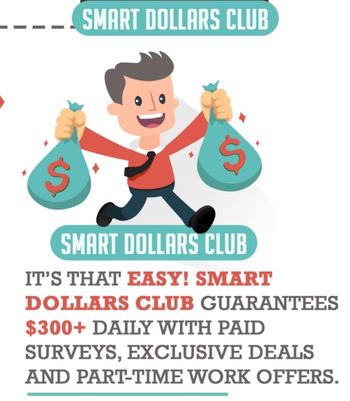 This sounds super enticing, but it got me really suspicious, and I did not like the sound of it.
Who in this world can guarantee anyone $300+ daily? Maybe the employer in your regular job. And that's already stretching it, because even in a 9-5 job, there is no guarantee. People get laid off all the time, companies close down when they can't sustain in the competitive market.
When it comes to online opportunities, people who are making guarantees are out to scam you. So instead of being attracted to the offer, you should run in the opposite direction.
You see, there is no way you can be sure that you will make a minimum amount even on a legitimate survey site. It depends on the availability of surveys, whether you can smoothly complete the survey without being disqualified in the midst of it, the duration of the surveys, and the amount you will earn for each.
Survey platforms and get-paid-to sites are a great way to earn a little extra pocket money. But it will never bring you further than that. Don't even hope for a part-time income from it.
So for Smart Dollars Club to guarantee $300+ daily, makes me say it is a scam right away.
Let's probe deeper to find out exactly how it works.


How Smart Dollars Club works, and why you should stay away
There is no members' area within Smart Dollars Club. By signing up, you are simply getting yourself onto their email list, through which they will use shady marketing tactics to get you to click through their links onto some websites, some legit, and others not so.
But at least they did keep to their promise of sending you an email that you can complete to earn $100.
Guess what, though?
When you click to take the survey, you actually land on this:




Which is actually a site on which you can take surveys to make money, just like any regular survey site. So you do need to fill in your email and other information again, as you are entering this other website.
And it is clearly written in red, you will not get paid $100 just for completing any survey.
It's busted. Smart Dollars Club tricks you into clicking through to these other sites, their objective has been met. They do not care about your experience thereafter, whether you make $100 or $300 or nothing at all, they do not care.
You can expect more emails from Smart Dollars Club, with enticing offers, always trying to get you to click on their buttons in the emails.
Some of the websites they will route you to are not even survey sites or get-paid-to sites. They could be stuff like online casino, or any other get-rich-quick schemes that make them money when you sign up.
Smart Dollars Club is a big scam. They get what they want, but you will be sent round and round in circles, getting nowhere in your search for the $100 survey.
If you are looking to earn some extra pocket money, these are a few great options:
Swagbucks
Societi
PrizeRebel
OneOpinion
Inbox Dollars
Vindale Research
No matter how hard you work at it, surveys and get-paid-to sites will never get you anywhere near a full time income.
If you are looking to make a serious income online, let me show you what I am doing:


You can make a full time online income
I guess everyone starts off wanting to make it rich fast. It's a very natural thing, that's just human nature.
But when I realised those empty promises are only going to make other people rich, and not me, I stopped looking for shiny objects.
I found a dull-looking object, but I knew in my heart that is the real deal. From then on, I have never looked back.
What I am doing is called affiliate marketing. To put it very simply, I leverage on existing great products in the market, and promote them. When people buy these products through my affiliate links, I earn a commission.
This is a neat and hassle-free business model, because I do not have to create or own any product. No inventory or storage issues, no need to handle delivery, customer complaints, or refunds. No face to face selling.
All the work I need to do can be done at home, or anywhere for that matter, with simply a computer and an internet connection. I do not have to report to anyone, since this is my own online business.
The potential for affiliate marketing is huge, as everyone takes their shopping online. Companies are recognising affiliates as an effective partner in their businesses, since they practically get free advertising. They pay a commission only when the affiliates makes sales for them.
So it is win-win all around.
Countless affiliate marketers are earning a full time income, and more, from this method of making money online. 5-figure and 6-figure months are achievable, if you set aside the time and effort to do this.
Check out this training platform that provides all the resources, tools, along with an entire community of aspiring as well as already successful online income earners. The best part is, you get to start for free:
---
Pros of Smart Dollars Club
There is zero pro to joining this platform
I seriously cannot think of any advantage to you, by joining this platform. You will simply get spammed by all the emails, not just from Smart Dollars Club, but from any other website that you join as a result of their marketing emails.
There is no earning potential. You are much better off joining any other legitimate survey sites or get-paid-to sites.


Cons of Smart Dollars Club
1. Shady sales tactics
I am personally quite disgusted by their tactics, presenting unrealistic earning claims, just to make people click on those links.
$300+ daily is absurd. To see guarantees like this makes my blood boil.
2. You may be funneled to other equally scammy websites
You never know what you are going to get in the links, with such an unscrupulous platform that runs on zero moral values.
3. We do not know who is behind this 'company'
The owners of this platform do not show up, there is no information about who they are at all, and what they stand for. They dare not stand by their own product, so trusting them would be a foolish thing to do.
---
Is Smart Dollars Club Scam or legit?
In my opinion, Smart Dollars Club scam is real, and a big one at that. Stay far away, as it is going to cause more harm than good.
---
Recommendation
I absolutely do not recommend Smart Dollars Club.
If you want to make money online, there are many great ways to do it. Some, like filling out surveys, can make you enough for the afternoon coffee. Others can get you out of your 9-5 job, if you are willing to put in the effort.
I want to show you the way I am doing it, that has allowed me to work from home full time. I cannot promise you riches, because what you are going to get out of it is what you are willing to put into it.
But I can show you the path taken by countless successful online income earners, who all wanted to succeed badly enough. And succeed they did. Click on the button below to check it out:




And for reading all the way to the end of the post, I believe you have it in you to make this work. Here is your FREE PDF Guide: 4 Simple Steps to Making Money Online. Fill in your details to claim it:



If you have any concerns or questions regarding this Smart Dollars Club review, do comment below, and we will start a conversation from there.
---