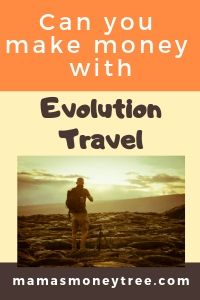 You must have heard of this network marketing company in the travel industry. It is promoted fiercely everywhere, I see it everyday on social media. You might be wondering if Evolution Travel is a scam.
I am here to answer this for you.
How does it work exactly? How much do you earn when customers take up packages or book any travel services through you as a travel agent? How does the compensation plan work in this MLM (multilevel marketing) scheme? Is it considered a pyramid scheme?
I will be answering these questions and more, in this honest, unbiased and in-depth Evolution Travel review.
I am not promoting this company as their distributor or travel agent, so rest assured that I will be objective about this, unlike what you hear from its travel agents, who have a vested interest in trying to get you into the business opportunity.
---
Evolution Travel Review Summary
Product: Evolution Travel
URL: http://www.myevolutiontravel.com/
Creator: David McCovy
Product type: Network marketing (MLM) company in the travel industry
Price: $30 + $69.95/month
Scam / Legit? : Legit
Recommended or not? : Not recommended (unless you understand the work of a travel agent)
Evolution Travel links up with Archer Travel Service, Inc. to provide travel agency services to customers. But there is a strong focus on recruiting new travel agents, once you join them as their travel agent. The potential for earnings is extremely low, unless you know of many people who are always travelling.
Coupled with the expensive monthly fees to remain as an active distributor, the vast majority of people do not make any money out of this opportunity.
If you do not want to waste anymore time and money on pay-to-play opportunities, do check out my #1 recommendation to making money online:




Read on for the detailed review of Evolution Travel, and why I do not recommend it.
---
What is Evolution Travel
A brief background of Evolution Travel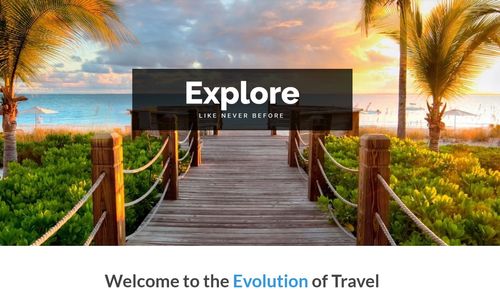 Founded by David McCovy in 2015, this network marketing travel agency sells itself as a powerful and affordable home based travel business. Through training and support, it strives to give each person an even playing field to find success in this profitable business.
David McCovy had immensely successful experiences with two MLM (multilevel marketing) companies prior to setting up his own. They are 5LINX, followed by Paycation (which has morphed into Traverus Travel).
With his credible background in the network marketing industry, I believe McCovy knows what it takes to establish a strong MLM company. But that certainly does not mean the opportunity will be in your best interest.
Let's move on to examine how things work inside this travel company.


Evolution Travel Product Line
There is actually no physical product per say. They offer travel packages, discounts, and coupons. So providing a travel agency service is the more apt way to put it.
Evolution Travel is an affiliate of Archer Travel Service, Inc, which is a very well-established travel company, formed since 1952.
By using Archer's platform to make bookings for discounted flights, hotels, cars, cruises and so on, Evolution Travel earns a commission from Archer Travel Service, which is typically 10% of the entire booking cost, minus taxes.
So if a member, or travel agent, or distributor (they all refer to the same people) of Evolution Travel makes a booking for his or her customer through Archer Travel Service, say for hotel rooms that cost $500 (not including taxes), Evolution Travel earns a commission of $50 (typically).
Out of this commission, Evolution Travel pays 80% to the travel agent who did the booking. So the agent earns $40.
Then the questions arise: how competitive is this Archer Travel Service over other platforms like Booking.com, Expedia, Agoda, and many others, where consumers can very easily book from the comforts of their home?


Where is your competitive edge?
As a travel agent for Evolution Travel, how are you able to find people around you who are constantly travelling? If you do not have a reliable customer base that can allow you to earn a sustainable commission, then this business will not work, as you will not be able to cover the monthly fees of almost $70.
A quick check on the pricing of the travel services offered by Evolution Travel shows that it offers lower price in some aspects of travel services, higher price in others, when compared to the giant travel booking platforms.
Since there is no obvious price advantage, then it has to boil down to quality of service.
What would you expect from a travel agent? A detailed travel plan, with all the accommodation, meals, and transport from one point to another sorted out. That would save you the hassle of planning all these nitty-gritties by yourself. Otherwise, there is really no point for anyone to go through a travel agent.
So if you were to sign up as a travel agent to promote Evolution Travel, would you have the passion, experience, and network to provide such a service for your customers?
In my opinion, if you have had experience working as a travel agent before, then you would probably find this a good opportunity. On one hand you have repeat customers who had already experienced your great service before, and on the other hand you have your network and resources that allow you to plan the perfect getaway for your customers.


Evolution Travel Feedback
Let's check out what members (also called travel agents) have to say about what they got out of Evolution Travel, both good and bad.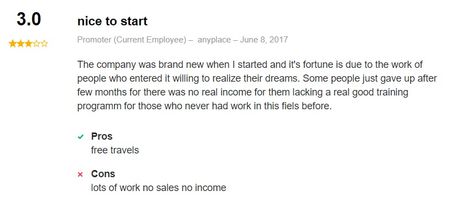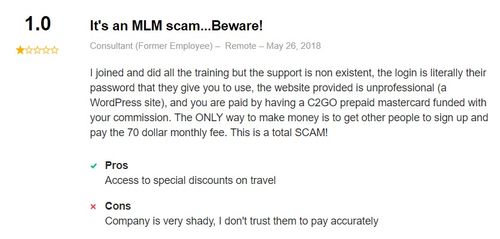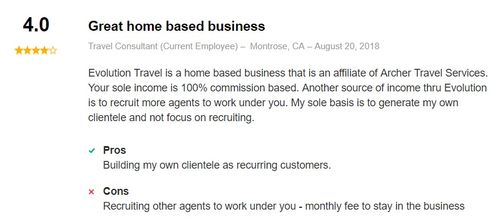 My conclusion about the 'product' part of this opportunity is: go for it if you enjoy the work of a travel agent, and have already got a broad customer base from your previous work. But bear in mind your earnings will be solely commission-based. It is going to take up time and effort, to deliver great service to your customers.
If you do not have experience and your own network of customers, which I think is the case for majority of people, then the earning potential is going to be low, low enough to put you in the red each month if you cannot even cover the fees to be an Evolution Travel agent.


---
Evolution Travel Business Opportunity
In the previous section, I focused mainly on earning product commissions as Evolution Travel's travel agent, by booking travel services for your customers. The picture is only complete when we also look at the potential earnings as you recruit more travel agents to form your team, called your downline.


How to become an Evolution Travel Distributor (a.k.a. travel agent)
A one-time fee of $30, and recurring monthly fees of $69.95 will allow you to stay in the business, and make commission off your clients' travel bookings.
They call this their Professional Travel Agent (PTA) Package.


How to make money with Evolution Travel
This shows the rank structure as a travel agent of Evolution Travel: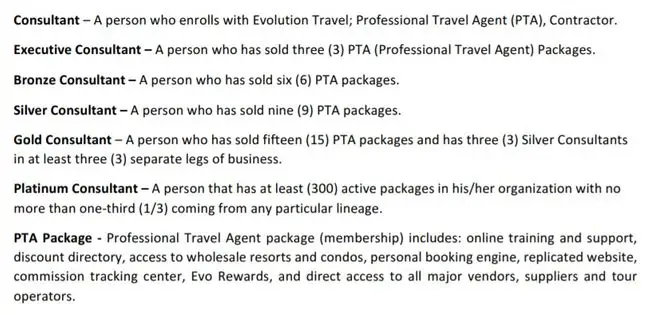 Travel commissions are paid to all consultants at all ranks, at 80% of whatever commission that is paid by Archer Travel Service to Evolution Travel. 10 % goes to the agent's sponsor (upline) as residual commission, and the remaining 10 % goes to Evolution Travel.
As you recruit travel agents under you and move up the ranks, there are no additional benefits, until you reach Gold Consultant level. At that level, you can possibly make $750 monthly bonus.
At the Platinum Consultant Level, you can make $1,750 in monthly bonus. But to me, it seems quite impossible to get up to that level, because it means you need to have recruited at least 300 travel agents under you, who are still active and paying their monthly fees of $70 each, at the time that you reach Platinum Consultant level.
There is a strong focus on recruitment, as the first thing you are taught to do, once you join Evolution Travel, is to list down family and friends that you could possibly recruit into the business opportunity.
But of course it is entirely up to you, how you want to take this business.
The way I see it, recruitment of travel agents is not a sustainable way to go, simply because most people do not have the experience, contacts and networking, and passion to service customers, which are all necessary ingredients to succeed in this business.
So if you recruit simply for the sake of moving up the ranks, then your team could be made up of begrudging people, depending on how you had sold the opportunity to them, and what kind of expectations they went in with. You would also not expect them to hang around for too long, if they are not profiting from this.


Why Evolution Travel may not work for you
If you had no prior experience as a travel agent, you would not understand the nature and extent of work involved, to organise a detailed itinerary for customers. So if you can't do a good job, your customers will not return for your services the next time they need someone to plan and book their holiday.
And without an existing customer base, it would be very difficult to sustain the business. Yes, family and friends can support you, but how often do they travel? Without a critical mass, you may even have a hard time breaking even, since there is the $70 monthly fee to Evolution Travel.
Do take these into consideration, before you jump right in to try out this business opportunity.
If you think Evolution Travel might not be for you, I want to show you a much cooler way to make money online.


The proper way to make money from home
You see, the business model that I am using to earn my online income does not require me to pay to play. The companies I promote understand that they actually get free advertising when I promote their products. So they do not charge me any fee. And I get a commission when I drive business to them.
Since the transactions take place between the customers and the companies themselves, I am not the one supplying the products or services. So I do not have to deal with demanding or angry customers.
Moreover, I can promote whichever companies I like, and whatever number of companies at the same time. I am not limited to just one company, since there is no upfront investment involved.
This is called affiliate marketing, and has made countless successful online income earners. Like any other method to make money online, it takes time and hard work. But it pays off big time when the business gets established, also because of how I am able to get free traffic to my business.
Let me show you how this method works exactly, in another post. Click on the button below:



---
Pros of Evolution Travel
1. Established owner who knows the network marketing industry
McCovy knows what he is doing, I believe. The recent move to reduce the one-time fee for people to join as their travel agents, to $30, has been one in the right direction.
I also like the fact that from the commission paid by Archer Travel Service, Evolution Travel only takes 10%. This encourages people who know what they are doing to stay in the business, as they can make a decent commission simply through bookings. While of course the company earns through the monthly membership fees. I guess it's a win-win partnership in this sense.
2. Can possibly make money if you have experience and contacts
If you had worked as a travel agent elsewhere before, this can be a great opportunity to serve your existing clientele as an independent agent. But since your earnings will be solely commission-based, although it could mean there is no limit to your paycheck, but at the same time you have to be prepared to put in the hours.


Cons of Evolution Travel
1. Focus on recruitment
The stance taken by the company still seems to have a strong focus on recruitment, as can be seen on how they ask new members to try and approach family and friends who may have an interest in the business opportunity.
This is not a good approach, in my opinion. As most people you recruit will fail. Unless you are surrounded by people already in the travel industry.
2. Pay to play system
On one hand, it is fair that the company takes a fee for members using their brand, resources and tools to provide travel services and earn from this opportunity, especially since Evolution Travel keeps only 10% of the commission.
On the other hand, for members who are not able to get any customers, this $70 per month can be a big financial burden.
3. Without a customer base, you earn nothing until many ranks upward
If you do not have a broad customer base that trusts your level of competency in arranging their holiday plans and will look for you whenever they are ready to travel, then the only way you can earn is to climb up the ranks in Evolution Travel, by recruiting people.
This is the more difficult route, as you will have to reach Gold Consultant level before you will see your hard work starting to pay off. That could take many months, or even years, if you had not left the company by then.
This aspect of the compensation plan is not much different from other MLM opportunities I have reviewed, like Nu Skin, Jeunesse, and Valentus, to name just a few.
4. Family and friends start to shun you
Many people do not need the service of any travel agent, like me. I am the sort of person who enjoys the planning process of my holidays, as I get all excited and really look forward to it when I slowly get things in place.
So when you approach family and friends to book their travels through you, you may unknowingly put them in a spot.
It is worse when you invite them to join the business opportunity. Relationships can get strained easily, when supposedly genuine interactions now consist of some hidden agenda.


Evolution Travel is a scam?
No, Evolution Travel is definitely not a scam. It just may not work for the vast majority of people who give it a go. So do consider your financial situation and your interests, passion, expertise, and background carefully as you make the decision.
---
Recommendation
I do not recommend Evolution Travel, unless you have worked as a travel agent before, and have your own network of clientele.
There are much better ways to make money online, without having to pay to play. The business model I am using does not require any face to face selling. I do not have to recruit anyone, or approach family and friends to support my business.
I promote whatever products and services I like in my chosen niche, without having to pay any company a fee for promoting them.
This method leverages on how people have taken to buying stuff online, which is definitely a growing trend. That is why it is a lucrative and hassle-free model to use, if you want to make a full time income online.
Learn how it works exactly, on another post. Then you can decide for yourself if it is something worth building. Click on the button below:




And for reading all the way to the end of the post, I believe you have it in you to make this work. Here is your FREE PDF Guide: 4 Simple Steps to Making Money Online. Fill in your details to claim it:



If you have any concerns or questions regarding this Evolution Travel review, do comment below, and we will start a conversation from there.
---