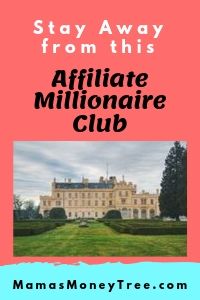 Is Affiliate Millionaire Club a scam? As the name says it, you will be doing affiliate marketing to make your commissions. 'Millionaire' in their name does not give me a good feeling about its legitimacy, though.
Welcome to my Affiliate Millionaire Club review.
If you are looking for something to help you get started with affiliate marketing, I'm afraid this product is not it.
Its sales pitch is much too hyped up, promising the moon that it will never be able to deliver. Join me as I show you what exactly they offer inside the members' area, so that you can make a better informed decision for yourself.
Without further ado, let's dive right in now!
---

Affiliate Millionaire Club Review Summary
Product: Affiliate Millionaire Club
URL: http://affiliatemillionaireclub.com
Creator: 'Mo'
Product type: affiliate marketing training and websites
Price: $47
Scam / Legit? : Legit
Recommended or not? : NOT recommended
Affiliate Millionaire Club consists of some generic training on affiliate marketing, and provides you with some websites, hosted and run on their domains, for you to promote some products from a very limited selection.
This is a very low quality program that will never live up to what it seems to be promising in the sales video.
---
---

What is Affiliate Millionaire Club
To find out what is Affiliate Millionaire Club, let us first take a look at its sales page.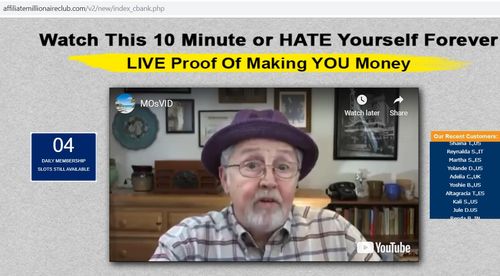 False scarcity
The limited slots on the left was the first thing that irritated me. This form of false scarcity tactic is so outdated and over-used that it irks the heck out of me.
We all know it's not true. Surely they'd welcome anyone who wants to give them money.
False testimonial
The aged man in the video is someone I recognized instantly. I have seen him before, a number of times. He is an actor that 'Mo' has hired from Fiverr, to give his fake testimonial of earning upward of $550 each day, just by working 5 minutes a day.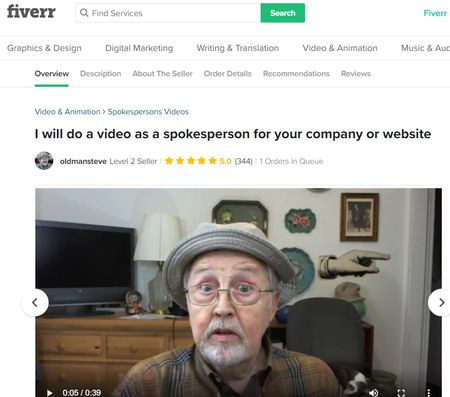 So, does it mean that not a single person is making money with Affiliate Millionaire Club, and that is why 'Mo' has to engage actors to talk about their fantasy earnings?
Who is 'Mo'?
The supposed owner behind Affiliate Millionaire Club does not provide his last name, and does not even show his face throughout the sales video.
How does he expect anyone to trust what he is saying? If he were so legit and really cared about his customers, why should he have to hide behind the screen?
All hype
The sales video is all about ridiculous income claims, like how you can start earning $1200 per day, from today!
And without having to do any work, because 'Mo' has everything done for you. All it takes is 5 minutes for you to get everything all set up, and you'd simply be checking in on your earnings everyday.
I am an affiliate marketer, and I know how things work in this industry. Unfortunately, what 'Mo' is saying is utter rubbish. Nothing in this world can make you hundreds of dollars instantly, without you having to do any work.
Let's now examine what exactly we are getting inside Affiliate Millionaire Club, then I will point out all the reasons why it will never deliver.

Inside Affiliate Millionaire Club
10 affiliate websites
If you purchase Affiliate Millionaire Club, you will get the chance to create up to 10 affiliate websites.
There are a few reasons why these sites will not work for you.
Firstly, it is hosted by 'Mo', on his company's subdomain. This simply means you do not own the sites. Should the company shut down one day, there goes everything, you will not be able to transfer those sites out to be hosted with another hosting service provider.
Secondly, the Affiliate Millionaire Club team had already pre-selected the products that they think will convert well for you. This greatly limits the niches, as well as the choices of products that you can promote.
It is also the exact reason why I'd always tell my readers, that anything done for you is not created to work for you. So do not go for DFY systems or products.
Affiliate marketing training
The topics covered in Affiliate Millionaire Club's training are relevant, but they lack depth.
Modules include setting up your campaigns, affiliate marketing and sales training, email list building, monetizing through Google Adsense, social media, SEO (search engine optimization), getting traffic, etc.
Though these are important topics, everything barely scraps the surface, there's no way you can depend on this training to succeed as an affiliate marketer, much less earn more than $1K from your first day in.
---
---

Why Affiliate Millionaire Club will not work for you
If setting up a website would get instant commissions flooding in, nobody in this world will need their 9 to 5 job anymore.
The single most important ingredient is missing: traffic.
Without traffic landing on your website, where will the sales come from? Ask any entrepreneur trying to make an online income, and they will all agree that traffic is the biggest hurdle they have to overcome, before they can start earning.
Basically there are two main ways to get traffic: paid and free.
Paid traffic
Paid traffic comes in the form of advertising your promotions, whether it's on social media platforms like Facebook, or on forums, or Google Adwords, etc.
It takes lots of reserve cash, and a steep learning curve. No textbook or online training can teach you how to run ads, because it is very niche specific, platform specific, and audience specific.
It takes learning from experience and mistakes, by actually running your ad campaigns, reading the results, tweaking parameters, spending more money to run more campaigns, rinse and repeat until you get the perfect recipe that speaks to your target audience.
You could be hundreds or thousands of dollars in the red before you finally grasp the art and science of paid advertising. So, unless you have lots of excess cash, I do not recommend this high-risk traffic method when you are just starting out.
Free traffic
The catch to free traffic is it requires time and hard work.
The source of free traffic I'm referring to comes from search engines, because search traffic is the most highly targeted, since they are actively searching for what you are offering, that is how they would be sent to your website in the first place.
If you can get your site ranking on page 1 of search results, the organic traffic that is going to flood your site will be unstoppable.
But it is no easy feat to get ranked. You need to establish your site as the authority in the niche, to gain the trust of search engines, before they will rank it over your competitors.
The problem is, with your sites that you get from Affiliate Millionaire Club running on their subdomains, it will be very difficult to get into the good books of search engines.
---

To round up this article, let me recap and summarize the pros and cons, before I finally make my conclusion.
Pros of Affiliate Millionaire Club
1. 60 day money back guarantee
If you are just giving the product a try, with the intention of asking for a refund if it doesn't work for you, do take note that you are only allowed to put up a refund request after 45 days of purchasing it.
This is because 'Mo' wants you to commit to actually going through the training and trying out their method, to be fair to them.
It also means that effectively, you would only have a 15-day window to get your money back.
2. There is some value in the training
Frankly, the websites are quite useless. The training, though lacking in depth and substance, may give you some idea of the various aspects of internet marketing, if you are a complete beginner in this area.

Cons of Affiliate Millionaire Club
1. Hyped up and dishonest marketing tactics
Fake testimonials, fake scarcity, and owner who does not make a proper appearance – all these make it a product that I do not trust.
Moreover, there is way too much hype on the income claims, how your newly set up website is already making your first commission within 5 minutes, and lots of other nonsense.
2. Done for you websites are not good for you
Having a website is the way to go, if you are considering affiliate marketing. But it should be one that you wholly own, that is registered on your own domain, not one where you have no control over its fate.
3. Traffic is not taught in a way that you can implement certain strategies
Even if you have a solid website, beautifully designed and under your own domain, traffic is still the missing link. You are not going to get a single sale if you do not know how to drive traffic to your site, much less a low-quality website.
Affiliate Millionaire Club seems to skim over this, which really doesn't help in your journey as an affiliate marketer.
---
---

Is Affiliate Millionaire Club a Scam? 
No, I do not think Affiliate Millionaire Club is a scam, since they give you websites, and they provide some generic training.
But it is of such low quality that you will get nowhere near success, just like with these other programs I have reviewed: 12 Minute Affiliate, Affiliate Blogger Pro, Commission Shortcut, and Secret Affiliate Machine, to name just a few.
---
The proper way to do affiliate marketing
I guess everyone starts off wanting to make it rich fast. It's a very natural thing, that's just human nature. I wasn't spared of all the temptations on the internet, hopping from one shiny object to the next.
But when I realised those empty promises are only going to make other people rich, and not me, I stopped looking for shiny objects.
I found a dull-looking object, but I knew in my heart that is the real deal. From then on, I have never looked back.
I am now working full time from home, growing my affiliate marketing business, and making an online income. I started from scratch with zero knowledge in this area. If I can do it, you can, too.
Here's a peek into my earnings on a recent day:



That's almost $200 in just one single day. It's nothing to boast about, though, as it's just a small fraction of its full potential. I just wanted to show you the possibilities.
Check out this training platform called Wealthy Affiliate. It provides all the resources, tools, along with an entire community of aspiring as well as already successful online income earners.
Here is a table of comparison between Wealthy Affiliate and Affiliate Millionaire Club:


And for reading all the way to the end of the post, I believe you have it in you to make this work. Here is your FREE PDF Guide: 4 Simple Steps to Making Money Online. Fill in your details to claim it:


If you have any concerns or questions regarding this Affiliate Millionaire Club review, do comment below, and we will start a conversation from there.
---