Does Affiliate Blogger Pro scam you, or is it going to help you build up a successful affiliate marketing online business that can give you all the financial freedom you are craving?
Welcome to my Affiliate Blogger Pro review.
Affiliate marketing is a great way to make a sustainable income online. In fact, it is exactly what I am doing too.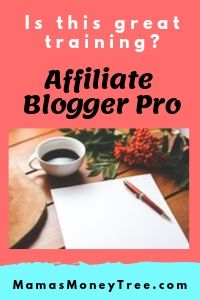 Unfortunately, there are so many low quality training products these days, that are not created with the users in mind. Is this affiliate marketing course worth its monthly fee? Or are you better off spending your money elsewhere?
Join me in this honest and in-depth review of Affiliate Blogger Pro, as I walk you through what will be covered inside, so that you can decide for yourself if this will work for you.
Without further ado, let's dive right in now!
---
Affiliate Blogger Pro Review Summary
Product: Affiliate Blogger Pro
URL: http://affiliatebloggerpro.com/
Creator: Rosalind Gardner
Product type: affiliate marketing training
Price: $27 per month
Scam / Legit? : Legit
Recommended or not? : Not recommended
Affiliate Blogger Pro had seen its days of fame, which have since died down, mainly because the materials taught in the course are not really up to date with the fast-changing internet marketing scene.
There is still value if you are a complete beginner and just want to learn some basics about affiliate marketing and how to use your own website to monetise it, but I personally do not think this course is sufficient to see you through to success.
---
---

What is Affiliate Blogger Pro
To find out what is Affiliate Blogger Pro, let us first take a look at its home page.



It is a course that teaches you how to use your own website for blogging and affiliate marketing, so that you can make an online income.

What is affiliate marketing
When you refer someone to a product or service, ultimately landing a sale for the company, you earn a commission.
This is the very simple idea of what affiliate marketing is all about. It is an industry that is set to see unprecedented growth even today, because of how people are bringing their shopping online.
To establish an affiliate marketing business for long term success, you need your own website, on which you are in total control of whatever and however you want to promote the affiliate offers, as well as incorporate other ways of monetisation.
Hence the main concepts taught by Rosalind in her training is still very sound, though the details may not be relevant anymore, as we will see in a later section.
Other affiliate marketing training I have reviewed include The Super Affiliate Network, Super Affiliate System, and Legendary Marketer, to name just a few.

Who is Rosalind Gardner
Rosalind is a highly successful internet marketer, who was one of the pioneers of affiliate marketing.
She wrote her first book called "The Super Affiliate Handbook" way back in 2003, when not that many people had gone into affiliate marketing yet. Hence she was called "the Queen of affiliate marketing" by many who knew her.
Then in 2007, she wrote another book, "Make a Fortune Promoting Other People's Stuff Online".
And in 2009, she created this online training Affiliate Blogger Pro, mainly based off what were taught in her books.

Affiliate Blogger Pro was a sincere training program
Back in those days, Rosalind was one of the rare gems who genuinely taught what worked, and her course quickly went viral. People devoured her training, and many rose to success.
It is very unlike so many products these days that use hype and misleading income claims to bait people to buy their crappy courses, with one single motive of lining the pockets of their creators.
Not Rosalind, never. She is sincere in delivering what is best for her audience, and she does not see any need for gimmicky marketing tactics. You get what you see.
There are no upsells even. It is a transparent pricing, with a 56-day refund policy.
The one big problem, though: Affiliate Blogger Pro is not being updated to respond to current internet marketing trends.
---
---

Inside Affiliate Blogger Pro
These are the course features of Affiliate Blogger Pro: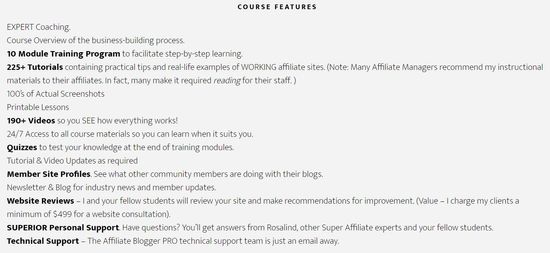 It definitely looks like there is so much value for the small sum of money that you would be paying.
The 10 module training program does cover all the basics about affiliate marketing, and why you need your own website. Topics include
– finding your niche
– setting up your website
– writing content
– getting traffic
– managing your business
– growing your business.
The 225+ tutorials and 190+ videos are really quite impressive, in terms of their sheer numbers.
If you wish, I think it's completely alright to just pay for one month's fee to jump right in, learn some basics of affiliate marketing, and then hop right out.
But if this is something you are considering, do be aware that there are some sections that are no longer relevant today, and in fact some strategies taught will actually do you more harm than good if implemented today.
I will be pointing them out later.

Why Affiliate Blogger Pro may not work for you
The main issues are with its content being outdated, and lack of an active forum area.
Outdated content
In its traffic module, you are taught to get your articles up on directory listings, which nobody does anymore these days, it is a technique of the old days which simply does not work anymore.
Traffic methods that worked before can become obsolete, or even harmful, very quickly, as search engines update their algorithm to serve their users nothing but the best sites. Things like buying backlinks that used to work are now going to damage your site rankings.
Because of all the fast-paced action taking place on the internet, it is vital to keep abreast of the latest changes, so that whatever you are doing can only add value to your business.
Hence the most basic expectation of any membership training site is to keep itself updated, keep abreast of technology and marketing trends, so that it can present the most useful information to its students.
---
---
Lack of active support
The members' forum in Affiliate Blogger Pro is not an active one, neither is its Facebook page.
If you are new to internet marketing, you may not realise how important the community aspect is. It can be the deciding factor to an affiliate marketer's failure or success.
When I first found the affiliate marketing training that kicked-start my journey, in the first two months, I simply focused on the training and implemented it to get my website up, and content churning.
I thought I would quickly finish up the training and get out of there, so that I did not have to continue paying its monthly membership fee.
How wrong and lack of foresight was I.
An internet marketer's path is difficult and lonely, though the rewards are huge when you finally taste success.
Along the way, there will be people who talk down on what you are doing, telling you to go get a proper job. There will be times when you hit a stumble block, either with the technological aspect, or just feel mentally drained.
In those moments when I felt down in the dumps, the entire community of like-minded entrepreneurs, all working hard, cheering each other on, inspiring one another with their success stories, was really what kept me going.
On top of that, the experienced marketers were creating training and tutorials, members were teaching and hand-holding members. The power of such a positive force is something you have to experience to understand.
These are the reasons why I am still on the affiliate marketing training platform that I started my online journey with two years back.
Click on the button below if you would like to check it out:

---
To round up this article, let me recap and summarise the pros and cons, before I finally make my conclusion.
Pros of Affiliate Blogger Pro
1. Real owner who is successful in what she teaches
Rosalind is a sincere teacher who only wanted the best for her students when she created the course years back. She is an established marketer, so you can be sure she knows what she is saying.
There is no hype, no marketing gimmick, and no upsell. It is all transparent, and what you see is what you get.
2. 56 day money back guarantee
This basic refund policy is in place, for people who are dissatisfied with the product.
3. You do get basic affiliate marketing training
If you are a complete newbie, and would like to start with learning the basics first, Affiliate Blogger Pro does cover the fundamental principles of how you should go about establishing your internet business.
However, do note that some details are irrelevant today, and can possibly do more harm than good.

Cons of Affiliate Blogger Pro
1. Outdated content
Even the WordPress version used by Rosalind in the training is so outdated, it would be very difficult to follow the training on today's version of WordPress, as things look completely different now.
2. No active community support
Though it is a membership site, it lacks an active forum area which is a crucial factor for internet marketers just starting out. Without this, you can't easily find answers to questions or problems you may encounter, which can be frustrating.
3. No tools
The basic things you need in setting up an authority website are separate from Affiliate Blogger Pro. So after completing the training, you would still have to source for these tools yourself, and learn how to implement them.
Examples are hosting, domain name registrar, keyword research tool, website builder, etc.
---
Is Affiliate Blogger Pro Scam or legit? 
Affiliate Blogger Pro is a legitimate training program for affiliate marketing, it is just something of the past, and has lost much of its relevancy as it did not catch up with the times.
Hence I do not recommend it.
---
The best affiliate marketing training platform
The training platform that brought me on the path of affiliate marketing is called Wealthy Affiliate. After two years, and several websites, I am still an active member on the platform, because everyday I am still reaping immense value from it.
It has everything you need to get started, including hosting service, website builder, keyword research tool, etc. on top of the top-notch training that helps you build authority websites to get free traffic from the search engines.
More importantly to me now that I'm done with its training, the community aspect of the platform is what has pushed me onward in difficult times, without which I would never have been able to see the results I am getting today.
I am now working full time from home, growing my internet business, and making an online income. I started from scratch with zero knowledge in this area. If I can do it, you can, too.
Here's a peek into my earnings on a recent day:



That's almost $200 in just one single day. It's nothing to boast about, though, as it's just a small fraction of its full potential. I just wanted to show you the possibilities.
Check out this comparison table, so you can see how much Wealthy Affiliate offers its members:


And for reading all the way to the end of the post, I believe you have it in you to make this work. Here is your FREE PDF Guide: 4 Simple Steps to Making Money Online. Fill in your details to claim it:


If you have any concerns or questions regarding this Affiliate Blogger Pro review, do comment below, and we will start a conversation from there.
---