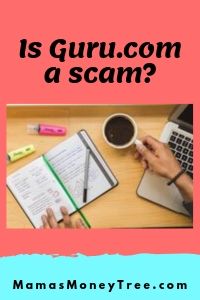 Is Guru.com a scam? I was going to give this freelancing platform a very positive review based on my own experience.
But as I scoured the internet for reviews of other users, it left me in shock.
It was appalling to learn about all the atrocities that were going on on the site, and to think I was actually immune to it all, only because of my luck in meeting a fantastic employer in there.
In this honest and in-depth review of Guru.com, let me share my own experience, as well as my findings of others' experiences, how the platform works exactly, and its pros and cons, so that you can make a decision for yourself about whether Guru is for you.
Without further ado, let's dive right in now!
---
Guru.com Review Summary
Product: Guru
URL: https://www.guru.com
Creator: Inder Guglani
Product type: freelancing platform
Price: free to join, with paid membership options ranging from $11.95/month to $49.95/month
Scam / Legit? : Legit
Recommended or not? : I'm on the fence with this. Based on my own experience, I'd highly recommend it. But based on others', I would not.
Guru is a freelancing platform that allows employers to hire freelancers to carry out work for them, whether it's writing, marketing, translating, etc.
It is a legitimate platform, but I guess the climate in the digital industry is not a very positive one, with lots of scammers around, causing too many negative experiences that Guru is not willing to mediate.
Moreover, the incompetent verification process by Guru.com on the employers looking to post jobs makes people lose their trust on this freelancing platform.
---
---
What is Guru.com
To find out what is Guru.com, let us first take a look at its website.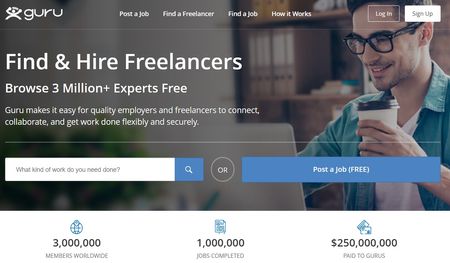 This is a platform that serves to connect employers who need to get some work done, and freelancers who want to find work.
Guru has been around way back since the 1990s.
Freelancing platforms like this have seen a rising demand, as employers find it more flexible and economical to engage for bite-size chunks of work, on an as-need basis.
This means their resources are optimised, they can also save on the hassle of providing physical facilities and operate completely remotely if they choose to.
On the other hand, we have the digital nomads, or the work from home generation, who love the time and space flexibility of working wherever and whenever they want.
Guru.com provides the infrastructure for both parties to meet and find each other, earning a cut off the payment made for the jobs, hence it is a win-win-win situation for everyone involved.

Signing up to Guru.com
Signing up is straightforward, and can be done in a breeze. As long as you are 18 years and above, you can sign up to post a job as an employer, or find a job as a freelancer.
After you verify your email address, you'd be good to go, and can start using the platform.
This shows my dashboard on Guru.com: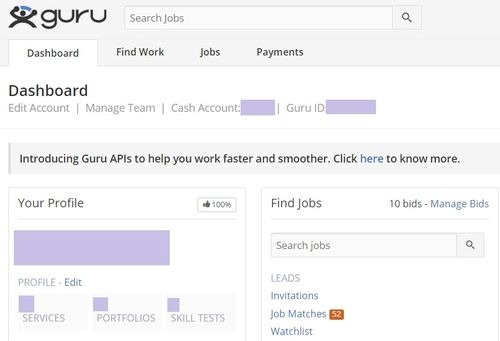 Enter your profile
As a freelancer, be honest in filling out your profile information, as it will help employers select candidates whose skills, education and experience match with what they are looking for.
It is worthwhile investing some time and effort completing this section, as this will form the first impression that your potential employers have of you.
Do not leave the portfolio blank, otherwise they really have nothing to base off their selection, and it would be very unlikely that you'd be landing any job.

Bid for the jobs
Now, you are ready to scroll through the available jobs, and start bidding for those that appeal to you. Employers can invite freelancers to quote too, if they wish.
Proposal
When you find a job that you like, you are required to write up a proposal as part of your bid.
Attach some sample work
Even though you already included a portfolio in your profile, you can submit the same samples here, in case some employers do not click through to your profile. This makes it easier for them to access your work, increasing your chances of landing the job.
Specifying payment terms
There are four options for payment terms: pay by milestones, pay by tasks, pay by hour, or use recurring payments (based on agreed rates, whether it's weekly, fortnightly, monthly, quarterly, etc.).

Buying bids
As a free member, you are entitled to 120 bids per year, which works out to 10 per month, and is a pretty low number, given that it could take many bids to eventually land a single job.
Each membership level also entitles you to a basic number of bids, and if you need more than that, you will have to make purchases of the bids, as below.
20 bids – $10
40 bids – $20
60 bids – $30
125 bids – $50
250 bids – $100

Membership options
As you pay for higher membership levels, the job fee taken by Guru decreases, the number of bids you are entitled to increases, and you get bid rollover, along with other perks.
Basic
This is the free membership that everyone is at when they first join Guru.com.
Job fee is 9%, you get 10 bids per month, no bid rollover, and skill tests at $4.95 per test.
Basic +
This membership costs $11.95 per month ($8.95 / month if paid yearly).
Job fee remains at 9%, you get 50 bids per month, with no rollover. Skill tests will cost you $2.95 each.
Professional
The Professional membership costs $21.95 / month (15.95 / month if paid yearly).
Job fee is reduced to 7%, with 50 bids per month, and 100 bid rollover per year. Skill tests are free of charge.
Business
At the Business membership level, it costs $33.95 / month ($24.95 / month if paid yearly).
Job fee is further reduced to 6%, you will get 50 bids per month, and 200 bid rollover per year. Skill tests are free to take.
Executive
At this highest membership level, it costs $49.95 / month ($39.95 / month if paid yearly).
Job fee is at the lowest of 5%, and you get 50 bids per month, with 300 bid rollover per year. Skill tests are free of charge for Executive members.
---
---

Delivering the work
Actual delivery of the work may involve some back and forth edits and discussion, depending on how clearly the scope of work was spelled out, expectations of the employer, quality of the work, etc.

Request for feedback
As long as you have a happy employer who likes the work you have submitted, make sure to get him or her to provide positive feedback for you, as this will build your credibility in the long term.

SafePay
SafePay is supposed to provide a sense of security to the freelancer, that there is some minimum fund set aside for payment, for after completion and review of the work done, to the satisfaction of the employer.
Ultimately, it is still up to the employer to honour the payment, SafePay does not lock the fund in any way.

Skill Tests
Skill tests are tests on Guru that you pay a fee to take, in order to show employers that you have acquired some level of a certain skill. This will put you in a more advantageous position than someone else who does not have these skill sets to show.

Having gone through the features on Guru.com and how it works, let me now share my personal experience working as a freelance writer on the platform.

My own experience with Guru.com
I started my freelance writing journey on Guru.com, and was very fortunate to have been engaged by an easy-going employer, who trusted me enough to let me decide on the topics of the posts that I would write for her website.
She would pay me promptly without any fuss, within an hour of my submitting each piece of work. There was never any instance where I had to edit my work, she simply accepted 100% of what I wrote. But of course my work ethic and principle is always to over-deliver.
We developed a long term working relationship that lasted for about 10 months, stopping only because I wanted to channel all my energy into my affiliate marketing businesses, which have proven to be much more profitable.
Over this time, all the work done and payment were transacted on the Guru platform, which meant it took 9% of my job fee, but I wouldn't have done it another way because I felt it served to protect both the employer's and the freelancer's rights.

Feedback from other users
Why so many people call Guru.com a scam
Having enjoyed such a positive and rewarding experience with my employer on Guru.com, I was shocked to find the huge number of negative reviews by other users, as I was preparing and researching to write this review.
These are just the tip of the iceberg: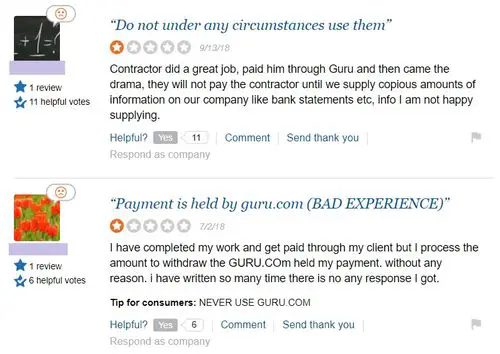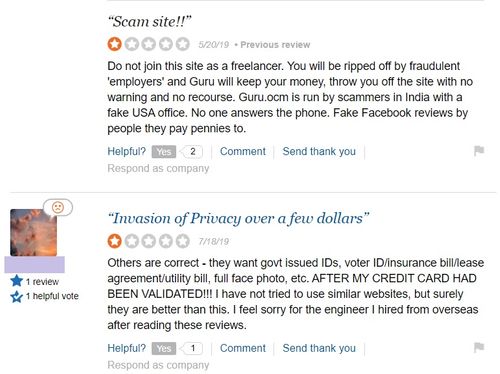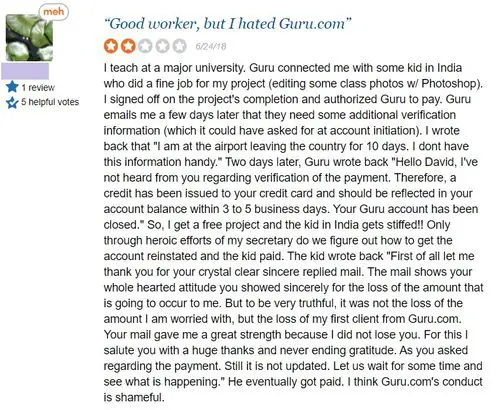 What I have included here are just some of the screenshots that relate to Guru's seemingly unethical behaviour when it comes to these issues:
– requiring a copious amount of information for the verification of employers, so much so that people are feeling uncomfortable with it;
– leaving freelancers in the lurch after they had completed their work and employers had agreed to pay them, by simply closing employers' accounts for no apparent reason.
The way they handle it is so wrong. Employers should have been verified before they were allowed to post any job. And not wait till freelancers have completed the jobs, only to find that they can't get paid because the employers' accounts have been closed.
No wonder so many people are calling Guru scam.
There is also a huge number of complaints by freelancers who had run into employers who disappear after receiving their work. I had not included those screenshots here, as those cases are very straightforward.
Had Guru streamlined their verification procedure, to get it done before employers could post jobs, then this would not have occurred.
Hence it seems like there is chaos everywhere on the platform. Employers with an intent to cheat freelancers of their effort get off the hook. Honest employers who want to pay their freelancers get kicked out of the system.
What is happening?
To be frank, after learning about all these atrocities taking place on Guru.com, I'm glad that I'm out of there, with all my earnings safe in my pocket.
---
---

To round up this article, let me recap and summarise the pros and cons, before I finally make my conclusion.
Pros of Guru.com
1. Established website
Guru.com is a very established freelancing platform, with many years of experience and credibility behind it. It is a legitimate platform for freelancers and employers to find each other.
2. Free membership option
You do not have to pay a single cent to try to find jobs on there. You only get a percentage deducted off your job fee when the payment comes through, after getting the job done.

Cons of Guru.com
1. Too many negative reviews
As you can see here, this is from just one review site, where readers can leave their comments and star rating for the company.


2. Very competitive
There can be a large number of freelancers on the platform competing for one job, if the employer is a reputable one, or if the job is one that requires skill sets that are not too specialised.
So if you do not have much experience, then you would have to charge a really low fee at the beginning, in order to have any chance of getting a job.
3. Limited bids if not taking paid membership
If you are on the free membership, the number of bids are very limited, at just 10 per month, which may not be enough to land you a single job, considering how competitive the freelancing industry is.
---

Is Guru.com a Scam? 
Though many people call Guru.com a scam, I am not willing to, based on my own very positive experience on there.
If you want to see what I think are totally worthless platforms in the work from home niche, they are: American Diversified Publications, Mommy Jobs Online, and Writing Jobs Online, to name just a few.
Guru.com is still a very legitimate platform. But from the way they operate, the best advice I can give is to find an employer who has a record of already having made payments to his or her freelancers.
This way, you can be sure the employer has already passed the verification process of Guru.com.
---

Something better than freelancing – would you consider?
As you may have read earlier in this review, I have ditched my freelance writing jobs to focus on my affiliate marketing business, which has become much more profitable than my freelancing income as it grows.
This website is my very own online business.
I am now working full time from home, growing it and making an online income. I started from scratch with zero knowledge in this area. If I can do it, you can, too.
Here's a peek into my earnings on a recent day:



That's almost $200 in just one single day. It's nothing to boast about, though, as it's just a small fraction of its full potential. I just wanted to show you the possibilities.
Find out how affiliate marketing is a much more sustainable route than freelancing.

And for reading all the way to the end of the post, I believe you have it in you to make this work. Here is your FREE PDF Guide: 4 Simple Steps to Making Money Online. Fill in your details to claim it:


If you have any concerns or questions regarding this Guru.com review, do comment below, and we will start a conversation from there.
---