The first time I landed on their website to research some information for doing up this Lilla Rose MLM review, I fell in love with their hair accessories.
They look stylish and elegant, and I especially like those bobby pins, as they are what I would frequently use for my fringe.
It's funny how I'm starting to sound like I'm promoting Lilla Rose.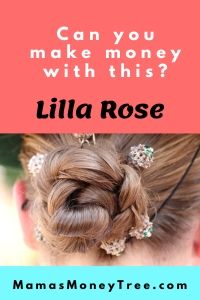 In fact I am not affiliated to this hair accessories MLM company at all.
In this post, I provide an honest and in-depth look at the marketability of their products, and the compensation plan, so that you can make a better-informed decision about whether to take up this home-based business opportunity or not.

Without further ado, let's dive right in now!
---

Lilla Rose Review Summary

Product: Lilla Rose
URL: https://www.lillarose.biz/
Creator: John Dorsey
Product type: MLM company selling hair accessories
Price: $89 Startup Kit
Scam / Legit? : Legit
Recommended or not? : Yes, if you have the means to attract free online traffic
Lilla Rose sells uniquely designed and high quality hair accessories including clips, hairbands, sticks, bobbies, etc. Though slightly pricey, I believe there is a niche market for these.
Its compensation plan is very simple compared to almost all other MLM companies, and it is a good thing to be transparent about how stylists can potentially earn from it.
My other favorite thing is its strong focus on retail, which you can leverage on, if you know how to drive free targeted traffic to your replicate website.

---

What is Lilla Rose

A brief background of Lilla Rose

John Dorsey was selling hair accessories at farmer's markets, before his business took off when he gained a huge following who loved his products.
And so he founded Lilla Rose in California.
Though it may seem odd that a man is at the center of a company that is so obviously women-centered, it didn't feel that strange anymore when I realized he is the father of two girls. 🙂
I tried searching up on his background, found some videos of him, and instantly took a liking to his down-to-earth and amicable nature.
He actually gave tribute to some of his independent stylists, by making interview videos about their lives, their families, and their entrepreneurship journey.
I have never seen any other MLM company owner like this. The kind of respect and attention he accords to his distributors is amazing, he must be such a great character to work with.

Lilla Rose Product Line

The main categories of hair accessories sold by Lilla Rose are:
– hair clips
– hair bands
– bobbie pins
– u-pins
– hair sticks
This is what I mean when I say they exude an air of elegance.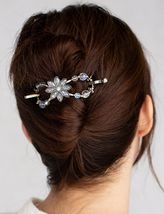 Here is another one of my favorite.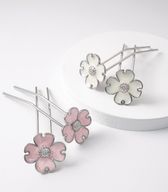 To be honest, they are not cheap. The u-pins above cost $22 per pair.
Maybe not something I would stuff my entire accessories drawer with, but I'd buy it if I happen to have some formal event to attend, and have a dress or something that goes well with it.
However, I do believe there is a niche market for it, as I'm sure there are women who can afford it, and are willing to pay for their exquisite designs that cannot be found elsewhere.
Moreover, there are some items that are considerably more reasonably priced, like their charms, which cost $3.50 each, and bobbie pins from about $5.50 per pair.

Lilla Rose Product Quality and Feedback

Generally, the reviews by customers have been nothing but fantastic, praising their beautiful designs, and sturdy materials.
Customer service has its fair share of supporters too, providing speedy resolution of issues faced by their users.
Here is an example:

---
---

Lilla Rose Business Opportunity

How to become a Lilla Rose Distributor

Simply purchase their startup kit at $89, to become a Lilla Rose Independent Stylist, and start earning from their business opportunity.

How to make money with Lilla Rose

As with any other MLM business, the two main ways to earn with Lilla Rose are: sell their products to make retail commissions, or recruit others into the company and earn residual commissions off your team.

Retail commission

The good thing about the Lilla Rose compensation plan is that it allows you to start earning retail commissions without having to meet any qualifying criteria.
So even if you only sell one item in the whole month, it's perfectly fine. You will get to make 30% commission.
In this sense, there is no pressure to perform, and it's something I like.
Once your monthly sales exceeds $200, your commission rate increases to 35%.
With monthly sales upward of $501, you make 40% in commission.
And at the highest band, more than $1000 in monthly retail sales, your commission will be 45%.
This plan shows the company's focus on retail sales, and how they are willing to reward distributors who drive sales to their business.
Even if you do not recruit a single person the whole time, you get your fair share of commissions.
However, do note that the hair accessories are not consumables.
This means customers will not have to keep coming back to buy from you every week, not even monthly.
They may purchase a bunch of items at one go, and you may never hear from them for the next few months, maybe even half a year or more, depending on their spending habits.
So if you intend to run your Lilla Rose business the traditional way, by hosting parties, I really do not think the work and costs involved are worth it.
Parties can burn a hole in your pocket, you would have to cater food and drinks, rent some equipment, etc.
This should not be the way to market MLMs anymore. With the internet, if you do not leverage on it, you are doing a disservice to your business.
See how you can increase your Lilla Rose sales with free search engines traffic:


Recruitment commission

Lilla Rose is an MLM at its core, and the way to fully maximize your earning potential is still by recruiting.
The thing that caught my attention is that there are only 5 ranks in Lilla Rose's compensation plan, which is neat.
They are: Consultant, Supervisor, Manager, Director, and Unit Director.
The details of the compensation plan can be found here.
The simpler the plan is, the easier it is to understand, unlike most other MLMs which seem to make it their sole purpose to create a compensation plan that is utterly convoluted and beyond my simple human brain.
Basically, you need to recruit many people to build a large team, so that you get to rise up the ranks, because that is where you get to reap the fruits of your downlines' labor.
What it also means is that in the beginning of your journey, as you recruit people into the business, you do not receive a compensation that is proportionate to your effort and time invested into talking to leads, facing rejections, etc.
And since the system makes it very difficult for distributors in the lower entry ranks to see any substantial earnings, most people give up.
Hence the odds are stacked against you in your recruitment efforts.
In fact, according to a report found on the Federal Trade Commissions's (FTC) website, 99% of MLM participants do not profit.
This does not just apply to Lilla Rose, it is the nature of all MLM compensation plans that only the top 1% who possess the skills in network marketing, and happen to have Lady Luck on their side, would succeed.

How Lilla Rose may or may not work for you

If you know how to get a consistent stream of targeted internet traffic landing on your Lilla Rose replicate website, then the company's strong focus on retail puts you in good stead to possibly make a good income just by selling the accessories to retail customers.


However, the fact remains that the market is not huge.
You are looking at women who can afford it and are willing to pay attention to what they wear on their hair.
Depending on how saturated the market is with Lilla Rose distributors, you may or may not be able to find success with it. But at least it is a legitimate company with a fair compensation plan that rewards for retail sales.
Personally, I would never get involved in any MLM company (again).
I find the recruitment aspect of MLM programs very exploitative of new distributors, with uplines frequently painting a more rosy picture than what reality entails, just to draw people into the 'opportunity'.
---
---

To round up this article, let me recap and summarize the pros and cons, before I finally make my conclusion.

Pros of Lilla Rose

1. Great products
For any MLM business to succeed, its products must stand out. And I think this is the case for Lilla Rose's hair accessories, which speak of style and quality.

2. Good focus on retail
As your personal retail sales increase, so does the commission rate. Not many MLM companies can do that.

3. Good support for distributors
From what I gather, there are useful training resources for distributors. Morale seems to be high too, in a conducive and supportive atmosphere, where the value of respect for their Independent Stylists is cascaded down from the founder himself.

Cons of Lilla Rose

1. Pricing is on the high side
This will limit the size of your target audience.

2. Market is not massive
Even without the potential problem of high pricing, not every female uses hair accessories. So in this sense, the market is already rather specialized, to begin with.

3. It is still an MLM at its core
No matter how great the products and other aspects of the company are, Lilla Rose is an MLM at the core of its business model.
Besides jacked up prices to pay its consultants, there is the inevitable issue of pulling people into the team just so that a distributor can rise up the ranks and benefit herself.

Is Lilla Rose Scam or legit? 

Lilla Rose is definitely a legitimate MLM company, selling lovely hair accessories.
Other MLM companies in a similar niche include MakeUp Eraser, Thirty-One Gifts, Paparazzi Jewelry, and Origami Owl, to name just a few.
Others with equally good opportunities as Lilla Rose also include Jewel Sanitary Napkins, Atomy, Color Street, and JewelScent.
---

An Alternative

Some people are able to thrive in an MLM business, but I am not one of them.
I'm very fortunate to have found something that is working for me, though, allowing me to work full time from home, never having to step out of the house if that's what I choose.
I do not have to recruit a single person.
No parties, no face to face selling.
No forking out a fee to buy any starter kit. In fact, all the companies I work with are free to join, and I can promote as many companies as I wish, all at the same time.
This business model is called affiliate marketing.
If you would like to learn more about it, click on the button below:


And for reading all the way to the end of the post, I believe you have it in you to make this work. Here is your FREE PDF Guide: 4 Simple Steps to Making Money Online. Fill in your details to claim it:


If you have any concerns or questions regarding this Lilla Rose MLM review, do comment below, and we will start a conversation from there.
---