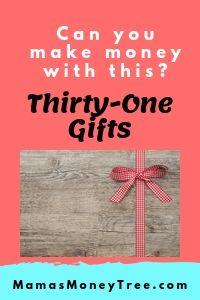 Thirty-One Gifts MLM is a very established company using direct sales for their products mainly targeted at the women's market.
The question we will answer here is: can this be the business opportunity you need to break free of your 9 to 5 job?
Welcome to my Thirty-One Gifts review.
In this honest and in-depth article, we will examine various aspects of the Thirty-One Gifts products, including quality, pricing, and customers' feedback.
We will also study its compensation plan, so that you get a better sensing about whether or not this can possibly work for you.

Without further ado, let's dive right in now!
---

Thirty-One Gifts MLM Review Summary

Product: Thirty-One Gifts
URL: https://www.mythirtyone.com
Creator: Cindy Monroe
Product type: MLM company that sells mainly handbags, along with accessories and some home products
Price: $99 for starter kit, and monthly fee of $14.95 for replicate website and branded emails to customers
Scam / Legit? : Legit
Recommended or not? : Not recommended (until they can sort out their delivery issues)
Thirty-One Gifts is an MLM (multilevel marketing) company that deals with handbags, tote bags, thermal bags, wallets, accessories, jewelry, and some home products. Consultants are mainly taught to hold parties to sell products, and recruit people to build their team.
Despite the fact that I can see potential in this business opportunity if you know how to leverage on free traffic from the internet, if its long-standing issues on quality control, delivery and processing of orders do not get resolved, there is no point promoting the company as you are going to get angry customers.

---

What is Thirty-One Gifts

A brief background of Thirty-One Gifts

Thirty-One Gifts was founded in 2003 by Cindy Monroe, with the objective of empowering women by giving them the opportunity to run their own successful business.
The name of the company was inspired by Proverbs 31, which describes a woman who is beloved by her family, and runs her household with kindness and integrity.
Based out of Columbus, Ohio, Thirty-One Gifts has since expanded into a multi-million dollar company, with its revenue peaking at $700 million in about 2015.
It has seen some difficult times, as the company hadn't planned well for the growth that hit them, and had to halt signing up new consultants for a short period of time, as well as layoff some of their staff.
Thirty-One Gifts has emerged stronger than before, and is now amongst the top three in the party planning industry.

Thirty-One Gifts Product Line

With a focus on style, quality, and the ability to customize, Thirty-One Gifts has expanded their product line from just handbags into many other areas, including a new selection of gifts for men.

Handbags and accessories
These include cross-body and shoulder bags, tote bags, backpacks, wallets and accessories, and jewelry.



Their signature piece is the large utility tote, which currently sells for $35.

Travel
Their travel duffel costs $80. Other travel bags include foldup travel bag, hanging traveler case, zipper pouch, etc.

Thermal
This series include thermal lunch bags, thermal tote bags, and even market thermal bag, picnic thermal bag, and sling-back thermal bags.

Home
Home products by Thirty-One Gifts include decorative items, caddies, photo ornaments, canvas pillow cover, and wall art canvas.
Generally, I find the prices of the products to be very high, they wouldn't have me as one of their customers.
An wooden round frame to insert a photograph costs $68. A customizable rectangle charm costs $25. A spacer bead for customizing your jewelry costs $5.
It's no wonder people are having very high expectations for their product quality.

Thirty-One Gifts Product Quality and Feedback

With the high price tag attached to their products, customers' expectations will naturally go up.
From the reviews found on the internet, I must say the majority of Thirty-One Gifts' customers are happy with what they are getting.



However, there is a sufficient number of negative reviews out there that has caught my attention, and they seem to be addressing exactly the same issues. So I think these are real problems that the company needs to resolve.
The two big things that people are grousing about are quality control (damaged goods) and processing and delivery of orders.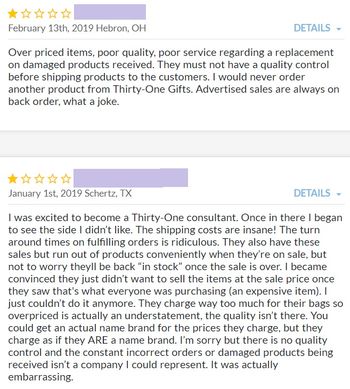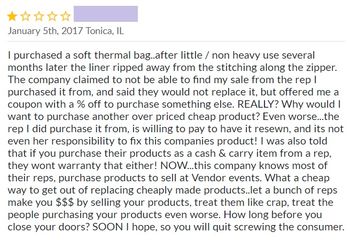 These issues have been lurking since a few years back, how far back it went, I'm not really sure. But this is just the tip of the iceberg.
I seriously think Thirty-One Gifts needs to sort out their delivery process. They are losing so many customers who get put off only after their first purchase, they wouldn't even take up discounts given for their subsequent purchases.
---
---

Thirty-One Gifts Business Opportunity

How to become a Thirty-One Gifts Consultant

To sign up as a Thirty-One Gifts consultant, you have to purchase a $99 starter kit, which has products valued at $400.
On top of that, there will be a monthly fee of about $15, for the use of your replicate Thirty-One Gifts website, as well as the rights to send emails to your customers with the brand name of Thirty-One Gifts on them.

How to make money with Thirty-One Gifts

As with any other MLM opportunity, there are two main ways to make money with Thirty-One Gifts: earn retail commission by selling their products, and earn residual commission and bonuses by recruiting people into your team.

Retail commission
As a consultant, you get to earn 25% commission whenever you sell any Thirty-One Gifts products.
But to be qualified to start earning, you have to first make $1000 in sales. Once you hit that, you can start earning retail commissions.
How long it may take you will depend on your marketing skills and strategies.
If you are hosting parties, it may get you a boost in sales, provided family and friends have not been in touch with any other Thirty-One Gifts consultant yet.
This traditional method of direct selling is very time-consuming, inefficient, not sustainable, and imposing.
Your warm market will likely buy something from you the first time they attend your Thirty-One Gifts party, to show you support, or because they feel obliged to do so. Unless they are very passionate about the products, it is not likely they will show up the next time.
Thus throwing parties exhausts your warm market too easily.
This should not be the way to promote MLMs anymore. With the internet, if you do not leverage on it, you are doing a disservice to your business.
With Thirty-One Gifts, as its product quality is good, I believe there is a higher-end market for it. People who can afford expensive bags and are looking for unique or customizable designs will be searching online.
If you can show up to answer the questions they are asking on the search engines, or presenting the appealing designs to them, then you would have landed yourself some potential customers.
With sufficient sales volume, just the retail commission alone is going to make you a handsome income. This is one thing I really like about Thirty-One Gifts' compensation plan: you do not have to recruit a single person to start earning.
By the time you are actually making a part time income out of this, it would be a breeze to recruit consultants to join your team, as they see you really making money.
When that time comes along, you will be able to tap on the full potential of Thirty-One Gifts' compensation plan, and start earning through residual commissions and bonuses.
For now, check this out:

---

Recruitment commission
After the entry level rank as a Consultant, which is the only rank that allows you to earn without having to recruit a single person, the subsequent ranks for progression are as follows:
Senior Consultant
Director
Senior Director
Executive Director
Senior Executive Director
Each of these ranks requires you to maintain a minimum number of personally enrolled, qualified and active consultants, along with minimum personal sales.
For more details, see the compensation plan of Thirty-One Gifts.
It will test your leadership skills, marketing skills, and interpersonal skills. You would have to continue bringing new consultants into your team, and at the same time keep the existing ones, by training them and equipping them with the expertise to profit from this venture as well.
No one would stay if they are not making money.
This works best if you already have a marketing strategy that has worked for yourself to see you rise through the ranks. It is also why I recommend that you earn through retail first, before you try to recruit.

Why Thirty-One Gifts may or may not work for you

The biggest factor that increases your chance of success with Thirty-One Gifts is that at the entry level, you can earn a good amount simply by driving product sales.
And if you know how to find a highly targeted audience that is looking for what you are selling, instead of trying to shove the expensive products to people around you who do not need them, then your earning potential will reach a new high.
On the other hand, an equally critical factor that puts this business opportunity in not-so-good light is the efficiency with which the company processes their orders.
If the slow processing and delivery of goods do not see an improvement, then maybe it's time to dig around for some other venture instead.
---
---

Pros of Thirty-One Gifts

1. Established company
For such a company in the luxury niche to have lasted that long, it says something about them knowing their stuff.

2. Quality products
Most customers are very happy with the quality of the bags and other products from Thirty-One Gifts, and that is a crucial success factor.

Cons of Thirty-One Gifts

1. Exorbitant pricing
Prices of Thirty-One Gifts are comparable to designer brands, for which it is not. Thus it may not be that easy to sell their products.

2. Minimum sales requirement
To make $1000 in sales may not be an easy task for everyone. In the meanwhile, you do not get to earn a single cent.

3. Focus on recruitment
Just as with any other MLM company, to really maximize your earning potential with Thirty-One Gifts, you have to build up your own team of consultants, so that you can make residual commissions and bonuses.
It is difficult to sustain an active, motivated team, as the success rate for MLMs is extremely low, and hence drop off rate is sky high.

4. Family and friends start to shun you
This will happen if you keep pestering them to attend your Thirty-One Gifts parties.

Is Thirty-One Gifts Scam or legit? 

Thirty-One Gifts is definitely a legitimate MLM company, with promising earning potential, provided you know how to market your business on the internet.


Other MLM companies in a similar niche include JewelScent, Origami Owl, Paparazzi, and Vantel Pearls, to name just a few.
---

An Alternative

If you are keen to explore other ways of making money from home, I'd love to show you the business model that I am using. Check out the button below:


And for reading all the way to the end of the post, I believe you have it in you to make this work. Here is your FREE PDF Guide: 4 Simple Steps to Making Money Online. Fill in your details to claim it:


If you have any concerns or questions regarding this Thirty-One Gifts review, do comment below, and we will start a conversation from there.
---