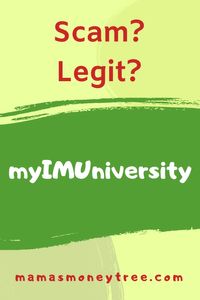 What is this course building software that you have been hearing about? Is myIMUniversity scam real? Or is it a golden opportunity to finally make it rich on the internet?
This is crazy:
If you look at all the affiliates trying to promote this product, throwing in all their extra bonuses, they are actually all jostling for a piece of the pie, trying to get you to buy this software from them, rather than others.
You would be shocked:
None of them have earned a single cent using myIMUniversity, and yet they are selling it as though their lives depended on it.
The way these affiliates earn their income is to ride on the wave of each new digital product's launch, and they fervently sing its praises, regardless of how useless the product is. They care only for their own pockets, not whether they add value to you with their 'honest' reviews.
It's different here.
I'm not promoting this product. And I just want to give you my sincere and unbiased view about it, so that you can make the best informed decision for yourself.
We will explore the inner workings of myIMUniversity through the following sections:
---
myIMUniversity: Review Summary
Product: myIMUniversity
URL: https://www.myimuniversity.com/cb/?hop=0&mobile=true
Creators: Dr Amit Pareek and Er. Ashu Kumar
Product type: software that allows you to create your own e-learning platform
Price: $$47.60 for standard plan, or $68.60 for commercial plan
Scam / Legit? : Legit
Recommended or not? : Not recommended
myIMUniversity is a powerful software on which you can create and sell online courses, tapping on the fast expanding e-learning industry. Though it seems promising, it isn't going to get you rich too quickly. Firstly, it is more catered towards the internet marketing niche, which has too many scammy products. Secondly, a cloud-based software would mean the security of your customers' personal particulars and payment details would be put at a higher risk.
With the sales of this product, you would see tiny e-learning platforms sprouting up all over the place, all offering the same kind of stuff, so how are you going to stand out from the rest?
And how do you compete with the well-established giants in the industry, like Udemy, Coursera, and many others? They spent lots of time and money developing and fine-tuning their platforms, with their own developers and support centre. It's hard to beat what they have, so why would anyone choose you over them?
A reliable and consistent source of traffic to land on your platform will also be hard to find, unless you use paid advertising, which you may not be able to afford as a beginner.
So my take on this is: even though the software is good, but as a business opportunity, it is fraught with too many big hurdles that make it not so feasible as a one-man operation model.
If you do not want to waste anymore time and money on products that are not likely to work for you, check out my #1 recommendation to making money online:

Read on for the detailed review of myIMUniversity, and why I do not recommend it.
---
What is myIMUniversity
Information presented in sales video and landing page
What is this cutting edge software that creates Udemy-like sites, with in-built members area packed with HD video courses, support desk, and video hosting in just 7 minutes?
Look, it's so easy: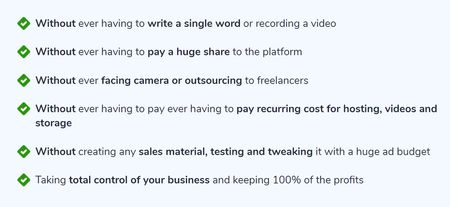 Without writing a single word, you can create multiple courses and funnels, add unlimited students and leads, with a done for you lead generation system, and fully protected content delivery.
You can accept payments from PayPal, ClickBank, JVZoo, and Warrior+Plus.
No domain or hosting is required, since this is a completely cloud based system.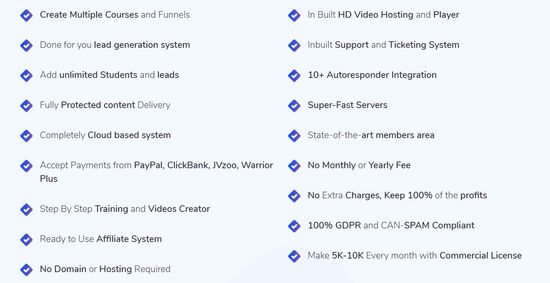 It gets better:

With this done for you service, you do not have to do any work!
No manual work, no complicated softwares. Simply create highly professional courses in 3 easy steps:
It all sounds so easy, and too good to be true. What's the catch?
That's what we will be answering in the next section.
How myIMUniversity really works
The way Udemy is run: individuals come in with their own courses, and pay a fee to Udemy for selling the courses on their platform.
Then why does it work so differently for myIMUniversity? Why don't you need to work with these freelancers to put up their courses on your platform? Why does it seem like there are ready courses for you to choose from?
And what has ClickBank, JVZoo, and Warrior+Plus got to do with this?
The answer is simple.
The creators of this software are tapping on the affiliate networks: ClickBank, JVZoo, and Warrior+Plus, to allow you to put the courses from these affiliate networks onto your e-learning platform.
It means you are basically promoting these internet marketing products as an affiliate, and earning a commission when your 'students' sign up for these training courses.
That is why you have these on the sale page of myIMUniversity: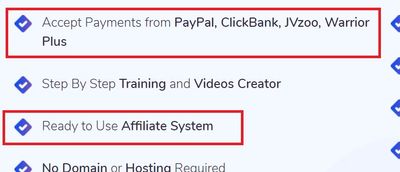 And that is the reason for the term 'IM', which means internet marketing.
So basically, you are promoting products in the internet marketing niche.
Let me tell you something very frankly: many (not all) of the digital products on these affiliate networks ClickBank, JVZoo, and Warrior+Plus, are useless to consumers.
These products sell because they always promise to let people make lots of money very quickly. But we know such things do not exist. So they always fail to deliver up to expectation.
Would you want to be the owner of an e-learning platform that sells courses which claim to help people get rich fast but always disappoint? There is no value added to the consumers, except the life lesson that they should not be so trusting of your platform anymore.
Your name and reputation will be at stake.
See, here they are again, teaching you that you do not need to create your own courses, or get the freelancers to do it.

And they don't even tell you openly that this is all about affiliate marketing.
Why myIMUniversity will not work for you
Even if you decide that selling empty promises to vulnerable people is what you want to do with your life, there are other issues with this product that you need to be aware of.
Data is not secure in the cloud
Since this software runs completely on a cloud based system, it means that your students' personal particulars and payment details may not be safe. Check out this article on McAfee website to learn more.
If you do not have the technical know-how and expertise to protect your students' data on a system that allows you to collect their personal information and payment details, then it is irresponsible to do so.
And there is no mention on the sales page about this aspect, so I'm not sure if the creators of myIMUniversity even care about this.
Duplicate 'universities' all over the internet
As you set up your e-learning platform, there will be many duplicates of it sprouting up all over the internet, if people are buying into this product.
Firstly, it will mean an uphill task for you to rank in the search engines. Because search engines do not like duplicates. Then how are your potential students going to find you?
Secondly, how will you make your platform stand out, so as to have a competitive edge over the rest of the 'universities'?
Such a platform on a small scale will never be on the same league as sites like Udemy and Coursera, that took so much time and effort to develop and set up. People searching for internet marketing courses will end up there, and not on your site.
And in fact, that will be better for those students, because courses on those established platforms will be much more legitimate and useful than those get rich quick schemes that you will be taking off of the three affiliate networks.
Where to get Traffic for your myIMUniversity platform?
This is another major hurdle that you have to consider before you get into this e-learning business.
With all the other major players in the industry, together with these tiny ones springing up as a result of purchasing this product, how are you going to find traffic to land on your site?
You can't beat the giants that took years to establish their authority, when it comes to organic traffic from search engines.
If you are looking at paid advertising, it is something I really wouldn't recommend for a newbie, because paid traffic is a steep learning curve. You pay your way through your learning, as you try things out, make mistakes, test out stuff, fail again, and try again.
In the process, you could be throwing thousands of dollars down the drain before you know where to find the potential customers on one specific platform.
So unless you have money to throw, paid traffic is a very risky thing.
Email lists would be another possibility, but not without its drawbacks. Since you do not have your own list, you can buy other people's email lists (again, incur a cost), but they may not be targeted, so the number who eventually go onto your site to buy the courses may not be enough to cover what you spent on buying the list.
Traffic is huge when it comes to any business' success.
No traffic, no sales.
It doesn't get any simpler.
The proper way to make money online
Affiliate marketing is a lucrative way to earn. It is neat and hassle-free, because you do not need to create or own any products, no inventory to deal with, no deliveries or customer complaints to handle.
The transaction is between the customers and the product owners.
But affiliate marketing extends much more beyond digital products and online courses in the internet marketing niche. In fact, the sky is the limit. I can choose to promote anything in any niche that I am passionate about.
With my own website, I build lots of content around my niche that serves to add value to people. Search engines will start to see my site as the authority in the niche area, and reward me with free organic traffic.
People who search for answers related to my niche will see my website ranking on page 1 of their search results, and hence land on my site. Because they are actively searching for what I am offering, they have strong buyers' intent.
My offer is the perfect match for what they are looking for (which is how they landed on my site in the first place), they click through my affiliate link to buy the product, and I earn a commission from the retailer or vendor.
This is the business model used by many successful internet marketers to make an online income.
Does this sound like something you would want to give a shot at?
Then click on the link below to head over to my other post, where I go in great detail to explain how exactly the method works:
---
Pros of myIMUniversity
1. Real owners
Yes, the creators of this software are real people, so we can expect some level of credibility and accountability.
2. 60 day money back guarantee
This basic refund policy is in place, for people who are dissatisfied with the product.
3. You do get an e-learning software
This software will allow you to create an e-learning platform as what it claims to be able to do. But how good it will be for your wallet, is a totally different question that I will leave you to decide for yourself.
Cons of myIMUniversity
1. Only works in the internet marketing niche
The internet marketing space is full of products that will not work, or are not trustworthy. If you are promoting these products, you will not be getting many repeat customers.
2. Traffic will be a problem
It will be a huge problem getting traffic to land on your site. Established e-learning giants to take up almost all the organic traffic from search engines. Paid traffic will burn a huge hole right through your pocket.
3. Data may not be secure
A software that is cloud based is at greater risk for data security issues.
4. Upsells
Like many other digital products in the internet marketing niche, myIMUniversity is no different, with all its pricey upsells that try to dig deeper into your wallet.
Upsell 1: $47 to $97 – Pro upgrade
Upsell 2: $47 to $97 – Authority upgrade
Upsell 3: $197 to $297 – Agency License
Upsell 4: $27 to $297 – Premium membership
---
I do not recommend myIMUniversity, because you will not be getting the traffic that you need to profit from it.
I want to show you a better way to make money online, something that I am using to make my online income.
It is this awesome training platform, that will teach you everything there is to learn about affiliate marketing.
And the best part?
They focus on teaching you to build content on your website, so that you will get free organic traffic, which is the best kind of traffic, because they are actively searching for what you have to offer. So there is strong buyer intent, and the conversion rate will be high.
The best deal is:
There is a free members area, where you will get 2 websites, absolutely free (includes hosting, and domain name, which you will get to choose), along with 10 free lessons on affiliate marketing, which is so top-notch that it far exceeds many expensive training courses you find elsewhere.
Hop over to my review of this training platform, to learn about all that it has to offer for complete beginners. Click on the button below:

If you have any concerns or questions regarding this myIMUniversity review, do comment below, and we will start a conversation from there.
---