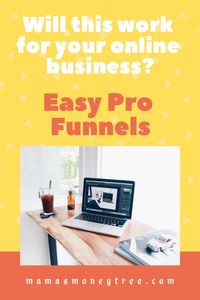 If you are here checking out what is Easy Pro Funnels because you have received some promotional material about it in your inbox, then you have landed at the right place.
This is crazy:
You will see all the raving reviews about this product all over the internet, those are all done by its affiliates, who throw in their own bonuses to get you to buy from them instead of the others, all jostling for a piece of the pie.
Here, you will be in safe haven. Because I am not promoting this product. So you can be assured of my honest and unbiased views.
I will provide an in-depth review of Easy Pro Funnels, through the following sections:
---
Easy Pro Funnels: Review Summary
Product: Easy Pro Funnels
URL: https://easyprofunnels.com/fe/index.html
Creator: Matt Garrett
Product type: email marketing for your affiliate offers
Price: $97
Scam / Legit? : Legit
Recommended or not? : Not recommended
Easy Pro Funnels is a series of done for you sales funnels, focusing on incorporating an email autoresponder service to your affiliate offers, so that you can earn affiliate commissions when people buy those products.
No matter how great the tools are for your marketing campaigns, the crux of the issue always boils down to getting traffic to your offers. If you are not able to get people to land on your funnel, and opt in to your email list, then you are not going to get any business.
If you do not want to waste anymore time and money on useless products, check out my #1 recommendation to making money online here:

Read on for the detailed review of Easy Pro Funnels, and why I do not recommend it.
---
What is Easy Pro Funnels
Exactly what is Easy Pro Funnels?
Touted as the ultimate affiliate marketing tool that can save you weeks or even months of work, it removes all barriers from getting started.
As a beginning affiliate marketer, you may find your affiliate requests never getting approved, autoresponders are too difficult for you to handle, or you just do not know how to put together a profitable sales funnel.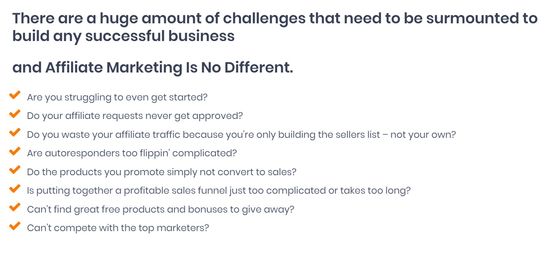 If these sound familiar, and there always seems to be so much to learn and do, then the solution for you is Easy Pro Funnels.
As a web-based application, this software gives you everything you need to become a successful internet marketer. More importantly, it allows you to achieve that today!
You don't need to own your products, or have a website. No technical skills or long-drawn training required. No complicated set up, and you do not need any previous affiliate sales history.

It is easy to use, and gives you professional results.
There are guaranteed JVZoo affiliate approved products, and you can add and promote more products from JVZoo, Warrior Plus, and ClickBank.
With this product, the entire affiliate marketing process is demystified, you will get traffic training, guidance on email marketing, some email swipes, plus new training modules every month (I'm not so convinced about this, though, if the price is a one-off fee, they can't be indefinitely providing new monthly training for you).
It all sounds so promising, a hundred bucks is nothing if it can get you into the same league as the top affiliate marketers, isn't it?
Not so fast.
Read on as I explain why this will totally not work for a beginner.
Why Easy Pro Funnels will not work for you
What is affiliate marketing?
First, let me start with this, in case there are some readers who do not have a clear idea of this business model.
In affiliate marketing, you basically look for existing products and services that are already available in the market, to promote to your audience. When they click through your affiliate links to purchase the products, you earn a commission from the retailers or vendors.
It is a very neat and hassle-free way to make money online, since the sales transaction occurs between the customers and the retailers, so you actually do not have to deal with inventory, deliveries, customer complaints, refunds, etc.
But because the barrier to entry is very low, there are many people doing this, and you may find it hard to get any sales at all.
What I want to tell you is this:
Anyone can succeed in affiliate marketing, if you do it the right way. I will discuss this proper way in much more detail in one of the later sections.
Easy Pro Funnels deals with products in the internet marketing niche
First, the most stark issue here is that Easy Pro Funnels helps you promote only digital products in the internet marketing niche. Nothing wrong with that per say, except this niche is full of so many scam products promising to get people rich fast.
Because only products like these will sell.
But they never work.
So if you go for Easy Pro Funnels, you would be selling many useless products to people. Which means you won't be getting any repeat customers soon, and you won't be able to build up a good reputation for yourself.
Why does the sales page of Easy Pro Funnels keep highlighting that one main problem faced by newbies is that their affiliate requests never get approved?
This does not happen in any other niche when you do affiliate marketing. Companies will always be happy when there are people who want to do free advertising for them!
The reason is because only affiliate marketers known to the product vendors will get approved, or you must have proven yourself to be capable of writing raving reviews that can get sales. But for a newbie, it takes time and hard work.
In my opinion, this also means they are limiting the number of small and not-yet-established marketers, so that they do not have too many hands inside the pot of gold.
But if you buy this expensive Easy Pro Funnels, then you get access to some of their guaranteed JVZoo affiliate approved products. How can this get you approved to promote the products, if you did not succeed when trying to request for it yourself? It's because of their inner circle, these affiliate marketers, many of them are friends.
You part with your money by buying this, so they let you in slightly to promote some of their products. You have no idea what those products are until you get into Easy Pro Funnels.
Email autoresponder does not come cheap, and it may not work in your favour as a beginner
To implement Easy Pro Funnels and make use of their email marketing campaigns to send people to your affiliate offers, you need to subscribe to the specific email autoresponder service providers stated on the sales page: GetResponse (which has a monthly subscription fee between $15 to $65), or a free SendGrid account which is totally not recommended (see their consistent one-star reviews from 2016 onwards).
If only the problem is just limited to cost.
It's a lot more than that.
You see, when you send emails to your audience, and they are interested in your offers, most people will do their own research before buying.
They will go onto the search engines, and try to search on reviews of the product.
Guess whose websites will turn up on page 1 of their search results?
Yes, these successful marketers who are teaching you that you do not need a website, your potential customer will land on their site, read their reviews, and use those links on the site to buy the product, because they are offering fantastic bonuses, extra stuff that they threw in to make it a perfect deal!
So you are paying them, to buy Easy Pro Funnels, to drive traffic to them.
See the big picture now?
This will happen, if in the first place you can get any people onto your email list at all.
Where will these people come from, to land on your landing page where they can opt in to be on your email list?
Traffic – the key to any business.
Where do you get traffic?
Many people will tell you the fast and easy way is paid traffic. Yes, it may be the fast and easy way for experienced marketers. But it can be the downfall for a beginner.
Paid traffic is a steep learning curve to master. How do you learn paid traffic? By actually paying.
You pay to run ads on the platform you choose, it could be Google Adwords, or FaceBook, or Instagram, whatever. Even one specific platform takes you time and lots of money to figure out what works for you. You will need to test out your advertising campaigns, tweak stuff here and there, change the demographic profile of your targeted audience to see which type will give you the highest conversion rates, etc.
If done properly, maybe with a few thousand dollars, you will be able to master paid traffic through one platform. But as a beginner, if you go in blind, not knowing what you are doing, it's a very risky business, you can run into real debt. So it's totally not recommended.
Some people may also teach you to run Solo Ads – you pay to run your advertising campaigns on somebody's email list. Again cost is involved, and you do not know how targeted this list is. Your emails may be seen as spam. So it's another not so ideal method, because you do not know the industry players well to know whose lists are good.
These marketers in the internet marketing niche, they will not teach you the best traffic method, because then people will run away from them.
Read on and you will know what I mean…
The proper way to do affiliate marketing
Traffic is key to any business. No traffic equals to no sales. As simple as that.
The best find of traffic is free. It is called organic traffic. To get free organic traffic, you first need a website, the exact thing that the owner of Easy Pro Funnels said you do not need.
With a website, you build content on it, that is related to your niche. When you build consistent and authentic content, search engines see you as the authority in the niche, they start to trust that you are adding value to your website visitors.
So when people use search engines to search for answers related to your niche, your website will show up with high rankings, on page 1. People will click through to land on your site.
This is the most powerful form of traffic, because they have strong buyers' intent. What they are searching for and what you are offering are the perfect match. That is how they found your site in the first place.
So they will be the most ready to convert into buyers on your site.
This is a simple concept, and it works. But it is hard work. It takes lots of time and effort to get great rankings in the search engines, otherwise everybody will be ranking on page 1, which is of course absurd.
That is why those people trying to make your money will not teach you this method, otherwise you will run away. Humans naturally want to avoid hard work. They want to get rich fast, with little to no effort.
So that is what those opportunistic marketers will sell – products that promise to make you rich instantly.
If you think what I say makes sense, then I want to show you how you can take action now, to start making your online income the proper way (this includes how to set up your own website):
---
Pros of Easy Pro Funnels
1. Real owner
Mark is a real person, known in the internet marketing niche. He is what he says: an affiliate marketer, as well as a vendor in creating digital products. So he knows what he is doing. He knows what kind of products will make huge sales, but whether these products can really help you, it's up to you to decide after reading what I've written so far in this review.
2. 30 day money back guarantee
This basic refund policy is in place, for people who are dissatisfied with the product.
Cons of Easy Pro Funnels
1. Only works in the internet marketing niche
The internet marketing space is the wild wild west. There is no one to police the products that are being sold and promoted, so if you are not discerning about what you promote as an affiliate marketer in this niche, it will not lead to an honest and sustainable online business.
2. Not the right time for email marketing
As a beginner, you should minimise spending. Without traffic, there is no point in subscribing to an email autoresponder. Focus on building up a solid foundation for your business, by building content on your website.
When it is established and you are getting free organic traffic from the search engines, you should then check out all the available email providers, and decide for yourself which one is best for your business, instead of just taking up whatever this Easy Pro Funnels suggests to you.
3. Key ingredient is missing – Traffic
Without traffic coming to your offers, there is no point doing up all the professional-looking funnels, setting up email marketing campaigns. It will be money and effort wasted. This time could have been much better spend setting up your website and flooding it with content, so your site gets to mature and build credibility in the eyes of the search engines.
4. Upsells
As with any other product that tries to make the most money out of you, this Easy Pro Funnels is no different. You will be bombarded by pricey upsells, right after you buy the front end product, even before you get a chance to try it out and see for yourself if it works or not.
To me, that's not caring for or respecting their customers.
Upsell 1: $27 per month – Easy Pro Funnels membership (pay them to promote the products made by their own circle of marketers? Works for them, but not such a good deal for you)
Upsell 2: $147 – WP Toolkit Developers Edition (I do not see the relevance of this upsell here)
---
I do not recommend Easy Pro Funnels, as the sales page is misleading that this product will bring you to the same level field as the top marketers.
It is as useless to you as many other products I have reviewed, like Affiliate Funnel Studio, Social Video Suite, and Spring Profits, to name just a few.
There is a right timing for an online business for the various strategies. For a beginner, focus on building up your website, and creating authentic and helpful content on it, that will add value to your website visitors.
Check out this awesome training platform, which offers you 2 websites, absolutely free (including hosting and domain name of your choice), along with 10 free lessons on affiliate marketing:

If you have any concerns or questions regarding this Easy Pro Funnels review, do comment below, and we will start a conversation from there.
---