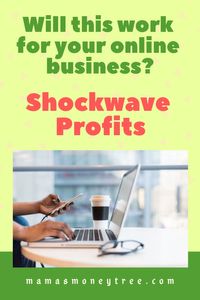 If you have just received some promotional material about this product in your inbox, and are here checking out what is Shockwave Profits, you have landed at the right place.
First, I want to congratulate you for doing your due diligence in doing your own research, before buying anything. Especially these days, with the amount of scams going on, you really can't be too careful.
This is crazy:
You would have seen all the raving reviews about Shockwave profits, as you dug around. Those are all done by the affiliate of the product, who will throw in their own extra bonuses, just to make people buy from them instead of the next affiliate. They are all jostling for a piece of the pie.
Regardless of the quality of the product, these affiliates will promote it like their life depends on it. Because this is how they make their living: ride on each wave of product launch to make a killing.
Here on my site, it's different.
This is safe haven, as I am not promoting this product.
You can be assured of my honest and unbiased review of Shockwave Profits, through the following sections:
---
Shockwave Profits: Review Summary
Product: Shockwave Profits
URL: http://shockwaveprofits.net/live.html
Creators: Bill Hugall, Simple Spencer, and Erik Cagi
Product type: Using FaceBook's messenger bot (ManyChat) to send traffic to affiliate offers
Price: $7.97
Scam / Legit? : Legit
Recommended or not? : Not recommended
Shockwave Profits is all hype and misleading information on the sales page, with lots of hidden costs in the method taught to drive traffic to your affiliate offers, which is by using the FaceBook chatbot, ManyChat. It is a low quality training that promises the moon, but is not going to deliver.
If you do not want to waste anymore time and money on useless products, check out my #1 recommendation to making money online:

Read on for the detailed review of Shockwave Profits, and why I do not recommend it.
---
What is Shockwave Profits
To answer this question: what is Shockwave Profits exactly, we will first take a look at its sales video and landing page.
What is this secret traffic source that can make you $125.78 in 24 hours? Without requiring any email list, paid traffic, or technical skills?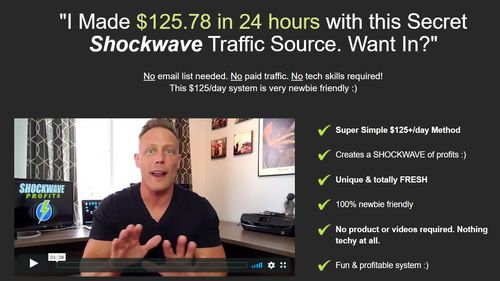 Completely newbie friendly, it is super simple, totally unique, with no products or videos required.
It gets better:
This secret untapped method brings in surefire results without any tedious blogging or SEO (search engine optimisation).
Just spending 30 minutes a day on this method is going to get you some shockwave traffic.
So after all the hype, promise of easy work and surefire results, they never revealed a thing about what this method is. They expect you to go in blind and just purchase the product.
Do you think they care about you?
I would say they care about their wallets much much more.
In fact, if they had been upfront about what the traffic method is, no one would buy the product anymore. Because it is not the "secret untapped method" they would have you believe.
What Shockwave Profits really is, and why it will not work for you
FaceBook messenger bot
Shockwave Profits is nothing more than a set of training videos that teaches you to get your traffic from FaceBook, using their messenger bot, called ManyChat.
This bot is nothing new. There are lots of free resources you can find all over the internet to learn how ManyChat can help your business, and how it works. A good resources is this one linked here.
Messenger bots are great in doing repetitive tasks that do not need a human, for instance, in answering very standard questions that your audience may have about a product, like the price, advantages, etc.
Bots are not smart. They are just programs. They can never replace a human, in understanding complex requests, how to pitch your sales by understanding your customers' behaviour pattern, etc.
In fact, your leads are too precious to be left to robots. Make one mistake in an answer to a customer's query, and you would have lost that customer for good.
These are things you need to consider, before deciding to what extent you want to automate the interaction with your audience on FaceBook messenger chat.
You do not need Shockwave Profits to learn this FaceBook messenger bot method, in fact their training is just too superficial. If you are a beginner trying to make some money online, you should start from the important foundation of building up your own website.
Ironically, it is the exact thing that the creators of this product told you you do not need in the sales page, and yet in the training, very early on, they get you to set up your own WordPress website.
That's how confusing they can be.
Since we're at it, let's take a look at the training videos that are in this Shockwave Profits.
Training Videos in Shockwave Profits
Overview of Shockwave Profits
Creating your Shockwave site with EasyWP (This is the website that they teach you to create, after promoting Shockwave Profits on its sales page as not requiring any website?! And there is a cost to the hosting, as well as domain name)
Setting up your ManyChat account (another hidden cost involved)
Creating your Shockwave traffic magnet
Putting it all together
100% free traffic waves (basically teaches you to find FaceBook groups in your niche, join them, and post to promote your affiliate offers)
How to drive quality buyer traffic (this is paid traffic, which I will dwell more about later)
Time to make Shockwave profits
Erik's personal case study
Conclusion
Free traffic from FaceBook groups
It is not as easy as they make it sound, to get free traffic simply by joining FaceBook groups in your niche.
Firstly, groups are formed mainly for support and information, they do not like to be spammed. So in most groups, selling and self-promotion are not allowed. If you do not follow the rules, they would be very happy to kick you out of the group.
So if you want to use FaceBook groups for your business, you have to first add value to the group. Be an active contributor by answering people's questions, give good suggestions, sometimes you can subtly link to your website when you point people to some relevant post for more information on the topic being discussed.
Only when people know you and trust you, they see you as genuinely trying to help people and not simply there just to push for sales, then they will frequent your site, and be open to your recommendations.
So it means you need to have a website. It also means it takes time and effort to nurture relationships with people in the group. Results will come, but it won't be easy like what you are led to believe with Shockwave Profits.
Paid traffic is very risky
The other way that Shockwave Profits teaches you to get traffic is by paid ads on FaceBook. This can work, but only for the experienced marketers who have financial resources to invest in their education.
What does that mean?
You see, paid traffic is a very steep learning curve. For each platform (FaceBook in this case), you need to know who your customers are, their demographic profile, their behaviour patterns and preferences, and where to find them.
Even for experienced marketers who are doing paid ads for the first time on any platform, it takes lots of money to test out their marketing campaigns, and their target audience's response. This means thousands of dollars down the drain, before you start to understand your potential customers better on this platform.
So it is something I would definitely not advise for complete newbies in the internet marketing space to try out. Without any experience of the customers in your niche, you are going in blind, and even with thousands of dollars, you still may not get the results you want.
Testimonials of Shockwave Profits
Take a look at the people singing praises of this product: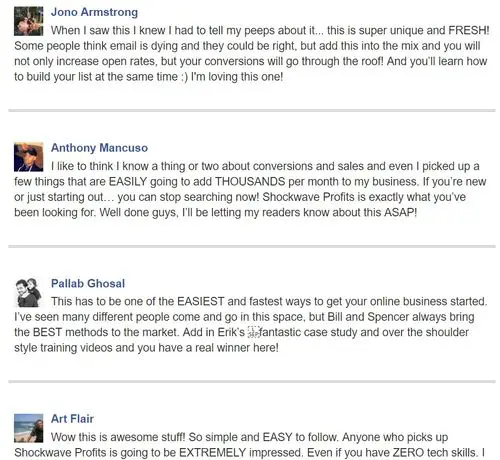 These are all friends with the creators of Shockwave Profits. They are a circle of internet marketers, who make their living off launching new products in the internet marketing space, that promise to get you earnings fast, with little to minimum work.
They are always there vouching for each other's products.
The products they sell may be teaching methods of what they are currently practising, but they know it will never work for the newbie. Because they themselves never reached success using these methods.
They struggled and worked hard on their websites or YouTube channels to establish themselves, for months and years, before finally reaping their rewards. Ask anyone who is sincere and successful, and you will know success only comes to those who work for it.
And yet now they are selling their current methods, which works for them only because they are very much established in their niche. Yes, these methods will get them fast results, and big earnings. So they sell it because that is what everyone likes to hear.
They will happily share with you all their secrets and pocket your money in the process, because they know you will never get there without a strong foundation to your online business, which comprises a website to build your content on, as well as time and effort to establish your site.
Now:
I want to show you this proper way to online success. The way that every successful internet marketer has gone through, and that is why now things seem so easy to them. It wasn't easy for anyone when they first started off.
If it were so easy, everyone would be millionaires by now, considering the internet has such low barriers to entry.
Only those who can see past the shiny objects, and stop chasing after them, and can accept that hard work is what it takes to build up your online income, will ever get close to earning a full time income on the internet.
This awesome training platform gives you 2 free websites (including hosting and domain name), as well as 10 free lessons on affiliate marketing. So that you get to try it out, totally risk free (they do not even require any credit card details), before deciding if this is really the way you want to go.
Check it out by clicking on the link below:
Disclaimer of Shockwave Profits
Look at what they wrote in their disclaimer:

Now they tell you hard work is the prerequisite to success, and yet on the sales page of Shockwave Profits, they make everything seem so easy.
If that wasn't misleading, I do not know what is.
---
Pros of Shockwave Profits
1. Real owners
Yes, you do get the real owners showing up in front of their product, so we can expect some minimum level of credibility and accountability.
2. 30 day money back guarantee
This basic refund policy is in place, for people who are dissatisfied with the product.
3. There is some value in the training
Maybe, as a complete beginner, you can learn some stuff about FaceBook marketing from this product. But really, in these days of the information age, a wealth of great stuff can be found for free on the internet.
Cons of Shockwave Profits
1. FaceBook messenger bot may not be the best thing for your business
It can be a helpful tool, if you have an established FaceBook page for your online business, where there are many people asking regular questions that can be answered by a bot.
Otherwise, I would suggest that you still personally handle most queries, as potential customers are too precious to be left to a brainless bot.
2. Not minimum effort like what it is made to sound
This method may seem effortless to Erik in his personal case study. But that is because he is already established in the internet marketing niche. All the months and years of sweat he put into the business before this are things that will never be told, because they are selling products that promise to help people get rich fast.
3. Not for beginners
Paid traffic is NOT recommended for beginners, as it is very high risk. You can be throwing in lots of money, and get yourself further in debt before you even see the first sales. Paid ads can get more traffic to your offers, but those traffic may not convert, especially if the funnels are not properly done to guide people to eventually make the purchase.
4. Upsells
As with any other product that is created to make money for its owners, Shockwave Profits is not different. You will be bombarded with pricey upsells, once you purchase the front end product, and even before you get a chance to try it out and see the results for yourself.
Upsell 1: $27 – Done for you pack + case studies
Upsell 2: $17 – Super simple $300/day method
Upsell 3: $37 – resale rights
Upsell 4: $27 – how to bank insane 5 figure days
Upsell 5: $12 – Simple buyers list building method
---
I do not recommend Shockwave Profits.
To succeed online, just as for anything in life, it comes with sacrifices and hard work.
It is actually not that hard, if you follow the path taken by the successful internet marketers.
This is what I want to show you: a training platform that is the best for building a strong foundation in your online business. It has comprehensive step by step training catered for complete beginners, from setting up your websites to getting free traffic from search engines.
There are some of the most successful internet marketers on there, creating tutorials and webinars, so that even the advanced marketers are not short of great things to learn every single day.
The best thing is:
You get 2 free websites (including hosting and domain name of your choice), and 10 free lessons to start with, so that you get to go right in to see how top-notch the platform is, and how genuine the entire community is.
Click the button below to check out my detailed review of this platform:

If you have any concerns or questions regarding this Shockwave Profits review, do comment below, and we will start a conversation from there.
---