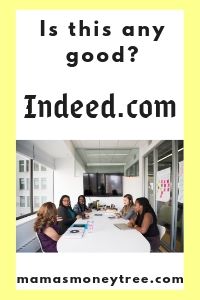 What is Indeed.com, what is happening to this job search platform in 2019? Why does there seem to be so many more complaints about the company in recent months? Is it still a trustworthy site for employers and employees to find each other?
Welcome to my Indeed.com review.
We will answer the above questions and much more, in my honest and in-depth review of Indeed.com, as we examine its current state of affairs, so that you can make a better-informed decision for yourself, as to whether you want to use the platform in your job search.
Without further ado, let's dive right in now!
---
Indeed.com Review Summary
Product: Indeed.com
Product type: Job search platform
Price: Free to search for jobs, free or paid to put up job postings
Scam / Legit? : Legit
Recommended or not? : Not recommended
Indeed.com is a job search platform that has definitely seen much better days. In recent months especially, it seems to have lost sight of putting customers first and adding value to both employers and employees alike.
Instead, it seems to be prioritising on making money, at the expense of relationships with regular customers, and being careless about having scammers infiltrate the platform, creating an issue with privacy and online security.
If you do not want to waste anymore time on sites that are of no use to you, check out my #1 recommendation to making money online:



Read on for the detailed review of Indeed.com, and why I do not recommend it.
---
What is Indeed.com
To find out what is Indeed.com, let's first take a look at its home page.



With a mission to help people find jobs, Indeed.com strives to put job seekers first, providing free access to job searches and posting of resumes.
Since 2004, it has done a great job, climbing up the ranks of online job search platforms to be the leader in its field.
Available worldwide in more than 60 countries, Indeed had gained the trust of many companies, huge and small alike.
However, things seem to have changed drastically, as you will soon get to see.

How does Indeed.com work for the job seeker
As someone seeking employment, you would want to start by filling out your resume, once you get registered on the platform.
But here's the kicker:
Because of how it seems that people's data on Indeed.com had been picked up by others, and have had promotions, offers and all sorts of spam sent out to them, I would be really careful about providing information on my resume that is too personal or sensitive.
For instance, think twice about filling in your complete home address, with unit number, if you do not want to receive pamphlets and brochures in your post box. It is also a security risk to provide your full address.
Moreover, people who had provided their contact number had received unsolicited phone calls from people they do not know at all.
Your qualifications, where you went to school, your working experience, etc. is also personal information that you may not want unauthorised persons to lay their hands on.
Having filled in your resume, you can then decide to set it as public or private.
A public resume is available to companies that are looking to hire, so that they can get to know you better, thereby increasing your chances of getting employed.
A private resume is obviously safer, and maybe that is the way to go, in light of how one's information does not seem secured on Indeed.com these days. You can always send your resume to potential employers through the messaging on the platform, for jobs that you apply for.
Here are just some examples of some of the most common complaints by users of Indeed.com, that seem to suggest the platform is no longer as safe and scam-free as it used to be.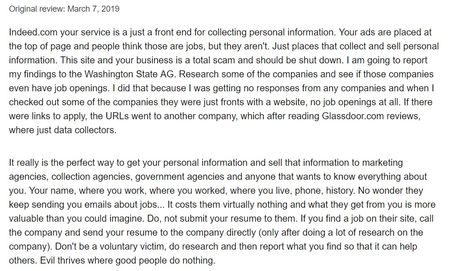 These are just the tip of the iceberg. There are many more complaints out there, by jobseekers trying to use Indeed.com to land a proper and legitimate job with a good company that would allow them to make a living.
To me, it is very disturbing that people not verified to be legit representatives of a company that is trying to hire on Indeed.com can get hold of your personal information.
It would seem like Indeed.com is selling their members' data to third party advertisers and whatever companies or individuals that are looking to buy those information. I definitely am not able to prove it, but the frustrated experiences of their members tell the whole story.

How does Indeed.com work for companies looking to hire
As a company looking to hire people to fill up some positions, you can choose to post a job listing for free on Indeed.com, with limited exposure.
If you pay a fee, then your job listings get featured at the top of search results, so you get lots more clicks, and a higher chance of attracting the right people to apply for the jobs.
Sounds good so far, until you look at the reviews by companies using Indeed.com to hire. Again, these are all very recent comments, all dated within this year, 2019.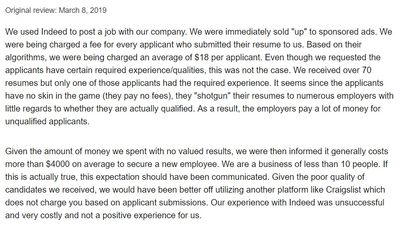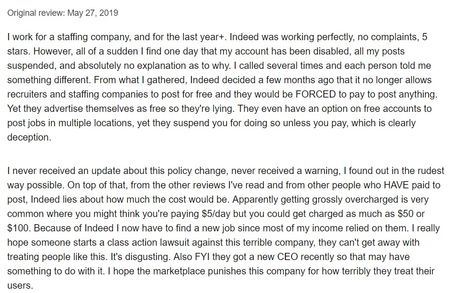 Again, it seems that Indeed.com is all about making money for themselves, without consideration for the value provided to their paying customers.
How can they ask companies to pay for all clicks coming through, including those that do not even come close to meeting their job requirements?
In fact, there appears to be some fraudulent activity going on, with companies claiming that they are not able to cancel their subscription, and have to continue paying even after their job listings have been taken down.
I'm not sure what is leading Indeed.com to go in this direction, is it pure greed? But it sure looks like it has chosen a path of doom.

Go for the other established job search platforms
Since it looks like Indeed.com is not able to deliver anymore, whether it's for job seekers or companies looking to hire, you'd be better off bringing your search elsewhere.
There are many other great places to look for jobs, including Monster.com, Craigslist.org, and so many more.
If you love to write, and prefer working from home, here's a good place to find some freelancing writing jobs: Writers Work.
Just keep a look out for sites that go after your money as their main business, like these that I have reviewed before: American Diversified Publications, Hive Work, Mommy Jobs Online, and Writing Jobs Online, to name just a few.

The best way to make money online
While you need your regular job or freelancing work from home job to pay the bills, I want to show you a side hustle that you can take on at the same time, to build something that may eventually free you of your 9 to 5 job.
This has nothing to do with MLM, you do not need to recruit anybody. Neither do you have to own any products, do any face to face selling, handle deliveries, or customer complaints.
You can do all this from the comforts of home, choosing which companies you want to work with, and whatever number of companies you want to work with at any time.
This business model is called affiliate marketing. Simply by leveraging on the millions of products and services already in existence, you will choose to promote some great ones, in a niche of your choice, it can be any passion or hobby.
When people buy those products through your affiliate links, you earn a commission.
It is exactly what I am doing now, working full time from home, growing my internet business, and making an online income. I started from scratch with zero knowledge in this area. If I can do it, you can, too.
Here's a peek into my earnings on a recent day:



As you can see, more than $100 a day is very do-able. And this is not even at its maximum potential yet, I'm still growing this business every single day.
Check out this training platform that provides all the resources, tools, along with an entire community of aspiring as well as already successful online income earners. The best part is, you get to start for free:
---
To round up this article, let us recap and summarise the pros and cons, before I finally make my conclusion.
Pros of Indeed.com
1. It has been around for years
This is the only pro I can think of right now, though I'm not sure how it can help, seeing how much things have changed on this platform.

Cons of Indeed.com
1. It looks like they sell away your information
The fact that job seekers are getting spams and calls from unsolicited parties seem to indicate that Indeed.com is abusing the information they are collecting from their members.
2. Companies looking to hire are being exploited
The cost for sponsoring their job listings are exorbitant, going up into the thousands of dollars, which is just quite absurd, considering the low quality of candidates that the companies are getting, since there is no attempt by Indeed.com to only send clicks from people who are a good match for the job description.
There are also a concerning number of complaints that companies are not able to cancel their subscription on the platform, but have to email the support of Indeed.com, resulting in delays in closing their account, and continued charging to their credit cards.
---
Is Indeed.com Scam or legit? 
I wouldn't exactly call it a scam, since it is still providing a service to job seekers and companies looking to employ.
But it definitely does look like some shady practices are taking place behind the scenes, so I'd strongly recommend you to stay away from this site for now.
---
Recommendation
I'm excited to share with you how I am earning my online income, all by working from home, while being there for my family, working my own hours around them.
This is not a get rich quick scheme. In fact, it will not work for everyone. Because this requires a good amount of hard work, grit and patience.
What I can assure you is this is a legit method that has made countless highly successful internet marketers. You just have to follow their footsteps: learn the ropes, take action, and keep at it until you see results.
I know it works because I have done it.
Again, this real deal does not promise instant results, but instead provides the knowledge and lifelong skills required to grow a successful online business. Check it out by clicking on the button below:



And for reading all the way to the end of the post, I believe you have it in you to make this work. Here is your FREE PDF Guide: 4 Simple Steps to Making Money Online. Fill in your details to claim it:


If you have any concerns or questions regarding this Indeed.com review, do comment below, and we will start a conversation from there.
---