I will be upfront about it. Many MySurvey reviews are positive, because they want you to sign up through their referral links, so they get to earn.
In fact, this is the case for many (not all, though) reviews of survey sites out there.
Update: In February 2019, MySurvey became LifePoints. Members' accounts were switched over, but it seems the complaints got worse. Check out my LifePoints review to find out more.
Welcome to my MySurvey review.
Here, you will find my honest and unbiased review about MySurvey, as I will present all that I have uncovered about it, including the good and the bad, so that you make the best informed decision as to whether this platform is worth all your time or not.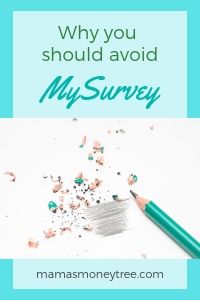 After dwelling into MySurvey, I will also suggest an alternative use of your time, which may be a much better time investment for your financial situation.
So let's dive right in now.
---
MySurvey Review Summary
Product: MySurvey
URL: https://www.mysurvey.com
Product type: Survey platform
Price: Free to join
Scam / Legit? : Legit
Recommended or not? : Not recommended
MySurvey is a legitimate survey site. But it is one of the least paying, when you convert your points into cash. Even the referral reward system earns you very little, when compared to other platforms.
The points system works such that it is more worthwhile to convert your points into gift cards rather than cash. So it's not a promising platform.
Moreover, there are lots of user complaints about MySurvey, especially about their accounts being suspended for no apparent reason, especially right before payout. The only positive is the low minimum cash out of $10.
If you do not want to waste anymore time earning peanuts or getting frustrated by how survey sites run, check out my #1 recommendation to making money online:

Read on for the detailed review of MySurvey, and why I do not recommend it.
---
How does MySurvey work?
Background
MySurvey set up in 2001, by NFO (National Family Opinion) which had been collecting data and research information for companies since 1964.
It has since been taken over by LightSpeed Research. So MySurvey's history actually dates back quite some time, and is an established website.
MySurvey is mainly a survey site, with not much other features.

Sign up with MySurvey
Signing up with MySurvey is a very simple process, and it's free.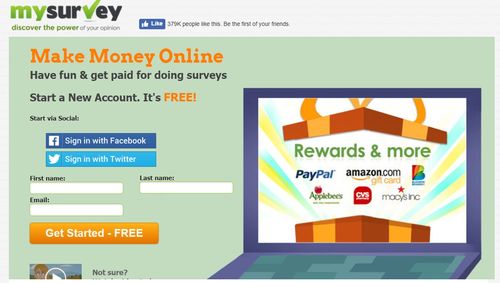 You will need to fill in some personal information, which will allow the platform to filter, at the preliminary level, suitable surveys for you to complete. For instance, your name, address, phone number, marital status, income, number of children, etc. Quite standard stuff that is required for most survey platforms.
Within a few minutes, your account should be up and running.
Then you will be asked to fill in some lifestyle surveys, before you can get started to do the actual surveys that will earn you points.

Taking surveys on MySurvey
So now you're all set to start making money with MySurvey.
MySurvey's dashboard is user-friendly and easy to navigate. But when taking surveys, these are the issues that are commonly encountered:
long loading time of surveys, which can sometimes take up to 5 or 10 minutes.

when you are disqualified from surveys, you are not informed about it clearly or officially. Instead, you are just suddenly directed to the home page, with a "thank you" message. It feels so curt and rude, like there was no explanation given, and you abruptly get kicked out of the survey you were halfway through just like that. So the user experience felt very negative.

some surveys earn you sweepstakes entries instead of points. Which means they are literally useless, because it simply gives you a tiny chance of winning at their sweepstakes, which of course will never happen.

How much can you earn with MySurvey
Among the survey platforms that I have reviewed, MySurvey gives one of the lowest payout.
You need to accumulate 1,000 points in order to convert this into $10 cash. That is equivalent to earning less than $2 for an hour's worth of work filling up surveys. Which is not even enough for your cuppa!
Gift cards are another option, at the same conversion rate of 1000 points into a $10 gift card. There are many retailers that you can choose from, including Amazon, Macy's, Boston Pizza, and many more.
Alternatively, you can exchange your points for merchandise, like jewelry, small electronics, small kitchen appliances, and so on. Point amounts vary for every item.
One other unfavourable thing to point out is that the only cash option is through PayPal. There is no option to cash out your points through a paycheck. So people in countries where PayPal is not available, they would have no cash option, and can only convert their points into gift cards or merchandise.

Referral Program – the reason why many MySurvey reviews are positive
I'm not talking about platforms that allow people to offer their reviews on each survey site. I'm referring to websites that have an entire post reviewing the survey site, like this one.
Many such MySurvey reviews are positive, only because they hope people would click on their referral links to join the program after reading their reviews.
You earn 150 points (equivalent to $1.50) for every person whom you refer to join MySurvey through your referral link. Which is in fact a miserly amount, compared to other survey sites.
To add salt on raw wounds, to earn from the people you refer, they cannot be from the same household.

Lots of negative feedback from users
These are their star rating from two platforms that gather users feedback on survey sites.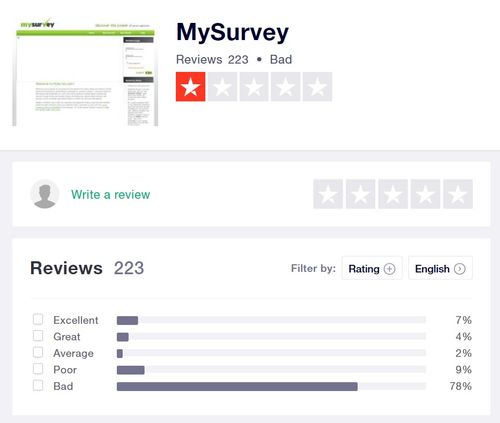 And you can read these detailed reviews that users had written about MySurvey, which are very recent ones.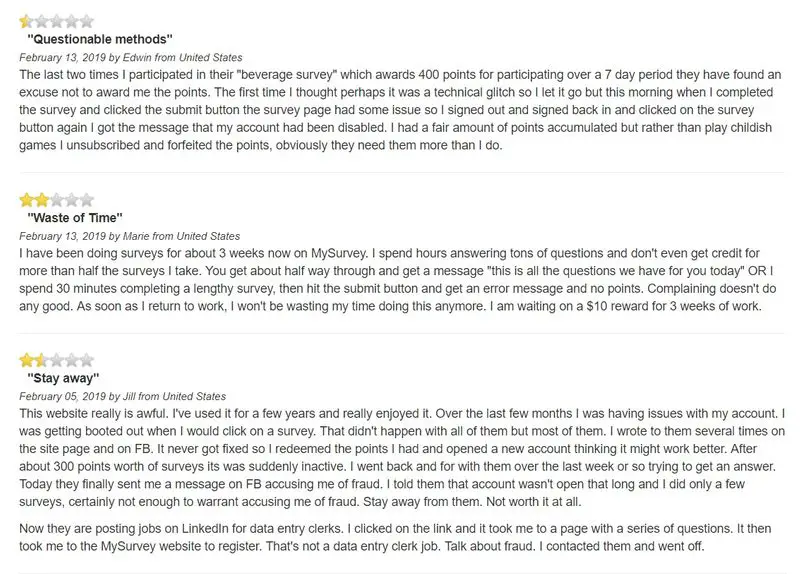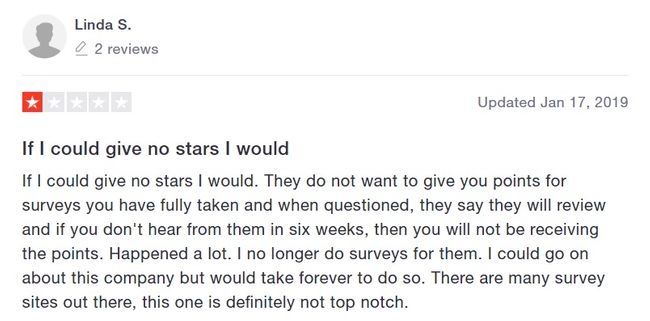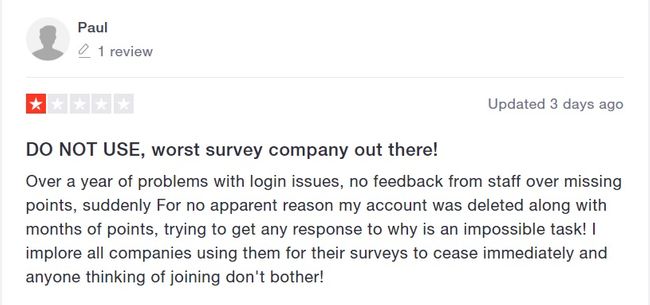 The main issues are always no response to users' queries or request for support, account locked or inactivated, etc.
As I can compare among various other survey sites that I have reviewed before (like Vindale Research, SwagBucks, and Inbox Dollars, to name just a few), I can safely say this one looks pretty bad.

Do not expect a part-time income even if you work full time on this
As you can see by now, the earnings you can make from MySurvey are really too little for you to be spending any time on it.
Even if you put in a full day's worth of work, you still may not be able to cover the cost of your three meals of the day.
And there is no guarantee your account won't be shut down the very next day, just as you are about to cash out your earnings.

Why not spend your time more productively
If you have some extra time in your hands, why not do something much bigger?
Forget the few dollars that you can make with survey platforms.
This is something you can possibly build into a full time income, but it takes time and hard work, and I'm guessing you do have both.
It is what I am doing now, to earn my online income, which is definitely much more than what I would have earned from survey sites.
But this income did not come overnight, because it took time for me to go through the training on this platform that I found, decide on the niche that I want to work on, set things up, get to work consistently, before I could see any results.
Here's a peek into my earnings on a recent day:



That's almost $200 in just one single day. It's nothing to boast about, though, as it's just a small fraction of its full potential. I just wanted to show you the possibilities.
This online business is so unlike using survey sites to make money, because you do not get paid instantly for the work you put in today.
But you are building up your own business, and working for a future income that is so much bigger than any instant rewards you can get from surveys.
And it is so worth it. Now I get to work from home, and spend time with the kids when they are back from school.
Would you like to see what I am doing? If your answer is yes, click on the link below to hop to my other post where I explain this in detail.
---
Pros of MySurvey
1. Established platform
This platform has been around for close to twenty years. That must say something about them, though it is rather disappointing that reviews by its in recent years have gotten really bad.

2. Easy way to earn a little extra
As long as you are not frequently kicked out towards the end of surveys, it is quite an easy way to make some coffee money.

3. Low minimum cash out
The minimum cash out amount of $10 is a big plus, as this means that you do not have to wait too long to accumulate enough points for cashing out.

Cons of MySurvey
1. Extremely low hourly rate
Compared among all the survey sites that I have reviewed, MySurvey pays the lowest when we calculate the average time spent doing surveys against the earnings, and try to compute an hourly earning rate.

2. The only cash payment is through PayPal
Most other survey sites give the option of cashing out through a paycheck, which is not available with MySurvey.

3. Lots of negative reviews
User reviews, especially in these recent years, have been terrible.
---
Is MySurvey Scam or Legit?
MySurvey is definitely a legitimate survey platform, on which you can make a little extra pocket money, if you have not been frustrated with their customer service, or had your account inactivated yet.
---
Recommendation
I do not recommend MySurvey, because of its extremely low earning potential, even among survey sites.
It is not worth your time. You might as well go read a book, or meditate, or do some exercise, or just zone out.
If you are looking to using some spare time towards improving your financial situation, there are much bigger things you can do, that can actually earn you a substantial amount, provided you do not look for instant gratification.
This model is entirely different from working for money. This is about building up your empire, something that is going to make you passive income even after you stop working on it. No, it is not MLM, if that's what appearing in your mind right now.
You get to choose whatever niche area that you are passionate about to work in. It can be anything under the sun, from rock climbing to kitchen appliances, from horse riding to parenting.
Anything under the sun, as long as it is something that you feel strongly for, as it is this feeling you have for it that is going to sustain a long term online business.
Interested to check out this business model? Then click on the button below:


And for reading all the way to the end of the post, I believe you have it in you to make this work. Here is your FREE PDF Guide: 4 Simple Steps to Making Money Online. Fill in your details to claim it:


If you have any concerns or questions regarding this MySurvey review, do comment below, and we will start a conversation from there.
---