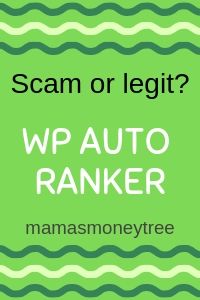 If you have heard about this newest product that can automatically create original content for your website, and are wondering if WP Auto Ranker scam is real, then you have landed at the right place.
Here, I will provide my honest and unbiased view of this product, as I am not associated in any way to WP Auto Ranker. Unlike many of the raving reviews out there which are from its affiliates, offering huge bonuses of their own, fighting for a piece of the pie.
Can there really be a software that will generate original content that Google will like, and your readers will love, without you having to do any work? Can humans ever be replaced by a single software?
In this article, I will provide an in-depth review of WP Auto Ranker, through the following sections:
---
WP Auto Ranker: Review Summary
Product: WP Auto Ranker
URL: http://wpautoranker.com/sales/
Creator: Dan Green
Product type: Content spinner
Price: $17
Scam / Legit? : Legit
Recommended or not? : Not recommended
WP Auto Ranker is basically a content spinner, promising to create loads of original content, so that you will not have to work so hard, spending hours churning out content on your website. It spins content from some sources that you get to choose from their library, using images from their library as well. Google will love the original content, and it is perfectly human readable to your audience.
This will not work because no machine can replace the work that requires humans to do. A content spinner cannot create a coherent piece of article. Readers can tell.
If you do not want to waste anymore time and money on useless products, check out my #1 recommendation to making money online here:

Read on for the detailed review of WP Auto Ranker, and why I do not recommend it.
---
What is WP Auto Ranker
Information presented in sales video and landing page

WP Auto Ranker promises to rank your site automatically on page 1 with the only proven 100% original content creator plugin for WordPress.
It is fully automated, easy to use, user-friendly, works in any niche, creates content your visitors will love, and include a unique image spinning technology.
Most importantly, you do not ever have to create another piece of original content again!
Creating content takes hours and hours of hard work each day. It is tough, and it is boring. Who has the time to create all this content anyway?
Now, with this amazing plugin, without doing any work, you will have free traffic everyday, with conversions and sales, your site will be a guaranteed success, and your hopes and dreams would be coming true!
Not only will you be rewarded by Google, your visitors will continue to love your site.
Then, Dan went on to show some incredible proof. He bought a dead site with $50, which was not even ranking on page 1 for its own exact match domain keyword search.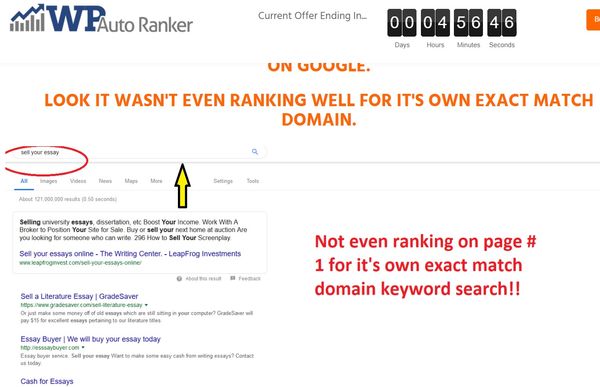 Let me just point out something here: I believe this has been doctored. Look at the shadowed line that my yellow (with black outline) arrow is pointing to. That marks the boundary of a picture. This shadowed line is NOT found on the Google search page. So I have reason to believe there is something going on here.
But of course there is no way we can prove it, because it was supposedly from before they implemented the plugin within this website.
This shows the 'after' of using the plugin on this website, see it ranking on Google page 1. This is real, I have checked. And look, there is no shadowed line here at all.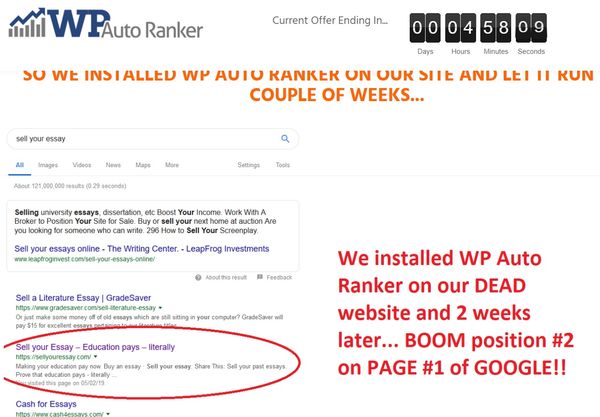 So for me, the trust level for this product has gone all the way down. Which further convinces me that it does not work. That is why they have to resort to tricks like that in the 'proof' that it works.
What this plugin does is simply to pull from various sources, out of its entire huge library of articles, some relevant ones when you enter the keyword. And it uses its unique 'spinning algorithm' to spin original content out of these sources. You can choose to spin sentences, paragraphs, or entirely jumble up the words.
You can also choose from its image library, therefore giving your article an entirely original look, with content that is human readable, and appears totally original to Google.
And look, there are testimonials from real people. Oh, but these are just in anticipation of the product, they have not used WP Auto Ranker yet. Why is he calling them testimonials?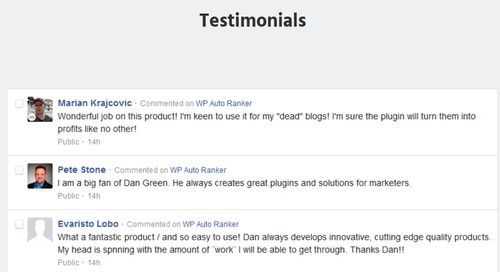 Why WP Auto Ranker will not work for you
The reason why WP Auto Ranker will not work for you is very simple. It is not the right thing to do. And it can backfire.
Anyone can tell this is not right, I do not have to explain this point further. If we cannot hold our heads high with integrity in anything that we do, then we will never succeed in life.
This plugin may let you get away with cheating Google, but your readers are humans. They can tell when a piece of content is created by a machine. The language may be readable, but the ideas will not make sense. It will not be a smooth and coherent flow of thoughts, because machines do not have thoughts.
And worse yet, if your competitors happen to chance upon your 'original' content, and lodge a complaint to the search engines' administration, you site may never see daylight ever again.
It's not worth it.
If you are finding it tough to produce content regularly, then it's fine to reduce the frequency of posting. If that means less earnings, then go get a job that can cover all your basic needs.
The internet is not an easy place to succeed, because of the low entry barrier, competition is stiff. It takes hours and hours of slogging to finally see some real results. If you are not prepared to put in the hard work, then you are better off staying away from the internet, because it is full of scammers who prey on people hoping to see fast results.
I guess I have said all I want to say here.
The proper way to make money online
Successful internet marketers will all tell you the same thing if you ask. Content is king. Everyone knows that. And there is no short cut around it. Any short cut will have the potential of harming your site, rather than helping it.
I have seen success in getting free organic traffic from search engines, simply by consistently creating authentic content that engages my readers. So I know it works. There is no need to look for the magic formula because there is no such thing.
Having said that, as we create content, we must also take care of on-page SEO (search engine optimisation), so as to improve our chances of getting ranked. Keyword research is also something that is extremely crucial, if you want to be ranked on page 1.
All these and much more, I learnt from an awesome training platform, which is the real deal, because what they teach works. Since I found it, I settled down to build up my online business, I knew I did not have to search anymore.
Click on the link below, and you will understand what I am talking about:
---
Pros of WP Auto Ranker
1. Real owner
Well, the owner is a real person, if that's of any help. So we hope there is at least some accountability for the product.
2. 30 day money back guarantee
This basic refund policy is in place, for people who are dissatisfied with the product.
3. The plugin does what it does
Yes, it can jumble up words, or keep some sentences intact, or keep entire paragraphs intact (which may amount to plagiarism then). But whether you really want this thing in your online business that you took effort to build up, I will leave it to you to consider carefully.
Cons of WP Auto Ranker
1. No integrity
Integrity is what we do when no one is watching.
2. Can backfire
One thing is for sure, we will lose all our readers if we use this plugin on our websites. I have seen websites like this, that use some software to create content. It is obviously incoherent, and I'm utterly disgusted when I land on those sites.
When sites using content generation softwares get flagged out to the search engines, I do not think they can ever make a comeback.
3. Upsells
As with any other product that is created solely to make money for its owners, WP Auto Ranker has expensive upsells that you will be bombarded with, right after purchasing the front end product, even before you get any chance to try it out.
Upsell 1: $47
Upsell 2: $27
Upsell 3: $147
I think we shall not waste time even trying to look into what those upsells are.
---
I absolutely do not recommend WP Auto Ranker.
If you really want to make some serious money online, you have to find the proper way, work at it, and follow it through. And do not get distracted by shiny objects along the way.
I can show you the path, hold your hand along the way, but you still have to walk the path yourself.
If you're game for that, click on the button below to learn exactly how it can be done:

If you have any concerns or questions regarding this WP Auto Ranker review, do comment below, and we will start a conversation from there.
---