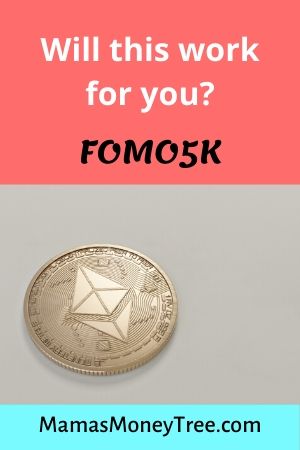 Welcome to my FOMO5K review.
I recently got to learn about this newest program in town that has just launched in February 2020. It sounds really good: risk-free, no recruitment needed (if you don't want to), and monstrous returns on just a small sum of ethereum payment.
That piqued my curiosity, so I decided to take a closer look.
This article details my findings on this shady scheme. I'd say it upfront here. Stay away from FOMO5K. It is unethical.
Follow me as I walk you through all its red flags, how this ethereum gifting scheme works exactly, and why I absolutely will not recommend it.

Without further ado, let's dive right in now!
---

FOMO5K Review Summary

Product: FOMO5K
URL: https://fomo5k.io/
Creator: unknown
Product type: digital money gifting scheme
Price: 0.1 ETH to start, 239.56 ETH for its full earning opportunity
Rating: 0 out of 5
Legit? : NOT legit
Recommended or not? : NOT recommended
FOMO5K is an ethereum gifting program where you pay to unlock the positions in a matrix, and collect payment as people fill those positions. Without active recruitment, it will be an uphill task to earn from this.
At any one time, there will be a largest group of people who are losing money to the program, in order for those before them to be profiting.
---
---

What is FOMO5K

To find out what is FOMO5K, let us first take a look at its website: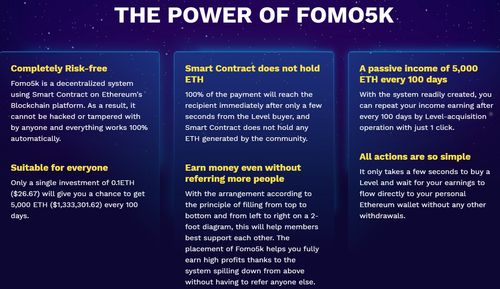 The first thing that strikes me on their home page is how easy they make everything sound. Alarm bells ringing.
Firstly, why do they even need to assure anyone that this system cannot be hacked or tampered with by anyone? This in itself is enough to make me raise my eyebrows. And why should we take their word for it?
Secondly, all the other claims: suitable for everyone, passive income, earn money even without referring people, and apparently zero work on your part make me question its legitimacy.

So how does FOMO5K work exactly?
There are no products inside of FOMO5K. The only thing you will buy and try to promote is the affiliate membership of this program.
Essentially you are buying yourself into an ethereum (ETH) gifting scheme, with 0.1 ETH to start.
In a 2 by 5 matrix, as the positions fill up, you get to earn ETH, hopefully more than what you put in.
Even if you do not get referrals to join under you, the positions will supposedly be filled automatically by your uplines' new members, but certainly at a slower rate than if you could actively recruit people into the program.
You will be placed right at the top of the matrix. There are two positions directly under you, forming level 1 of the matrix.
Each of these is further split into two positions, forming 4 positions at level 2 of the matrix, and so on until 5 levels deep.
---
---

How much is required to unlock each level?
To register and get yourself onto the scheme, you pay 0.1 ETH (about $27). You will receive 0.1 ETH from each of the two affiliates under you, on level 1.
To unlock level 2, you pay 0.16 ETH. Each of the four affiliates in level 2 will also pay you 0.16 ETH.
Hence the more positions you fill up in the matrix, the more you get to earn.
The 5-level deep matrix will run two rounds.
This diagram shows the payment required for each level, and the earning potential.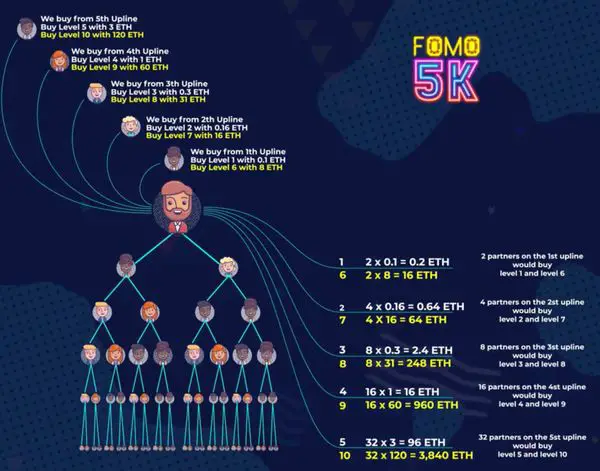 You will have to renew your level every 100 days. Otherwise you will no longer be able to earn from the program.
I must say: on paper it looks really good.
If it were so effortless and lucrative, why not?
Let me tell you why I wouldn't do this.

Red Flags in FOMO5K

We don't know who these people are
There is no 'About Us' information on the website of FOMO5K. Without the transparency of who is running the program, who is there for me to trust?
This is a brand new program, with the website set up just this month (February 2020). The same goes for its Facebook page.
Without any track record of actual payment, there is no way we can tell if they are going to pay out. Even if they do, it may not mean anything. In fact, some schemes pay out initially just to earn the trust of members and have them gain enough confidence to go for higher levels.

Is it even legal?
Gifting programs like FOMO5K have no products associated with them. Members pay a fee in the hope of making more in return. Ultimately, majority of participants will lose money.
Some programs will try to appear legitimate, but they are not.
Take a look at what the Bureau of Consumer Protection says about gifting:

---
---

Majority lose money
Besides the creators of the program and their loyal followers who were there when the program was first birthed, and hence placed right at the top of the matrices, most other members will lose money.
That is something inherent in the matrix structure. For any person to profit, more people would have to lose money.
So at any one time when we examine the scheme, many more people are losing money than the number who actually profit. It can be a good 90%, or even more.

What FOMO5K Does Exactly

If you join this blindly without realizing what you are getting yourself into, chances are you will just be throwing money at the people behind FOMO5K.
For any gifting scheme, the only ones guaranteed to profit are the creators. But of course they run the huge risk of landing in jail.
Having said that, it is still possible for someone with the right internet marketing skills and expertise to make money with this.
Just consider my website.
The fact that you landed here means there are many others who are able to find this review about FOMO5K.
I could have made some good money by turning this into a positive review, telling people what a great and easy opportunity this is, and getting them to join the scheme using my referral link.
But I would never have anything to do with FOMO5K.
Not just because it is illegal, but also because I would be profiting at the expense of my referrals. They would not be able to recoup their losses.
The point is this: with the internet, the most valuable high-income skill is to show up to people who are looking for what you are promoting or selling.
Do you think it would be easier to promote FOMO5K to your friends and family, or to someone who is researching about it?
It gets better: on the internet, you will be able to reach a global audience, instead of being confined to your own social circle. The massive amount of traffic you can potentially get is hard to imagine.
Once you master the art of attraction marketing, the world is your oyster. You can sell anything that genuinely helps people solve their problems, and make a profitable online business out of it.
And of course you wouldn't need FOMO5K or anything that does not truly add value to people.
Check out the business model I'm talking about here:
---

To round up this article, let me recap and summarize the pros and cons, before I finally make my conclusion.

Pros of FOMO5K

1. Possible to make money
If you know how to market this program effectively to get free targeted traffic on the internet, and if you join early, it is possible to profit from this.
But if you have these skills, you really do not need FOMO5K. I'd strongly suggest you build a sustainable business, by promoting something legal.

Cons of FOMO5K

1. Gifting schemes are illegitimate
Gifting schemes, whether with cash or digital money, is a sure-win only for their creators. Members fork out a fee to join the program, hanging on to the hope that they will get back more than what they paid.
This is very unethical. Do not fall prey to such schemes.

2. High risk of losing everything
When recruitment reaches a plateau and the program is no longer working at such a high profit rate for the owners, it collapses upon itself.
Before that happens, you can be sure those at the top of the company will bolt with their stash. That's the whole point.

3. Pyramid structure sets the majority up to lose money
When one position in your matrix gets filled up, you break even. For you to profit, there must be more people who are paying themselves into the scheme.
The ultimate winner is the company, for it starts to earn once its very first member gets registered into the program.
---

Is FOMO5K Scam or Legit?

Gifting schemes are illegal, and yet it can be profitable for people who are skilled in leveraging the internet to recruit the masses.
You can be sure this group of people will be defending the program aggressively. The stakes are high for them.
Other gifting schemes I have reviewed include Too Damn Easy, Club Cash Fund, Impact Mailing Club, Million Money, Newbies On Fire, Prosperity Income Network, Email Processing Homebiz, DoubleWay, Infinite Increasing Income, and Six Figure Stamp Club, to name just a few.
---

An Alternative

Everyone wants to be rich, but guess who will make it?
It's a very natural thing, that's just human nature. I mean, find me someone who doesn't want to get rich fast, and with minimum effort.
I wasn't spared of all the temptations on the internet, hopping from one shiny object to the next.
But when I realized those empty promises are only going to make other people rich, and not me, I stopped looking for shiny objects.
I found a dull-looking object, but I knew in my heart that is the real deal. And from then on, I have never looked back.
An honest, down-to-earth method that will get you there. It's not going to be easy, but it will get you there.
Versus the fast and easy way to empty your pockets and get you nowhere.
Which would you choose?
I am now working full time from home, growing my internet business, and making an online income. I started from scratch with zero knowledge in this area. If I can do it, you can, too.
Here's a peek into my daily earnings:



That's almost $200 in just one single day. It's nothing to boast about, though, as it's just a small fraction of its full potential. I just wanted to show you the possibilities.
Check out this training platform that provides all the resources, tools, along with an entire community of aspiring as well as already successful online income earners:


This real deal does not promise instant results.
Instead, it provides the knowledge and lifelong skills required to grow a successful online business.
And for reading all the way to the end of the post, I believe you have it in you to make this work. Here is your FREE PDF Guide: 4 Simple Steps to Making Money Online. Fill in your details to claim it:


If you have any concerns or questions regarding this FOMO5K review, do comment below, and we will start a conversation from there.
---