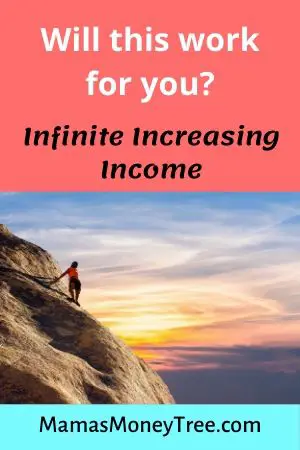 Welcome to my Infinite Increasing Income review.
What is this elusive Private Membership Association that makes it immune to the laws that regulate the general public? Are they even allowed to form such an association to begin with?
What is inside its MEDIC… in a bottle that the coronavirus is no match for? Is it even legal for the company to make such a claim? Are they FDA approved?
How does its compensation plan work? How much does it cost to join, and will you really be in a good standing to profit from this?
We will answer all these questions and more, in my in-depth review of this program, so you understand exactly how it works, and can then make a better-informed decision for yourself.
Without further ado, let's dive right in now!
---

Infinite Increasing Income Review Summary

Product: Infinite Increasing Income
URL: https://www.infiniteincreasingincome.com/
Creator: "Greg Simmons"
Product type: gifting scheme tagged with a colloidal silver product
Price: $310 initial start up and subsequently $50 per month
Rating: 1 out of 5
Scam / Legit? : NOT legit
Recommended or not? : NOT recommended
Infinite Increasing Income is a cash gifting scheme that would see the majority of participants losing money. It has a high startup fee to join their PMA (Private Membership Association) built around a nonsensical concept of immunity against government rules and regulations.
With lies everywhere, in addition to feeding on people's panic during this coronavirus pandemic, this program has certainly brought illegal gifting schemes to a whole new level.
---
---

What is Infinite Increasing Income

To find out what is Infinite Increasing Income, let us first take a look at its website:


It is basically an earning plan, built around the concept of PMA – Private Membership Association, and with an "amazing" health product thrown in for good measure.
First and foremost, let's discuss these two gigantic red flags: the PMA concept that the people behind this program are trying to deceive its members with, as well as the health claims made about MEDIC… in a bottle.

Red Flags in Infinite Increasing Income

Why Infinite Increasing Income is not a PMA
The idea of Private Membership Association is not something new. In general, it is true that members of a PMA do not fall under the jurisdiction of government laws and regulations. It protects implicit rights such as association and privacy.
Examples of PMAs include homeschooling, natural cures, choice of lifestyle, and many other social and political activities, as long as they do not infringe on the rights and freedoms of others or is a threat to anyone.
The right to associate is not absolute, especially if there is a danger of substantive evil.
Having said these, it is clear that Infinite Increasing Income would never have been able to use the name of a PMA to immunize itself against the law, since its activities are financial in nature, the authorities definitely have a right to step in to protect the public who may be exploited by dishonest schemes.
Just think of it this way: if their concept holds true, any scammer could easily form a PMA and blatantly carry on with his or her fraudulent activities while being 'safe' from the law.
It's just plain nonsense.
And this is very telling: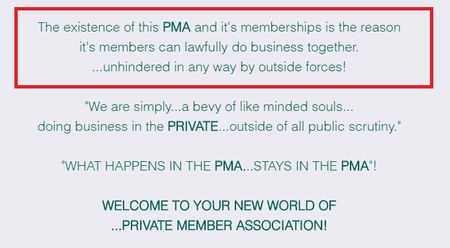 Does it mean that without a PMA, the business is unlawful, when seen through the eyes of the law 'outside' of this association?

MEDIC… in a bottle
Right off the bat, I will tell you I have zero trust in any health product of a company that is selling an infinite compensation plan.
Call me biased against this program, because I am. And I'm offering my uncensored opinion about it, so that hopefully more people can see it for what I truly think it is.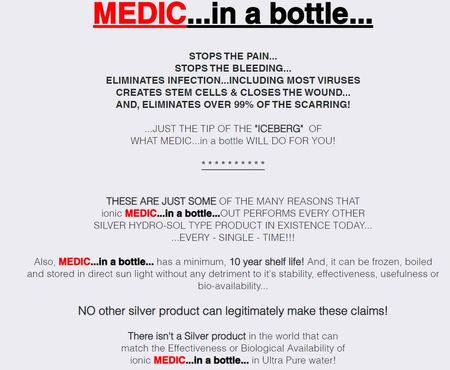 No proof of lab testing, not even an ingredients list.
All we get are unverified claims of this "magical" product. If it really eliminates all viruses, I'm seriously unsure about how safe it is to ingest it.
They call other companies' silver products 'lies', but I have not found a single reason to believe them over the others who are genuinely in the business of manufacturing colloidal silver products.
---
---

How Infinite Increasing Income's Compensation Plan Works

To join the program
First, you pay $310 as an initial start up fee. Of this, $250 is for the PMA membership, your own replicated website, an 8 oz bottle of MEDIC…in a bottle, and a t-shirt. $10 is for shipping, and $50 is for the first month's fee to pay your way into its earning opportunity.
Subsequently, you will pay $50 every month.

Compensation plan
The Infinite Increasing Income compensation plan is unilevel, with a 1 up model.
This means that all your referrals come directly under you, on level 1. Only your first referral has to be passed up to your sponsor.
Your direct referrals' referrals will sit at level 2, and this goes on, hence there is no limit to the number of levels that come under you.
But earnings are mainly through your direct referrals. Their $50 per month fee goes straight into your pockets, just like the $50 per month you pay goes to your sponsor.
And each of your direct referral will also pass up their first referral to you.
Thus the strategy to maximize your earnings will be to get as many direct referrals as possible into the program.
Each one who stays on provides a recurring $50 passive income, month after month.
At this point, the compensation plan sounds really attractive.
Now, let me break down the numbers that you will see in reality.

Why Infinite Increasing Income is not as easy as it seems
To start off, you are already $310 short. Plus the fact that your first referral gets passed up, you would need at least 8 referrals, each paying you $50, to make up for the initial loss.
People recognize illegal cash gifting schemes like this. It will not be easy to find even one or two friends or family who will be willing to join Infinite Increasing Income.
Moreover, the math tells you that if you were to make a fortune with this, it has to be from the pockets of many others.
This is unethical and exploitative, that people have to give money for the hope of receiving more from others who join after them.
At any one instant in time, if you were to freeze and dissect the structure, we will see that majority of the participants are losing money. It is designed to be this way.
The ones laughing their way to the bank are the creators of this program, as it is a sure-win for them. The moment someone joins, they earn $250. They have nothing to lose, while their members have to dig a hole for themselves and try to climb out of it.
Do give it very prudent consideration if you are thinking of joining Infinite Increasing Income.
Schemes like this are bound to fall apart, when recruitment comes to a standstill because whoever are possibly interested to join have joined. Without seeing any returns, those at the bottom of the structure will pull out of the program. Their sponsors will follow, and the pyramid collapses on itself.
---
---

To round up this article, let me recap and summarize the pros and cons, before I finally make my conclusion.

Pros of Infinite Increasing Income

1. Possible to make money
It is possible to make money with this program, especially if you had joined early on, when it just launched. But do not forget that whatever you may earn comes from people who may be in dire financial need, and are just trying to put food on the table for their families.
They are buying a hope that has little chance of being fulfilled, as the program is designed to make most people lose money.

Cons of Infinite Increasing Income

1. Gifting schemes are illegal
Exactly because such programs are exploitative, and prey on those who need money the most, that is why they are illegitimate.

2. The math dictates that most participants will lose
For one person to simply break even, 8 others have to lose money, each one paying $250 to the admin of the company.
This is the case at every point within the pyramid structure.
---

Is Infinite Increasing Income Scam or Legit?

Infinite Increasing Income is no good. It only works for the owner and those who were roped in when the program was launched.
Similar gifting programs include Email Processing Homebiz, Prosperity Income Network, Newbies on Fire, Million Money, and Up2Give, to name just a few.
---

An Alternative

I know you want to be rich. Believe me, I do too.
It's a very natural thing, that's just human nature. I mean, find me someone who doesn't want to get rich fast, and with minimum effort.
I wasn't spared of all the temptations on the internet, hopping from one shiny object to the next.
But when I realized those empty promises are only going to make other people rich, and not me, I stopped looking for shiny objects.
I found a dull-looking one, but I knew in my heart that is the real deal. And from then on, I have never looked back.
An honest, down-to-earth method that will get you there. It's not going to be easy, but it will get you there.
Versus the fast and easy way to empty your pockets and get you nowhere.
Which would you choose?
I think I can guess your choice. 🙂
So now, let me extend my humble invitation for you to join me on this online journey.
I am now working full time from home, growing my internet business, and making an online income. I started from scratch with zero knowledge in this area.
You can do this too.
Here's a peek into my daily earnings:



That's almost $200 in just one single day. It's nothing to boast about, though, as it's just a small fraction of its full potential. I just wanted to show you the possibilities.
Check out this training platform that provides all the resources, tools, along with an entire community of aspiring as well as already successful online income earners:


This real deal does not promise instant results.
Instead, it provides the knowledge and lifelong skills required to grow a successful online business that will sustain itself in the long run.
And for reading all the way to the end of the post, I believe you have it in you to make this work. Here is your FREE PDF Guide: 4 Simple Steps to Making Money Online. Fill in your details to claim it:


If you have any concerns or questions regarding this Infinite Increasing Income review, do comment below, and we will start a conversation from there.
---