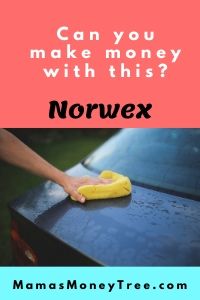 Yes, Norwex is an MLM company that sells great quality microfiber and sustainable cleaning products that are safe for the kids and pets.
I take a personal interest in green cleaning around the house, because two of my children have sever eczema, and I try my best to minimize their contact with harsh chemicals.
I am not a distributor for Norwex, though. I use cheaper options.
So be assured that my Norwex MLM review is an honest one that has nothing to do with recruiting downlines for my own benefit.
We will examine the marketability of Norwex products, as well as the earning potential of its business opportunity, so that you can decide for yourself if entering this MLM is a wise decision or not.

Without further ado, let's dive right in now!
---

Norwex Review Summary

Product: Norwex
URL: https://norwex.biz/
Creator: Bjorn Nicolaisen
Product type: MLM company selling microfiber cloths and chemical-free cleaning products
Price: $200 starter kit (which is free if you can make $2000 sales in the first 90 days) + $9.99 shipping + $9.99/month for backoffice access.
Scam / Legit? : Legit
Recommended or not? : NOT recommended
Norwex is a company I love, because of its green cleaning products that reduce waste and chemical load on the earth. Its products are expensive, but there may still be a niche market for them.
At a retail commission of 35%, which is high in the MLM industry, you can make this work if you know how to get free internet traffic to your Norwex business.


However, there are minimum sales quota to be met for you to remain as an active consultant, which can add pressure to new consultants. The potential to make a substantial income comes from recruiting, so Norwex is not something I would personally recommend as a business opportunity.

---

What is Norwex

A brief background of Norwex

Founded in 1994 when Bjorn Nicolaisen was introduced to a miraculous cloth that could clean a very dirty windshield using just microfiber and water, Norwex has grown from its humble beginnings in Norway and expanded to many parts of the world.
In 2007, its BacLock technology that uses microsilver in its microfiber cloths for self-cleansing purposes pushes it to the forefront of the microfiber industry.
It inhibits bacterial odor and the growth of mold and mildew within the microfiber material.
It does not claim to have antibacterial effects on the surfaces that it cleans, so be wary of any distributor who tries to tell you that.

Norwex Product Line

Over the years, Norwex has expanded its product line to include a much larger variety of household and personal care products to choose from.

Microfiber
This product line includes stuff like cleaning cloths, dusting mitt, window cloth, dish mat, kitchen towel, bedsheets and pillow cases, mop systems, mop pad, bath towels, bath mat, etc.
To provide a sensing of the prices, its bestseller, the EnviroCloth, costs $18.99. And its dusting mitt costs $20.99.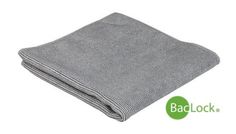 Household
The household cleaning product line of Norwex includes laundry detergent, dryer balls, silicone food storage containers, stainless steel straws, recyclable grocery bags, odor eliminating sprays, etc.

Personal care
These are the daily essentials that you need to keep yourself clean, but free of all the harsh chemicals found in most personal care products that you buy off the shelves.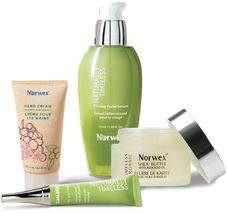 This product line includes body wash, lotion, shampoo, conditioner, sunscreen, deodorant, eye cream, facial serum, lip balm, toothbrush, toothpaste, etc.

Norwex Product Quality and Feedback

Generally, feedback from Norwex customers who have tried out their microfiber cloths have been very positive, reinforcing the company's confidence in its microfiber technology, by providing two years' microfiber warranty for any problem outside of normal wear and tear.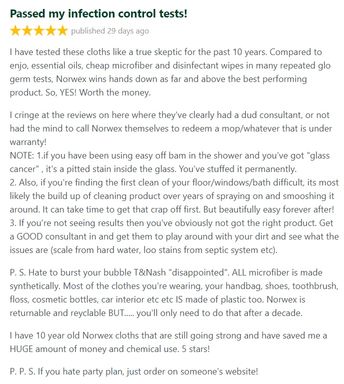 Unavoidably, even the best companies will have to deal with their fair share of negative reviews.
For Norwex, the most common gripe is about the products being too expensive, and some of the consumables (like washing powder) lasting for only a short period of time.
---
---

Norwex Business Opportunity

How to become a Norwex Distributor

To become a Norwex distributor, or what they call a sales consultant, you will have to get a Party Starter Kit that costs $200, plus $9.99 for shipping.
On their compensation plan, they make it sound like it's free, but the caveat is you have to make $2000 in Norwex sales in your first 90 days of signing up.
To me, that's a really tall order.
If you are simply relying on your warm market (family and friends), and intend to promote your Norwex business through hosting parties, then I think there's quite a high chance that you wouldn't be able to hit those $2K sales.
For access to your Norwex back office, there is also a monthly fee of $9.99.

How to make money with Norwex

As with any other MLM opportunity, there are two main ways to earn with Norwex: retail commission when you sell their products to retail customers, and residual commission when you recruit people into your team, building your downline.

Retail commission
Norwex consultants get a 35% discount off the retail price. This means when you sell the products to retail customers, you make a commission of 35%.
This is considered a very high retail commission in the MLM industry.
Hence, if you know how to leverage on the internet to position your Norwex business with a competitive edge, this can possibly work for you.
You see, with Norwex, as its product quality is good, I believe there will be people who really need it, or are willing to try it out, despite their exorbitant prices. And before purchasing, they will be doing their research online.
If you can show up to answer the questions they are asking on the search engines, then you have landed yourself some potential customers who are ready buyers.
With sufficient sales volume, just the retail commission alone is going to make you a handsome income.
See how you can increase your Norwex sales with free search engines traffic:


Monthly sales quota
This is something I really do not like, when any MLM compensation plan requires that you make a minimum sales quota in order to stay qualified for commissions.
I think this puts tremendous stress on the new distributor, and does not give one comfortable space and time to get into the hang of marketing the business and finding targeted leads.
If you are not able to meet that quota, out you go, and all those initial investments to get yourself into the business opportunity would have gone down the drain.
It is unfair.
For Norwex, this is how it works for the sales consultant, which is the entry rank level:
You must maintain a minimum of $250 in cumulative personal retail sales in a rolling three-month period.
If this requirement is not met for 6 consecutive months, your account becomes dormant, and you will have to pay a fee to re-activate it.
If you do not make a single sale in 12 consecutive months, you will be completely removed from the organization.

Recruitment commission
I will not be going into the details of this component of the Norwex compensation plan, as it becomes relevant only as you move up the ranks and build a huge team under you.
For a new sales consultant, it suffices to know that as you recruit more and more people into the team, and they remain active, making sales and recruiting people under them too, you get to rise up the ranks, and make the big bucks.
Here are the details of the Norwex compensation plan.
But before you reach the echelons of the company's hierarchy, whatever time and hard work you spend in persuading people to join the business is not duly rewarded, as the earnings get passed up to those at the top of the ranks.
Basically you are exploited for your hard work in helping to build up the company.
Only when you get past a certain stage, which could be years down the road, will you get to reap the fruits of other people's (your downlines) labor.
This is how MLM incentive structures are designed – for the vast majority to fail, so that the elite few at the top can enjoy their life-changing income.
Take a look at this report from the website of the Federal Trade Commission (FTC).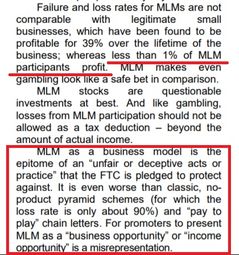 Why Norwex may or may not work for you

To me, the biggest minus point will be its sales quota requirement in order to stay in the business.
This puts your initial investment of $200 for the starter kit at risk. Unless of course you were buying to genuinely use the products yourself, but then you could have bought individual items based on your needs, if that were the case.
You can't slack off on the sales, even if you wanted to take a break for a month or so, or some unforeseen circumstance had arisen, keeping your attention away from the business.
In this sense, Norwex is not such a flexible home-based opportunity afterall.
But if you can get your Norwex business up and running online, I do see the potential for some good earnings, from its 35% retail commission.


It does take time for free organic traffic to take off, though, because it takes at least a few months for search engines to trust the credibility of whatever solutions you are offering to their users.
So you would have to assess your chances for success, before taking the plunge.
---

To round up this article, let me recap and summarize the pros and cons, before I finally make my conclusion.

Pros of Norwex

1. Established company
Norwex has been around for 25 years! That says something about how well it knows its business.

2. Great quality products
I do believe in the quality of its microfiber products. Its two-year warranty will not be topped by any other company in the same product line, as far as I can tell.

3. Good retail commission
It offers retail commission at a very high rate among all other companies in the MLM industry. This is again another display of its confidence in its product quality.

Cons of Norwex

1. Exorbitant pricing
Due to Norwex being on the pricey side, the market can be quite limited to a middle to high income audience.

2. Minimum sales quota
I wouldn't be joining any MLM company, much less one that requires me to bring in a minimum volume of sales.
I would have already paid my fair share (the $200 starter kit) to enter the business, to kick me out of it for not meeting its sales quota seems quite heartless, it's like adding salt to the wound.

3. Focus on recruitment
At the end of the day, Norwex is still an MLM company, with earning potential that can be realized only if you recruit aggressively and get yourself climbing up the rungs of the ladder as quickly as you can.
That is, before you are seeing any profits, you have to convince others of how great this earning opportunity is.

4. Its main products are not consumables
The microfiber cloths, which are what Norwex is well known for, can last many years.
This means that for your Norwex business to be sustainable, you need a consistent flow of new customers. Home parties will not make the cut, since the outreach is too small.
That is why it is of paramount importance, if you have decided to do this, to bring your business online.

Is Norwex Scam or legit? 

Norwex is definitely a legitimate MLM company, boasting of great quality microfiber cloths and other household cleaning products as well as personal care products.
Other MLM companies in similar niches include Modere, Amway, 4Life, Avon, and Arbonne, to name just a few.
---

An Alternative

Personally, I would never join an MLM company, because their compensation plans are highly exploitative, and are designed for the majority of their distributors to fail.
If you have tried any MLM opportunity, and are frustrated by the lack of results, you are not alone, and please know that it is not your fault at all.
Here, I would like to show you what I'm doing to make money from home.
I promote companies too, non-MLM ones.
Not just one, but as many as I like. Because it does not cost me a single cent to start promoting them. No registration fee involved, no starter kit to buy.
The 'compensation plan' is a fair and transparent one, based on the amount of sales that I bring to each company.
I do not have to recruit a single person in this business model.
In fact, I do not have to do any face to face selling, or even step one foot out of the house.
This is called affiliate marketing.
The best thing is: I get unstoppable traffic landing on my offers, all ready to buy.
If you want to learn how it works exactly, you have to check this out:


And for reading all the way to the end of the post, I believe you have it in you to make this work. Here is your FREE PDF Guide: 4 Simple Steps to Making Money Online. Fill in your details to claim it:


If you have any concerns or questions regarding this Norwex review, do comment below, and we will start a conversation from there.
---