In this post, we will take a look at some of the Perfectly Posh complaints that are popping up all over the internet, and examine whether this MLM with a passion for pampering is a good opportunity to get into.
When I review multilevel marketing or network marketing companies, I like to study the real motivation behind the founding of the businesses.
Is it all about the money, and just slapping some product to front the business? Yes it is, if the compensation plan is heavily focused on recruiting.
Or is it about placing customers as the top priority, and adding value to their lives by creating great products? And at the same time rewarding distributors fairly and treating them respectfully?
To find out which type of MLM company Perfectly Posh is, join me in this honest and in-depth review of their products and business opportunity.

Without further ado, let's dive right in now!
---

Perfectly Posh Review Summary

Product: Perfectly Posh
URL: https://www.perfectlyposh.com/
Creator: Ann Dalton
Product type: MLM company selling a huge range of pampering products (creams, serums, soaps, body scrubs, face masks, etc.)
Price: Starter kit at $30 or $99
Scam / Legit? : Legit
Recommended or not? : Not recommended
Perfectly Posh is a perfectly legitimate MLM company. The thing is its niche is not essential to one's health or well-being. People may like some luxury items to pamper themselves from time to time, but there is no compelling reason to stick with this brand.
Prices are on the high side, hence people can very easily find much cheaper pampering products elsewhere, of equal quality.
To add to that not-so-advantageous position, its customer service and delivery issues seem to be taking the brunt of the barrage of complaints, as you will see later in this article.
My personal take on this: if you're not in yet, don't step in.
If you're already in, and are struggling to make it work, consider bringing some free online traffic to your Perfectly Posh business:

---

What is Perfectly Posh

A brief background of Perfectly Posh

Ann Dalton founded the company in 2011, with the message that everyone should take care of themselves for a few minutes, so that they can then better take care of all the things that they are passionate about.
All made in the USA, Perfectly Posh products are cruelty free, and with many vegan options.
Their products are also naturally based, with blends of butters, essential oils, fruits, nuts, flowers, and more.

Perfectly Posh Product Line

When it comes to pampering, Perfectly Posh really does it well. Look at the huge range of products that you can choose from.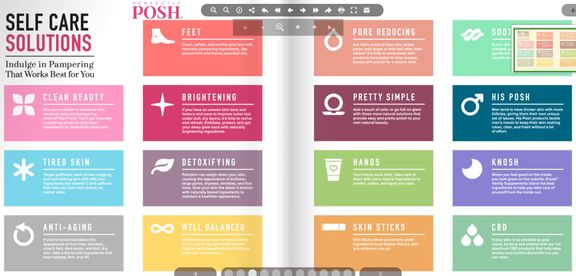 From bath bars, scrubs, masks, face wash, serums, moisturizers and foot creams to bath bombs, CBD oils, gum drops, and hard candy, we are really spoiled for choice.
One of the first things I noticed were that the prices are not cheap, though.
For instance, a bath bar typically costs between $10 to $12, at the time of this writing. Seriously, I wouldn't go looking for a distributor's website to spend $10 on a soap bar.
But to be fair, I'm not one who indulges in pampering products. I go for practicality. I do not give too much attention to the soaps and creams I use.
For my kids with sensitive skin, we have found stuff that work the best for them, and it won't be easy to make us change out those brands.
You can say I probably do not understand Perfectly Posh's market well. But my sensing is that people who can afford such luxury items will have a very specific brand that really speaks to them and caters to their needs. And they are willing to pay the price for those high-end products.
Perfectly Posh seems to be neither here nor there.
Yes, some people may be game to try out Perfectly Posh, just for the fun of it. And if you're lucky, a small fraction of the audience whom you promote the brand to may become their loyal following.
Something more positive I want to point out, though, is that a quick check of the ingredients used to make one of their soap bars has shown that there are no undesirable substances used.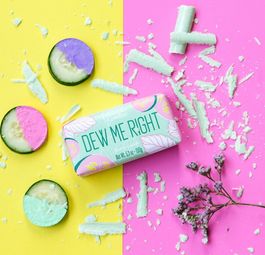 I checked up on the ingredients using the Environmental Working Group's (EWG) database.
So at least that's a good thing, which shows the company's ethics in sticking with naturally based ingredients.

Perfectly Posh Product Quality and Feedback

There are definitely positive reviews from people using Perfectly Posh products. In fact, people seem to really like their products.
But it is rather disturbing that there are so many negative reviews about customer service and delivery, not just from the customers' point of view, but even coming from consultants themselves.
It also seems that people are not too happy with the leadership in the company.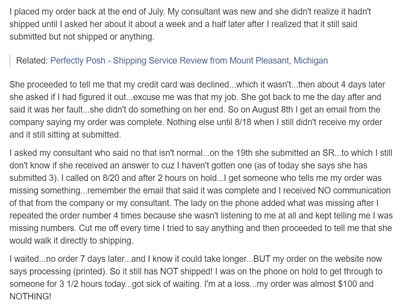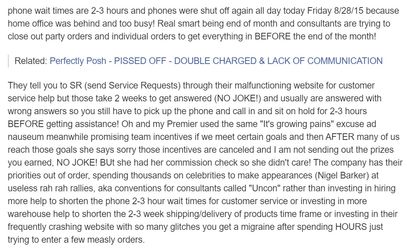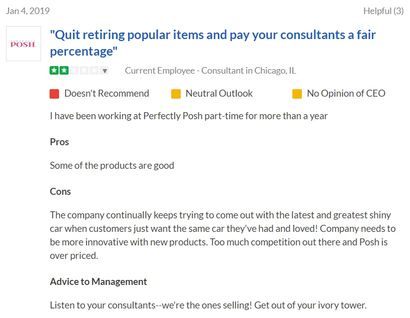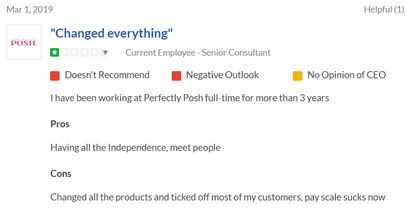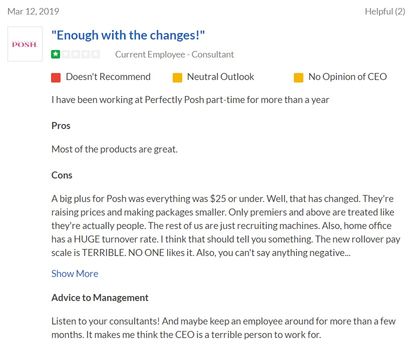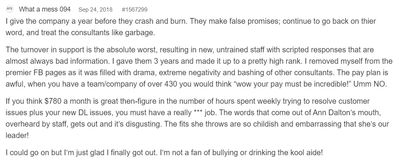 ---
---

Perfectly Posh Business Opportunity

How to become a Perfectly Posh Consultant

Simply complete the enrollment procedure, and buy a starter kit for either $30 or $99, and you can get started in the business opportunity.
I would consider this a low cost investment, compared to many other MLM businesses out there.

How to make money with Perfectly Posh

There are two main ways to earn with any MLM opportunity: retail commission, by selling the products to customers, or residual commission, by recruiting others into your team as your downline.

Retail commission
From the entry rank level of Perfectly Posh, called Protege, you can start earning 20% commission of the retail price for whatever you sell.
Once you have sold $1,000 in retail value of products, no matter how long or how quickly you took to achieve this, you are promoted to 'Pink' rank, and your commission increases to 25%.
These come without any qualifications to meet. No minimum monthly sales quota that you have to meet, no minimum number of referrals whom you have to bring into the team.
In this sense, this is my favorite aspect of Perfectly Posh's compensation plan.
But beyond the 'Pink' rank, there will be a minimum monthly sales to hit. It starts from $500, which is not an easy feat, considering the absolute commission you earn off each item is not that huge.
But at least if you choose not to climb the ranks, you can focus on just retailing their products to make a good income out of this.
It will work best if you know how to find and attract the right people – those who are looking for the exact products that you are trying to sell. They are the ready buyers.
And you must make a large volume in sales, because even though highly priced, the absolute amount for each item is still quite small.
For a $20 product, your commission only works out to be $4. For a $10 soap bar, you make $2.
So if you rely on your warm market (family and friends), your business is guaranteed to fail.
This should not be the way to market MLMs anymore. With the internet, if you do not leverage on it, you are doing a disservice to your business.
With Perfectly Posh, despite the stiff competition, if you think you can attract a sizeable audience on the internet, this can still work for you.
See how you can increase your sales with free search engines traffic:

---

Recruitment commission
I won't be going into the details here, but this is the part of the compensation plan where you earn more as you recruit more people and build out your team. You also get to rise through the ranks.
This is where the true earning potential lies. Where people who have the expertise for network marketing can earn a life-changing income.
But I can tell you it is really not easy at all. And 99% will fail.
The reward structure works in such a way that you get a meager income at the beginning stages of your journey with the company, because the bulk of the earnings are passed up to those sitting at the top echelons.
So those people are enjoying the fruits of YOUR labor.
Only after your immense struggle to reach the top will you then be qualified to reap the rewards of others' labor.
Personally, I cannot see the fairness here. It is a very exploitative incentive system.
Yes, it can work for some people – 1% of all MLM participants, according to a report found on the FTC (Federal Trade Commission) website.
That is the kind of success rate you are looking at, for the MLM industry as a whole.
And because the structure sort of sets you up for failure (speaking for those at the lower level ranks), you will find that people whom who spent hours convincing to join your team will most likely give up before you can even say 'Jack Robinson'.
It's a vicious cycle that will take more than grit and perseverance to get out of.

Why Perfectly Posh may not work for you

Even though I really like it that you can just focus on earning retail commission with the compensation plan of Perfectly Posh, the fact remains that they are selling some non-essential items.
The market may be limited.
On top of that, add on the frustrations of customers dealing with long delivery time and perpetually non-existent customer service, along with frustrated consultants who have to live with frequent changes to products and pay plans, I cannot recommend Perfectly Posh as a business opportunity to anyone.
---
---

To round up this article, let me recap and summarize the pros and cons, before I finally make my conclusion.

Pros of Perfectly Posh

1. Good quality products
It seems that most people are very happy with the pampering products they get from Perfectly Posh, so that's a great thing for any MLM business, as products have to be the primary focus.
2. Low cost to start
You can start earning simply by purchasing one of their starter kits. There are no minimum monthly sales to meet, at the entry levels.
3. Good retail commissions
Even if you do not recruit a single person, you can continue to make a good percentage commission off whatever sales that you bring to the company.

Cons of Perfectly Posh

1. Pricing is high
Products are priced rather high, out of reach of a good amount of the population.
2. Internal issues
If Perfectly Posh does not iron out its internal issues like delivery times, customer service, and frequent changes in products and pay plan, then potential new consultants may be put off.
3. Earning potential is still in recruitment
Despite good earning potential with retail, this company is still an MLM at its core. If you do not intend to reap the potential of its residual commission, then actually you do not have to limit yourself to any MLM company.
The sky is the limit if you are willing to look into affiliate marketing, where you also promote products, but there is zero cost involved to get signed up, so you can work with as many companies at any one time as you wish.

Is Perfectly Posh Scam or legit? 

Perfectly Posh is a completely legitimate MLM company. However, I wouldn't recommend it because of its limited market and its internal issues that remain to be resolved.
Other MLMs in a similar niche include Nu Skin, Modere, Avon, and Scentsy, to name just a few.
---

An Alternative

May I invite you to consider another business model?
If you're open to it, I'd love to show you what I do to make money from home.


I do not have to step out of the house, ever, if I do not want to. Because all my work can be done from a laptop.
No face to face selling, no recruiting at all.
I do not have to pay any company a single cent to promote them. In fact, I'm doing free advertising for them, why should I have to pay them?
I can pick and choose really fantastic and great quality products to promote, I do not have to limit myself to specific brands.
I get paid based on a fair and transparent system – the more sales I drive to a company, the more I make.
I get to keep all the commissions, I'm not working so hard just to fill other people's pockets.
Do check it out through the button above, you may open a whole new window of opportunity.
---

And for reading all the way to the end of the post, I believe you have it in you to make this work. Here is your FREE PDF Guide: 4 Simple Steps to Making Money Online. Fill in your details to claim it:


If you have any concerns or questions regarding this Perfectly Posh review, do comment below, and we will start a conversation from there.
---