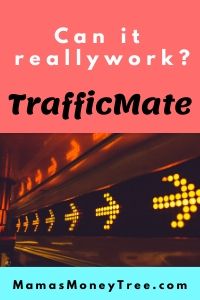 What is TrafficMate? I am here to answer this question in this in-depth review about the newest software in town.
You must have seen numerous products that claim to be able to get you the most elusive form of traffic: free, targeted traffic, with just a few clicks of the mouse, saving you tons of time and hard work.
We all know traffic is the bloodline to every business. Everyone wants traffic. So will this software work? Or is it just like the others which exist solely to get your money, leaving you more frustrated than before at the lack of results?
Before we dig into that, I have to warn you about those raving reviews you see all over the internet about TrafficMate. Those are written by its affiliates, who make money by riding on the wave of each new product launch by the vendors. They will place every single product up on the pedestal just to earn affiliate commissions. Just be aware of that.
I am not promoting TrafficMate, because I can see a number of flaws in its methodology, and I want to point them out to you, leaving you to make your own decision about whether this is worth your time and money or not.

Without further ado, let's dive right in now!
---

TrafficMate Review Summary

Product: TrafficMate
URL: https://gettrafficmate.com/regular/
Creators: Radu Hahaianu, Mike McKay, and Luan Henrique
Product type: WordPress plugin that allows you to sell SEO services, viral traffic and unique content
Price: $16.93
Scam / Legit? : Legit
Recommended or not? : Not recommended
TrafficMate is a WordPress plugin that claims to get you or your clients #1 rankings in no time, driving on-demand traffic to any website. You can also sell SEO (search engine optimization) services which make use of backlinks, social media traffic, unique content, keyword research, and more.
Though it sounds good, TrafficMate will not be able to produce the results that it claims. In fact, some of these ranking strategies can backfire, especially with the use of low quality backlinks and spinned content.
---
---

What is TrafficMate

To find out what is TrafficMate, let us first take a look at its website: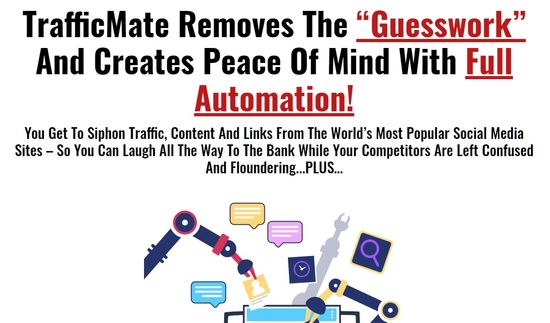 It claims to be the ultimate done-for-you business in a box, which you can use for yourself or your clients, by providing SEO (search engine optimization) services.
Getting a place at the top of Google and Youtube rankings is the dream of every online business owner. With this suite of services in the software, even a complete newbie can do it – without doing any of the work or creating a single SEO backlink for yourself!
By linking to Facebook and Twitter, it gives you free instant traffic from social media
By automatically generating backlinks, it drives your site up to #1 rankings.
By creating unique content at the push of a button, it takes on a huge burden of SEO efforts that would otherwise be draining on you.
Sounds great, that's for sure.
Unfortunately, I'm here to burst the bubble.
I've been in internet marketing for more than two years now, doing SEO for my own websites, and getting them to rank.
So I believe I have a pretty good idea of how things actually work.
And the fact that you've landed here is proof that I'm doing it right.

Red Flags in TrafficMate

Not all backlinks are equal
Backlinks are links from elsewhere that point back towards your website. Good backlinks add authenticity and will contribute to your ranking, as it shows other credible sites pointing their visitors to you.
Say a news reporting site or magazine in your niche mentions you, with a backlink, in one of their articles. This will give your site authority and ranking a huge boost.
Since years back, Google's ranking algorithm has come down hard on those who try to game the system by using bots to build hundreds or thousands of low quality backlinks. Examples are links that you insert onto another website's comments section.
Doing this will harm your website more than helping its ranking.
For backlinks to help your website, it takes time and lots of hard work, to get established in your niche, work with and gain the trust of other established bloggers or companies who are willing to point back to your site.
Backlinks that require zero work will work against you, so do not go for those.

Spinned content is a huge no-no
The unique content that TrafficMate claims to be able to generate for you, with zero work on your part, is spinned content.
This type of content is not readable to a real human. It takes some content from somewhere, jumbles up the sentences and words.
To the bots, it may look like unique content. But your content should ultimately serve real people, otherwise who are going to buy from you?
Imagine getting first page rankings, with visitors who get turned off within seconds of landing on the website. Search engines will detect this trend, and stop serving your website to its users.
Ultimately, it's about helping others and adding value in the niche that you are in. That has to come first, before you get anywhere near the money.
Black hat methods like this are known to tank website rankings. So the fact that TrafficMate is doing this makes me question how much they really care for their customers.
---
---

Limitations of free social media traffic
People go on social media to catch up on their social life, relax and unwind after a hard day at work. They have no intention to buy stuff. So I wouldn't exactly call free traffic from social media 'targeted traffic' like what TrafficMate claims it to be.
Without investing in paid advertising on social media, it is difficult to reach the group of audience who will respond to your posts.
But that will be another story for another article.

Too much hype
It is understandable that every business needs good marketing.
But when the hype tends to mislead audience into having unrealistic expectations, the question of integrity comes in.
With "#1 rankings for you or your clients in no time", "make $500 to $1000 per day in net profit", "anyone can do this, it only takes a few clicks", "autopilot backlinks with zero work", and "you too can make income like this at the touch of a button" peppered all over the sales page, I just want to intercept with a bit of harsh truth here.
If it were really that easy, everyone would be ranking on page 1 and making hundreds or thousands per day, while not having to do much. But the fact is it isn't happening.

Testimonials – take with a pinch of salt
If you look at the testimonials on the sales page of TrafficMate, by the so-called experts, these are just internet marketers in the same clique, who make money launching digital products.
I have reviewed some of these before, like Speedly and Traffic Trapper by Art Flair, Viral Vidly and VidCom by Yogesh Agarwal, and Contenu, a horrific one by Venkata.
From what I can see, they are in the same league of product creators who target people trying to find the easy way out making money on the internet.
If those products really work, they would have developed them further, building their customer base, instead of launching something new every few months or so.

What TrafficMate Does Exactly

If you do decide to use TrafficMate, you may get some trickle of traffic from social media, but they will not know you enough to make purchases through you.
For Facebook or Twitter to work for your online business, you need to slowly build an organic following, establish trust and rapport by spending time to interact with your followers on there, and help them genuinely in whatever ways possible.
It is hard work, but that's the way to do it.
At the same time, as TrafficMate churns out 'unique' content with spun materials, you may see your website rankings improve, but it will not be for long.
When the search engines discover what is actually happening, with the spun content as well as bot-generated backlinks, your site may disappear from the face of this earth.
It's simply not worth it.
If you are doing this for clients, that's worse. Your name and reputation is at stake. TrafficMate will not get you far as an SEO consultant.
---
---

To round up this article, let me recap and summarize the pros and cons, before I finally make my conclusion.

Pros of TrafficMate

1. Real owners
These product creators are putting their names and faces to the software they are selling, and that says a lot about accountability.

2. 30 day money back guarantee
This basic refund policy is in place, for people who are dissatisfied with the product.

3. You do get your software
Whether or not it lives up to its expectations, that's a different story. At least you will get a WordPress plugin that does what it does.

Cons of TrafficMate

1. Not minimum effort like what it is made to sound
The hype doesn't sit well with me.
People tend to think there must be some secret to making easy money online, and that is how they become easy targets for the opportunists.
You can immunize yourself against these shiny objects by realizing early on that no such thing exists.
For every successful internet marketer, what stands behind him or her are years of hard work, building up the business properly such that it eventually drives a sustainable income and more.

2. May be detrimental for your business
Yes, TrafficMate may do your website more harm than good. It may wash all your previous efforts down the drain, if you are not careful with it.

3. Upsells
You know a product is out to get your money when you are presented with upgraded versions of it, even before you could settle down to try the front end product.
My sincere advice to you: try it out for yourself before you commit to any upsells. If the original product does not work for you, forget about those upgraded versions, don't let them dig a deeper hole in your pocket.
In TrafficMate, these are the one time offers. They are there to stay, so do not be pressured by the scarcity tactics to buy them in a rush.
Upsell 1: $36.93 – TrafficMate PRO
Upsell 2: $26.93 – TrafficMate DFY
Upsell 3: $36.93 – TrafficMate Agency
Upsell 4: $66.93, or $66.93/month for recurring product – TrafficMate IMX
---

Is TrafficMate Scam or Legit?

I wouldn't call TrafficMate a scam, since the software will be delivered. But you have to understand what you will be getting yourself into with these shortcuts to ranking.
Personally, I would stay far away.
Knowing how internet marketing works, I wouldn't subject my online businesses to programs that promise instant results with zero work.
---

An Alternative

Everyone wants to be rich, but guess who will make it?
It's a very natural thing, that's just human nature. I mean, find me someone who doesn't want to get rich fast, and with minimum effort.
I wasn't spared of all the temptations on the internet, hopping from one shiny object to the next.
But when I realized those empty promises are only going to make other people rich, and not me, I stopped looking for shiny objects.
I found a dull-looking object, but I knew in my heart that is the real deal. And from then on, I have never looked back.
An honest, down-to-earth method that will get you there. It's not going to be easy, but it will get you there.
Versus the fast and easy way to empty your pockets and get you nowhere.
Which would you choose?
I am now working full time from home, growing my internet business, and making an online income. I started from scratch with zero knowledge in this area. If I can do it, you can, too.
Here's a peek into my daily earnings:



That's almost $200 in just one single day. It's nothing to boast about, though, as it's just a small fraction of its full potential. I just wanted to show you the possibilities.
Check out this training platform that provides all the resources, tools, along with an entire community of aspiring as well as already successful online income earners:


This real deal does not promise instant results.
Instead, it provides the knowledge and lifelong skills required to grow a successful online business.
And for reading all the way to the end of the post, I believe you have it in you to make this work. Here is your FREE PDF Guide: 4 Simple Steps to Making Money Online. Fill in your details to claim it:


If you have any concerns or questions regarding this TrafficMate review, do comment below, and we will start a conversation from there.
---