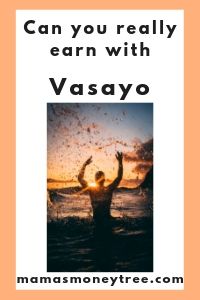 A relatively new MLM company, but with founders who have an interesting story behind them, you may be wondering: Is Vasayo a scam?
Welcome to my Vasayo review.
In this article, we will examine the product line as well as the delivery technology of its health and wellness supplements, to ascertain if there is any scientific background behind its claims.
The story behind its founders is also something you might be keen to know, as well as the business opportunity provided by Vasayo – if its compensation plan is structured with its distributors in mind.
At the end of the article, you can hopefully make a better informed decision as to whether Vasayo is worthwhile to invest your time, money and energy in.
Without further ado, let's dive right in now!
---
Vasayo Review Summary
Product: Vasayo
URL: https://vasayo.com
Creators: Dallin and Karree Larsen (husband and wife team)
Product type: Health and wellness supplements, sold based on direct sales (also multilevel marketing MLM scheme)
Price: $329 to $1399, depending on which level of "partner" you join at
Scam / Legit? : Legit
Recommended or not? : Not recommended
Vasayo is an MLM (multilevel marketing) company that sells health and wellness supplements with a key feature being its micronutrient encapsulation technology.
Its products may seem great, but those are not its main focus. It draws in distributors on the premise of an earning opportunity over offering solid products, and this is usually not a good sign.
It can still work for you, especially if you had hopped on the wagon early on. Learn how to increase your sales of Vasayo products with free online traffic:


Or, if you are tired of MLMs that do not have your best interests at heart, check out my #1 recommendation to making money online:


Read on for the detailed review of Vasayo, and why I do not recommend it.
---
What is Vasayo
A brief background of Vasayo
Founded in 2016 by husband and wife team Dallin and Karree Larsen, this health and wellness supplements company is based in Utah in the United States.
They also have another headquarters in Hong Kong, as well as offices in Thailand and Taiwan.
Though this young company is still new and emerging, its founders are not new to the direct sales industry.

Prior to Vasayo was MonaVie
Dallin and Karree co-founded MonaVie back in 2005, which got into lots of trouble, with lawsuits piled on top of one another, as a result of many allegations including fraudulent health claims, false advertising, and even of running a pyramid scheme.
If you are interested, you can read more about MonaVie, which has since closed its doors in 2015.
I think this part of Vasayo's founders' history is noteworthy, especially if you are trying to decide whether this is a good company to join or not.

Vasayo Product Line
Their tagline:
With Vasayo, the difference is in the delivery… and that makes all the difference!
With what is called micronutrient encapsulation technology, liposomes form double-layered bubbles around the key nutrients, helping them to survive the harsh digestive system, so that the nutrients are intact when they arrive at the cells, for much better absorption.
This proprietary advanced delivery system of Vasayo has actually been an area of research in drug delivery using liposomes, in the medical field.
This method has its advantages, that come with its own set of challenges. Here is where you can find some in-depth research, if you are into the science-sy aspect of how it works.
As with most other MLM companies, the claims made have not been evaluated by the US Food and Drug Administration.
So it is really up to you to believe in its effectiveness.
But if you intend to promote Vasayo as its distributor, you really have to try out their products, and be not just convinced that they work, but passionate about them too.
Otherwise it would be that much harder to persuade people to buy these supplements.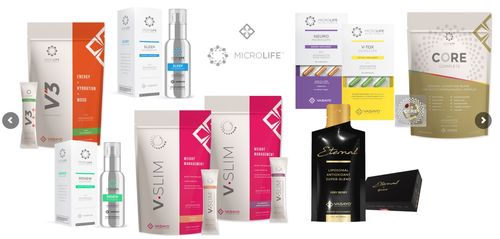 V-Tox
This is a proprietary blend of fulvic acid and cleansing herbs (including silymarin, black mineral powder, burdock root, kelp, osha, apple pectin, stinging nettle, and mullein) to provide vital nutrients to the elimination organs.
Eternal
A liposomal antioxidant revolutionary age-defying blend consisting 10 super fruits, glutathione, hydrolyzed collagen, a trademarked coenzyme, and other ingredients.
Microlife Core Complete
A multivitamin and mineral supplement which contains a superfood blend, a berry blend, probiotics, omegas, and digestive enzymes.
Microlife V-Slim
A weight management formula that boosts metabolism, curbs appetite, supports healthy blood-sugar levels, and promotes hormonal balance.
Microlife V3
Provides sustained energy with coconut juice powder, green tea, maca, and a herbal blend that includes Korean ginseng.
Microlife Neuro
Nourishment for your brain with citicoline, bacopa, ginkgo bilopa, alpha-GPC, and huperzine A.
Microlife Renew
This is a microgel that enhances flexibility and mobility for the joints. Key ingredients include curcumin, ginger, shiitake mushroom, acai berry, and resveratrol.
Microlife Sleep
This uses a blend with melatonin and GABA to support natural sleep cycles.

Vasayo Product Quality and Feedback
No matter what product a company is selling, there are bound to be positive as well as negative feedback.
It is a pleasure to find that there are many happy customers of Vasayo out there, although there will be some (a minority in this case) who claim that these supplements have no effect on them at all.
From what I have gathered so far, it seems that product wise, Vasayo is doing quite a good job.
Which brings me to question the fact that it does not seem to be marketing its products as much as it is promoting the business opportunity on its website.
Is it because the products are too exorbitantly priced, such that there is no point wasting resources promoting the actual products, but more worthwhile to get distributors in as their 'customers'?
This is what we will explore in the next section: the business opportunity of Vasayo.
---
Vasayo Business Opportunity
How to become a Vasayo Distributor
In Vasayo, they call their distributors brand partners.
To qualify as one, you will make a purchase on one of these product packages, topped up with a $49.95 enrollment fee for each package.
Intro Pack $239
Foundation Pack $329
Premium Pack $699
Executive Pack $949
Ambassador Pack $1,399
These packages simply differ in the amount and types of Vasayo products that you are getting.
The Ambassador Pack also includes 1 free ticket to their Vasayo convention.
So, after you purchase one of the packages, you are qualified to start earning commissions.
To remain as an active Brand Partner, you need a minimum purchase of 80 PV (personal volume) per month. This works out to more than $100 worth of purchases.

How to make money with Vasayo
As with any MLM opportunity, the two main ways to earn with Vasayo are through retail commission, and recruitment commission (and bonuses, etc.).
Retail commission
When people buy Vasayo products through you, you will earn a maximum of 20% commission.
Retail of tangible products or services should be the core of any legitimate business. Unfortunately, MLMs run on a different model, as I will explain in more detail later.
With prices over-the-top, it's not surprising that brand partners find it so difficult to sell to people around them.
But this should not be the way to market MLMs anymore. With the internet, if you do not leverage on it, you are doing a disservice to your business.
With Vasayo, as its product quality is good, I believe there will be people who really need it, or are willing to try it out, for health purposes. And before purchasing, they will be doing their research online.
If you can show up to answer the questions they are asking on the search engines, then you have landed yourself some potential customers.
With sufficient sales volume, just the retail commission alone is going to make you a handsome income.
See how you can increase your Vasayo sales with free search engines traffic:


Recruitment commission
The entire compensation plan is too convoluted for my dense brain to grasp. It suffices to say that the more people you bring into the company as your downline, the more commissions and bonuses you will earn.
It is also worth noting that Vasayo's compensation plan runs on a binary structure, which means it is more difficult to earn, especially if you are in the lower ranks.
To get any substantial income from recruiting, you would have to build up a large team, as well as get yourself up the ranks, maintaining a minimum number of customers, as well as referrals in the process, to continue earning at each rank.

Why Vasayo may not work for you
At the root of every MLM company is how their products are priced exorbitantly. Without the competitiveness to engage in the free market, they create a reward structure to entice people into the 'opportunity', with promises of some life-changing income.
The truth of the matter is, these distributors, or so-called brand partners, actually become the paying customers of Vasayo, supporting the company financially with all those minimum monthly purchases.
In a way, they are tied to the business once they decide to step foot inside, because they already forked out some decent amount to get qualified as a brand partner, and then buy products every month to keep themselves in the game.
This is no different from digging a hole for yourself to try to climb out of. You are promised an earning, but you have to first suffer a loss, for the benefit of the company. To me, this is not a very advantageous deal for the average Joe.
Unless you are a skilled marketer who know you way through direct sales and network marketing, otherwise the vast majority of distributors do not profit from MLM opportunities. According to FTC, the figure stands at 99%.
The odds are that low.
If you are looking for a home-based business, allow me to show you a fair and transparent business model, that does not exploit the people promoting it.

The proper way to make money from home
I am working full time from home as an affiliate marketer.
I promote companies that I choose to work with without having to pay them a single cent, and I earn a commission when a sales is made.
This is the gist of affiliate marketing.
The beauty of it is there is no recruitment, no complicated compensation plan, no upfront investment just to qualify myself to promote the company, no being tied down to just one company.
In fact, the companies appreciate their affiliates as doing free advertising for them, only paying when actual sales are made. This is a win-win for everyone.
With your permission, let me take you to another post, where I detail this method at length, so you can see the entire picture more clearly:

---
Pros of Vasayo
1. Great products
I see feedback from users of Vasayo's products that their health symptoms are being alleviated, so I do find that their products seem to be working for many.
2. Evergreen niche
Health and wellness is a niche that will never go away, as long as there are people around on the planet.
3. Relatively new
Being only a few years old, the market for Vasayo's brand partners is not yet saturated. So if you have the skill set to make it in network marketing, then I would say it is alright to give this a shot.

Cons of Vasayo
1. Exorbitant pricing
To give you an idea of how expensive the supplements are, a pack of Core Complete costs $65 at the Brand Partner price, and $73 at the customer price. This is for a month's worth of multivitamin and mineral supplements.
Multiply that by whatever number of family members are taking it, and you will really feel the pinch.
2. High upfront investment
The need to purchase an initial product package, as well as monthly PV requirements can quickly add up and put a strain on your wallet, months before you even start to see any sign of recouping your returns, if ever.
3. Focus on recruitment
Their statement splashed across the 'Our Story' page says it all:
Through our mission of delivering solutions, we provide an authentic opportunity to succeed in direct sales.
Of course everyone is entitled to his or her own opinion, but to me, this definitely does not sound like a company that focuses on its products.
There is no mention of even its niche.
And this signal is strong everywhere on its website.
On the same page, this is the story of how Dallin and his team were looking for something, and liposomal technology showed up.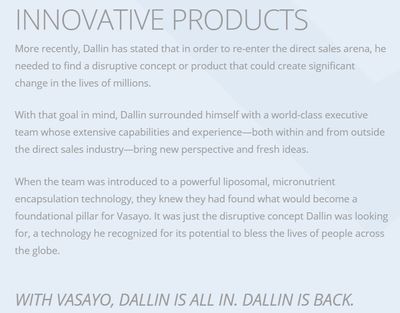 It sounds like they just had to find something to sell, with the main focus being setting up a direct sales company. It doesn't matter what they are selling.
This may not be all-important, but to me it reflects the philosophy and work ethics of the leaders behind a company.
4. Most distributors do not make money
The statistics have said it all. 99% of all MLM distributors across the industry do not make a profit. The odds are stacked against you, that is how the reward structure is designed.
Unless you were one of the first few distributors to join an MLM company, it would be very difficult to find success.
5. Family and friends start to shun you
Though you should not entirely depend on your warm market if you are doing an MLM business, it is only natural that you will ask family and friends, introduce them to the products, as well as business opportunity.
Once you start mixing business with personal life, you would soon discover the awkwardness.

Is Vasayo Scam or legit? 
Vasayo is definitely a legitimate MLM company, since it has solid products that are retailable to any customer outside of the program.
I do see potential in its products, and if you are thinking of becoming a brand partner to focus on earning through its retail commission, it may be worth a try.
You may want to have a read at this: How to increase your MLM sales
As for its business opportunity, it is like all the other MLMs (Jeunesse, doTerra, Young Living, Hempworx, etc.) where the compensation plan puts you in a disadvantageous position right from the onset.
---
Recommendation
If you are thinking of working from home, MLMs are not the best way to do it. Contrary to common belief, an MLM business actually takes up much more time than the monetary returns are worth.
It takes a lot of time and effort to build up your own team, train them, get them started on the business, find more customers of your own, etc. And the hours you work may be weeknights and weekends, when your potential customers are available.
Hence it actually takes away more of what you set out to seek: family time and personal time.
Now, I want to show you what I am doing, which allows me the complete freedom to work around my kids' schedule. I work in the mornings when they are in school, and some more at night after I put them to bed.
I can work anywhere and anytime I want, running my very own home-based, online business, without subjecting myself to any complicated compensation plan and initial investments dictated by any company.
If you will let me, I'd be so excited to share with you the business model that I am using to make my online income. Click on the button below:


And for reading all the way to the end of the post, I believe you have it in you to make this work. Here is your FREE PDF Guide: 4 Simple Steps to Making Money Online. Fill in your details to claim it:


If you have any concerns or questions regarding this Vasayo review, do comment below, and we will start a conversation from there.
---