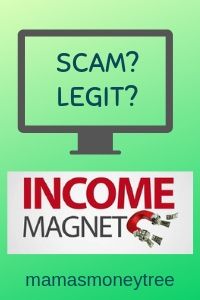 If you are wondering: Is Income Magnet scam? Can you really make $800 a day just by using your voice? Then you have landed at the right place.
Here, I will provide and honest and unbiased opinion of this product, by flagging out the details that seem suspicious, how it really works, and why it will not be able to deliver what you expect of it.
It's great that you are doing your research before parting with your money, no matter how insignificant the amount seems, because it can easily add up. Especially these days, there seems to be so many scam products out there, that only make money for the owners. So it really pays to be extra careful.
In this article, I will provide an in-depth review of Income Magnet, through the following sections:
---
Income Magnet: Review Summary
Product: Income Magnet
URL: http://copyhissuccess.com/incomemagnet/
Creator: "Dan Redding"
Product type: Voice over gig
Price: $37
Scam / Legit? : Scam
Recommended or not? : Not recommended
Income Magnet teaches you nothing more than freelancing as a voice over artist to earn an income. It makes huge claims like earning $250 for a simple voice over job, making $800 a day, etc. Voice over gigs are certainly a legitimate way to make money, but not at the kind of generous rates stated in Income Magnet.
Along with an owner who does not make an appearance, it brings my trust level for this product all the way down to zero.
If you do not want to waste anymore time and money on useless products, check out my #1 recommendation to making money online here:

Read on for the detailed review of Income Magnet, and why I do not recommend it.
---
What is Income Magnet
Information presented in sales video and landing page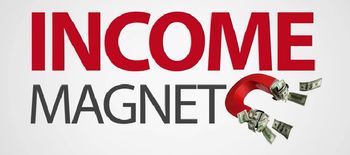 First, "Dan Redding" who does not even make any appearance in the video, not even a photograph, told his sob story. This is to gain viewers' trust, and give the impression that he will not scam us, since he had been down and out before, and knows exactly how it feels like.
To cut the long story short, he met his friend Phil as he was desperately searching for something that would get him out of debt, and yet not return to work as he treasured the times with his young kids as a stay at home dad.
Phil showed him how he was making good money: by logging into several websites, browsing through various offers, and doing some simple voice gigs, to earn hundreds a day!
People all over the world were willing to pay cash in exchange for voice gig freelancers to read and record words from a script. Phil had a husky, boring voice, he stumbled over words, and made mistakes all the time, none of which mattered, because it simply depended on the needs of each opportunity.
There is a huge demand for all kinds of different voices, the more unique and unusual your voice, the better opportunities you will have. Voice artists are needed for things like short advertisements, TV commercials, web presentations, radio jingles, and even video game characters.
Voice gigs can fetch you between $100 to $1500 per job. A simple script provided to you, just read it and record your voice, and "Dan Redding" earned his first $250! After which he got hooked, and he has now put everything into a personal roadmap, a kind of blueprint on how to make a killer income simply by talking – and that is how Income Magnet came about.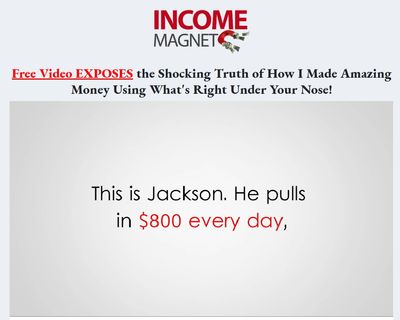 Income Magnet exposes the untapped, little-known world of fast cash for fun and enjoyable work, using a really quick and easy method.
It all sounds really good so far. Except to the skeptical me, who has seen enough of this kind of products claiming to make you lots of money, but in fact the only person making money is "Dan Redding", when you purchase Income Magnet from him.
Why Income Magnet will not work for you
The method taught in Income Magnet is very simple and legitimate: be a freelancer for voice gigs, and make money from there. Your employer will supply the script, make any special requests for the kind of voice required, the tone, talking speed, etc. and you read the script while recording your voice, send over the file, and get paid.
Such jobs are plentiful and can be found easily on many freelancing platforms like Freelancer, Upwork, People Per Hour, Fiverr, etc. The people applying for these jobs are even larger in numbers. Competition is stiff, to get a job, people frequently lower their rates. This is the freelancing world, especially if you are just starting out.
So the income claims made by Income Magnet are nonsense. You won't be able to make $100 out of a simple voice gig, much less $1500. A more reasonable estimate would be $5 possibly, or even $10 if you're lucky.
To make more than $100 for a voice gig, you would have to be very experienced and highly sought after. Then you would more likely have entered into contracts with media firms or the likes of it.
If freelancing is not your cup of tea, you may want to check out how I am making my online income:
How to start out as a freelancer
A freelancer job is never easy when you are just starting out. Because you have nothing to show in your portfolio, no experience, there is no reason for anyone to hire you over the other candidates.
You have to sign up on a number of freelancing platforms, and then make sure you spend time and effort doing up a complete profile on each one, selling yourself, your strengths and personality traits. That's just the first step.
When you apply for any job on those freelancing platforms, make sure you read the job requirements carefully, and write your proposal in a way that caters to the specific job, marketing your valuable assets that will make you shine compared to other applicants. Try to avoid using template proposals, as you really want to sound sincere.
To land your first job, you will have to go with really low rates. Some people I know even work for free, just so they can land something, do a great job out of it, and get a fantastic 5 star review from their employer. After toiling for a period of time, you start to build up your portfolio, gain a certain reputation for producing great quality work, and people will then start to take notice of you.
That is when you can start to increase your fees, to something that can sustain your livelihood better. But you have to test out the market, because employers may decide that they can settle for less experienced freelancers who charge less. As you go along, you will get a sensing for the demand and supply in the freelancing sector, and you will know what kind of pricing will put you in the best position.
Some tips for starting out as a freelance voice over artist
If you are serious about working as a voice over artist, you may want to take up some courses or certification, to equip yourself with the skills that will allow you to do a proper job. This will definitely give you an edge over your competitors.
You should also do up a voice sample, keep it short and sweet at just a few minutes. Do not just say random stuff, but create a certain setting for yourself, if possible make it relevant to the jobs that you will be applying for. For instance, find some short advertisement on tv or radio, and record your voice making that advertisement.
Your speech must have clarity, that is the most important quality to have as a freelance voice over artist. You should also be able to use your voice to connect with your audience, and not simply read off a script.
These are just some basic tips that I can think of, off the cuff. So you see, a seemingly simple job as a voice over artist has an entire spectrum of professionalism, from the amateur to the expert.
What value does Income Magnet offer?
Income Magnet is not going to make you a professional voice over artist, that's for sure. It will offer some pointers and very skimpy training at best, for which you can find much better quality ones all over the internet, for free.
After promising the moon, look at what I found at their earnings disclaimer section:

What does it even mean to say that you can expect to experience significant losses? My gosh, would you trust a product like that? Why would anyone spend money to buy anything if they are not hoping to gain something from it, but expecting significant losses??
You have no need for Income Magnet at all. Just go and sign up on freelancing platforms to get started, bearing in mind that you have to enter with a humble attitude when you are going for your first few jobs, do not expect to get rich on this instantly. In fact, nothing in life can get you rich instantly. You want to succeed, it all boils down to hard work.
You are still trading time for money
Ultimately, you are still trading your time for money, when you do freelancing. Yes, there are great advantages in that you can choose your hours, you can work from home, you can choose how much you want to work.
But at the end of the day, when you stop working, the earnings stop too.
While you do some part-time freelancing, why not invest the other half of your time to work on something that you can build into a passive income stream? So that even when you stop working on it, it continues to make money for you.
This is exactly what I am doing right now. But there are too many details I want to share about it, so I have put everything on another blog post, check it out by clicking the link below:
---
Pros of Income Magnet
1. Money back guarantee
This basic refund policy is in place, for people who are dissatisfied with the product.
Cons of Income Magnet
1. You really do not need it
You do not need Income Magnet, even if you really want to consider being a freelance voice over artist. Go search out people who are already doing it and are sharing tips and experience on their websites.
2. They make it sound so easy, and with exaggerated income claims
Without any experience or skills, you can possibly make $5 or $10 per gig, but never $100, until you have accumulated a wealth of experience and a solid portfolio over the years.
3. Upsells
Just like any other product that serves to make money for its owners, Income Magnet will bombard you with upsells, one after another, right after you make the purchase and even before you have a chance to figure out what is inside it, whether it is of any value to you or not.
They are paying their affiliates (people who are promoting this product) up to $235 per sale. So can you imagine how much you will be forking out if you buy into all the upsells? It must be much more than $300!
---
I absolutely do not recommend Income Magnet, as it is similar to many other products that are not worth your time and money, just like Cash Formula, Club Shanghai, and Contenu, just to name a few.
If done properly, freelancing is a great way to work from home.
And while you are at it, would you consider investing some time for your future income? This is also not a get rich quick scheme. Anything that is, is in fact out to scam your money.
This isn't MLM too, if that's what you are thinking.
It is about having your own online business, and building it up in a way that you get an unstoppable stream of free traffic coming to your site, which you can monetise. The beauty of this business model is that it earns for you even while you sleep, or go on a vacation.
It takes hard work like anything else in life that is worth working for. If you think you can put in some hard work for a passive income, let me show you what many successful internet marketers are doing, by clicking the button below:

If you have any concerns or questions regarding this Income Magnet review, do comment below, and we will start a conversation from there.
---