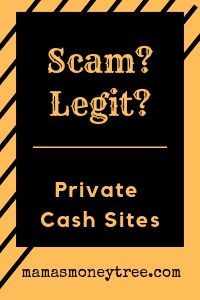 Congratulations to you, that you are checking out what is Private Cash Sites. You may have received some promotional materials about this product in your inbox, or you have seen it somewhere on the internet.
Look, they are promising huge earnings of 3 to 5 figures per day! Are there really such things that exist in this world? Done for you businesses that bring in such huge profits?
If it sounds too good to be true, it usually is. I will be revealing all the red flags about Private Cash Sites, so you understand why you should totally steer clear of it.
In this article, I will provide an in-depth review of Private Cash Sites, through the following sections:
---
Private Cash Sites: Review Summary
Product: Private Cash Sites
URL: https://www.privatecashsites.co/startpcstoday?hop=0
Creator: "Felicity"
Product type: Affiliate marketing sales funnels and training
Price: $47
Scam / Legit? : Legit
Recommended or not? : Not recommended
Private Cash Sites is an all hyped up product, promising you the moon, but failing to even divulge exactly how you will be making those money. How do you buy any product without having an inkling of how it works?
I probed deeper to find that it is simply some affiliate marketing sales funnel, with some lead capture pages you can use, and some low quality training that will not get you anywhere. And the fact that the real owner does not even make an appearance makes me not trust this product at all.
If you do not want to waste anymore time and money on useless products, check out my #1 recommendation to making money online:

Read on for the detailed review of Private Cash Sites, and why I do not recommend it.
---
What is Private Cash Sites
To answer the question: what is Private Cash Sites, let's take a look at their promotional materials:
Information presented in sales video and landing page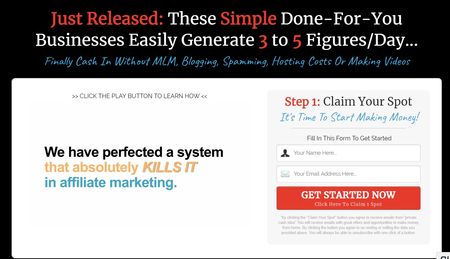 This is just about the only piece of information I could gather from the sales video – affiliate marketing. The rest are all hype: bold income statements, all the lure of a luxury lifestyle without a worry in the world, and how easy it is to use this method that any newbie can do it with minimum effort, etc.
You supposedly do not have to do much except to download this tried and tested system. There's no writing email, no blogging, no making of videos. It's all so simple, even if you have never made a single cent online before.
And guess what, when you scrutinise the fine prints under the big red button 'Get started now', it actually says that by clicking the button, you agree to the renting or selling of your information. My goodness, would you trust people who would actually sell out your information to others?
And right at the bottom of the sales page, at the disclaimer section, I noticed this:

Explode My Payday is another product I have reviewed before, and I called it a scam. You can check out my review here.
It seems very likely that Private Cash Sites and Explode My Payday are either created by the same bunch of people, or they are associated in one way or another. That makes Private Cash Sites even less trustworthy then, since Explode My Payday is full of fake testimonials and fake owner identity.
But to give it a fair review, I still tried to probe further to find out what exactly they have to offer, because $47 is not exactly cheap, maybe there is something of value in there.
What Private Cash Sites really is, and why it will not work for you
Inside the members area, you will get a 14 days free trial to Click Funnels. Which you can get simply by going to Click Funnels' website, you do not even have purchase Private Cash Sites to get there, it is not something that is exclusive to their members.
And in fact, if you end up subscribing to Click Funnels, the owners of Private Cash Sites would make a commission out of it, since you would have clicked through their affiliate link. Nothing wrong with this, just thought you should know.
Click Funnels is a great tool for sales funnels, where you will get some leads capture pages, which are some landing pages on which you can try to obtain people's email, to subscribe to your list or something, and you can start promoting to this list, with your offer.
Click Funnels itself is a hidden cost, as it will incur a monthly subscription, of about $97/month just for a starter plan. It sure is expensive, but it could be worthwhile if you know what you are doing. If you are a beginner in internet marketing, then now is not the time to sink in such a heavy investment.
You will also be taught to sign up to ClickBank, so that you can promote the digital products on there, through your Click Funnels pages. But beware that there are so many scammy and low quality products on ClickBank these days, I would be really careful and selective in deciding which ones to promote to my list.
That is basically the core of what you get in Private Cash Sites, which in my opinion is totally not worth the $47, because it does not add any value to your learning. And there is no way you are going to become an expert affiliate marketer just through this product. The product is simply loosely putting together a few tools that you can use in affiliate marketing, through which the owners of Private Cash Sites get to make a commission when you really sign up to those tools.
The menu in the members' area seems to contain a lot of content, but they are very random stuff, just thrown in without any thoughtful consideration, to make you think that you are getting your money's worth. Look at what they have there: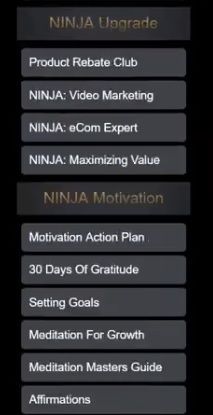 Video marketing, ecommerce expert, meditation for growth – all within a product that is supposed to make you an expert affiliate marketer? Well, I'm quite speechless. You see the kind of quality here? Randomly throwing in whatever stuff they can get their hands on, and charging you $47 to make you Jack of all trade.
The only part of the training that is relevant to affiliate marketing is on the various sources of traffic. Even then, the content is skimpy and you can find everything and much more for free on the internet.
My conclusion: this is a bad product. It is never going to let you earn 3 to 5 figures per day. The product is not made with you in mind, but the owners. When you buy it, they earn, that's for sure. And when you follow what they teach in there and start using it, they earn even more, through all the affiliate commissions that they generate when you sign up to those external tools.
They do not even tell you the foundation to building up an online business is to own a website. Otherwise where do your leads come from, those who are supposed to enter their emails onto the landing pages that capture their information, how are they going to end up on those pages in the first place? It has to start with having your own website.
The proper way to make money online
Forget about Private Cash Sites and other products that are not made with you in mind. This platform that I'm going to show you teaches the proper way to make money online. It all starts with your own website, because that is considered an online asset on the internet space.
It's like having a proper house, with an address, so people know where to find you. That forms the foundation of any online business. On the website, you can then build all the landing pages that you want, to get people to enter their information so they subscribe to your newsletter, and you can then send your promotions to them.
But the most critical issue is still where do you find traffic to come to your site? There are many ways to get traffic. Paid traffic from ads that you place on various platforms, or free traffic from social media, and search engines.
Search engines traffic is the most precious, and it is the exact method that I am using, which is also what I learnt on the training platform I will be showing you.
Search engines traffic is also called free organic traffic. This is the best kind of traffic because you get people who are actively searching for your promotions. So they are ready to buy, and will convert into buyers at the highest rate. You are not pushing your offers to a random group of people who may or may not be interested in what you are offering.
Free organic traffic will also sustain itself, once you get it going, the search engines will send you this kind of traffic for months and years after you put up the content on your website. So you are effectively building up a passive income stream. Unlike social media traffic, which is also free, but you have to put in daily work, interact on the social media platforms, keep posting and engaging your followers. Otherwise you will easily be buried under the buzz of activities by everyone else.
All these and lots more, I learnt on this awesome all-in-one platform with training, tools, and a genuine community in which everyone helps one another to succeed. There is too much that I want to show you, so I have written it all on another blog post, do hop over to take a look, it can change your life. Click on the link below:
---
Pros of Private Cash Sites
1. 30 day money back guarantee
This basic refund policy is in place, for people who are dissatisfied with the product.
2. There is some value in the training
For a total beginner, I guess you would learn something from the traffic training, even though it is very basic. You can find a lot more great information by the real experts on the internet, on their own websites.
Cons of Private Cash Sites
1. No real owner
Felicity is a nobody. If the real owner does not show up to be responsible for his or her product, I can't trust it at all.
2. Just some tools put together
The product consists of tools put together, which incur monthly subscription which are not cheap. They are not necessary for a beginner on the internet marketing scene, because beginners should be working on the foundation of the business: building up content on your own website. There is no point fixing up leads capture pages if there are no visitors landing on them.
Private Cash Sites does not form a cohesive course or training for someone aspiring to become an expert affiliate marketer. It is just random bits and pieces of information and tools put together, to make it seem like there is a lot of content in there.
3. You will not make money instantly
They make it sound like you can get rich quick using their product. Affiliate marketing is a legitimate business model, and it has worked for many people, who are earning tens of thousands each month. But it does not come easy. It requires grueling hard work, and a determination to succeed.
4. Upsells
Like any product that serves to make money for its owners, Private Cash Sites is lined with an upsell too, right after you make the purchase for the front end product, even before you have a chance to open it to see what is inside, you will be aggressively promoted this:
At a one time offer of $147 – 8 ways to increase sales and conversions, video strategy, and maximising customer value.
---
I do not recommend Private Cash Sites, as it serves to help the owners make money much more than it helps you, just like these other products that I have reviewed before, just to name a few: $5K Formula, Club Shanghai, and Five Minute Profit Sites.
Affiliate marketing is a legitimate business model, it is the same way through which I am earning my online income too. But it will never get you rich fast. Many people give up trying to make money online, because they think they just cannot find the magic formula.
Actually there is NO magic formula, so stop looking for it. Follow the path trodden by successful internet marketers, and you will get there, if you persevere enough. Not everyone gets there, because they get distracted by shiny objects along the way, putting this aside and try yet another method. They were so near, yet so far.
Only people who recognise the right direction to take when they see it, and stick with it long enough will see their earnings start coming in. I can show you the right path, I can hold your hand along the way, but it is up to you to take the steps towards your own success.
Are you game for it? If so, let's go, click on the button below:

If you have any concerns or questions regarding this Private Cash Sites review, do comment below, and we will start a conversation from there.
---