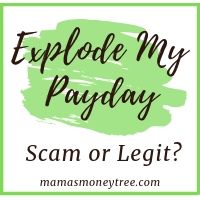 Let me guess, you're here because you have heard of this digital product, and are wondering whether the Explode My PayDay scam is true?
Great for you that you are leaving no stones unturned, before deciding whether to purchase it or not.
Is there really one simple loophole anywhere that can have you cashing 3 cheques a week? How does it work exactly to help you earn money?
That is what we will be finding out here, along with all the red flags that I can identify, and you will then be able to see how big this scam is.
In this article, I will provide an in-depth review of Explode My PayDay, through the following sections:
---
Explode My PayDay: Review Summary
Product: Explode My PayDay
Creator: Meaghan Harper???
Product type: Affiliate marketing training
Price: $47, with upsells
Scam / Legit? : Scam
Recommended or not? : Not recommended
Explode My PayDay is basically some low quality training on affiliate marketing, cloaked under lots of hype about making tons of money fast, thousands within a few days. With fake testimonials, fake owner identity, the permission to sell your data if you do not read the fine print carefully, I can assure you this product is a scam, through and through.
If you do not want to waste your time on anymore scams, check out my #1 recommendation to make money online the proper way:

Read on for the detailed review of Explode My PayDay, and why I absolutely do not recommend it.
---
What is Explode My PayDay
Information presented in promotional video
Fake testimonials
First it starts off with testimonials. Videos of people who claim that they are making lots of money using Explode My PayDay. And guess what? They are fake.
Take a look at the screenshots below. Same person, earning the same amount right down to the cent, in two different products: Your Freedom Mentor launched in June 2018 (it is no longer in existence, so you won't be able to find it on the internet. Totally questionable product) and this Explode My PayDay.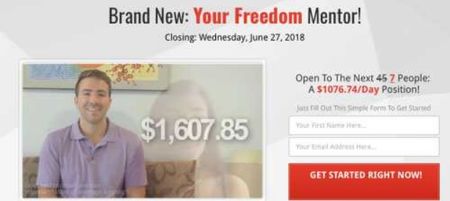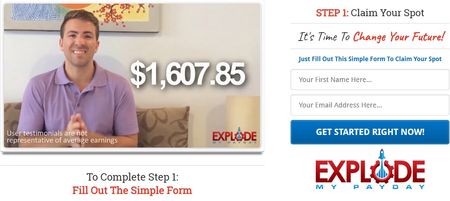 The owner of Explode My PayDay is not only out to scam, but he or she is actually so lazy as to recycle the same materials, and simply renaming it!
Not sure about you, but this first red flag is enough for my trust level towards the product to plummet right down to zero.
My blood is boiling right now, but I will still press on to uncover all the other red flags, in order to give it a full and complete review.
Fake owner
Meaghan Harper, whoever she is, is not real. Look at another screenshot taken from the promotional video.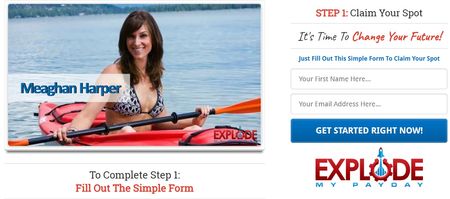 This picture of a lady in a kayak, is a stock image that can be found on Google, check out this link for the proof.
There is a very big and serious problem with the product when the real owner is hiding. I think I do not have to say any more.
Hype
Even though we now know the owner is fake, let's still refer to the owner as 'Meaghan', for convenience of writing.
So, Meaghan goes on to say that she is building her team, and even willing to pay you for it. Before that, she showed $3 million dollars in her bank account! And asked that we keep it a secret. She had also paid $67K out of her account, to people who watched her video just last week!
That means you can be on her payroll as early as tomorrow. You don't need any experience. If you join her team, she will provide all the training. You just need to set up the system, which can be done in 15 minutes. Even a child can do it.
More promises of the skies, more assurance that it will be so easy to earn thousands in just a few days, and no letting in on what the product is all about. You are simply asked to leave your name and email address, and given the time pressure that this offer will be gone once her 45-member team is filled up.
Another terrible thing is, they actually sell your information away. See the screenshot below, which is in small print below where you are supposed to enter your information.

This is such a despicable thing! I almost missed this fine print.
So after you fill up your information, you get a second video which claims that Explode My PayDay will get you all the traffic from the internet, and drive it to your website, allowing you to earn thousands in commission within just a few days.
You are also shown ClickSure.com, which is full of many bad products and programs which are out to scam people of their money. You can promote these products to earn a commission.
What Explode My PayDay really is
As it turns out, Explode My PayDay is some low quality training on affiliate marketing. It teaches you to promote products that are as crappy as itself. That's it, that's what it is. The price is HIGH for learning this kind of content. I wouldn't pay a single cent for this.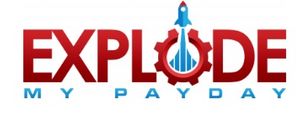 Oh and why on earth is she paying you out of her own account, when the commission you earn should be from the owners of the products that you promote? Because Meaghan the millionaire also wants you to promote this scam product!!
Anyway there is no way anyone can make all the traffic on the internet come to your site. NO WAY. If it can be done, why doesn't Meaghan just keep this secret to herself, and go on to make a billion dollars and more?
The SECRET to free organic traffic is content. Content is king when it comes to search engine traffic. Search engines want to be accountable to their users, so they send people to the websites that can best provide solutions to the problems they have. To get loads of traffic is possible, provided you work at creating genuinely helpful content that readers will be happy with.
What will work instead
Affiliate marketing is in fact a totally legitimate way to make money online. That is what I am doing right now, the proper way, promoting great products and services in a niche of my own choice, creating content on my websites in a way that the search engines see me as the authority, so will send people to my site when they search for certain answers to their problems.
In this way, I get totally free organic traffic. I just focus on creating content that purely aims to help people, and those whose search matches with the solutions I'm offering will land on my site. Because of the perfect match, the chances of them taking up my recommendation are high.
When they purchase the products through my links, I earn a commission. They are happy to find the answers to their problems at no extra cost on top of buying the products. The companies whose great products I recommend get business. This is a win-win-win situation, as I'm not just promoting any crappy products just to make money for myself.
So my website gains the trust of my readers, I gain a following, search engines send even more traffic to me, and it becomes a self-sustaining online business that sets out to help others, and with earnings that come alongside it.
See how I learnt all these and set up my own website from scratch:
---
Pros of Explode My PayDay
1. You do get the training materials
Regardless of its quality, you do get something, which is the training materials.
2. 30 day money back guarantee
This basic refund policy is in place, for people who are dissatisfied with the product.
Cons of Explode My PayDay
1. Fake, fake, fake
Fake testimonials, fake owner, fake promises.
2. The method taught is no good
If you follow their training and promote products that are worthless and do not deliver what they promise (exactly like this product itself), think about what will happen to your reputation and the trust level that your readers will have for you.
3. Upsells
This is the thing about products that solely aim to make money for its owner. Nothing is enough, the greed overwhelms.
After you make the upfront purchase of Explode My PayDay, you will be bombarded with pricey upsells, that try to make an even bigger hole in your pocket!
This is what is being marketed to the affiliates of Explode My PayDay, who get to earn $137 and $69, when their customers buy the upsell bundles 1 and 2. So the cost of those upsells to the customers must be much more than that!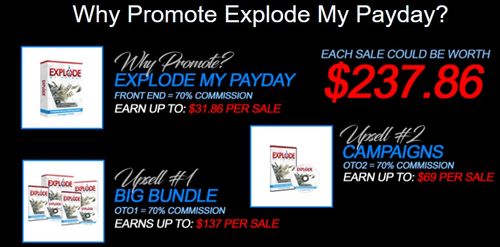 ---
I absolutely do not recommend Explode My PayDay, and ask that you stay far away from it. As well as any other products that promise you fast cash with zero to little effort. The world just doesn't work this way.
To succeed in life, we have to work for it. If anyone tells you otherwise, the person is out to scam your money. So just run.
Let me show you the proper, honest way to make money online. You can make a lot if you are willing to work at it, but it will not be overnight. This platform, from which I learnt everything I know today about affiliate marketing, is an awesome one, and is free to start.
You get 10 lessons and 2 websites absolutely free. It's no scam, because if you really find the platform useful, you can then sign up for their paid membership. But that can come later, you can make the decision for yourself, after trying it out for free to see what they have to offer inside:

---