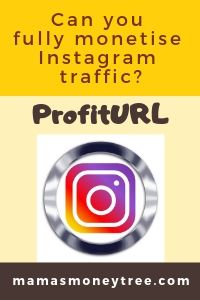 What is ProfitURL, that claims to let you monetise Instagram's free traffic? Does it really work legally, or is it yet another scam that is out to get your money?
If you are using Instagram as part of your marketing campaigns for your business, you may have been frustrated by its incapability to place any links that point back to your business, except for the Bio, where you are only allowed one link.
Can this newest software really get around this huge weakness on Instagram when you are trying to use it to promote stuff?
Find out these and more, in my completely honest, unbiased, and in-depth ProfitURL review.
Let's dive right in to figure out if it really works, and if it's worth your time and money.
---
ProfitURL Review Summary
Product: ProfitURL
URL: http://profiturl.com/elite/
Creator: Neha Arora
Product type: Software that lets you place multiple links through Instagram Bio Link
Price: $37
Scam / Legit? : Legit
Recommended or not? : Not recommended
ProfitURL does a simple but important task of allowing you to expand on your single Bio Link on Instagram, into multiple links, giving more opportunities to point back to your business. It is a legitimate product.
The problem? Why pay $37 when there is something that is FREE out there and available to anyone to use?
If you do not want to waste anymore time and money on useless products, check out my #1 recommendation to making money online:




Read on for the detailed review of ProfitURL, and why I do not recommend it.
---
What is ProfitURL
To find out what is ProfitURL, let's first take a look at the information presented in its sales video and landing page.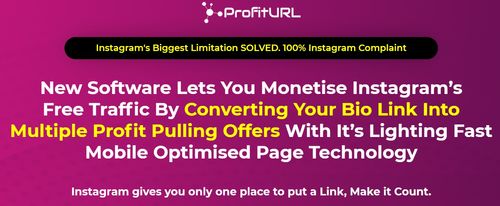 Instagram is the most attention retaining social media platform, so you have to use it to market your business and offers, by tapping on the flood gates of free traffic.
But here's the kicker:
People are not able to tap into the true capacity of Instagram, because of its one huge limitation: you only have one place to put a link, and that is in your Bio.
Big brands like Expedia are using their own expensive technology to convert their one link into multiple links:



And that is exactly what you should do too.
Instagram only gives you one place to put a link, so make it count. By allowing that single link to expand into multiple links, you will be multiplying Instagram's capacity to drive free traffic to your business, and your offers, by:
– growing your email list
– growing your messenger list
– selling your products and services, or any affiliate offer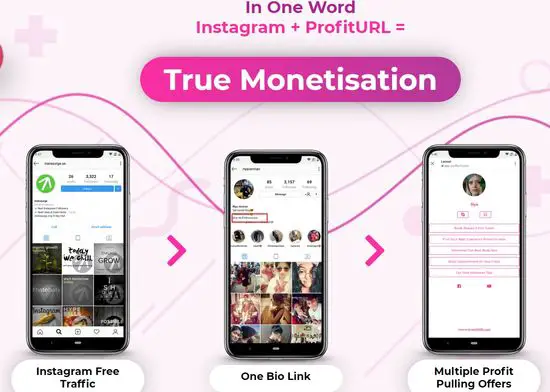 This software is cloud-based, so there is nothing to install or download, and you do not need any technical skills to use it.
Sounds like a great software, serving a great purpose!
Read on to find out why I still do not recommend it…


Why does Instagram do this?
Why do people love Instagram so much, that they spend the most time on there, than any other social media platforms?
Because it is free of spams and advertisements!
Which is made possible, partly because of this restriction that you can only place a link in one place, which is your Bio.
That is the exact reason, why people feel that the interaction and stories in there are more genuine and authentic. And they really like it.
So what this ProfitURL does, is not going to get you tons of free traffic to your offers. Because people still have to click on that one single link on your Bio, in order to see all those other links and offers.
Obviously Instagram wants to keep its spam-free environment intact, as that it its selling point.


Multuple links are definitely valuable to any business
I do not deny that it is a great opportunity to be able to have multiple links from your Bio link, so people can go onto your subscription form and you can collect their emails, or they can go to a page on your website, or directly to an affiliate offer.
There are many things you can do with a function like that.
The thing is, you absolutely do not need ProfitURL to help you do this. There are already programs out there that can do this, for FREE!


Programs like ProfitURL already exist
One example is Linktree.
There is a free version that you can stay on for as long as you like. Paid version is $6/month, with much more functionalities. You can upgrade or downgrade any time.
There is unlimited number of links that you can place on Linktree, but at any one time, only 5 can be shared on the page that people get to see.
Another example of such a software is Lnk.Bio.
With its free version (can be for a lifetime too), you just do not get a custom URL.
If you want a custom URL, you can pay for their Pro version, at $0.99/month or a one time fee of $9.99 for your lifetime. It comes with link tracking abilities and statistics.
Even their most expensive pricing is only $24.99 for a lifetime, which is still substantially cheaper than ProfitURL.


There is a much better free traffic source
No doubt Instagram can be a good source of free traffic. But as with any social media platform, it takes time and effort to build, as well as to maintain it. You need to go on there regularly, to post, respond to your audience genuinely and authentically.
The moment you leave it alone, you lose the ground and momentum that you have built with your followers.
I'm not saying it does not work. But for any online business, if you are facing problem with traffic, my recommendation is always to get free organic traffic first.
The main reason being that free organic traffic, once you get it, will sustain itself. The search engines will keep sending you highly targeted traffic because their trust for you has been established.
Once that happens, you can then start looking at other traffic sources, like Instagram, or FaceBook, or Pinterest, and so on, while leaving the search engines to continue driving fresh traffic to you daily.
And by virtue of the way that you get free organic traffic, at the same time you are building up a strong and solid foundation for your business, which can never be erased.
This is very unlike building your online presence on social media platforms, which tend to have a lot of noise and distraction. If you miss out on regularly engaging your audience, you will lose them easily to everything else that is going on around them on those platforms.
But with the work you put in to drive organic traffic, it accumulates, and stays there waiting even if you take a break. Even then, even during your break, free organic traffic still comes, it is an unstoppable traffic source.
If this sounds good to you, and you want to learn the proper way to build the best and most solid source of free traffic to your business, check out the link below:


---
Pros of ProfitURL
1. Real owner
The owner of ProfitURL is a real person, willing to stand in front of her product, assuring us of some credibility and accountability.
2. 30 day money back guarantee
This basic refund policy is in place, for people who are dissatisfied with the product.
3. Legitimate way to tap on free Instagram traffic
This is a totally legitimate way to expand on the one place where you are allowed to place your link on Instagram


Cons of ProfitURL
1. Why pay when there are free versions around?
This is the main down side of this product. $37 does not sound like a lot, but why do you need to even pay anything where there are free softwares around?
2. Website not secure, do you trust they will be around for your entire lifetime?
The sales page of ProfitURL is not a secure one. It can be removed anytime, there is no guarantee that this software will still be running next year.
Of course I am speculating here. But wouldn't you rather trust proper, established sites where site security is the bare minimum requirement?
3. Upsells
As with any other product that tries to dig deeper into your pocket, ProfitURL is no exception. You will be bombarded with these pricey upsells right after your purchase, before you even get a chance to try out the front end product, to see if it works for you or not.
Upsell 1: $27 – Viraleze
Upsell 2: $37 – Viraleze advantage
Upsell 3: $97 to $197 – Reseller for ProfitURL and Viraleze
---
Is ProfitURL Scam or legit?
ProfitURL is a legitimate software that is able to make multiple links from your Bio link in Instagram. But you do not need this, as there are free softwares around that can do the same thing.
ProfitURL is as worthless as many other products I have reviewed, like Social Studio, Supersonic, and Reach Treat, so name just a few.
---
Recommendation
I do not recommend ProfitURL.
Go for the free versions like Linktree or Lnk.Bio, if you really want this function of expanding your Instagram Bio link into multiple links for your business.
Rather than working on social media, if you are a beginner, the time and effort will be better spent on building up your free organic traffic, as this kind of traffic is highly targeted, from search engines.
Organic traffic is actively searching for what you are offering, that is how they land on your offers in the first place. So they actually have their wallet out of their pocket, all ready to buy.
If you would like to learn how to get this best kind of free traffic, click on the button below to hop over to my over post where I will explain in much more detail:




And for reading all the way to the end of the post, I believe you have it in you to make this work. Here is your FREE PDF Guide: 4 Simple Steps to Making Money Online. Fill in your details to claim it:



If you have any concerns or questions regarding this ProfitURL review, do comment below, and we will start a conversation from there.
---